Music Reissues Weekly: Catch-A-Fire - Treasure Isle Ska, Top Ranking DJ Session |

reviews, news & interviews
Music Reissues Weekly: Catch-A-Fire - Treasure Isle Ska, Top Ranking DJ Session
Music Reissues Weekly: Catch-A-Fire - Treasure Isle Ska, Top Ranking DJ Session
Unearthed - Jamaica's impact on the music of punk and post-punk Britain
Tommy McCook & The Skatalites: amongst those collected on 'Catch-A-Fire - Treasure Isle Ska (1963-1965)'
Two snapshots of Jamaica's music, each catching styles associated with specific periods. The two CDs of Catch-A-Fire - Treasure Isle Ska (1963-1965) collects 47 tracks originally issued by Arthur 'Duke' Reid's Duke Reid, Dutchess and Treasure Isle labels. Top Ranking DJ Session Volumes 1 & 2 is titled after two vintage compilations – the double CD compiles 44 tracks recorded by Joe Gibbs over 1977 to 1979.
The umbrella under which these collections gather their tracks is not the names credited as the performer on each record, but the producer/entrepreneur who originally put these records into shops. This is where much of the influence over Jamaica's music was held. Audiences and record buyers may have defined what became popular, but figures like Reid and Gibbs were more than gatekeepers. They could be more influential than the singers and musicians they pressed onto vinyl.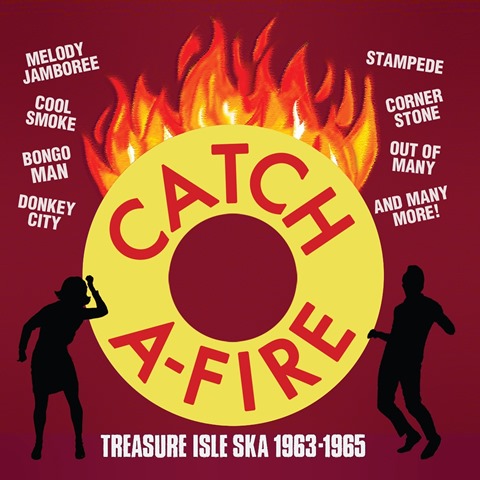 However, there is an unexpected dovetailing. What's on Top Ranking DJ Session was released as punk and what was later dubbed post-punk was developing in the UK. In real time, this music impacted on then-current bands: The Clash, The Ruts, Public Image Ltd. too. In the same timeframe, Sixties ska was becoming more and more popular and influencing new bands, and Catch-A-Fire also works as a contemporaneous soundtrack to Brit rock c. 1978 to 1980.
Arthur Stanley Reid was a policeman who turned to operating sound systems. When he began producing records around 1959, independent studios were booked to cut tracks which could be promoted at his own sound system. One activity fed into another. For the period covered by Catch-A-Fire, the dominant popular sound was ska. Reid was tuned-in and on board with the style.
Catch-A-Fire's best-known names are Stranger Cole, Don Drummond, Derrick Morgan and The Skatalites. Baba Brooks – whose "Donkey City Part 1" opens the set - Eric Morris and Gloria & The Dreamlets are less well known. Remarkably, 23 of the 47 tracks have never been on CD before.
While there aren't any revelations, everything on Catch-A-Fire is solid example of meat-and-potatoes music of the period. Standouts include The Melody Enchanters's bouncy "Sailor Boy" (1963), the lyrically great "Fits is on me" by Owen & Leon (1964), Don Drummond's jazzy "Cool Smoke" (1964) and the gospel-soul-inclined "Darling When" by Dotty & Bonnie (1964), which sounds as if it's from a lot earlier than when it was issued.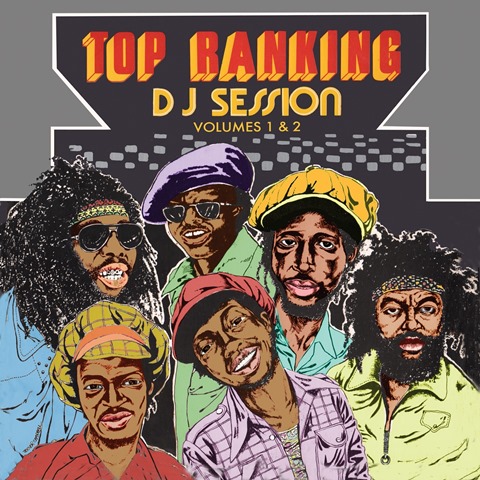 Top Ranking DJ Session Volumes 1 & 2 is less straightforward. Rather than being a compilation of singles, it initially looks to be a bonus-track supplemented reissue of two albums: Top Ranking DJ Session Volume 1 (originally released in either 1977 or 1979: discographies are ambiguous) and Top Ranking DJ Session Volume 2 (1979 or 1981), both issued by the Joe Gibbs Music label. It looks as if the first album is on Disc One and the second is on Disc Two. However, what's here is six tracks of the original ten from Volume 1 on Disc One, and nine of Volume 2's original ten on Disc Two: the space created is plugged by non-Top Ranking DJ Session cuts which, in the tracklisting, look as if they were on the albums. Odd. The curious reason given for the omissions is that the absent tracks have appeared on other compilations released by the issuing label. So, this is not a reissue of the two Top Ranking DJ Session albums. Also frustrating is the lack of original release information for the replacement tracks and the bonus tracks.
Top Ranking DJ Session Volume 1 included tracks from 1977 and the set's date range goes from then to 1979. Big Youth, Dillinger, I Roy and Trinity are the big names, as are John Peel favourite Clint Eastwood and friend of and collaborator with The Clash Mikey Dread. Despite the issues with how the collection has been put together, this iteration of the Top Ranking DJ Session albums is very hot. Take Ranking Joe's "Ask me no Questions": the Joe Gibbs-created backing track dips in and out of dub and straight playing. There's a fusion of different approaches. To a lesser extent, it's the same with Dillinger's "Bellevue Patient." With its blooping noises, Dillinger's "Kublicon" edges into oddball Lee Perry territory.
Each double CD draws from a specific period of Jamaica's music – eras 13 to 16 years apart. Nonetheless, both Catch-A-Fire - Treasure Isle Ska (1963-1965) and Top Ranking DJ Session Volumes 1 & 2 are integral to how British music developed over 1977 to 1980. Equally, they're a great listen.
Next week:

Trip On Me - Soft Psych & Sunshine 1966-69
With its blooping noises, Dillinger's 'Kublicon' edges into oddball Lee Perry territory
Share this article