Music Reissues Weekly: Cock Sparrer - The Decca Years |

reviews, news & interviews
Music Reissues Weekly: Cock Sparrer - The Decca Years
Music Reissues Weekly: Cock Sparrer - The Decca Years
How 1977's punk boom gave an already-active London band a platform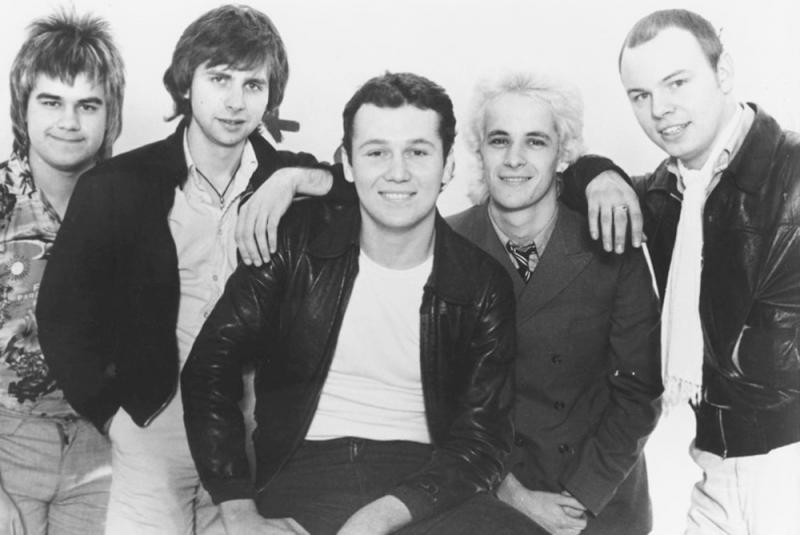 Cock Sparrer in 1978. Were they punks? Skinheads? Who knows.
"This is a record company's idea of new wave. Clichéd heavy metal riffs and someone shouting in a cockney voice. This is a con and I hate it".
Notwithstanding that it would be a record company's idea of things as just such an organisation was putting the record out, Geoff Travis, of the Rough Trade record shop, was unequivocal in his view of Cock Sparrer's crunching debut single "Runnin' Riot" for Record Mirror in July 1977.
Considering "Runnin' Riot", NME said "Decca finally have a punk, sorry skinhead band. Not surprisingly they play faster than you'll ever get to talk – like a souped up Black Sabbath – but are given a bit of class by the repeated appearance of a guitar phrase not totally dissimilar to the kind of thing Phil Manzanera would come up with".
Sounds's view was "Loads of energy, sounds OK, but…no it doesn't convince. The playing, the production are too slick and the lyrics are a contrived hotch potch of new wave clichés, the singer doesn't sound like he means it".
A second Cock Sparrer single arrived in November 1977, a ripping version of "We Love You", originally by Decca's biggest band The Rolling Stones. A remarkable promo film was made, and survives on YouTube. "They do lovely sneers", said Jon Savage in Sounds. Melody Maker reckoned they had turned the song into a "bovver boy anthem". NME's view was the single did "not a worthwhile 12 inches make". Neither 45 was a seller.
An album followed in early 1978. Bizarrely, it was issued in Spain only. The band's original cover idea of parodying the Stones's Satanic Majesty's was rejected, so its black and white sleeve featured a normal band shot and a "punk rock" cover branding. Cock Sparrer split in April 1978 – two singles, a barely released album and that was seemingly it. Of course, it wasn't. They reformed in 1982 after three of their tracks appeared on 1980 and 1981's first two Oi! compilations. Since then, new releases, archive collections and live shows.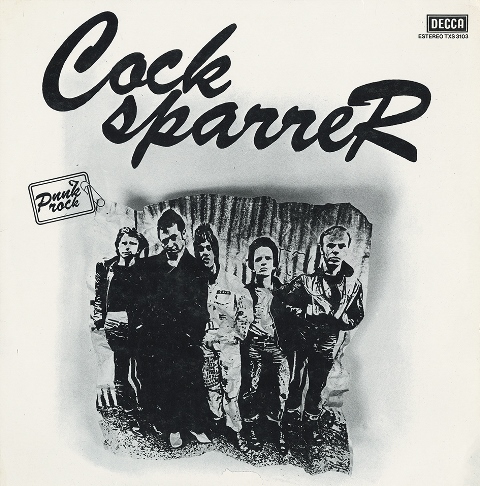 Now, The Decca Years, a rejigged vinyl version of the Spanish album and a 2006 CD of the same title. Sides one and two are as per the 1978 LP, though with a track appended to the end of each side. These bonuses are from 1977 yet were dug out later. "Run For Cover", side two's glam-ish added track, is pretty muffled sounding. (pictured left, Cock Sparrer's Spain-only LP from 1978)
Signing with Decca may have seemed a good idea in 1977 as the label had its glory days. However, its brush with the punk-era UK didn't turn out too great. Slaughter & the Dogs were also picked up and their yobbish September 1977 debut Decca 45 "Where Have All the Boot Boys Gone" was on the Cock Sparrer wavelength. After three singles for the label, Slaughter split and their album hit shops in June 1978, a month after they had packed it in. The only other vaguely simpatico Decca band was Adam and the Ants, who signed in July 1978. All that resulted was one Decca single, October 1978's "Young Parisians". In 1977, Cock Sparrer and Slaughter & the Dogs weren't to know what was in their tea leaves.
Despite their getting a platform in 1977, dovetailing the East Ham-based Cock Sparrer with punk or what was defined later is tricky as they were active from around 1972 and were initially influenced by, indeed, The Rolling Stones and Small Faces. Pub rock might seem a better fit, but that didn't stop Joe Strummer, members of 999 and others sailing into the changes. Even so "Sister Suzie", the B-side of "Runnin' Riot", sounded and still sounds a lot like Slade with a touch of Led Zeppelin – Cock Sparrer had supported the former.
Cock Sparrer – who played as Cock Sparrow into December 1976; in May 1977 they were briefly Cock Sparra – had some music business links. Until late 1977, their manager was Cliff Cooper, who ran the Orange amplifier company and a Seventies label of the same name, as well as managing John Miles. On 19 February 1976, they scored a Marquee support slot, exactly a week after Sex Pistols played there supporting Eddie and the Hot Rods (the "we're not into music, we're into chaos" show). (pictured right, Cock Sparrer in September 1977)
They must have been aware of punk's rise. In summer 1976, Cock Sparrow had a brush with Pistols manager Malcolm McLaren who was looking for another band to add to his roster in an attempt to create a scene. According to NME in February 1978, he heard their demo tape then saw a rehearsal where he told them they needed haircuts which they rejected, and that was that. It'd take another year before punk helped shape their destiny. At that point they were a four-piece – guitarist Garrie Lammin joined in January 1977. He would co-write all their Decca-period material with bassist Steve Burgess. In April 1977, they were booked as support band on Small Faces UK reunion tour. The contract with Decca (which Small Faces had been on) followed.
After "Runnin' Riot" was out in July 1977, Cock Sparrer's live ads branded them as "football hooligans" – how they were billed for a 22 September 1977 Roxy Club show. Another ad said "promoters with enough guts to book a football hooligan band ring [their booking agent's number]". They were supposedly banned from playing The Roxy, The Vortex, The Marquee and other London venues. Their followers were dubbed the "Poplars", after Poplar in East London. Their label took out ads saying "The Decca Record Co. Ltd hereby announce that they accept no responsibility for any damage to person or property incurred during a Cock Sparrer concert". In the February 1978 NME article, which appeared before the Spain-only album, singer Colin McFaull ruefully said of his band that "they had upset a lot of people". Garrie Lammin said "we were always more interested in football than fashion". Two months later, they spilt.
As for the Decca-era music, it's mostly fantastic if not quite fully on board with punk. "Sister Suzie" has the Slade/Led Zep thing and "Teenage Heart", from side two of the album, is also fairly Led Zep-ish with some Robert Plant-ey vocals. There's a version of Small Faces's "Whatcha Gonna do About it", which is more classically rocky than Sex Pistols's treatment – Small Faces's Steve Marriott has been credited as being on the album, but listening doesn't reveal where (they played "All or Nothing" live, as did Lammin's post-Sparrer band Little Roosters). "Chip on my Shoulder" pounds like a steamhammer and has a winning sing-along refrain. "Taken For a Ride" is similar but faster. "I Need a Witness", not a cover version, is an R&B rocker, filtering Faces through a punk lens. "Again and Again" is a fine stomper. As ever, "Runnin' Riot" sounds swell.
Despite how they were bracketed in 1977 or framed later, it's moot whether the Decca-period Cock Sparrer were punk as such. Live reviews in 1977 and 1978 repeatedly mentioned Small Faces. As far as the times were concerned though, they were on board with punk. As far as how they were subsequently seen, they also were. While the energy and aggro levels fit the bill, the rock, in a pre-punk sense, glam and R&B components of their make-up are inescapable. Does how they fit in matter? Absolutely, as it's always worth remembering that nothing is clear cut while attempting to disentangle the story of 1977.
Next week: Folk, Funk & Beyond - The Arrangements Of John Cameron
'They do lovely sneers', said Jon Savage of Cock Sparrer in 'Sounds'
Explore topics
Share this article