Music Reissues Weekly: The Prefects - Live At The Festival Suite 1978, Un-Scene! Post Punk Birmingham 1978-1982 |

reviews, news & interviews
Music Reissues Weekly: The Prefects - Live At The Festival Suite 1978, Un-Scene! Post Punk Birmingham 1978-1982
Music Reissues Weekly: The Prefects - Live At The Festival Suite 1978, Un-Scene! Post Punk Birmingham 1978-1982
England's second city navigates punk's aftershocks
Birmingham's stylish The Hawks in 1979 – three-fifths of whom were Stephen Duffy, Dave Kusworth and man-of-many-bands Dave Twist
It was going to be great. Birmingham's Digbeth Rag Market was hosting 1977's highest-profile punk festival on 17 July. The Clash were headlining. Also billed were The Heartbreakers, Rich Kids, The Saints, Shagnasty, Stinky Toys, Subway Sect and Tanya Hyde & the Tormentors.
Two days before it was meant to happen, the city council cancelled it. A gathering of punks was prevented. Even so, The Clash and the less-lauded Shagnasty came to town and after meeting pissed-off ticket holders went to local venue Barbarella's to put on an impromptu show. They used equipment borrowed from the band booked for that evening, heavy metal outfit Warhead.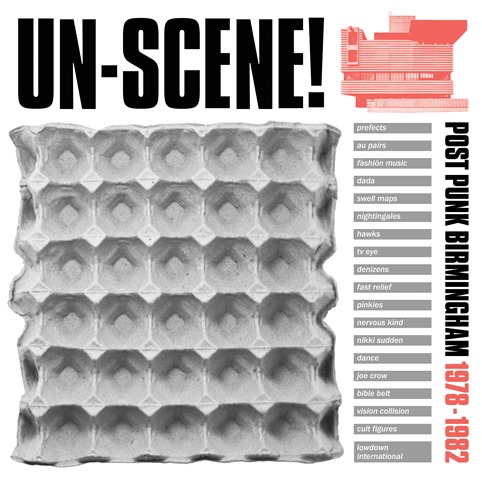 The tale is representative of Birmingham's musical profile during the high punk years and the ensuing post-punk period. It didn't make the leap to being confirmed as a music city in the same way as Manchester. Liverpool nailed it for post-punk. Sheffield would have its synth angle. Bristol spawned the Avon Calling album. Brighton staked its claim with the Vaultage '78 compilation. Birmingham, though, lacked any similar markers.
Nonetheless, seeds had been sown. The Sex Pistols had played Barbarella's in August 1976 and were back in the city in October. Birmingham's Suburban Studs supported the Pistols at the London's 100 Club at the end of August, when The Clash were also on the bill. The Clash – with fast-adopters Suburban Studs as support – were at Barbarella's in late October. The tuned-in were ready for conversion.
One such audience member was Robert Lloyd, who became a friend of Sex Pistols. In early 1977, he came close to replacing the just-departed Howard Devoto in Buzzcocks. His own band The Prefects debuted live in March 1977. Within days, they were invited onto The Clash's White Riot tour. Confoundingly, The Prefects issued no records while they were active. Their audio legacy was limited to two Peel sessions and a posthumous 1980 single drawn from the sessions. Suburban Studs were less cool, but their first single came out in June 1977.
Despite any of this, the word Birmingham didn't become a handy tag: a shorthand for grooviness or a shortcut into what'd be revealed with little digging as a happening scene. Of course, there were The Prefects, their successor band The Nightingales, Au Pairs, Swell Maps and more. Still, a Birmingham brand didn't emerge.
Acknowledging the profile issue in his introductory essay to the booklet coming with the new compilation Un-Scene! Post Punk Birmingham 1978–1982, Stewart Lee says "We know the legends of London and Manchester, definitively documented in their day and then relayed onscreen with filmic sheen. But Birmingham, where self-promotion is considered a cardinal sin, and arrogance rings unconvincingly in an accent seemingly machine-tooled to be downbeat, kept its council. Unlike Manchester, Birmingham didn't have a Paul Morley to make its case for it in print, or a Tony Wilson to televise it, and distribute its vinyl. Because of its historic invisibility, the very idea of Birmingham Punk, like the notion of the actually rather well regarded Birmingham Surrealists, sounds as if it's a vainglorious comic conceit."
The pointedly titled Un-Scene! collects 19 Birmingham entrants in the prospective pantheon. The best-known are Au Pairs, Fàshiön Music (later renamed Fashiøn), The Nightingales, The Pinkies, The Prefects, Swell Maps and Nikki Sudden. Stephen Duffy and Dave Kusworth are also here. So too are the more obscure Denizens, The Nervous Kind and Vision Collision. dada included the pre-Duran Duran John Taylor. Another snapshot of Birmingham in the period comes through the reissue of Live At The Festival Suite 1978, a ripping document – with Jon Savage liner notes – of The Prefects recorded on 27 October 1978 (it was first released in 2006, and copies from then are long gone).
Live At The Festival Suite is the starting point. It begins with close-to three minutes of cacophony: tapes of church bells and what sounds like gunfire mix with feedback and someone repeatedly saying "hello." Next up, "Agony Column" which, at this remove, sounds like an more angular and angry version of first-single Subway Sect. Jagged and punk, but arty and metallic (not heavy metal: rather, the sound of sheet metal). Then, "Going Through the Motions" – draggy, heavy and droning. The rest is as fantastic, wedding Beefheart dynamics to art-punk. Although the source here is an audience tape, the sound is fine and anyone with even a scant interest in UK punk/post-punk needs this. (pictured right, three-fifths of The Prefects in November 1978; Robert Lloyd, left)
When The Prefects played this show, their drummer was Dave Twist. He has compiled Un-Scene! and is heard on four of its tracks. Clearly, there was a scene. Dave Kusworth crops up in more than one combo. John Taylor moved from the grinding experimentalism of dada's April 1978 "Birmingham UK" to Duran Duran in under three years. Steven Duffy moved from The Hawks and their magnificent Monochrome Set-esque "Big Store" (August 1979) to Duran Duran and then to a solo career. Add in Au Pairs, The Pinkies, The Nervous Kind's great, Orange Juice-ish "Five to Monday" (autumn 1980) and any of the other tracks, and it's obvious Birmingham was jumping.
What if Birmingham had had boosters like Paul Morley or Tony Wilson? Or a Zoo Records? Or someone who was able to issue a geography specific compilation album? All moot. Still, and after all this time, The Prefects' Live At The Festival Suite and Un-Scene! Post Punk Birmingham 1978–1982 confirm that Birmingham could, should have had a higher profile over 1977 to 1982. The Digbeth Rag Market punk festival hadn't happened but the building blocks were there. Nonetheless, a handy geographic identification remained out of reach.
Next week: My World Fell Down – The John Carter Story. Four CDs of the man behind The Ivy League, Flowerpot Men, First Class and more
The word Birmingham didn't become a shorthand for grooviness
Explore topics
Share this article