The National, OVO Hydro, Glasgow, review - commanding arenas with ease |

reviews, news & interviews
The National, OVO Hydro, Glasgow, review - commanding arenas with ease
The National, OVO Hydro, Glasgow, review - commanding arenas with ease
A lengthy show served as a thrilling reminder of the Ohio band's rich catalogue
Tuesday, 26 September 2023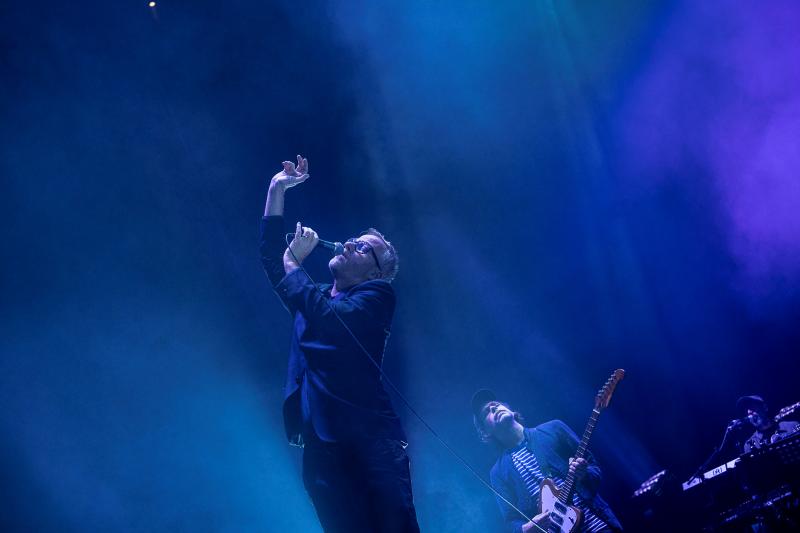 Matt Berninger reaches to the heavens
There remains something disconcerting about seeing the National as arena rockers. Perhaps it's the nonchalant stage entrance as they stroll on, a far cry from the pyro heavy displays this Glasgow venue usually witnesses. Maybe it's the unassuming stage attire, with frontman Matt Berninger adopting a smart casual look, or the sort of onstage chat that featured the group remarking on unusual time signatures in their songs.
However this hefty set, clocking in at over two hours, was a reconfirmation of the band's widespread appeal, and how, with little compromise, they have become comfortable in substantial surroundings. When guitarist Aaron Dessner remarked on their intention to play new songs and old songs alike he wasn't kidding, as this was career spanning stuff, right up to last week's surprise album release, "Laugh Track".
The title track from that record was a highlight, missing Phoebe Bridgers but possessing a melancholy loveliness that rippled throughout. That was a state resoundingly shattered on another newbie, the several minute long "Smoke Detector", a tense sprawl of a song that lashed out with considerable heft.
The group's noisier, angrier work were perhaps an easier fit to play to the masses, and they arrived in resounding fashion all night, from an intense "The System Only Dreams In Total Darkness" to the sing-a-long "Terrible Love" and the rousing post-punk snap of "Mistaken For Strangers", here dedicated to the late Scott Hutchison of Frightened Rabbit, another band who could analyse life with both a caustic eye and a full heart.
Yet while many bands have stepped up to bigger venues by simply increasing the noise levels and hoping for the best, the National have ensured a suitable shade is there too. It was there from the subdued start, with Berninger crooning through the pared back opener of "Once Upon A Poolside" and it was there at the end too, when the vocalist conducted the crowd in singing an entirely acoustic "Vanderlyle Crybaby Geeks" for a touching finale. There was also the main set closing "About Time", which switched from tenderness to a guitar heavy climax with both Aaron and Bryce Dessner holding instruments aloft.
Pacing around the stage like an expectant father, Berninger's vocal has a weathered quality, as if worn but undiminished by the years, and yet it still barks when needed to. That quality is true throughout the quintet, here augmented by two additional musicians, with drummer Bryan Devendorf a pulsating presence all night long, even if so submerged in darkness at points that he resembled a pair of hands emerging from the gloom, armed with drumsticks and nothing else.
There was the occasional drift towards the dad rock tag the band themselves have mockingly embraced, with "Alien" rather dreary, but the gig was never allowed to linger in that state for long, not least through Berninger taking various detours into the audience during a jubilant "Graceless" and an adrenaline pumping "Mr November". Still stinging with venom, the latter prompted a huge push from the standing section to get within touching distance of the singer, who disappeared from view in the process. Even among arenas, the National can still provide an emotional intimacy.