Reissue CDs Weekly: How is the Air up There? |

reviews, news & interviews
Reissue CDs Weekly: How is the Air up There?
Reissue CDs Weekly: How is the Air up There?
Absorbing collection of freakbeat, mod and soul stylings from New Zealand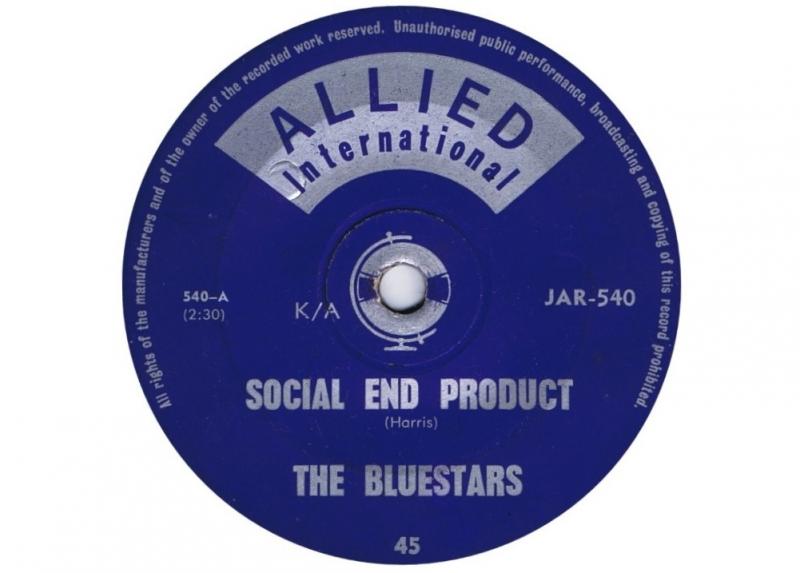 The Bluestars' snot-nosed 'Social End Product': one of the highlights of 'How is the Air up There?'
"I've been labelled as an angry young man / Because I don't fit into the master plan / Under society's microscope / I look funny but it's no joke.
I'm a social end product so don't blame me / I'm a social end product of society / It's not my fault that I don't belong / It's the world around me that's gone all wrong."
Delivered with snot-nosed venom, the lyrics of The Bluestars' December 1966 single "Social End Product" rail against the perceptions fostering the them-and-us generation gap. The music is suitably tough, defined by an insistent fuzz guitar riff and pounding drums. Wherever it's from, it's one of the Sixties' greatest records.
The Bluestars were from New Zealand and "Social End Product" is Track Six, Disc One of the new three-CD clamshell box set How is the Air up There?: 80 Mod, Soul, Freakbeat Nuggets From Down Under. Although the title is geographically imprecise, all the cuts compiled are by The Bluestars' country folk. The title is drawn from The La De Das' fantastic "How is the Air up There", which kicks off Disc One.
Non-New Zealanders were first hipped to "Social End Product" in 1987 when it appeared on the Australian label Raven's essential Ugly Things #3 comp. That also featured The La De Das' "How is the Air up There?" as well as Chants R&B, Larry's Rebels and The Pleazers, all of whom also crop up on How is the Air up There? By that point, Raven had also issued collections dedicated to fellow Kiwi bands Ray Columbus & The Invaders and Larry's Rebels. It was no secret that New Zealand had a rich Sixties scene.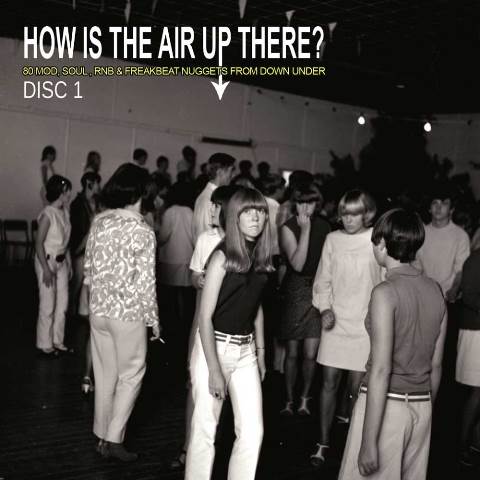 While Split Enz, their offspring Crowded House and the Flying Nun label testified internationally to New Zealand's then-current musical vibrancy, it had become possible to see the country's new bands in the context of what came before. Flying Nun were well aware of this background as they issued the ripping album Wild Things - Wyld Kiwi Garage 1966-1969 in 1990, from which all-but-one of the bands and many of tracks crop up on How is the Air up There? Ground zero for digging into this fertile musical seam had come in 1980 with a New Zealand-only K-Tel compilation titled How Was the Air up There. Four decades on, How Is The Air Up There? must be seen as part of a continuum and the culmination of a process which began in the 1980s.
All this might suggest that New Zealand's Sixties music has been strip-mined. Not a bit of it. By teaming familiar tracks with just as many new rediscoveries, How is the Air up There? offers a fresh perspective on a country which, in 1966, had a population of just under 2.7 million. Unsurprisingly, no Maori bands are heard. The 1966 New Zealand census put the Maori population at 201,000.
A theme which emerges while the three discs unfold is the speed of uptake of many of these bands. Bari & The Breakaways' bold reconstruction of "I Can't Explain" was issued in March 1965. The Who's original was released in January. The liner notes quote a member of The Breakaways as saying "HMV [records] would arrive at our flat with a box of records that they weren't going to release in New Zealand. We'd pick out a dozen or more to have a crack at live and announce them as 'The latest release from England.'"
Even more enterprisingly, The La De Das issued their cover of John Mayall's "On Top of the World" as a single in October 1966 after taping a session performance of the original from a BBC broadcast the preceding March. Mayall released his version of his own song in 1969. Most amazingly, in carbon-copy fashion a band called The Action covered the British Action's "Never Ever".
Further light is shone on the catch-up process by taking in the striking photographs of an Upper Hutt audience used for the box set's cover and each disc's card sleeve. The hair and clothes suggest the styles of 1965 or 1966 but the shots were taken in 1969. While New Zealand was, in part, reactive to and a refraction of the benchmarks set by UK, the best of the tracks on How is the Air up There? pay no heed to handling their inspirations or chosen styles with care.
Such boisterousness is exemplified on Disc Two, where The Selected Few's version of The Pretty Things' "Get the Picture" is even rougher than the original. On the same disc, Identity's "Just Out of Reach" is a world-class slab of fuzz-psych. Some of the more deliberate bands though, such as local superstars Quincy Conserve, come across as pallid when set against the general tone of wildness. And the mainly soul-pop oriented Disc Three is predominantly tame, so less impactful than the first two discs.
These niggles about consistency aside, How Is The Air Up There? does what it should and makes a convincing case for New Zealand's musical vitality during the Sixties.
Next week: Chris Hillman's 1976 and 1977 solo albums

New Zealand was reactive to and a refraction of the benchmarks set by UK
Explore topics
Share this article
Subscribe to theartsdesk.com
Thank you for continuing to read our work on theartsdesk.com. For unlimited access to every article in its entirety, including our archive of more than 10,000 pieces, we're asking for £3.95 per month or £30 per year. We feel it's a very good deal, and hope you do too.
To take an annual subscription now simply click here.
And if you're looking for that extra gift for a friend or family member, why not treat them to a theartsdesk.com gift subscription?