Reissue CDs Weekly: Lee Hazlewood, T-Coy, Laibach, Boppin' by the Bayou |

reviews, news & interviews
Reissue CDs Weekly: Lee Hazlewood, T-Coy, Laibach, Boppin' by the Bayou
Reissue CDs Weekly: Lee Hazlewood, T-Coy, Laibach, Boppin' by the Bayou
Lost soundtrack from American great, Mancunian house, Slovenian ambiguity and Lousiana rock'n'roll
Sunday, 02 September 2012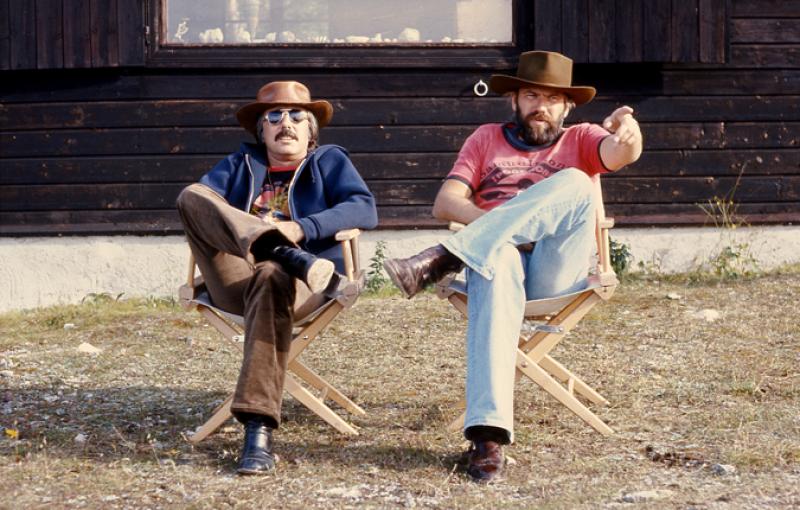 Lee Hazlewood (left) and Torbjörn Axelman contemplate whether their house is safe for tigers
Lee Hazlewood's voice can still invoke awe. It's gravelly, sonorous, rasping, but incredibly affecting – even when he's scraping around in the depths it always sounds musical. A reissue of a hard-to-find 1975 LP, A House Safe for Tigers was originally the soundtrack to a Swedish TV movie directed by Hazlewood's friend Torbjörn Axelman. Hazlewood had moved to Sweden in 1970, partly to ensure that his son wouldn't be drafted to Vietnam. He continued to record and release new material, most of which slipped under the radar.
A House Safe for Tigers holds up incredibly well and lovers of richly orchestrated pop will marvel at Mats Olson's lush production. In places, it's reminiscent of Scott Walker's late Sixties material, yet isn't Hazlewood's voice a touch more seductive and inviting? "May your house be safe from tigers/May you never need to die" runs the opening couplet of the title track, a song so insidiously charming that we welcome the a capella choral reprise heard at the album's close.
The heart of the disc is the opener, "Soul's Island". Musically sumptuous and lyrically impressive, it's among the best things that Hazlewood recorded – an expansive love song to the island of Gotland where he was living at the time. "This land, Soul's Island/Will always be the heart of you and me," roars the refrain. It moves with an incredible swagger and swing. Yet despite the orchestral pomp, there's a wistfulness, a fragility in the way which Hazlewood intones a song celebrating the fact that he's alive at all. Nothing else quite hits these heights, but "Our Little Boy Blue" charms as a sweet, irony-free lullaby and "The Nights" showcases Hazlewood's matchless gifts as a storyteller. Glorious, in other words.
Kieron Tyler
Before M People parked themselves in the charts, founder member Mike Pickering was one-third of T-Coy, a Mancunian outfit specialising in a Latin-leaning house. This fascinating comp corrals everything they issued between 1987 and 1989 for dance imprint Deconstruction – there was no album – and adds a couple of remixes of lead track "Cariño". Elements are familiar: a "Blue Monday" chug to the rhythms, Latin percussion, house piano. T-Coy (the name stands for "take care of yourself") had a rich Manchester lineage, with members not constrained by musical boundaries. Pickering was DJing at the Haçienda too and had been in the less-immediate Quando Quango, who also featured former A Certain Ratio mainstay Simon Topping – who formed T-Coy with Pickering (Topping also played in the early M People). T-Coy score by reconfiguring their building blocks into irresistible workouts that are both dance-floor friendly and listenable. Which makes the great Cariño + Singles more than a piece of Manchester's musical history.
Kieron Tyler
Reproduction Prohibited, the subtitle to this collection of Slovenia's number one musical export, gives the game away. Most of the tracks are unique, highly stylised, electro-assisted takes on songs by others. Calling these cover versions is too simple. Whatever Laibach's motives, these renderings are, at the least, memorable and, at the most, guaranteed to alter irrevocably how you approach the familiar. Their reconstruction of Bob Dylan's "Ballad of a Thin Man" turns it into a bizarre David Lynch-ian quease-fest. Europe's pomp-rocking "The Final Countdown" becomes an anthem for end times. The Beatles "Across the Universe" is a schmaltzy and creepy – at the same time. But the template Laibach reinvention is Queen's "One Vision", a rallying cry….to what? Laibach transcend kitsch and are deeply serious about what they do, but they remain inscrutable and ambiguous. Don't expect this introduction to answer questions.
Various Artists: Boppin' by the Bayou
Kieron Tyler
Hunter Watts & his Southern Pals? Gil Gilroy & the Jolly Rockers? No, me neither. About as well-known as it gets on this terrific comp of early Louisiana rock 'n' roll are Rod Bernard and a pre-fame John Fred (the "Judy in Disguise" hitmaker). It gets even more obscure, as 11 of the 28 cuts are previously unreleased. Judging by Boppin' by the Bayou, the Louisiana region's rockers were as in thrall to Elvis, Jerry Lee and Gene Vincent as anyone else, but they had their own spin. Mostly, that means injecting the lolloping groove familiar from Fats Domino and rhythms leaning towards the off-beat – not unlike jump music. There's no filler here, and any track could be an entry point. Tommy Todd's hiccupping and skittering "Tag Along" opens proceedings and features a cheese-wire guitar solo and clattering drums. Gil Gilroy & the Jolly Rockers' "Laura Lee", with its honking sax solo, is rock'n'roll firmly in Domino's shadow. Lawrence Walker & his Wandering Aces' incredible "Keep Your Hands Off It" has a zydeco flavour, which shows you can bring rock'n'roll to the Bayou, but once it's arrived you can't take the Bayou out of rock'n'roll.
Watch Torbjörn Axelman's film for "The Nights", from Lee Hazlewood's A House Safe For Tigers
In places, 'A House Safe For Tigers' is reminiscent of Scott Walker's late Sixties material, yet Hazlewood's voice is more seductive and inviting
Share this article