Reissue CDs Weekly: Ronnie Lane |

reviews, news & interviews
Reissue CDs Weekly: Ronnie Lane
Reissue CDs Weekly: Ronnie Lane
The 'Just For a Moment' box set tracks what happened after Faces
Ronnie Lane, after resetting his dial to the pastoral
It was inevitable that Rod Stewart's distracting solo adventures would eventually kill off Faces, the band he fronted. Less predictable was the departure during their lifetime of another founder member, their bassist and key songwriter Ronnie Lane.
It was inevitable that Rod Stewart's distracting solo adventures would eventually kill off Faces, the band he fronted. Less predictable was the departure during their lifetime of another founder member, their bassist and key songwriter Ronnie Lane. A hint the split was coming arrived in late 1972 when Lane and Faces guitarist Ronnie Wood recorded the soundtrack music to the film Mahoney's Last Stand while their band began work on the Ooh La La album.
At that point, Stewart was then riding high with his Never a Dull Moment album, a US and UK smash. In March 1973, the singer churlishly registered his dislike of the newly released Ooh La La in the music press. Lane played his last show with Faces in June 1973. The band limped on with his replacement and fizzled out at the end of 1975.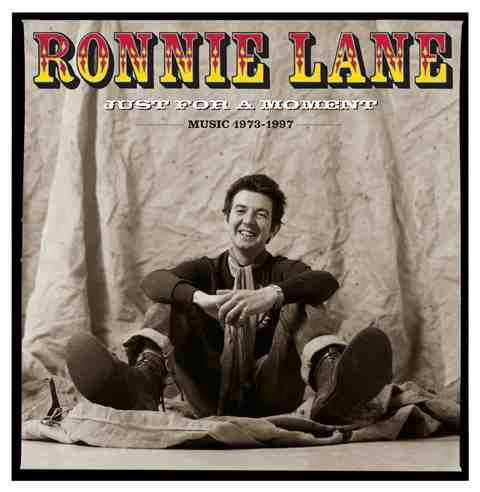 By then, Lane had charted in the UK – albeit relatively modestly – with the "How Come" and "The Poacher" singles. After investing his Faces' money in his own mobile recording studio, he bought a rural farm, reset his dial to the pastoral and began doing as he pleased. It wasn't just Lane's membership of Faces which helped support the new solo path: pre-Faces, while in Small Faces, he had written or co-written the singles "All or Nothing", "Itchycoo Park", "Tin Soldier", "Lazy Sunday" and more. Firm ground had been laid.
The new box set Just For a Moment: Music 1973–1997 picks up Lane's story in the wake of leaving Faces. In his introduction, written for the set's book, Pete Townshend says "Ronnie Lane was my best friend for many years. He's one of the few people I have ever been able to work with in a studio without the need to take charge. His songs, his voice, his laughter and his courage (he was always willing to call me out if I was being a twat) still ring out for me." Lane died in June 1997.
Just For a Moment is issued by Universal and packaged in the same manner as their recent Bobbie Gentry and Soft Cell sets. A large-format slipcase houses a hard-back book. Six CDs are inserted into its covers. A separate lyric book and a poster are also included. Discs One to Four hinge on Lane's albums Anymore for Anymore (released in 1974), Ronnie Lane's Slim Chance (1975), One for the Road (1976) and See Me (1979). Bonus tracks on each disc draw from singles, alternate versions, BBC radio sessions, live shows, Mahoney's Last Stand, outtakes and the 1977 Rough Mix album made with Pete Townshend. Disc Five mixes live material, demos and outtakes from 1976 to 1981. Disc Six focuses on US-recorded demos and live material from 1987 to 1992, after Lane's move to Texas. The book includes separate essays by Kent Benjamin, Paolo Hewitt and Kris Needs, each on a different period. Lane's four albums will be familiar to the committed, as will Rough Mix, but just under half the 118 tracks are either hard to find – Disc Five's 1980 Rockpalast TV concert was issued on a German CD in 2013 – or not previously issued. Just For a Moment is about the package as a whole.
A diligent and well-presented tribute, Just For a Moment goes all-out to be the last word on Lane's solo years. It would have been nice to have had the aural narrative augmented with a track from his 1981 reunion with Steve Marriott as Majik Mijits and to have included his vocal contribution to the 1991 John and Mary's Victory Gardens, his final appearance on album, but this exhaustive set is an agreeable contrast to 2015's poorly presented You Can Make Me Dance, Sing or Anything… 1970–1975 Faces box. Just For a Moment is exactly the sort of thing major labels should be doing with less-obvious aspects of their catalogues.
Amongst the most interesting live cuts are a pair on Disc One recorded at Maidenhead's Thames Hotel on 11 December 1973 with a band whose line-up is not given. It sounds as though it's a prototypical Slim Chance as a violin is heard, presumably that of Charlie Hart. The two tracks are "Flags and Banners", written by Lane with Stewart, and sung by Lane on Ooh La La, and a cajun-flavoured "Last Orders Please", which had been on 1971's A Nod's as Good as a Wink... to a Blind Horse, where it was also sung by Lane. Six months after he left them and while they were still active, Lane was foregrounding his pivotal role in Faces.
Another fascinating nod to another of his lives is a stripped-back John Peel session version of "All or Nothing" recorded on 15 January 1976 while a reissue of "Itchycoo Park" was in the charts. Later in the year, Lane would have a short, rehearsal-only brush with the reformed Small Faces. While not everything on Just For a Moment has such strong proprietorial sub-texts, there is a sensation throughout of where Faces might have gone if Stewart had not become distanced from them; the band which helped him achieve a world-wide platform.
Townshend's text draws a couple of parallels by saying "Ronnie's voice is very much like Bob Dylan's sometimes, but his music with his musicians has the immediacy of Neil Young's Crazy Horse. It feels as though it all spills out without effort, joyfully, and like a soothing balm." While The Band are in there too and there is an overriding American-leaning rootsy sensibility – Disc Four includes an off-the-cuff version of "Annie Had a Baby" – another equivalent comes to mind. (pictured right, Ronnie Lane with Pete Townshend)
After leaving Faces, Lane was consciously stepping back from the treadmill he had been on and seeking to make music which connected more directly with audiences and himself. He did so as Britain's pub rock scene coalesced. At its core, much of what's heard on Just For a Moment is not far from what pub rockers Bees Make Honey (whose Ruan O'Lochlainn played with Lane) and Brinsley Schwarz were doing. Small Faces began in a pub, and the post-Faces Ronnie Lane sounds as if he wanted to be in – and belonged in – a pub.
It's the flipside to Stewart's jet-settery and by encapsulating this Just For a Moment achieves what it sets out to do: it captures Lane's bohemian spirit.
Next week: Bernard Herrmann's music for the Alfred Hitchcock film Marnie

Pete Townshend says Ronnie Lane was always willing to call him out if he was being a twat
Share this article