Reissue CDs Weekly: Sumer Is Icumen In - The Pagan Sound Of British & Irish Folk |

reviews, news & interviews
Reissue CDs Weekly: Sumer Is Icumen In - The Pagan Sound Of British & Irish Folk
Reissue CDs Weekly: Sumer Is Icumen In - The Pagan Sound Of British & Irish Folk
Three discs seeking to evoke a 'woodland peppered with invocations'
Dr Strangely Strange find an exclusive audience
The winter solstice occurs tomorrow, 21 December. Stonehenge, one of this island's most significant structures, is constructed in alignment with the setting sun on that day. After the solstice, the days lengthen and a new cycle of the year begins.
An image of what could be Stonehenge appears inside the back cover of the booklet coming with Sumer Is Icumen In – The Pagan Sound Of British & Irish Folk 1966–1975. Inside its front cover, a similar edifice is seen. Within it, a circle of woman kneel each with arms outstretched. The image is taken from the 1973 film, The Wicker Man and the ostensible stone circle in the picture was made for the film. So was the second track on this three-CD clamshell set, "Corn Rigs" by Magnet.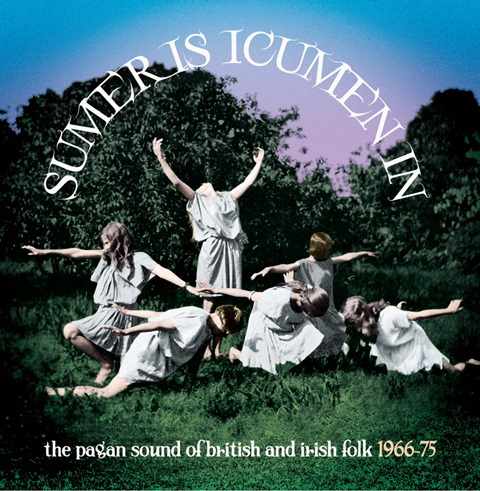 In the booklet, it says that although the words of "Corn Rigs" were penned by Robert Burns the film's music was written by "New Yorker Paul Giovanni, with the music played by Magnet – actually English folk rock band Hocket, augmented for the occasion by a couple of recent graduates from the Royal College of Music." Such is the world of Sumer Is Icumen In, a release intimately tied-in with this time of year. And like The Wicker Man there's a pick-'n-mix approach to the pagan.
The remit is broad, taking in, as it's put, a "darkly pagan woodland that's peppered with invocations of corn gods, wicker men, bright Phoebus and other non-Christian deities; magickal tales of daemons, sorcerers, false knights and faerie queens; the medieval England myths, legends, rites and traditions of the May Queen, John Barleycorn and the Green Man; paeans to the natural world and the rhythm of the passing seasons; fables of sanctuary stones, scarecrows, talking horses and buried villages alongside dread stories of purgatory, sacrifice, rape, bestiality and murder."
Amongst the well-known names included are Kevin Coyne, Curved Air and Mighty Baby, none of whom immediately spring to mind as within the title's qualifiers of folk and/or pagan. Anne Briggs, Shirley Collins, Pentangle and Strawbs are a more snug fit. There's 60 tracks on Sumer Is Icumen In and it's a fair bet few contributors were actual pagans: practitioners of the non- or pre-Christian – heathens.
Buying in to this collection requires an acceptance that at least some of what's collected is trying something on for size. That's the case with Marc Bolan's "Eastern Spell" and, with a different motivation to the bopping gadfly, Traffic's "John Barleycorn". Sumer Is Icumen In is not analogous to Psychic TV's in-tune Pagan Day album. In the end, it comes down to atmosphere.
There's much here that's wonderful. Fairport Convention's "Tam Lin" is unbeatable, a take on British folk defined by Richard Thompson's lacerating guitar. Incredible String Band's "Witches Hat" will always be startlingly odd. "The Bite", by Comus, is beyond odd. Amber's "Swan in the Evening" is an extraordinary, originally unreleased, piece of music moving through different moods, all unsettling.
Similarly, George Deacon and Marion Ross's "Holsworthy Peter's Fair" is imbued with creepiness (pictured above left, George Deacon and Marion Ross). If a copse were animated and then created music, it may have performed Dr. Strangely Strange's "Strings in the Earth and Air".
Hitting hardest are the tracks shrouded in murk: vaporous yet evincing a consciousness appearing to be symbiotic with the subject matter. Meic Stevens's "Yorric" has an intensity which can only have been born from such a relationship. Anne Briggs's "Summer's in" channels disconnection and otherness. Lal Waterson's disturbing "The Scarecrow" brings worrisome life to a character who ought to be inert. Midwinter's "Sanctuary Stone" is so enigmatic it may as well be a missive from the hidden people.
Sixty tracks is a lot – there is an unlisted bonus too – and irrespective of their individual consequence Kevin Coyne, Curved Air, The Sallyangie (Mike and Sally Oldfield), Bridget St. John, J. P. Sunshine and a few more are not as one with the more affecting tracks. They are either singer-songwriters as such, or come from the world of pop or rock rather than one with an inherent empathy for the music being tackled.
Sumer Is Icumen In – The Pagan Sound Of British & Irish Folk 1966–1975 is stuffed with gems though. But whether a pagan essence is encapsulated? Intermittently. Is the word "pagan" used too lightly? Absolutely.
Next week: Looking back at 2020
Midwinter's 'Sanctuary Stone' is so enigmatic it may as well be a missive from the hidden people
Explore topics
Share this article