Reissue CDs Weekly: Unusual Sounds |

reviews, news & interviews
Reissue CDs Weekly: Unusual Sounds
Reissue CDs Weekly: Unusual Sounds
Library music compilation lacks the impact of the companion book of the same name
John Cameron: a recurrent presence on library music collections
The double album The Sound Gallery was issued in 1995. It collected British easy listening and library music tracks which had been mostly overlooked by reissue compilers as they were beyond a form of musical pale.
The double album The Sound Gallery was issued in 1995. It collected British easy listening and library music tracks which had been mostly overlooked by reissue compilers as they were beyond a form of musical pale. The 24 cuts were, up to a few years earlier, neither hip or trendy as they were by stuffy old geezers like Joe Loss, aimed at a low-cred easy listening audience, not rare or had been heard by barely anyone as they had appeared on subscription-only music library albums. As a foundational exercise in delineation, The Sound Gallery became as influential a compilation as Nuggets.
Side 2 of The Sound Gallery opened with John Cameron's "Half Forgotten Daydreams", a Brazilian-tinged aural breeze which first appeared on the 1973 KPM library album Voices in Harmony. Now, the track crops up again on another double album, Unusual Sounds.
A sense of history repeating itself recurs with Unusual Sounds' opener, Keith Mansfield's "Funky Fanfare". KPM itself reissued it on the 1997 compilation CD Sounds of the Sixties & Seventies Part 2. This version of "Funky Fanfare" originally appeared on the 1968 KPM album Flamboyant Themes Volume II. The sleeve described it as a "bluesy fanfare type melody on brass, piano solo in middle section." A shorter version from a different KPM album was reissued on the 1997 comp Blow Up Presents Exclusive Blend Volume 2. In time, a band called The KPM All Stars featuring musicians who had worked for the label began playing live.
Evidently, the cat was out of the library music bag some time ago. Innumerable compilations – dedicated to a label, a single composer or musician, or across labels and artists – have been issued. Unusual Sounds has entered a crowded market.
Unusual Sounds is the aural companion to the book Unusual Sounds: The Hidden History of Library Music. It engagingly goes into the phenomena in unprecedented depth and tells the stories of British, French, German, Italian and North American labels: the alternate musical world where, for example, Madeline Bell, Delia Derbyshire, Jean-Michel Jarre, Jimmy Page and John Renbourn worked beyond the scope of the public eye. An unreservedly recommended book which borrows its title from a 1980 album on the German Sonoton label (pictured left) .
The accompanying album is less exciting. Not only are familiar, previously compiled tracks included but some of what is heard is hard to get through. Joel Vandroogenbroeck and Marc Monsen's 14-minute "Group Meditation", from another 1980 German album, is a new age-ish mood piece with little to latch onto. Overall, a leaning towards the atmospheric over the melodic or rhythmic results in Unusual Sounds drifting by.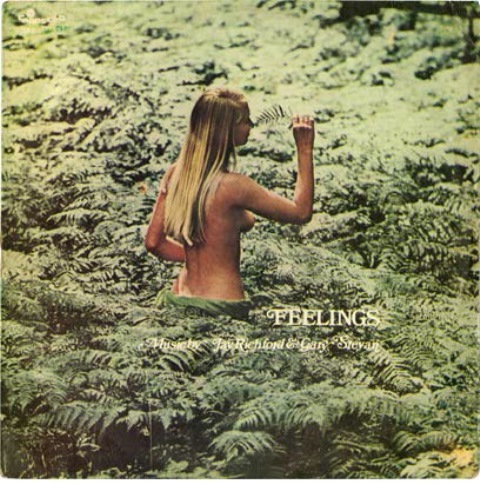 However, when attention is grabbed it really is grabbed. Stefano Torossi's "Running Fast" conjures international glamour, intrigue and sophistication. It originally appeared on a 1974 Italian album titled Feelings (pictured right) which was issued for general sale in 2000. "Soft Wind", by Germany's Orchestra Gary Pacific – credited here as Gary Pacific Orchestra – is a lovely rhythmic breeze. The track is from a 1971 album and was later issued as a single in 2009. It's also cropped up on a couple of breakbeat compilations.
In terms of listenability, Unusual Sounds would have worked better if it had stuck with one ethos within which variations were explored. This impression that the music itself is secondary to the album's existence is reinforced by its liner notes. Instead of addressing the contents on a track-by-track basis, there is an essay describing the nature of library music which also goes into individual labels. Potential buyers already familiar with the terrain – the converted – are unlikely to need such an overview. Some information is missing from the annotation: the dates for the original appearance of seven of the 20 tracks are not given. The Feelings album is given a 1974 date in the book and 1975 on the album.
While Unusual Sounds is a welcome release as it celebrates an aspect of popular music always worth celebrating, it is not going to raise the pulses of committed library music fans as there are too many familiar tracks. And the more underwhelming cuts may cause less staunch listeners to ask whether the well being drawn from is actually as exciting as it initially seems.
Next Week: Tangerine Dream's The Pink Years – their first four albums in a box
The cat was out of the library music bag some time ago and 'Unusual Sounds' has entered a crowded market
Explore topics
Share this article