Reissue CDs Weekly: Tangerine Dream |

reviews, news & interviews
Reissue CDs Weekly: Tangerine Dream
Reissue CDs Weekly: Tangerine Dream
'The Pink Years' collects the German Kosmische titans first four albums in a box
Under the Eiffel Tower: Tangerine Dream in Paris, November 1972
In April 1973, John Peel wrote that "For my money, Tangerine Dream are the best of the Kosmische Music bands. Whenever any of their extended works are played on the radio there is a heavy mail from listeners. Most of the letter-writers are for it, those that are against it are very against it indeed. A Tangerine Dream track, heard superficially, is little more than a repetitive drone.
Closer listening reveals a constantly shifting and evolving pattern – something like Terry Riley's
In C
."
Peel began playing Tangerine Dream on his radio show in Autumn 1972 and went on to choose their fourth album Atem as his favourite of 1973. Virgin Records' Richard Branson was paying attention, was also aware of the strong sales of import copies of Tangerine Dream's albums in his Virgin record shops and, bolstered by his Virgin label's May 1973 release of Mike Oldfield's Terry Riley-influenced Tubular Bells, hot-footed it to Germany to sign the band. Phaedra, recorded at Branson's Manor Studio in November 1973, duly became the Tangerine Dream's first album for Virgin. It charted in the UK in April 1974, peaking at 15 and stayed on the album charts for 15 weeks.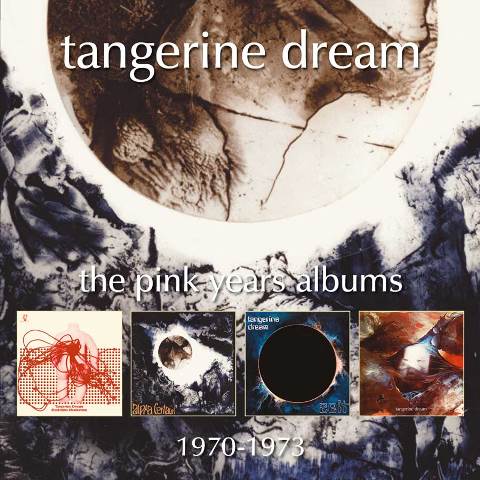 Crashing into the mainstream charts was extraordinary. The new clamshell box set The Pink Years Albums 1970–1973 collects Tangerine Dream's first four albums – the ones prior to the Virgin signing – and shows how they got there. That there was a British market for questing German bands was unsurprising: Can and Neu!'s records had been issued in the UK by United Artists, and the former had played the British live circuit. The title of the new release comes from the label colour of the original German versions of the albums. The non-album single "Ultima Thule" is not collected and, although a small poster is included, there is no booklet.
Tangerine Dream's debut was not by the same band which recorded the Peel favourite Atem and does not sound like it. Recorded in October 1969 in Berlin, Electronic Meditation featured a Tangerine Dream comprising Edgar Froese, Conrad – credited as Conny – Schnitzler and Klaus Schulze. The band's name nodded to Britain as it was a misheard form of The Beatles' "tangerine trees". The music did so too due to its indebtedness to the Pink Floyd of Saucerful of Secrets. A great album and an as-such post-psychedelic classic.
Schnitzler and Schulze then left Froese to pursue their own paths and the reconstituted Tangerine Dream issued Alpha Centauri in 1971. Froese was now joined by Chris Franke and Steve Schroyder, and guest players Udo Dennebourg and Roland Pualyck. Import copies made it their breakthrough with British heads. The lack of overt rhythm and the 13-minute "Fly and Collision of Comas Sola" point to what would attract Peel's ears but the album is musically fragmented. Side 2's epic, 22-minute title track does not fully cohere.
For the follow-up, the double album Zeit, Steve Schroyder had been replaced by Peter Baumann. The Froese, Franke and Baumann Tangerine Dream was the one which would physically cross most borders. Schroyder went off to briefly pass through a post-Klaus Schulze Ash Ra Tempel before making solo records. Zeit's guests musicians include Popul Vuh's Florian Fricke and four cello players (as well as Schroyder on organ), giving an idea of how the sound had coalesced into a synth-bedded, pastoral-leaning though hard-edged space rock. Another classic. Zeit was followed by the similarly lucid single album Atem and the rest is Kosmische or Krautrock history.
While having all four albums in one place is a good thing, it's hard to see an extensive market for The Pink Years as each has individually been the subject of multiple previous CD reissues. There are already around 11 CD versions of Electronic Meditation; it's about the same figure for the other three albums. Anyone who wants these must already have them. It is possible that a copy of each of any of the previous CD versions could be picked up second-hand for a total price of less than that of The Pink Years.
However, anyone who has not heard Tangerine Dream's first four should get The Pink Years as a one-stop entry point into the band when they were at their most vital, before they had settled into propagating what increasingly became a formula with concomitantly decreasing musical dividends.
Next Week: The box set of The Beatles' 'White Album'
Tangerine Dream crashing into the mainstream British charts was extraordinary
Share this article