Reissue CDs Weekly: Kraftwerk - in colour, from Autobahn to The Mix |

reviews, news & interviews
Reissue CDs Weekly: Kraftwerk - in colour, from Autobahn to The Mix
Reissue CDs Weekly: Kraftwerk - in colour, from Autobahn to The Mix
When reissues are not reissues
As they were at the time: the 'Trans-Europe Express' Kraftwerk
After Florian Schneider left Kraftwerk in 2008, Ralf Hütter was left in the driving seat. The pair had first been heard on record in 1970 as members of Organisation, and their first album as Kraftwerk followed later in the year.
Although others were in
Kraftwerk
and contributed to the ethos to varying degrees, it was always about Schneider and Hütter. In 1973, titling the third Kraftwerk album
Ralf und Florian
confirmed this.
Post-Schneider (he died in 2020), Kraftwerk's first outputs were, in 2009, a series of 3D live performances and reissues of most of their albums. Really though, Kraftwerk just-about ceased being an in-the-moment recording entity in 1999 with the release of the "Expo 2000" single. After that, there was the conceptually familiar though recently recorded Tour de France Soundtracks album (2003) and the live album Minimum-Maximum (2005). There was also the further live set 3-D The Catalogue (2017). In the 21st century, Kraftwerk are about revisiting their past.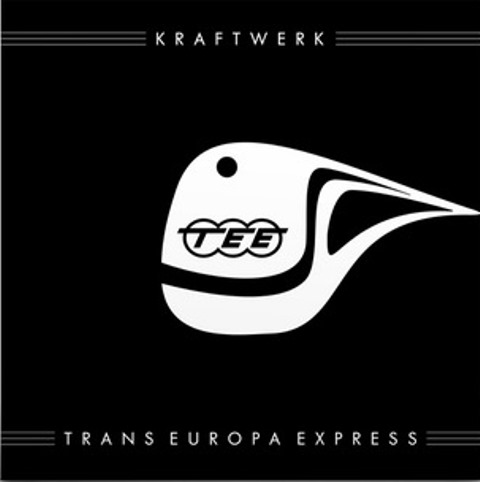 The problem with this reconfiguring, remixing and revisiting is that it overshadows what made Kraftwerk great in the first place – the extraordinary, peerless albums they made, and the concomitant ways they were marketed and packaged. These were albums created from scratch and are amongst popular music's greatest: Autobahn (1974), Radio-Activity (1975), Trans-Europe Express (1977), The Man-Machine (1978) and Computer World (1981). (pictured right, Trans Europa Express as it is now)
Stepping into the recent-ish miasma of modification is a set of new vinyl releases: Autobahn, Radio-Activity, Trans-Europe Express, The Man-Machine, Computer World, Techno Pop (originally released as Electric Café), The Mix and Tour de France (originally released as Tour de France Soundtracks). The first six are from the years they were making new records as such, rather than amending, re-rendering or springing-off from what had already been out.
Four German counterparts are also issued: Radio-Activität, Trans Europa Express, Die Mensch-Maschine and Computerwelt. Radio-Activität and Radio-Activity were the same album, but had different sleeves in different markets. The other three feature German-language vocals. (pictured left, Trans Europa Express as it was in 1977)
These differ from the 2009 reissues as they are now on coloured vinyl. The first pressing of Die Mensch-Maschine in 1978 was on red vinyl but otherwise this is a fresh twist. There's a blue Autobahn, a yellow Radio-Activity/Radio-Activität, a clear Trans-Europe Express/Trans Europa Express, a red The Man-Machine/Die Mensch-Maschine, a neon yellow Computer World/Computerwelt (like 1978's luminous "Neon Lights" single), a clear Techno Pop, white for the double set The Mix and discs in blue and red for the double set Tour de France. The inserts and inner bags are as per the 2009 packages.
Also like the 2009 reissues, the sleeves are not those which were in the shops when the albums were first released. Computer World and Tour de France are close to the originals, but the others have front covers which first appeared in 2009. Taken along with the title change from Electric Café to the originally unused title Techno Pop and the minor elision from Tour de France Soundtracks to Tour de France, it's impossible not to wonder why the original things are unsuitable for today's world. (pictured right, Die Mensch-Maschine as it is now)
Only Ralf Hütter has the answer. The promotional material refers to "the stunning cover artworks and visuals conceptualised, created and produced over five decades by Ralf Hütter." While there were originally cases of different sleeves in Germany and the UK at the time of release – Autobahn, for example – that was then: a contemporaneous rather than subsequent decision. It feels a shame that these fundamental aspects of Kraftwerk's history and identity are altered after the fact. Make no mistake, these are lovely packages. But they are not reissues. They are reconfigurations.
Yet it must be made clear that they sound amazing. The new Radio-Activität, Trans Europa Express, Die Mensch-Maschine, Computerwelt, Techno Pop and The Mix were supplied for review. The digital masters used are those created for the 2009 releases. A very hard listen to the new Radio-Activität and Trans Europa Express and comparisons with original German pressings of both reveals that no remixing has taken place. (pictured left, Die Mensch-Maschine as it was in 1978)
The sound has a wider dynamic range than the original albums, with the louds louder and the quiets quieter: what would be expected from a CD. However, unlike many CD reissues the warmth inherent in the original recordings has been retained. Radio-Activität is as it was, but with that added punchiness. On Trans Europa Express, the latter aspect amplifies a hardness to the rhythms. As ric Ct'irstirecordingi iuough 'experience over the years confabulation which
opackages l2rsiythe s some . Who will want to fork out again? Afetching iterations are, represent a which has been rewrittenMore noteworthy rather than bootlegs irst eftwerk, all of which remain out of catalogue.
Next week: Showdown – soul legend Kenny Carter's unreleased 1966 album

These are lovely packages, but they are not reissues. They are reconfigurations
Explore topics
Share this article