Shadows of Forgotten Ancestors, Barbican |

reviews, news & interviews
Shadows of Forgotten Ancestors, Barbican
Shadows of Forgotten Ancestors, Barbican
A Hawk and a Hacksaw perform live soundtrack to Paradjanov's classic film
Thursday, 01 December 2011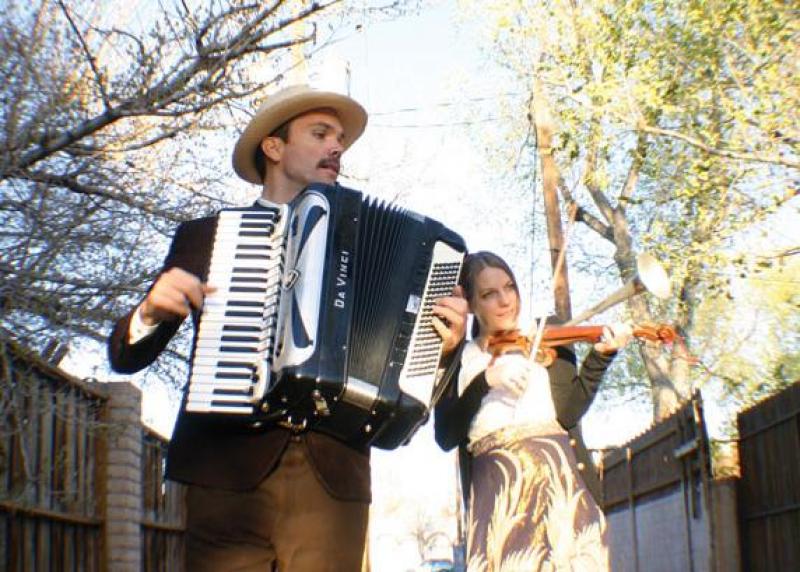 New Mexican folk: dodgy moustache but thankfully no axe
A Hawk and a Hacksaw began a decade or so ago as a solo project, when Jeremy Barnes stopped drumming with indie-folk cult heroes Neutral Milk Hotel. It was with the 2004 addition of violinist Heather Trost, however, that the sound was found: a peculiar, and occasionally mariachi-tinged, take on East European folk.
The pair have subsequently toured with Portishead and Calexico, and worked with Beirut's Zach Condon on his bestselling 2006 album Gulag Orkestar. This, however, must be their most imaginative project yet: a live soundtrack to a 1964 film by the Armenian director Sergei Paradjanov.
Parajadnov's fans include Fellini and Tarkovsky, and Shadows of Forgotten Ancestors does contain some startlingly original scenes. The film is an epic of doomed love set in pre-industrial Ukraine, where every man has an axe and a dodgy moustache and family feuds reach Montagu-Capulet intensity. Despite the gritty subject matter, the style is magical realist: a moment of emotion might trigger a sudden downpour; a death might make the screen turn red.
In truth, however, there are sections of Paradjanov's film that would be a trudge without the music. Who knew that he needed only to wait half a century and then add a New Mexican folk duo? Between them, Barnes and Trost contribute not only percussion and violin but also accordion, hammered dulcimer, keyboard and vocals. From such an arsenal, they create affecting laments for the various deaths – by drowning, by falling tree and, yes, by axe – but also the occasional more riotous number for when they hit the vodka. When the protagonist's second wife takes up sorcery in the buff, it even goes a bit Wicker Man, were the film set not on a Scottish island but somewhere in the Carpathian mountains. And, the ultimate compliment: rather than jump up the moment the first credit descends, members of this audience stay until the last note, and reward it with hearty applause.
Watch A Hawk and a Hacksaw perform "I Am Not a Gambling Man"
It all goes a bit Wicker Man, set not on a Scottish island but somewhere in the Carpathian mountains
rating
Share this article