A simple twist of fate - how a chance encounter with 'Joan Baez, Vol 2' 50 years ago led to a festival in Downtown Manhattan |

reviews, news & interviews
A simple twist of fate - how a chance encounter with 'Joan Baez, Vol 2' 50 years ago led to a festival in Downtown Manhattan
A simple twist of fate - how a chance encounter with 'Joan Baez, Vol 2' 50 years ago led to a festival in Downtown Manhattan
Celebrating Greenwich Village, where the beat lives on
Steve Earle plays Washington Square Park at The Village Trip 2019
We've all spent time considering our desert island discs, which is of course why the programme Roy Plomley devised one winter's night in 1942 is still thriving. The choices are perhaps less favourites than music that takes you back to a specific moment in time, that reminds you of someone, or something, special.
"Favourites" are almost necessarily changeable. I prefer to think of music – a track, an album – that has in some way changed my life. Clichéd maybe, yet I suspect that most of us for whom music is a central part of life, not mere wallpaper, could come up with a little list of life-changing listening. So here's the album that changed mine: Joan Baez, Vol 2 is not even my favourite Joan Baez album, but it's the album that launched me on a journey of exploration and discovery which led, in my desiccated old age, to my founding a festival celebrating the rich history and cultural heritage of Greenwich Village, Manhattan.
It was summer 1969, carefree days between primary and secondary school. I'd been given a guitar, a real Spanish guitar, blonde and beautiful, sent to me from Barcelona by Emilio, the whisky-drinking, cigar-smoking, Franco-hating Spaniard for whom my sister Maureen was DJ-ing in a fancy-schmancy club in a craggy and castellated resort on the Costa Brava. Emilio had spent a long, crazy English family Christmas and had obviously clocked my interest in music – I'd been learning the piano for some years. Now I had to figure out how to play my new instrument.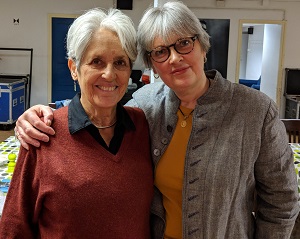 A neighbour showed me a few chords and I was launched. The first songs through which I fumbled my way were familiar from Singing Together, the weekly BBC broadcast listened to by generations of schoolchildren across Britain. But what next? Rummaging through Maureen's modest record collection I came upon Joan Baez Vol 2. I had no idea what to expect, but the back cover showed a young woman playing a Spanish guitar. Curious, I slipped the disc from its sleeve and placed it on the turntable of the old radiogram. Some songs required too many chords, but "Barbara Allen" was straightforward; so too "Banks of the Ohio" and "Plaisir d'Amour". By the time term rolled around I had a modest repertoire. I soon discovered Baez records in the school library, her 1960 debut and Vol 5, which featured an extraordinary semi-operatic track, Villa-Lobos's "Bachianas Brasileiras". My 12-year-old ears registered that this woman, whoever she was, had a truly magnificent voice.
I began to acquire a modest library of my own, the songs and the sleeve notes leading me in various directions, not least to Bob Dylan – and at a time when my classmates were screaming for David Cassidy and the Osmonds. As I listened and read, I realised that Baez had somehow played a role in many of the significant events of the 1960s, events that went beyond music and which were then recent history. Her life and work became a sort of Venn Diagram through which to explore a vast swathe of music and American social history – not so easy in the old analogue world.
Anthony Scaduto's biography of Dylan, published in 1972, opened up new paths to follow. One led to Dobell's Folk Record Shop on London's Charing Cross Road where, in a basement recording studio in 1963, Dylan had recorded with Ric von Schmidt and Richard Fariña. The store, sadly long gone, was an Aladdin's Cave of music by people whose names were becoming familiar, much of it imported from the United States. Eventually I was there at the right time to count out a good deal of pocket money for the coveted LP that featured the celebrated Baez/Dylan duets from Newport 1963. And it was there a few years later that my great friend David bought me a copy of the Folkways recording of the March on Washington, when 250,000 souls listened to Dr Martin Luther King dream his dream and to Baez singing "All My Trials" and "We Shall Overcome". It still makes me cry.

The late Jacqueline du Pre recalled how, aged four and perched precariously atop her mother's ironing board, she heard this sound on the radio and was transfixed. It was a cello and at her insistence her parents bought her a quarter-sized instrument which she began learning to play. I was, I suppose, similarly transfixed by Baez's music, hooked initially on what Adorno called "the grain of the voice" and shortly thereafter by her political and social activism.

It's strange to acknowledge, but without her my life would have taken a more conventional turn – probably teaching music, in which I took a conventional degree. I should have tried for a postgrad on an American campus where I could have researched the folk revival and its symbiotic relationship with 1960s social activism. But one thing led to another, and just as I graduated I met Robert Shelton, the celebrated New York Times journalist (then living in London) who had chronicled the scene, and whose review had launched Dylan's career. I guess that's how I ended up a journalist, reporting the book trade for some 30 years while writing articles and books about music on the side. It was fun, though it always seemed like a diversion, and it did enable me to get to New York once a year, where I'd spend two weeks blitzing the publishing industry. I based myself in Greenwich Village, in a hotel which, in the funky 1960s, had been where Dylan and Baez had crashed and where, one cold winter's day, John Phillips had written "California Dreamin'". Countless musicians had stayed. In more recent times Norah Jones waited tables. I got to know the Village – where, as one wit put it, "everything started except prohibition".
Five years ago I began making plans for a festival to celebrate this truly unique neighbourhood – the white arch that pops up on BBC News reports from a city now in crisis is in Washington Square Park, its heart and soul, immortalised by Henry James, and the place through which Eugene O'Neill drunkenly rambled. Edna St Vincent Millay, Jack Kerouac, Eleanor Roosevelt, Paul Robeson, Woody Guthrie, James Baldwin, Patti Smith... The list of people who trod its paths is endless. Everyone said it was a crazy idea, which of course it was! I live 3,400 flying miles away and I'm not a trust fund baby. But I was obsessed: I had to try.

Suzanne Vega topped the bill at The Village Trip 2018, playing the free concert in the Park that was the centrepiece of a festival which included jazz, folk, poetry, drama and photography. The great David Amram, who's crossed every genre, played with countless legends, and who was best buddies with Kerouac, came aboard as Artist Emeritus and has been a great support and cheerleader. In 2019 we added classical music, comedy and social justice discussions. Steve Earle was the headliner: "I've waited fourteen fucking years to sing this song in Washington Square Park" he exclaimed, launching into "This Land is Your Land". I've great plans for the third Village Trip in 2020 and was due to return this week. It's late September, so my fingers are crossed for a festival, or at least a concert, that celebrates survival and rebirth much as our parents and grandparents celebrated VE and VJ Day.
A half-century after that first fateful encounter with Joan Baez Vol 2, I chatted to Baez backstage in Bristol (pictured above by Gabriel Harris) at the start of her farewell tour. We'd met numerous times, though not for a while, and I told her that her music had led me on a journey of discovery that had culminated in The Village Trip, made possible by the support and partnership of my friends the Paul family, owners of the Washington Square Hotel: the old Hotel Earle, that once "crummy hotel over Washington Square", which she'd immortalised in "Diamonds & Rust". It was all her fault that I'd embarked on such an expensive project! "They dolled it up!" she laughed, her brown eyes crinkling behind rimless specs. She wished me luck, pleased to know she'd inspired a 50-year journey.

It's been a long strange trip, with many thrilling encounters along the way – Leonard Cohen (way back in 1979, my first ever interview), Judy Collins, Janis Ian, even Bob Dylan – and it's not over yet. As we all know, the road goes on for ever.
Joan Baez: The Last Leaf is scheduled for publication this autumn by Palazzo. Circumstances permitting, The Village Trip 2020 will run from September 20-27