theartsdesk in Montreal - delights and discoveries at the 42nd International Jazz Festival |

reviews, news & interviews
theartsdesk in Montreal - delights and discoveries at the 42nd International Jazz Festival
theartsdesk in Montreal - delights and discoveries at the 42nd International Jazz Festival
Musical highlights from Hamilton de Holanda, Ludovico Einaudi and the Jensen sisters
The crowd in Montreal's Place des Arts
For most Montrealers, their 10-day jazz festival (30 June - 9 July) is, as the new head of programming Maurin Auxéméry described it to me, a "free, all-you-can-eat musical buffet every night".
People head into the town centre to the Quartier des Spectacles in their thousands for the free events, from smaller free stages right up to the main Scène TD in the Place des Arts, which accommodates up to 60,000 people partying. Of about 350 events during the festival period, at least two-thirds had free admission.
This was the festival's 42nd edition and marked a comeback, putting large-scale events on again after a two-year hiatus. But the festival is more than just its free outdoor stages. Despite the ravages of endless re-development, Montreal is blessed with a wealth of performance spaces. Club Soda, for example, is a great little 900-capacity standing-only venue, which I can only describe as what the Jazz Café would be if the Camden venue was actually laid out the right way, with the stage at the end of the space rather than on the side.
The Quartier des Spectacles has concert halls from 1,500 capacity (Theatre Maisonneuve) up to the Salle Wilfried-Pelletier (3,000), where there are ticketed concerts. The city's two tiny jazz clubs, Upstairs (in a basement, obviously) and Dièse Onze (meaning "sharp 11") also have special festival programmes. Sometimes (not this year) there are events in the ice hockey stadium the Bell Centre (capacity 21,000), which happens to be very close to the site of where, it's often claimed, jazz was born in Montreal.
The juxtaposition of the familiar and the unfamiliar, of the jazz and the definitely not-jazz, of the free and the ticketed, the indoor and the outdoor, leads to a variety of surprises and, yes, the occasional disappointment.
After the two-year stoppage, I had resolved not to forsake the unique experience of being among the vast, young, friendly crowd which gathers in front of the Scène TD on a warm summer night. I headed there for a band which I knew the programmers were tickled pink to be putting on, the fun and funky Clay and Friends, whose instruction to "Bouge ton Thang" was universally heeded (pictured above by Benoit Rousseau / FIJM).
It is inevitable that one misses far more gigs than one can actually get to. The press room can be quite a competitive environment, and gigs I know I would have loved were Christian McBride's show, which – essentially unannounced – was a duo concert with Kenny Barron. Another lacuna was bassist Avishai Cohen's show where, because of air-freight delays, a trio show became (unforgettably) a duo on borrowed instruments with drummer Roni Kaspi.
My absolute musical highlight was Hamilton de Holanda's completely mesmerising solo bandolim show. He has sometimes been called 'the Brazilian Pat Metheny". That is open to discussion, but his reputation and profile outside Brazil always feel they ought to be higher. Ludovico Einaudi (pictured below by Victor Diaz Lamich/ FIJM) had the honour of selling the most tickets at this festival. Rapt, sold-out audiences heard him on three nights.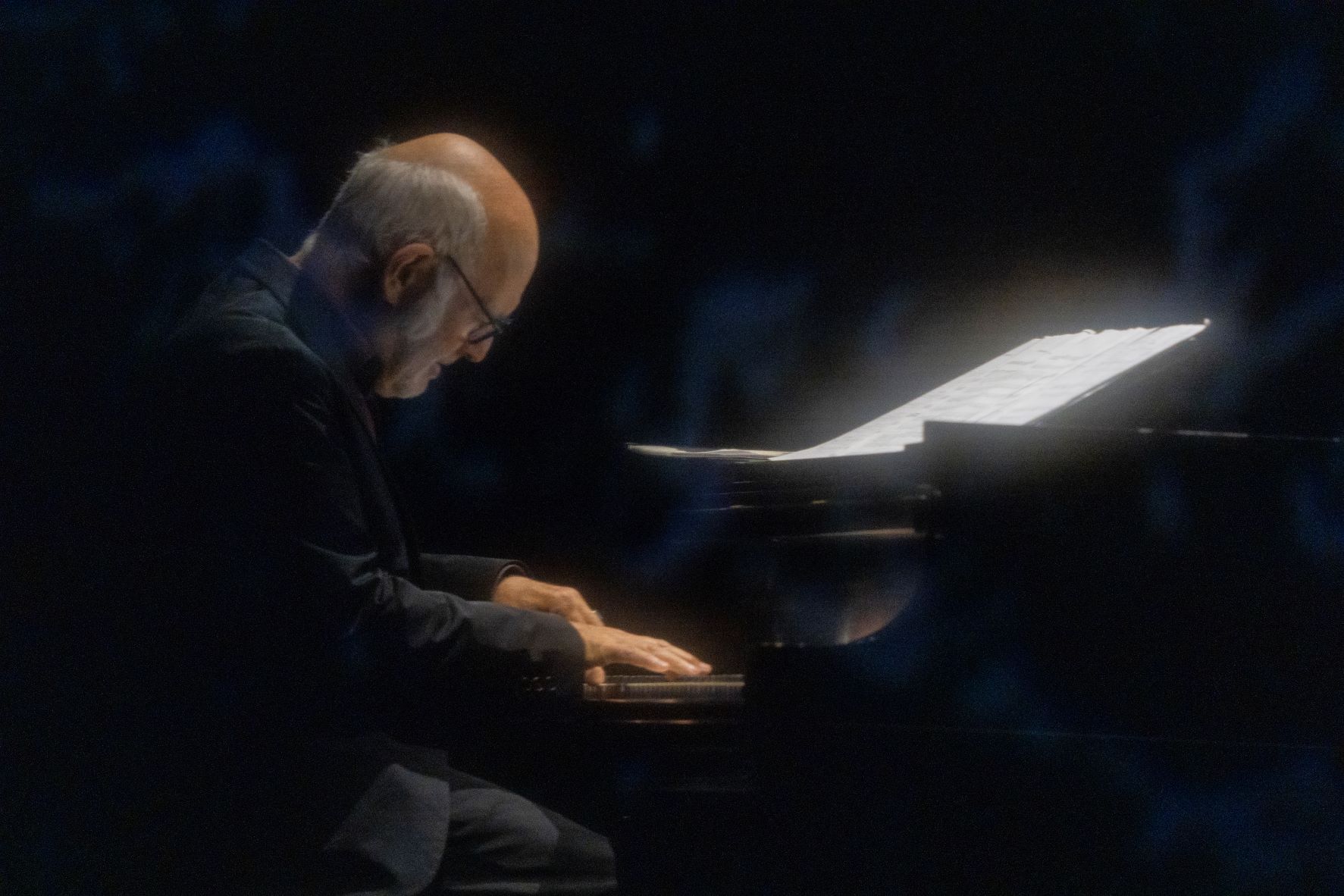 A personal highlight was an evening spent in Dièse Onze. Pianist Marc Copland has a uniquely reflective style, honed through his collaborations with hosts of (other) jazz greats like John Abercrombie. I also heard the Jensen sisters Christine and Ingrid, who are determined to take risks and make exciting things happen, and were in a quintet with bassist Ira Coleman and stellar, energetic, inspiring yet hardly-known (those four adjectives become sadly routine when writing about Canadian musicians) Steve Amirault. By contrast, I had huge expectations of the group YES! Trio (Aaron Goldberg, Omer Avital and Ali Jackson Jr), having seen them play an astonishing gig in 2017. This time it felt like they were mainly doing a victory lap.
One local commentator describes the festival as "a valid passport into the unknown: 10 days of jazz in all its forms and things which are new, fresh and surprising." Too true.
Sebastian Scotney was the guest of FIJM