theartsdesk at the Montreal Jazz Festival |

reviews, news & interviews
theartsdesk at the Montreal Jazz Festival
theartsdesk at the Montreal Jazz Festival
Mainline jazz, roots, and global sounds abound in the planet's biggest jazzfest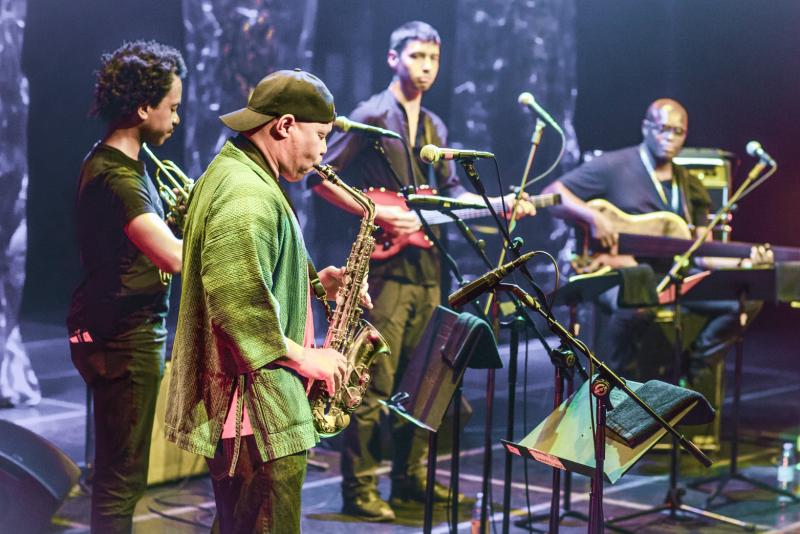 Steve Coleman & Five Elements: cumulative sequences
The Montréal International Jazz Festival's 37th edition presented its accustomed surfeit of gigs, covering the complete range from concert hall spectaculars to small club sessions. A large part of this, the globe's biggest jazzfest, is the massive-scale freebie shows on various outdoor stages. The festival completely takes over Montréal's downtown centre, which just happens to be this French-speaking city's cultural area.
These streets and plazas are already full of venues, from theatres to clubs, with a wide range of audience capacities to suit both the mainstream and the maverick.
As if the year-round haunts weren't enough, there are also at least 10 temporary outdoor stages, depending on whether we count the mobile performers, those official and not-so-official buskers. In short, there is a level of engagement to suit everyone, from high-price headline shows down to gratis sets, some of which also feature notable names who would otherwise be at home in a large ticketed theatre. There's a lot of mainline jazz, with some room for out-there acts, as well as a substantial presence for blues, roots, pop and global sounds.
There was a rumour that Coleman had played on intently, and intensely, for nearly 150 minutes
Steve Coleman & Five Elements represented jazz extremity, although via a curiously accessible attention to repetition and cycling, cumulative sequences. The transplanted Chicagoan New Yorker alto saxophonist moves in a line descended from Ornette Coleman, and in particular that composer's avant-funkified Prime Time band. Steve Coleman pushed these shapes further via his M-Base method, which was frequently just as mystifying as Ornette's harmolodics guide book.
Five Elements deal with the complexities of interweaving lines, but they also possess a gutsy directness, head-danceable in this seated theatre. Coleman issued an extended solo before the band joined in with a shuffling funk processional which began to sound like Ornette's classic "Lonely Woman", though heavily altered. This bloomed into a wandering soulfulness, a Miles Okazaki guitar solo unsnaking, with pointillist percussion courtesy of Sean Rickman. It swilled around a very unusual mixture, a genuinely unfamiliar process, suddenly picking up speed, racing so that we could never completely grasp the stream. This section wound around for about 37 minutes, and then what could have been "Lonely Woman" returned, in what was nearly a country hoe-down waltzing variant. After almost two hours of what gradually became revealed as a single set, this writer reluctantly departed to the much smaller Astral club, where a Norwegian Punkt session was already in motion. There was a rumour going around later that Coleman had played on intently, and intensely, for nearly 150 minutes.
Punkt is a Norwegian festival (in Kristiansand) whose noted character is to feature live remixes in an adjacent chamber, sonic re-jigs with some degree of time-lag. This micro-incarnation (in a single space) involved the trumpeter Nils Petter Molvaer (with his vast spread of electronics) and guitarist Eivind Aarset's band (with their even more staggering collective effect-box forestation).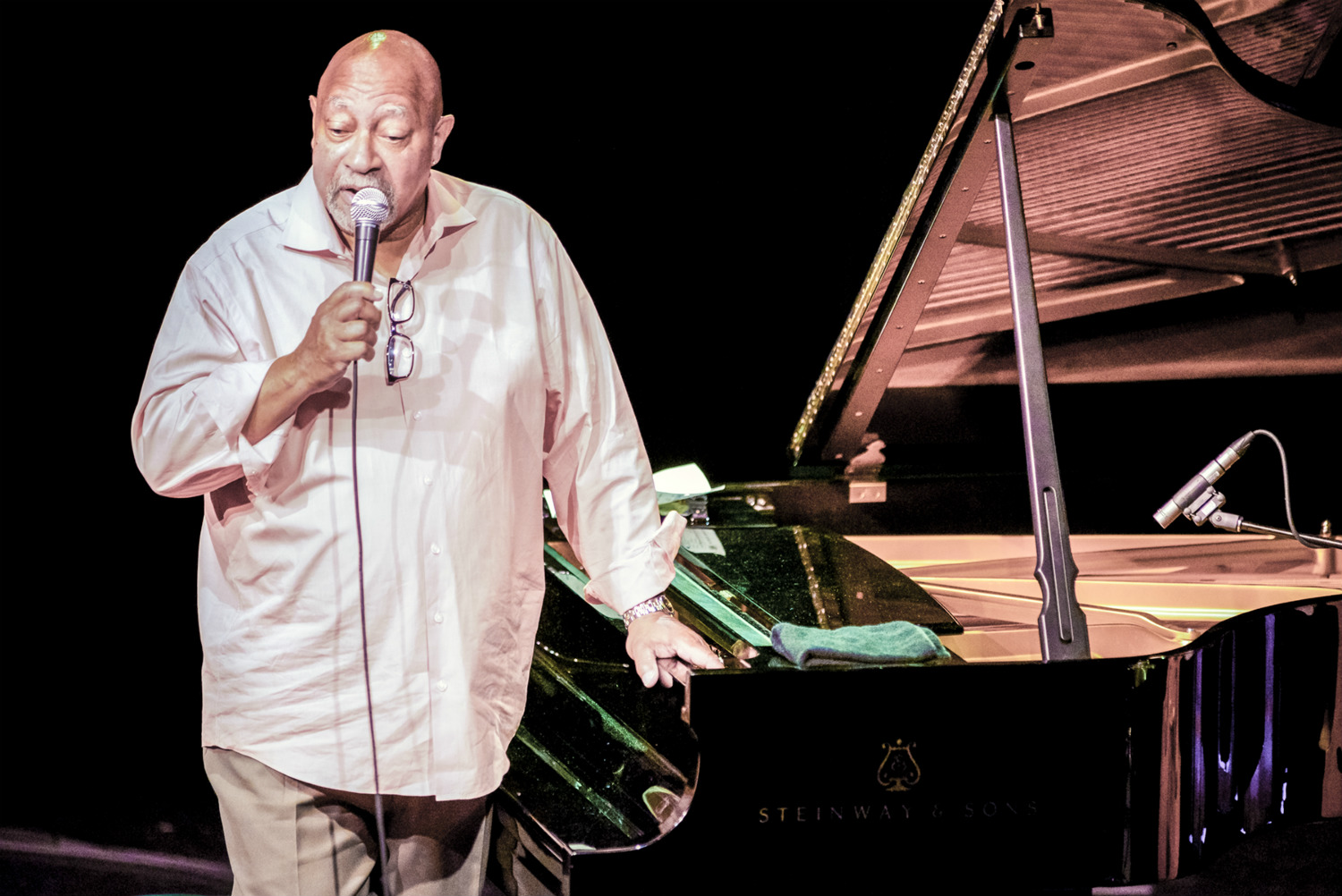 Molvaer was already playing, solo, yet with his own dark electro-penumbra extending his trumpet invocation. For other shows, L'Astral was moodily lit, but for this one it was eternal night, apart from the very low glimmer surrounding Molvaer. The same was so for Aarset's crew, which included a pair of drummer-percussionists, and guesting live sample-snatcher Jan Bang. As well as the two Punkt dj-laptoppers, there was also an imported sound engineer, brought along to show the full potential of this club space, bringing a pristine stroke-ability to the deep black fur of the evening's bass subliminals. With all trickery-boxes on maximum, winking alert, it was sometimes difficult to discern exactly who was making which sound, but we could just about see Aarset as he bowed, struck or caressed his strings, attended to his laptop, or delicately twiddled a particular knob. For hi-fi buffs, this was an orgy of majestically-formed tonal extremes, but for mere mortals it was also a festival highlight, a masterful balance between thoughtful space and erupting cascades.
Equally stimulating was the contrast found by walking outside to the main freebie stage, to catch a vast swathe of folks appreciating The Campbell Brothers, those New York masters of sacred steel pedal and lap-guitar style, addressing "A Love Supreme", as penned by John Coltrane. They justified this selection, as if such approval was needed, by offering a radically different musical 'scape, but one that was perfectly suited to the themes, gaining in churchy momentum, laying on the rapturous sliding strings as we all ascended to that evening's spiritual jazz heights.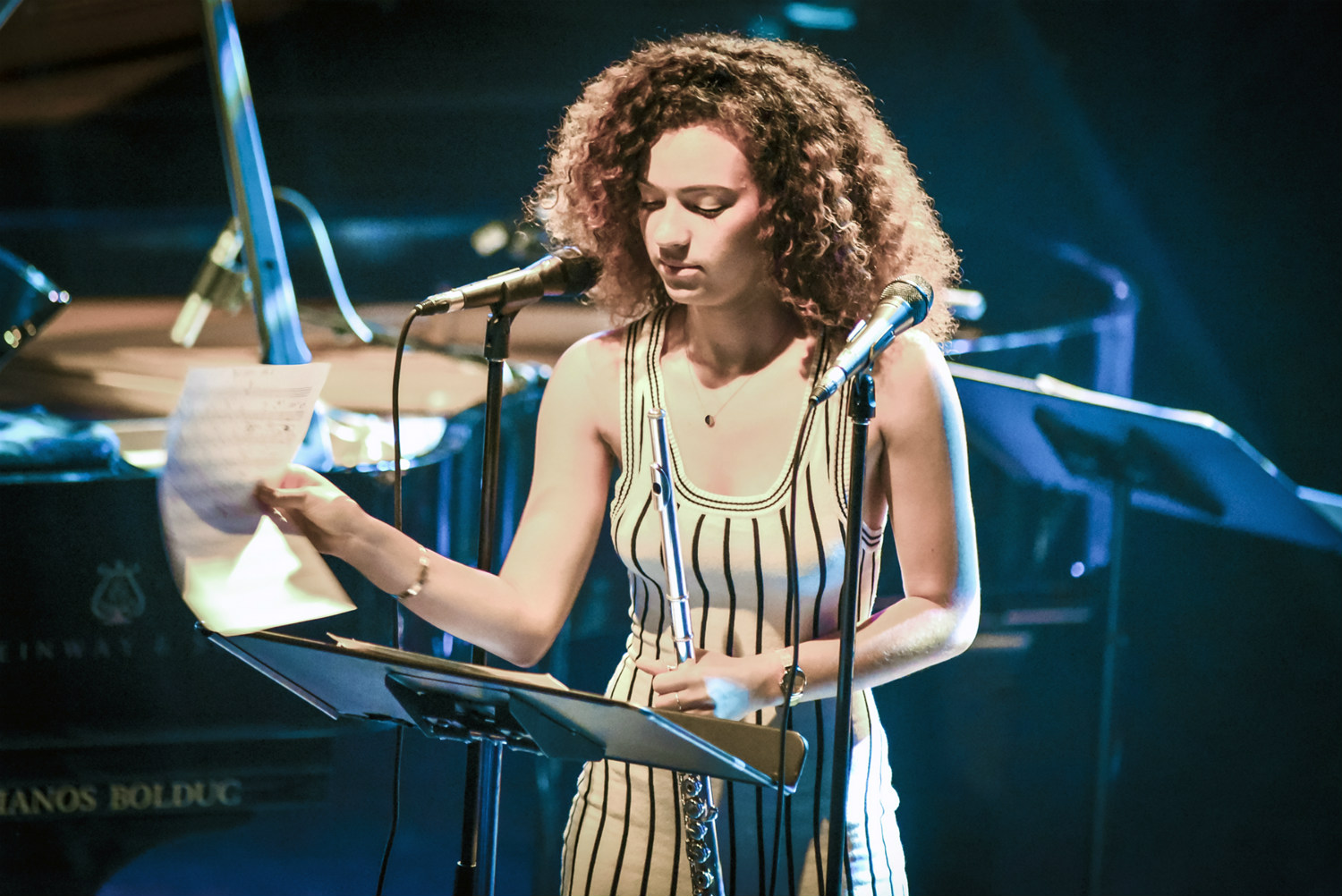 On the previous evening, the run started with more of a conventional jazz theatre vibe, as the veteran pianist Kenny Barron (pictured above right) led his regular trio, fronted by a guesting Elena Pinderhughes (pictured left), the rising star flautist who is rapidly forging a strong reputation. Already, during the last year, this reviewer has witnessed her make significant contributions to performances by trumpeter Christian Scott and pianist Vijay Iyer. The set opened with a nod to Thelonious Monk, then developed into a clutch of Barron originals, as Pinderhughes later provided vocals to a couple of these. This brought out a smoother quality, with the pure flute soloing being preferable, but it all sat well with the overall aura of studied jazz sophistication. A deep listening set, prior to the night's steady stoking up to livelier emissions.
Taylor McFerrin on keyboards-electronics (pictured below) and Marcus Gilmore (drums) both have strong backgrounds, but their set (again at L'Astral) inhabited a hip-hop/groove terrain. A few years ago, McFerrin (son of Bobby) used to play with a soulful R&B slant, actually singing during most of his numbers. Now, he's toughened up his sound and, apart from the last song of the set, shut his mouth. Signed to the Brainfeeder label now, and making something of a delayed debut album, he's clearly more influenced by their core sound, this current work sounding much closer to the output of Flying Lotus. There was a certain amount of treading water, but the overall approach is worthwhile, offering a chance of catching Gilmore outside of a jazz combo, laying down the linear beats. McFerrin still displays enough of his soul-jazz keyboard techniques to set him apart from many of his electronicist colleagues.
At the earthier end of the avenue, literally at the edge of the festival zone, the Bell Stage devoted itself to the often stirring sound of Canadian blues. Singer and guitarist Shane Murphy is a local player, active for around two decades now. His seething toughness suited the core blues material, but he wasn't such a directly-targeted individual, being very much open to soul, hip-hop and reggae, slipping in a fine reading of Tenor Saw's "Pumpkin Belly", before slipping back into "Changes", as popularised by Jimi Hendrix. Murphy's combination of influences is markedly unusual, especially as the various factors combine as part of his general playing personality, chewed up and spat out on a wave of distorted axe soloing.
Competing with even greater excesses, another singer and guitarist, Carson Downey, led his Nova Scotian band with a deranged sense of abandonment, spending much of his set exploring the joys of axe frottage, as he used almost every part of his body to rub out howling solos, achieving some quite sensitive, articulate scrapings as he massaged its stings across his shirt-front, and under his crotch-area. His gravelled, deliberately hoarse singing was pretty cool too! This was Downey's first visit to the fest in 15 years, so they should definitely grab him back much sooner next time.
Rufus Wainwright appeared with "a large orchestra", as the billing described this as-yet-unnamed assemblage. Wainwright joked about this, as he joked about many matters, throughout the performance, in his deftly debunking manner. His matching of the grandiose and the earthy is a delicate balance, pulling off the following of a so-called seedy observation by a dignified, emotional reading of a song, massed strings sweeping and hovering. Wainwright presented his main branch of popular songs during this set, but the preceding half had featured part of his Prima Donna opera. The Rufus reedy voice shapes phrases with easy control, cutting through with a focused intensity. One technical fault was the tendency for his voice and piano to be unnecessarily high in amplification, sometimes covering up the orchestral efforts, aside from the sections where he was singing softly and subtly. Sister Martha Wainwright swept on from the wings to duet on what was described as an Irish folk song rip-off, "Tis the Last Rose of Summer", from her namesake light opera, by Friedrich von Flotow. Then she returned for the encore, with a pair of McGarrigle cousins in tow for a quartet vocal rendition of Leonard Cohen's "Hallelujah". The concert had a special resonance given that Montréal is the old Wainwright stomping ground, from when they were growing up with their Canadian folk-singer mother, Kate McGarrigle.
Sometimes, the festival-goer will stumble upon something completely surprising. Le Mai Tai Orchestra, in print, seemed like they might lie on the wrong side of the kitsch trail, but strolling past their freebie outdoor Hyundai Stage gig, the lugs pricked up, wondering "what on earth could that sound be?" Yes, it was this local gang of Hawaiian tiki gliding-slide guitar merchants, all dressed up in their outrageous finery. They had their cocktail and drank it, pulling off a simultaneous existence of the camp and the cutting, tinny ukuleles commingling with laptop extrusions. Factions of the crowd seemed to be taking them seriously, and perhaps rightfully so...
The bombast of their drums, electronics and saxophone raid was verging on the ludicrous at times
In a festival that's packed with multiple venues and staggered time-slots, the presence of ex-Fugees singer-rapper Lauryn Hill was a definite spanner in the works, given that she has developed a habit of being one, or even two, hours late for her gigs. When such behaviour becomes routine, it's easy to fit her into the evening by simply turning up two hours late oneself. This tactic worked fine, meaning that I only missed around the first 20 minutes of her set. What was there, happening when it eventually happened, was fairly energised, Hill actually standing up to sing, and prompting the enlarged band with vigour, although this looked like general encouragement rather than detailed conducting. There were more Fugees numbers included than was the case when I last caught her, a couple of years back, but her solo songs still hold their own side of the show, even if the crowd inevitably gets fully worked up during the oldies section of the gig, when the cellphones come out in their hundreds.
And there was still time to catch Orlando Julius & The Afrosoundz on that main freebie stage, stepping through their Nigerian Afrobeat paces, relaxed and confident in their easy-going trounce, more good-time than threatening in the classic Fela Kuti way. This was more of a celebratory, end-of-the-night crescendo, in front of a massed and enthusiastic crowd. A couple of evenings earlier, singer and keyboardist Jamie Cullum performed a similar feat, going down very well on the Canadian front, jumping down into the front rows to urge the crowds to even greater noise emission heights. On that night, there couldn't have been much more of an English contrast in Montréal than the soon-following show by The Comet Is Coming, in the same converted church theatre that Barron and Pinderhughes had played in at the start of the evening.
This London trio had an incongruous presence in the seated, medium-sized Gesu theatre. Many perches might have been empty, but it didn't take this extremist trio long to fire up the gathering that was in the house. The bombast of their drums, electronics and saxophone raid was verging on the ludicrous at times, though nevertheless gripping in its frenzied rhythmic drive. Much of the muscle was provided by Danalogue The Conqueror (as he styles himself), whose rupturing basslines pricked the low frequency pleasure points in every bobbing brain. Beatamax Killer took care of the unleashed beats, whilst King Shabaka (fully-known as Shabaka Hutchings, from Sons Of Kemet and Melt Yourself Down) sent out searing streams and glowing gobbets, doing his little-tootsies, tall-hopping dance at the same time. Who knows what to call their tunes? Dub, Afrobeat, Ethiopian free jazz, crazed electronica, punk funk, cosmic debris? Whichever blend you'd settle on, they provided a cataclysmic end to the evening.