theartsdesk Radio Show 30 - podcast on Malcolm McLaren with Paul Gorman, his biographer |

reviews, news & interviews
theartsdesk Radio Show 30 - podcast on Malcolm McLaren with Paul Gorman, his biographer
theartsdesk Radio Show 30 - podcast on Malcolm McLaren with Paul Gorman, his biographer
Discussing the legacy of the much misunderstood visionary subversive, Malcolm McLaren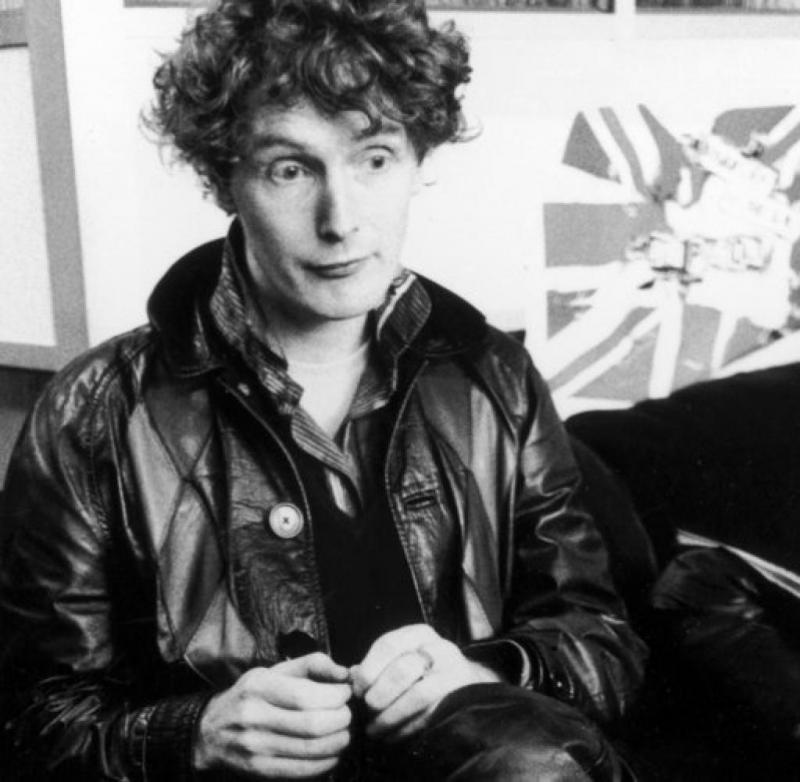 Artful dodger: Paul Gorman's epic new biography is recently published
This episode of Peter Culshaw's episodic global music radio show is a celebration of the life and times of Malcolm McLaren, visionary and provocateur, who died 10 years ago.
The two hours is more podcast than radio show and is spent mainly spent in discussion with Paul Gorman, who has spent much of the last five years writing an epic 800-plus-page biography
The Life and Times of Malcolm McLaren
, a towering tome that brilliantly tracks the waterfront of the politics, art, fashion and music of an era. As Gorman says, "I wanted to break McLaren out of either the style press view of him or the music press view of him. I wanted to consider him from a serious critical perspective."
It is true that the music writers generally had little understanding and tended to look down on fashion, and the fashion types had little understanding of music. Gorman has a foot in both worlds, to the benefit of his book which is a snapshot of an era as much as of "the Diaghilev of the borstal boys". McLaren only spent a couple of years as manager of the Sex Pistols, the role he is best known for, and the show concentrates on other, often less known aspects of his career.
Culshaw was a close friend of McLaren and was the Campaign Manager of his quixotic attempt to become London Mayor in 2000, a surreal adventure, a "serious joke" that was part art statement, part genuine outrage at the state of politics. In retrospect, it was ahead of its time in a world of reality star and comedian presidents. Part of the discussion has Culshaw asking Gorman which of McLaren's possibly tall tales told to him were actually true. Nearly all, it turns out.
Many of McLaren's best ideas were never realised – including a film when he was working as an ideas man for Steven Spielberg which had Oscar Wilde discovering rock'n'roll in a speaking tour of the Deep South of the States in the 1880s. Or his proposed duet of Chrissie Hynde and Stephen Hawking – McLaren apparently had agreement from the two and thought Hawking could have become "the most brilliant rock star". No takers from the record or film companies, however.
It's very simple. It's just a laugh. You're on the shelf. Do you want to come off the shelf and come on an adventure trail?
McLaren was rather cornered by his description of himself as an evil Svengali, which he thought no-one would take seriously. When Culshaw once asked him about whether he tried to manipulate people he said, "It's very simple. It's just a laugh. You're on the shelf. Do you want to come off the shelf and come on an adventure trail? Maybe it will last five minutes or five years."
He was in fact, rather than the scheming Machiavelli of legend, rather innocent and child-like in many respects, retaining a naïve wonder about the world. He was full of faults: as he memorably said, "Better be a glorious failure than a benign success", and several of his projects were ill-advised, to put it mildly. (Chicken, a planned magazine of sexual liberation for teenagers, was mercifully never printed.) But the argument for him was that he was a life-affirming, very funny, subversive and brilliant character and a great cultural catalyst. As Julie Burchill once said, "We are all children of Thatcher and McLaren."
The list below is of the tracks Paul Gorman brought into the studio and played (except one – whoever notices first which one was not played wins a copy of the book) which represent McLaren's influences, side-projects and curios.
1. Do You Really Love Me Too (Fool's Errand) by Billy Fury – MM's lifelong musical hero. On the Let It Rock jukebox he persuaded an early line-up of the Sex Pistols to rehearse it (1964).
2. Merengue From Dances of the World's Peoples, the Folkways albums which inspired the making of Duck Rock. This track appeared on the soundtrack he made for the 1982 Nostalgia of Mud catwalk show.
3. Tabours "ingoma" From Burundi Musique Traditionelles, the 1967 field recording McLaren found in the Beaubourg library while chatting up the librarian there who played it at the wrong speed, thus making a light-bulb pop.
4. Buffalo Gals From All About Square Dances by Piute Pete and his Country Cousins. Piute Pete was actually Morris Kaufman, a Jewish clerk from the Lower East Side (1966).
5. Duck for the Oyster – MM with The Hilltoppers (1983).
6. Madam Butterfly Single on fan-shaped vinyl (1984).
7. Deep in Vogue The single, a year ahead of Madonna's Vogue, when McLaren brought the NY ballroom scene to the mainstream (1989).
8. Magic's Back With Alison Limerick (Rave edit) from The Ghosts Of Oxford Street (1991).
9. Deux From The Largest Movie House in Paris, the Paris remix album (1994).
10. Manhattan, Malibu & Mexico From Tranquilize, MM's album distributed via Habitat (2007).
He was, rather than the scheming Machiavelli of legend, rather innocent and child-like in many respects
Explore topics
Share this article