theartsdesk Radio Show 35 - with writer/composer Amit Chaudhuri |

reviews, news & interviews
theartsdesk Radio Show 35 - with writer/composer Amit Chaudhuri
theartsdesk Radio Show 35 - with writer/composer Amit Chaudhuri
Two writer-composers with new albums discuss Bollywood, Fusion, World Music and Bombay (aka Mumbai)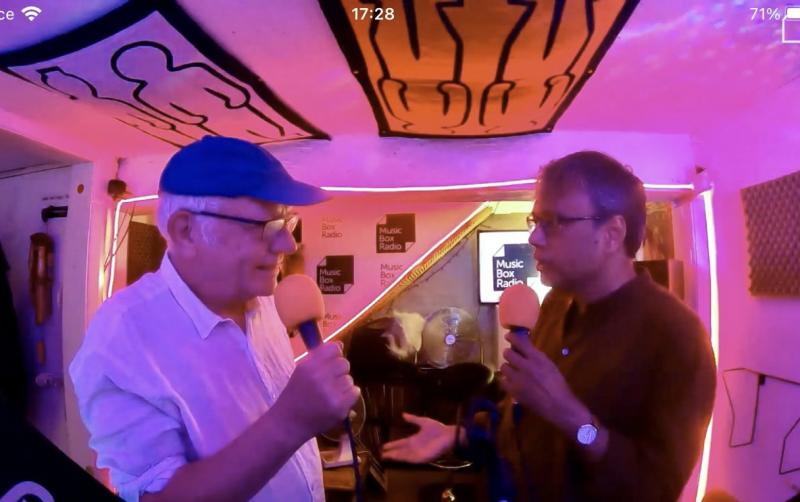 Culshaw and Chaudhuri in the radio studio at Music Box
Welcome to one of Peter Culshaw's occasional global radio shows, hosted by Music Box. Today's guest is the celebrated essayist, novelist, music composer and singer Amit Chaudhuri.
Chaudhuri became known for some strange juxtapositions of western pop or jazz classics and Indian ragas – a version of "Layla " or a Doors number can collide with Indian music to spectacular and usually charming effect. His first album had the intriguing title This Is Not Fusion while his new album is called Across the Universe, the title track a warped and beautiful version of the Beatles song.
As it happens Culshaw also has an East-West album, Music from the Temple of Light recorded in pre-war Odesa and Mumbai (although Chaudhuri still prefers the name Bombay), which mixes genres, with Culshaw on piano with guest Indian instrumentalists like the great bansuri flute player Paras Nath and singer Chandana Bala Kalyan.
The duo discuss Bombay, fusion (or not), the mad eclecticism of Bollywood and other sometimes loaded subjects like "world music" while playing extracts from their albums as well as pioneering classics like Ananda Shankar and the brilliant and playful film composer RD Burman, who were experimenting with dynamic cultural collisions in the 1960s, decades before Paul Simon did Graceland, for example.
Instagram: Peter Culshaw
Chaudhuri became known for some strange juxtapositions of western music and Indian ragas
Explore topics
Share this article