theartsdesk on Vinyl 48: Curtis Mayfield, Rudimental, Ozric Tentacles, Prince, Girl Unit and more |

reviews, news & interviews
theartsdesk on Vinyl 48: Curtis Mayfield, Rudimental, Ozric Tentacles, Prince, Girl Unit and more
theartsdesk on Vinyl 48: Curtis Mayfield, Rudimental, Ozric Tentacles, Prince, Girl Unit and more
The widest ranging monthly record reviews on this planet
Hot black plastic
Every month we start theartsdesk on Vinyl with the Vinyl of the Month, however, the truth is that, depending on your taste, many of the records reviewed below may be your own vinyl of the month. Whether reissues or new material or compilations, theartsdesk on Vinyl attends to all music on plastic.
Every month we start theartsdesk on Vinyl with the Vinyl of the Month, however, the truth is that, depending on your taste, many of the records reviewed below may be your own vinyl of the month. Whether reissues or new material or compilations, theartsdesk on Vinyl attends to all music on plastic. This time we run the gamut from country'n'western to Eighties pop to acid techno to Ozric Tentacles and much else. All sonic life is here. Dive in!
VINYL OF THE MONTH
Yves Jarvis The Same But By Different Means (Anti-)
Montreal artist singer Jean-Sebastian Audet recorded three albums as Un Blonde but last year took a new name, Yves Jarvis, and now reappears with his most spangled outing yet. His stoned vocals and strumming are drowned in echo and reverb and theremin-like whistles, with other instrumentation bogged into a smudge of sound. Other effects, such as scratching, intrude to further warp what might otherwise be plain singer-songwriting with a whimsical Gallic tinge. Yves Jarvis is similar in some ways to the under-heard and seminal Gonjasufi, but Audet's latest project, mellow and rather gorgeous, strangely approachable despite its wilful oddness, is unlike anything else around. Comes with art/lyric insert.
Various Munk Presents Teutonik Disaster (Toy Tonics)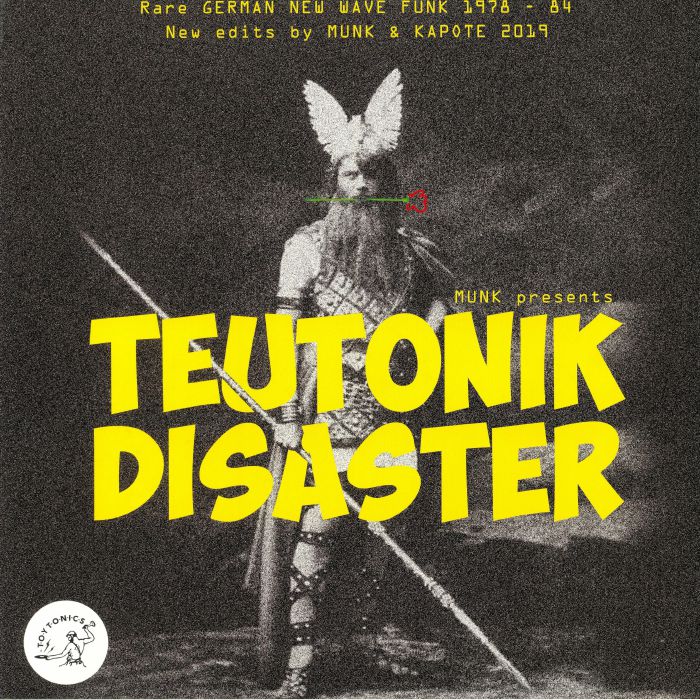 Back in 2003 Berlin DJ producer Munk (Matthias Modica) released a collection of 18 obscure German post-punk tracks subtitled "German new wave funk 1978-84". It illustrated how acts of that period prefigured the work of DFA Records, Trevor Jackson and others. Now eight of these tunes are re-released in new edits by Toy Tonics label-owner Kapote, each of them drawing attention to the tunes' machine-like qualities and raw beat-driven power. Some are dub-techno DJ tools – juicy ones with a refreshing take on the dancefloor – but other songs, such as "Schlaraffenland" by Carmen, are enhanced and blossom in a song-based fashion. Whichever way they go, these two discs contain essential stuff, from proto-EBM to almost cheesy Human League-alikes, all of it impeccably cut to vinyl.
Tom Russell October in the Railroad Earth (Proper)
Septuagenarian singer Tom Russell has had a career lasting decades and, while he hasn't exactly bothered the upper reaches of the charts, he has developed a reputation as one of America's most literary songwriters. His latest album is titled for a Jack Kerouac poem that appears in an oft-shown black'n'white clip from The Steve Allen Show in 1959 and the title song celebrates the late great writer. Russell mostly opts for a simple Tennessee Three shuffle but his words, his cracked voice, his spirit, the sheer richness of his songs, all carry the day. He combines the romance of Americana with the finest storytelling songwriting. Comes in art/lyric inner sleeve.
Curtis Mayfield Keep on Keeping On – Studio Albums 1970-1974 Boxset (Rhino)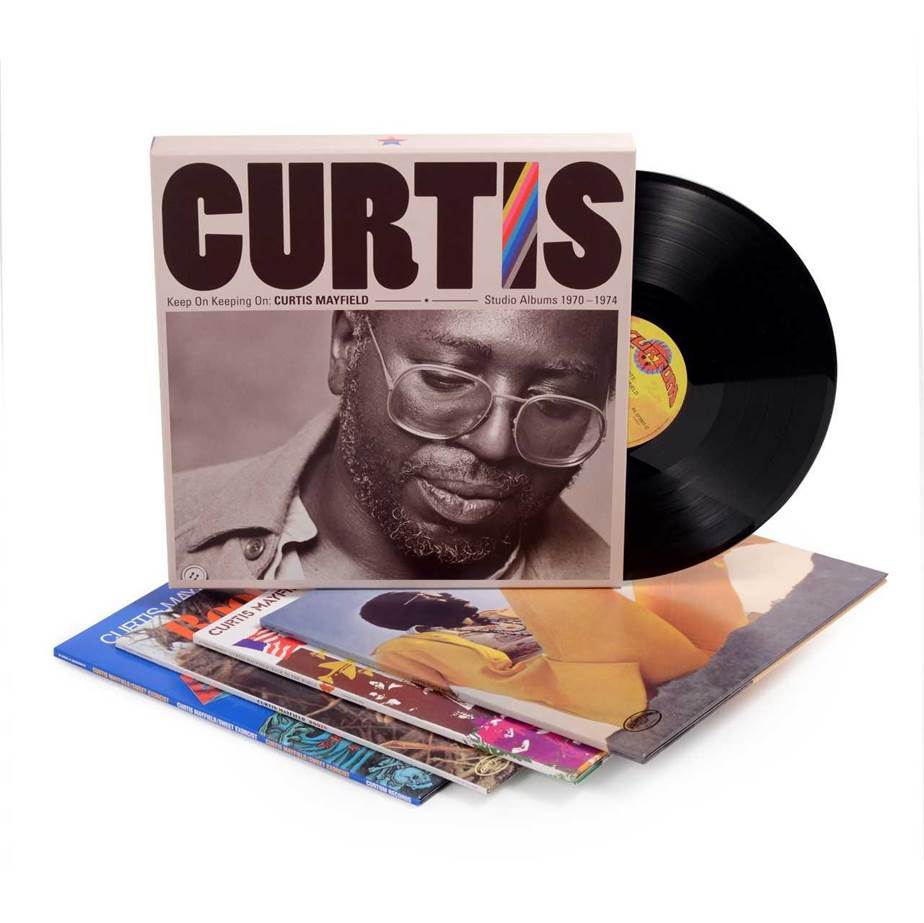 These are the soul giant's first four solo albums, released after he'd left The Impressions. They're essential early Seventies fare. While Marvin Gaye's What's Going On has become the totemic socially conscious soul album of the period, Curtis Mayfield kept the flame burning for album after album (Gaye, partly due to pressure from Motown, soon returned to his lover man persona). The albums in question, are Curtis (1970), Roots (1971), Back to the World (1973) and Sweet Exorcist (1974). The sharp-eyed will note that this misses out his greatest success, 1972's soundtrack to Superfly. Leaving that aside, this quartet is packed with falsetto-voiced righteousness. From Curtis's hugely engaging and of-its-time opener "(Don't Worry) If There's a Hell Below We're All Gonna Go" right through to Sweet Exorcist's string-swathed, pared down closing lover's plea "Make Me Believe in You", it's almost wall-to-wall juice. Along the way we encounter the likes of "Keep On Keeping On", "Get Down", "Right On For the Darkness", "Power to the People", "Kung Fu", "Future Shock" and, of course, "Move On Up". 24 carat stuff, then. The set is remastered but some it lacks the funk heft of the original Seventies vinyl versions. Sweet Exorcist comes out loud and proud but the other three have slight compression issues, although the difference is meagre if EQ levels are adjusted. All are in their original gatefold form with Roots boasting a fold-out astrology calendar for Oct '71 to Oct '72. Dig that.
Pete Fij/Terry Bickers We Are Millionaires (Broadcast)
Two years after it was digitally available, We Are Millionaires finally makes it to plastic. About time too. Its melancholic warmth fairly hums in the analogue format. It's the second album from Pete Fij, of defunct bands Adorable and Polak, and Terry Bickers, guitar prodigy of long gone indie-psyche outfit Levitation and the very much still alive House of Love. We Are Millionaires sounds like none of those bands but is an opulent acoustic outing unafraid to use strings, notably on the delicious "Love's Going to Get You", but also contains less busy strummed pieces such as the title track. It's a singer-songwriter album that revels in sounding exquisitely worn by life, rather than whining about it, one to be taken with a glass of good French red and the lights low while imagining you've just lost the girl in a black'n'white film. Comes in art/info inner sleeve.
Rudimental Toast To Our Differences (Asylum/Atlantic)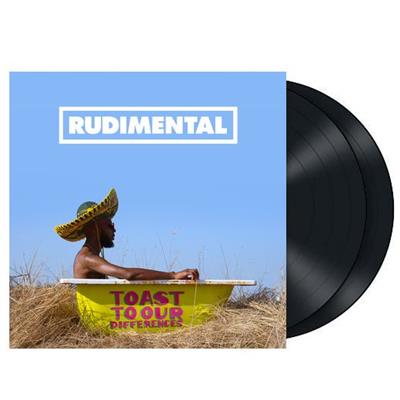 Yaaaaay! Pop! This came out in January but the vinyl only just made its way to theartsdesk on Vinyl. Since they first burst onto the scene with 2012 chart-topper "Feel the Love" featuring John Newman, London bass-pop band Rudimental have bridged the worlds of daytime BBC Radio One success and crossover club cuts. Their latest album is spattered with guest stars ranging from Major Lazer to Ladysmith Black Mambazo to James Arthur. There's plenty of forgettable phone-stream cheese here – too much, in fact - but there's also a rich vein of solid songs too. They run the gamut from the title number's community-minded sunshine celebration to the mellow head-nod Balearica of "Do You Remember", featuring Frank Garrett (who co-wrote "Pray You Catch Me" from Beyoncé's Lemonade) to the chart-topper "These Days" featuring Jess Glynne, Macklemore and Dan Caplin. Comes in photo gatefold double with lyric/info inner sleeves
Various Gary Crowley's Lost 80s (Demon)
Subtitled "30 rare, diverse and eclectic tracks 1980-87", this imaginatively put together triple record set is a goldmine. It's overseen by the radio DJ Gary Crowley who, in those days, was on Capital, as well as putting on nights at The Wag Club. The music he's chosen (for the most part) reflects musicians whose desire to be pop stars was, at the time they made these songs, hard-filtered through the values of post-punk. Sometimes that just meant reinventing pop as "New Pop" (Altered Images, JoBoxers, Spandau Ballet), sometimes it meant reinventing it with an ideally imagined, buttoned-down (but witty) simplicity (Prefab Sprout, The Pale Fountains, Aztec Camera, Haircut 100), sometimes it meant reinventing themselves (Subway Sect's Vic Goddard). The best of it is touched with a raw fondness for funk, whether that be experts in the field, such as The Staple Singers version of Talking Heads' "Slippery People", or the cruder attack of "Too Many Creeps" by New York's Bush Tetras and Bow Wow Wow larging it on "Mickey Put It Down". These have an urgency that sounds contemporary. There are also hints of the Eighties indie scene on tracks such as The Suede Crocodiles' "Stop the Rain", and a side devoted to early hip hop - and WHAM! (who Crowley toured with). The whole encapsulates a side of the Eighties often forgotten due to the monied pomp and post-New Romantic kitsch that followed in its wake. The vinyl is red, yellow and blue, the sleeves notes are extensive and include mini-interviews with many on the record. A great package for crate-diggers old and young.
Ozric Tentacles Pungent Efulgent + Erpland (Madfish)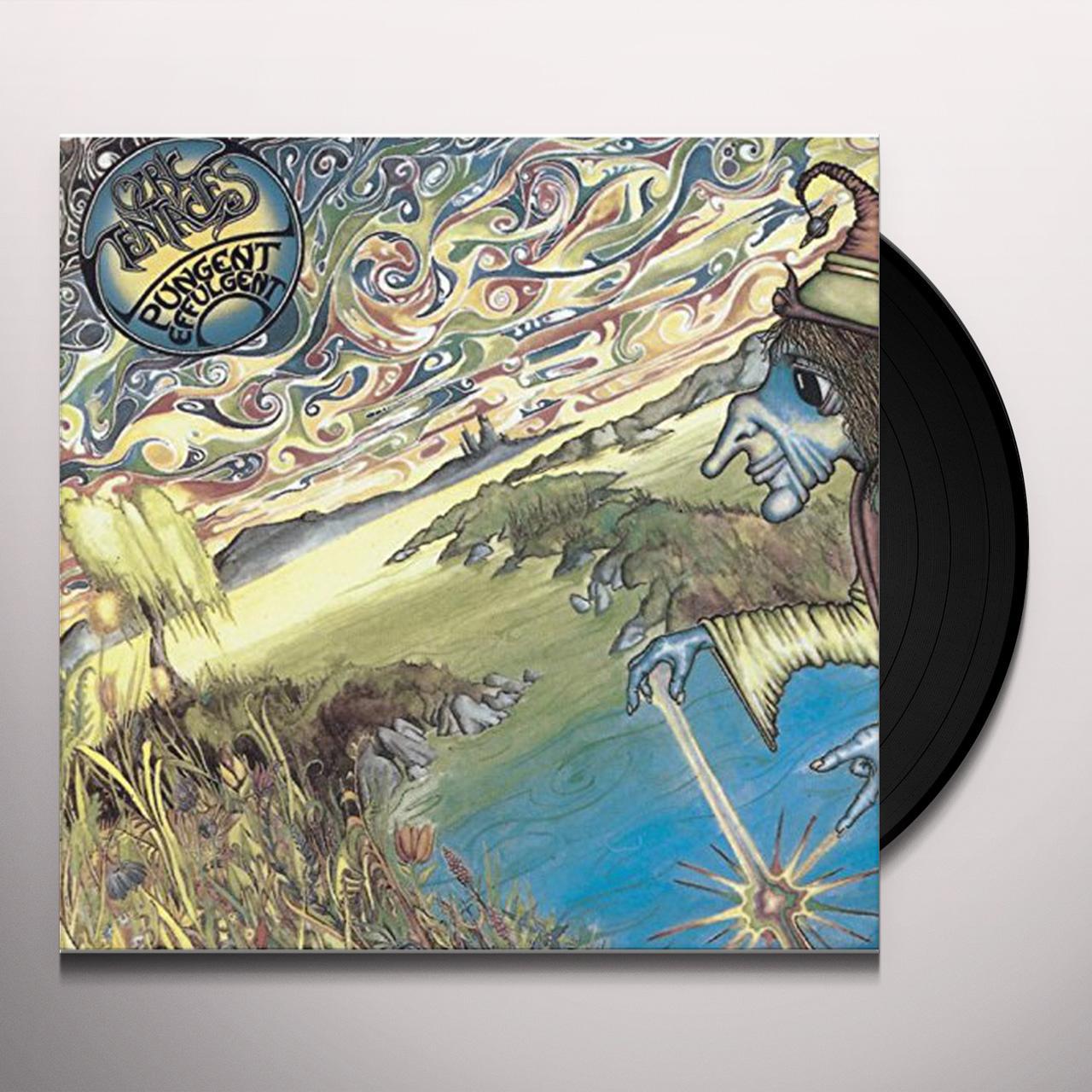 For this writer, these two albums brought on the headiest nostalgia rush. If you were a festivalized marijuana fan as the Eighties turned into the Nineties, Ozric Tentacles were all but unavoidable. The West Country space rockers turned up at green field gatherings, free or otherwise, jamming interminably, and these two albums, their first, from 1989 and 1990, would also repeatedly crop up in the tie-dye sofa'd bedsits and other living quarters of hash-heads. At the time, they were very much on my radar and I spent many a lost night stewing in cider, Moroccan and snipped slivers of microdot, flailing around to their amalgamation of Hawkwind, Gong and cuddly dub techno. I never invested in the albums, though, and here they are, sounding remarkably enjoyable, running the gamut from Orb-like interludes to the Middle Eastern vibes of, ahem, "Mysticum Arabicola", to full-on synth'n'guitar interplay.
The Ozric's innovation was to combine the noodlings of Seventies prog's stoned but virtuosic guitar players with the then-rising tide of rave culture, albeit very much at the head-nodding bass-driven end of things rather than manic E-stomping. The result is instrumental grooves that, especially when Ozric leader Ed Wynne's fret-widdling is kept in check, slowly builds a bubbling, zippy atmosphere. It's an acquired taste. It's indulgent and it isn't pop, but it emanates the heady tang of a moment when music culture was rent asunder by freaks, something that's always welcome. Both come as double vinyl.
Wilma Vritra Burd (Bad Taste)
Arriving with the warped, surreal, psychedelic, infantilism of the cover art as an insert, Wilma Vitra is a collaboration between Will "Wilma" Archer, a producer best known for his work on Domino Records, and Pyramid Vritra of notorious hip hop outfit Odd Future. Loosely redolent of LEX Records' output a decade ago (notably some of Boom Bip's material), Archer provides an oddball but more-ish set of backing tracks that have a child-like thrill to their construction (check the kids' TV theme fairground wibbler "Shallow Grave"). Vritra's easy-going drawled but intelligently constructed flow is a perfect foil. Given no-one actually dares to define the parameters of what hip hop is anymore ("any pop made by Afro-Americans" seems to be the useless person-in-the-street definition), it's a delight to hear this duo freshen things up with their own take on what the genre could be about.
Prince Musicology + 3121 + Planet Earth (Prince Estate/NPG)
Prince's Estate releases a mostly snappy cross section of late period work, none of which as ever been on vinyl before. It is, of course, on purple plastic. Musicology is a treat. When it appeared in 2004 it signalled Prince Rogers Nelson in fine funk form and was duly rewarded with his best sales since the 1990s (partly due to it being his first properly promoted and distributed album in half a decade). It was a comeback album and snapped up a couple of Grammys along the way. Whether the 21st century bass-funk of "Life 'O' The Party', the silvery sex-groove of "What Do U Want Me 2 Do?" or the JBs-style title track or, in fact, any other song, this one's a winner. The same can be said of 3121 which is, perhaps, an even better album. Opening with the mildly sinister Funkadelic party plod of its title track ("You can come if you want to but you can never leave") it soon reveals pearls such as the rockin' "Fury", the pure "Kiss"-like bedroom naughtiness of "Black Sweat" and the joyful brass-pumped "Get On the Boat". Another gem. The same cannot be said of Planet Earth which Prince initially gave away with the Mail on Sunday in 2007, immediately negating any sexiness it might ever have had. Well, it's Prince so it has its moments. The riffy single "Guitar" and the unlikely Seventies pop of "The One U Wanna C" are two of them, but there's generally less meat on the bone. It comes with a lenticular 3D effect cover while Musiclogy and 3121 are both gatefolds.
Ishmael Ensemble feat. Yazz Ahmed Severn Songs 3: The River (Severn Songs) + Kincaid feat. Blancmange Big Fat Head (Disco Halal) + Joshua James Coarse (Phantasy)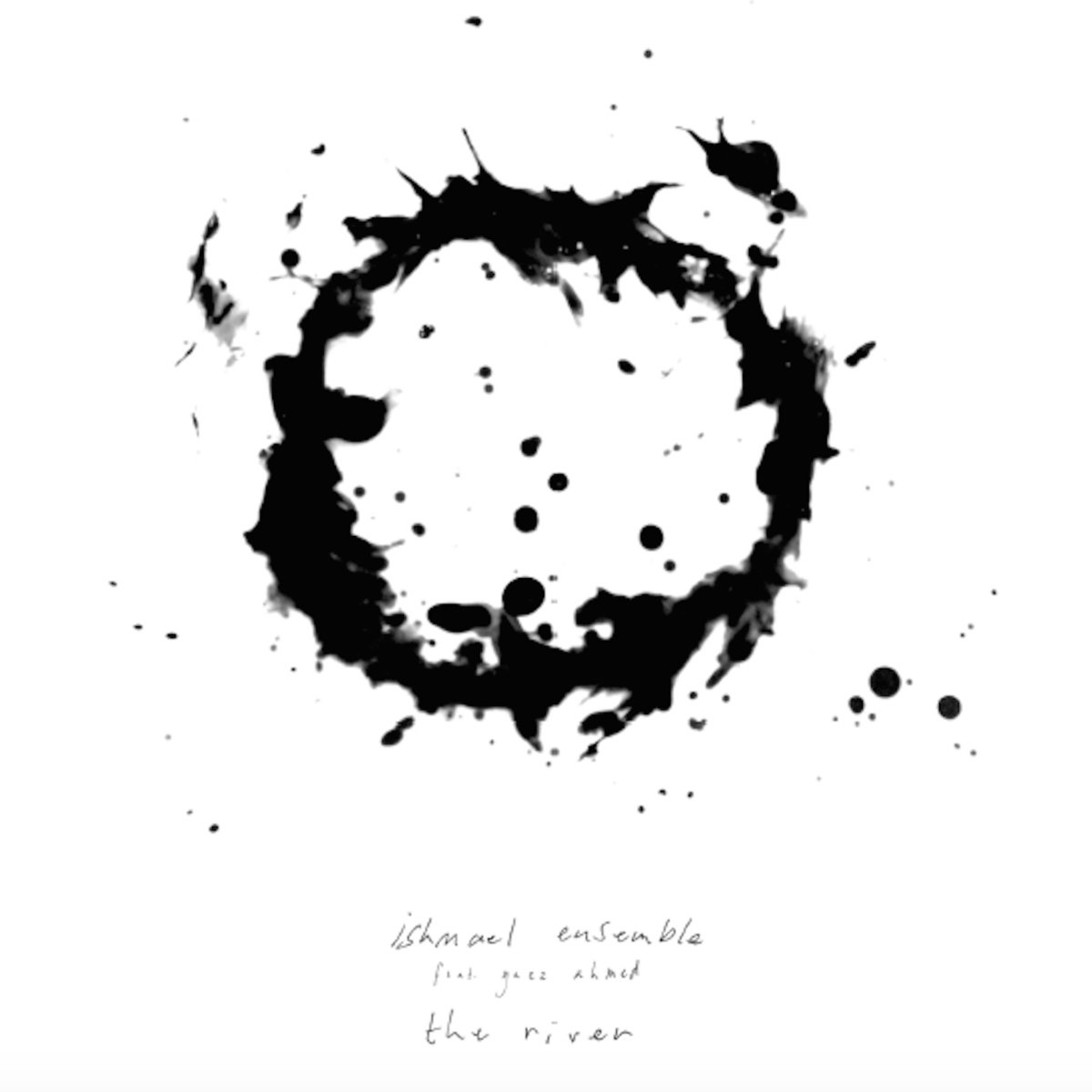 Three singles that each excite in different ways. First off is Bristol producer Pete Cunningham's 7" tribute to his local river, including sounds recorded on India's great river, The Ganges. It floats out of atmospheric ambience into an explosion, on the A-side version, of Middle Eastern-scaled trumpet played by Yazz Ahmed. It's catchy, very more-ish and full of zest. I just wished it could have gone on longer. The flipside, meanwhile, turns it into a bass bubbler that's also persuasive although not as immediately involving. Both versions demand extended mixes – theartsdesk on Vinyl must insist on 12" versions at their earliest convenience. Berlin/Israeli label Disco Halal usually come up with interesting material, combining vibrant club sounds with Eighties electro-pop melodies, and thus is the case with their latest offering, a collaboration between Joe Arther (Kincaid) and his dad (Neil Arthur of Blancmange). The latter makes morose pronouncements against a steady kick drum, Middle Eastern flute, percussion and a catchy synth motif. There's a Club Mix, a Dub Mix and an Instrumental Mix on this 12" alongside a punchier remix by Portuguese DJ Trikk and Disco Halal top dog Moscoman under their Nucat moniker.
The whole package is decent but the Club and Nucat mixes edge the others. Joshua James is a resident DJ at XOYO and at London's thriving underground queer party outfit Savage. His latest release on Erol Alkan's Phantasy label is a banger, pure and simple. With no time for faffing about, it has a driving techno heart overlaid with perspiration-inducing amyl acid lines. If the A-side is a relentless hard fucking, the flip sees New York DJ-producer Justin Cudmore give the ears a slow comfortable screw. Both sides do their thing well so it just depends what a DJ is after.
Girl Unit Song Feel (Night Slugs)
London label and club Night Slugs have been laying on bass-led, alt-hip hop antics for a decade and producer Girl Until has been on that journey with them but it's taken him until now to sort out this debut album. For fans of their style, it's worth the wait. Girl Unit combines a hefty dose of low end BOOM with a very 2019 pop sound, including two songs featuring alt-R&B star Kelela, and smeared post-Flying Lotus beats. It's not all for me. I'll never be a fan of the contemporary trend for pleading, drippy Autotune declarations of sexiness but there's plenty to enjoy, from the bouncy upbeat "24 Hours", which features a singer called Baili and has "hit" written all over it, to the bullish, raw hip hop of "Pull Up" with female MC Thast. In alt-universes where the average music consumer is a couple of degrees more psychologically advanced than our own, this stuff is all over the charts.
Pandit Kanwar Sain Trikha Three Sitar Pieces (Manufactured) + Nitai Dasgupta Songs of India (Manufactured)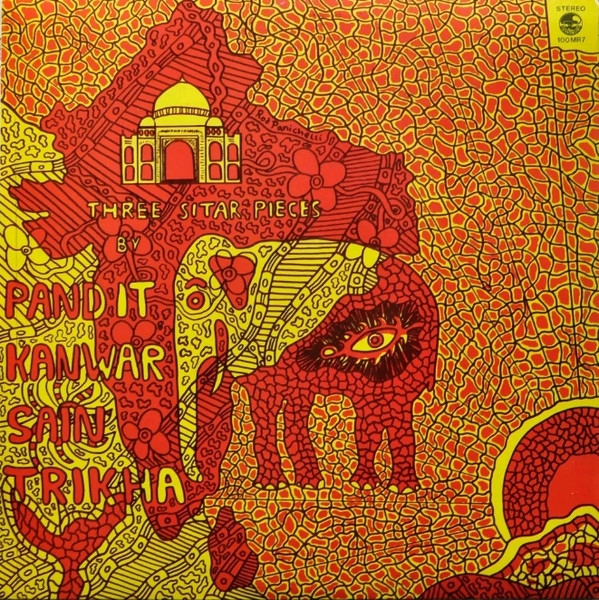 Back in the late 1960s and early Seventies producer Vic Keary gained a name for himself producing songs for reggae staple Trojan Records. Keary ran his own reggae imprint too, Manic, but he had another label, Mushroom, which fired out prog folk and other curiosities of potential interest to kaftan-clad Sixties refugees. Such fare included these two albums which now receive their first reissue since 1970 (Pandit Kanwar Sain Trikha) and 1972 (Nitai Dasgupta). They're both Indian classical but were regarded as having potential with joss stick-wafting longhairs and it's easy to hear why. Pandit Kanwar Sain Trikha's longform sitar pieces, especially the side-long "Bageshri in Teental" have a revolving raga-scaled hypnotic quality that quite zones the mind out. Nitai Dasgupta is more immediately approachable. One of Britain's leading Indian classical singers at the time, he's accompanied here by tampura (long-necked lute), flute and tabla, creating a music that is at once gentle, complex and, in places, meditative. Both albums are restful and worthwhile.
Phillipi & Rodrigo Paciencia (Deewee)
How successful Brazilian pop producers Phillipi & Rodrigo first met Soulwax/2 Many DJs has yet to be made public but the results now arrive on plastic. The South American pair recorded this debut album with the Belgians in their Ghent studio and released it on the Dewaele brothers' Deewee label. Apparently influenced by The KLF's notorious The Manual book on how to achieve a No.1 hit record, its approach to electro-pop is novel. Much is poppily sung in seductive Portuguese with backing tracks that veer between disco and synth drones, staying just this side of accessible, although those simply looking for a Soulwax-style banger should drop the needle straight to "Face". Not sure how much I like all of it, but it certainly has some astoundingly striking moments and is growing on me…
Munya Meet (Luminelle) + Eivør Live in Tórshavn (Norse Music) + Louise Lemón A Broken Heart is an Open Heart Boxset (Icons Creating Evil Art) + Lou Doillon Soliloquy (Barclay)
A coterie of very different female songwriters. Canadian singer-producer Josie Boivin, AKA Munya, has stated that, "I don't really understand how I make music - I feel like it's coming from another world." Indeed, her airy, sweet, high-pitched voice floats about an ethereal suite of songs that occasionally jangle but are more usually scattered down a into melee of merged keyboard twinkling. It does sound otherworldly. On white vinyl in art/lyric inner sleeve, there's even a delightful song called "If I'm Gone Tomorrow (It's Because of Aliens)". Anyone who enjoyed the brief "chill wave" phenomenon of a decade ago (especially early Neon Indian) will welcome this.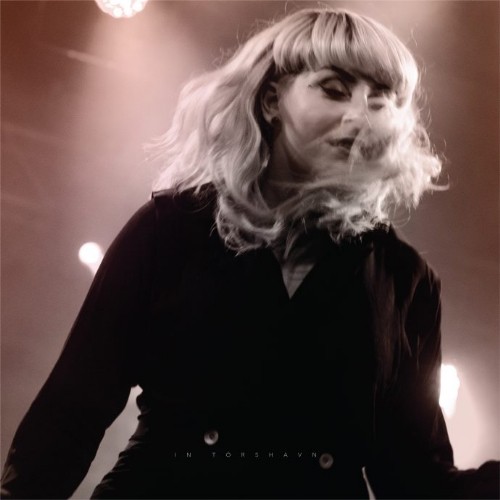 Eivør Pálsdóttir, meanwhile, hails from the Faroe Islands and has been popular in Scandinavian countries for most of this century dipping into everything from classical to pop to jazz and singing in Faroese, Icelandic and English. Lately she's been doing more in the latter language and this double is a showcase set in photo/info gatefold, recorded in the capital of the Faroes. It hits somewhere between Enya and Sarah Brightman, but that makes her sound completely shit and she's not. She certainly throws her soprano about but beds down into carefully orchestrated folk rock. It's not really my thing but it does offer something a different.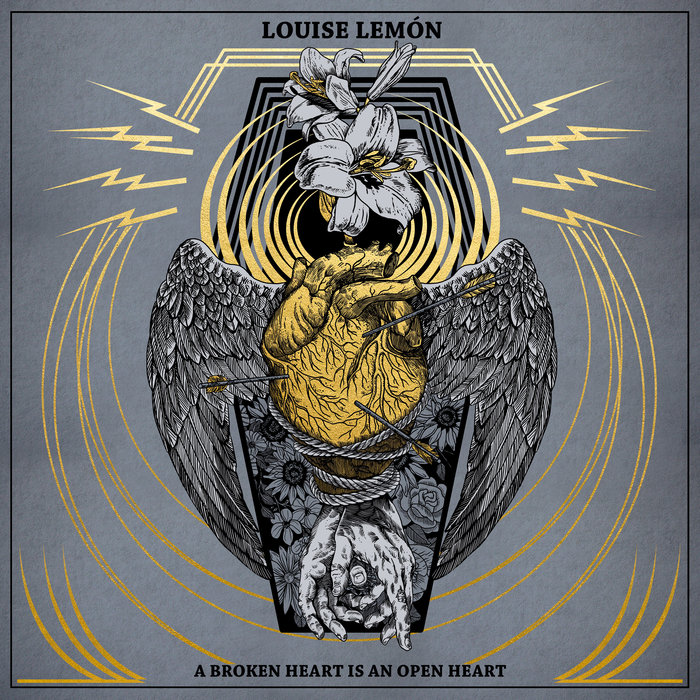 So does Louise Lemón. So much so that she's given rise to a micro-genre name (that she probably loathes!) – "death gospel"! It's a humorous handle but the Swedish songwriter's numbers do indeed combine an earnestness with slow, minor key dolorousness. She makes Lana del Rey sound like Rihanna. Such facetiousness aside, this second album, recorded on vintage equipment, contains ponderous but skilfully miserable songs. The boxset is almost an art object and contains a bonus live CD.
Finally Lou Doillon, a women at ease in multiple artistic disciplines, notably acting, but for whom music may be the key outlet. Her third album has something of Marianne Faithful about it; the world weariness, the theatrical poetry of the lyrics and the low toned voice. Musically it has a late night burlesque feel, filtered through early Tom Waits and, of course, a dash of chanson, as befits a Gallic icon. Songs such as "The Joke" have a Weimar crunch to them but elsewhere we find the likes of "Burn" which recall St Vincent rocking out. Comes in gatefold. Of these four releases, Munya would be this writer's pick.
The Zombies In The Beginning… Boxset (Demon)
How much Zombies does one person need? This album of five coloured vinyl records answers that question. The Zombies are still very much a going concern and have made more albums in the 21st Century (three) than they did in the 1960s (two). However, this boxset, as its title suggests, concerns itself with their initial incarnation and gathers Begin Here (1965) and Odessey and Oracle (1968) alongside two collections of material released in-between (Early Days and Continue Here), and more recorded just before the original band split in '68 (R.I.P.). Most music-lovers will know The Zombies from their deathless monster hit "She's Not There" and their keyboard'n'percussion-fuelled high Sixties classic "Time of the Season". Despite having a proper Sixties rep, The Zombies only had three actual hits - those two and the passable cod-soul groover "Tell Her No". The rest of the material is a mixed bag, a fair bit of filler, but there's great stuff amongst it: just check the manic Beatles-punk of "Indication" or the should-have-been-a-hit single "Just Out of Reach", but, outside the albums proper, R.I.P. is the most interesting album, with tunes such as jazz instrumental "Conversation Off Floral Street" giving indications where, in another world, The Zombies might have gone next. This material has been out before, albeit some of it only on CD, but fans might enjoy the inner sleeves plastered in photos, press cuttings and other memorabilia.
ALSO WORTHY OF MENTION
Fil Bo Riva Beautiful Sadness (Humming): Filippo Bonamici is an itinerant Italian who busked the streets of Dublin and Berlin before settling in the latter city. His debut album, however, is not campfire stuff. Instead he's hooked up with Mighty Oaks producer Robert Stephenson and a wildly talented guitarist called Felix Anton Remm for a debut album that has something of Elbow and early Coldplay about its use of voice, melody and mournful atmospherics but is also fired with a bouncy upbeat eclecticism nothing like those bands, as is captured on tracks such as the rambunctiously joyful "Go Rilla". With the right tail wind Beautiful Sadness would be a million-seller. Comes in photo gatefold in lyric inner sleeve.
Kabasa African Sunset (BBE Africa/BBE): BBE Records continues its eternal quest to unearth every chunk of funky tuneage you've never heard of from everywhere in the world. This time it's the 1982 album by a black South African supergroup, Kabasa, founded by virtuoso guitarist Robert "Doc" Mthalane, vocalist/bassist Tata "TNT" Sibeko and percussionist Oupo Segwai, two of whom had previously been in groundbreaking and successful pop band Harare. On double, superbly cut to double vinyl with typically informative BBE gatefold notes, it's an easy approachable album, jolly, loose, funky. I prefer the more explicitly percussive tracks, such as "Walking in the Jungle" to the more flute-laden soulful cuts, but for fans of a place where classic US soul-funk crashes head first into African sensibilities, it's vital stuff.
Bronx Slang Bronx Slang (Fabyl): New York duo Bronx Slang had a moment in the late Nineties and early Noughties when the Brit big beat/breakbeat explosion called in their talents but it's taken until now for a debut album to appear. Produced by fellow Nineties/Noughties name Jadell, these guys hark back to the oldest school of Golden Age hip hop, lyrical dexterity chucked around with aplomb (check out the word play on "Well, Well, Well") but with Jadell also making sure their sound packs a punch, as opener "Run Away Sucker" admiraby demonstrates. Yet there's an underlying accessible edge, vaguely reminiscent even of Fun Lovin' Criminals in a couple of places, which is to say that while the rapping has a pure hip hop quality, the music has a rock'n'roll meatiness and bite.
Ryuichi Sakamoto BTTB (Back to the Basics) (Milan): It's been 20 years since Ryuichi Sakamoto's rare solo piano album has been available on vinyl but it now returns in gatefold double with notes by the author Haruki Murakami. Sakamoto's career has seen him increasingly move from experimentalism to an ongoing search for quiet aesthetic beauty. BTTB was a key point on the journey. It's a simple balm for the nerves with a subtle tunefulness woven into its cool-tempered passages of elegant piano-playing. In its gentle, unforceful way, this is a classic album.
Papooz Night Sketches (Half Awake/IDOL): Second album from French duo who go large on yacht rock louche and only get away with it because of high quality songwriting. It's as if Air had decided to be more disco and more Supertramp, and less spaced out. And to write more actual songs with lyrics and choruses. Night Sketches will be too much of a candied self-conscious pop nugget for some, but if you can get past that, there's some delicious candyfloss on board. Comes in photo/lyric inner sleeve.
Light Conductor Sequence One (Constellation): Well, it's called Sequence One and it's on Canadian sound cosmonaut label Constellation so you know it's not going to sound like Calvin Harris. This is a good thing. Don't get me started on Calvin Harris. Light Conductor are Stephen Ramsay and Jack Lasek of Canadian indie rock outfits Young Galaxy and The Besnard Lakes, respectively, but Sequence One finds them exploring interweaving analogue synth drones. They have the knack, fortunately, and instead of literally droning on they muster ear-delighting melodies amongst repeating serialist patterns. It has something about it of those Sixties easy listening albums that tried to imagine space music of the future. Comes with a 12" x 24" fold-out graphic of cover art.
Doron Segal The Addition of Strangeness (Village Live) + Will Burns & Hannah Peel Chalk Hill Blue (Rivertones): A couple of albums that combine art sensibilities with an intriguing cross-section of music. First off, Berlin-based Israeli jazz pianist Doron Segal is clearly talented but is taken to another level by the backing of his rhythm section; bassist Tom Berkmann (of German jazz explorers Scopes) and drummer Daniel Dor (who's worked with Avishai Cohen, Matisyahu and others). They add another layer of interest, whether that be drum & bass-tinted tracking or far more arrhythmic, lower key input, such as they display on a moody cover of Soundgarden's "Black Hole Sun". Certainly a trio contemporary jazzniks should keep an eye on. Hannah Peel and Chalk Hill Blue producer Erland Cooper are both members of rustic experimentalists The Magnetic North and some of that band's feel leaks into their album with poet Will Burns (Faber New Poet of 2014). The music sometimes musters a propulsive chug, as on "The Night Life" or embraces Kraftwerk-ian synths, as on the title track, but they're more usually providing soundscapes for Burns to occasionally step in and steadily say his occasionally elegiac word pictures, tributes to the British countryside and its wild life, all of which which are, of course, under siege, as we all are, by the forces of big money. Comes in photo/info/essay inner sleeve.
Jayda G Significant Changes (Ninja Tune): Berlin-based Canadian DJ-producer Jayda G is the latest big noise in clubland. I confess I've never seen her play but am bemused by her debut album. It's mostly a stripped back thoughtful deconstruction of the original Chicago house sound, interspersed with sonic hints at 2019 tech. The whole has a controlled intellectual energy that, at least on this two record set in photo inner sleeves, fails to amount to any real jolts of energy. It bubbles along coolly and some of the tunes, notably "Missy Knows What's Up", raise the temperature a little but, overall, pleasant rather than vital, bar music rather than anything to cause a sweat.
The Strange Echo Chamber (Glitterhouse) + The Stroppies Whoosh! (Tough Love) + Bilge Pump We Love You (Gringo) + C'Mon Tigre Racines (!K7): And so to a selection of approaches to non-major label guitar music, AKA indie. The Strange is a collaboration between The Bambi Molesters ("Cult Croatian instrumental surf-rockers" according to the press release) and US singer Chris Eckman of Dirtmusic and The Walkabouts. But if all that means nothing to you, don't be put off quite yet: the pairing deliver twangy, doomed, tuneful and spirited songs that have a touch of Leonard Cohen's gruff condemned man's insolence in the lyrics ("I never made easy, never even tried"). Strings and mariachi brass crop up too, combining to baroque effect. Comes in art/info inner sleeve. For those who understand indie by what it meant in the 1980s and 1990s the wonderfully named Stroppies from Melbourne, Australia, will sound familiar. Formed in 2016 their work has been deliberately lo-fi but with a smart Byrds-ian twang to the guitar, all set off by the vocal delivery, male and female, of people who've listened to old Creation Records and The Fall a lot. The Stroppies consists of members of various other indie outfits but when they come together the results, which at first appear throwaway, have an unforced charm. Comes in photo/lyric inner sleeve. Leeds band Bilge Pump, faves of BBC Radio 6's Marc Riley and Gideon Coe, are similarly imbued with that Eighties post-punk-ness, although all that really means is they're unafraid of messy patterns in the music. Led by adept bass-playing, leading to a sound somewhere between World Domination Enterprises and Big Black, although nowhere near as caustic as the latter, their mildly cacophonous music is set off by poetic abstract lyricism. Their first album in a decade is an acquired taste, then, but might be a growing one. The second album from Canadian collective C'Mon Tigre comes in a stunningly packaged, double album set with the gatefold containing an 80 page art book. Cut to vinyl with depth, their second album is the most sonically imaginative of the four gathered in this review, fusing a folktronica feel akin to the likes of Tunng but with something of Tiniwaren's Afro-desert blues guitar-led punch at its heart too. Their sound is smeared and fascinating, the muted singing playing off an Afro-jazz underpinning. Like our Vinyl of the month, there's something of Gonjasufi about it…
Various Back to Mine: Nightmares on Wax (Need Want): The Back to Mine compilation series was "a thing" for the first decade of this century. The brand rode the slow decline of 1990s club culture, the final post-millennial chill-out boom which was, in retrospect, the sound of ravers giving in to their nesting instincts. Back to Mine was a nice idea, club-related DJs and producers curating a set for their own mellow after-party. Those at the helm included Liam Howlett of The Prodigy, Orbital, Tricky, Carl Cox, Pet Shop Boys, and Richard X. It ran for 28 editions before going on hiatus in 2008. For their 20th birthday they return with Balearic kingpin George "Nightmares On Wax" Evelyn. His two record set, as is traditional with Back to Mine, includes exclusive material, in this case "Caught in the Middle" by Creative Principle (an Ali Love project), "Good Ship" and "Look Up" by Nightmares on Wax and Evelyn's remix of "Russia" by Fat Freddy's Drop. The latter two are numbers with dancefloor bounce but most of the album rolls along at a lazier pace, a typical number being the soulful, stoned disco of Massimo Vanoni's blandly named but lovely "Exciting Groove". Anyone longing for the summer could do worse than stick these two discs on and close their eyes.
Gore Revanche (Exile On Mainstream): This one has quite a story. By 1988 Dutch instrumental avant-metallers Gore had built quite a following and their Steve Albini-produced fourth album, Wrede/The Cruel Peace looked to be a breakthrough moment. Less fortunately, it coincided with the band imploding. Bassist Rob Frey tried to reconvene with a new line-up but ended up mired for four years in a court case with a former band mate. He took the time to work up a dream project, Lifelong Deadline but, when eventually released, despite critical acclaim, it didn't do the business and, in fact, the band always hated it, regarding its production as unrepresentative of what they were trying to achieve. Thus they've rerecorded it with Slayer/Slipknot producer Terry Date and it's very different. The highlights of Revanche come when the trio's jagged, tricksy riffage contrasts with effects such as a bell on "Rustproof Rape" or, especially, the drop-outs to dawn chorus on "Battle of Stones". It's stern and heavy, less bombastic than Lifelong Deadline. To all intents and purposes it's a new album from a cult band who haven't otherwise been active in over 20 years. Comes with 12" x 12" insert containing photos, info and a band history
Roy Ayers Silver Vibrations (BBE): BBE with another class reissue, this time from vibraphonic funk overlord Roy Ayers. It's a double with gatefold of sleeve notes and pressed LOUD to vinyl. BBE always achieve such a phat sound! Silver Vibrations was originally released only in the UK in 1983, to cater to his extensive soul-boy (and girl) fanbase. It includes a long a vaguely psychedelic version of woozy throbber "Chicago" and the whole album is blissed and buzzy, it's dancefloor potential always tempered with an easy going jazz underpinning. Whatever the BPMs, it emanates joy.
Ward Thomas Restless Minds (WTW/Sony): British twin sisters Catherine and Lizzy Ward Thomas went to Nashville to record part of this, their third album, which is appropriate as it has country'n'western blood running through its veins. However, it's also been co-produced by a team, some of whom have worked with Little Mix, Paloma Faith, Craig David and Shawn Mendes. Thus it mines the area that teenage Taylor Swift made so hugely popular, where the feel is country but the whole is cast as squeakily engineered, polished pop. The lyrics are the usual non-specific, self-empowerment stuff, but with strong singing and solid harmonies giving them extra power. Ward Thomas have clearly connected with a fan base. Their last album topped the UK charts and this one made the Top 10. It's easy to hear why. Comes on double in photo/lyrics inner sleeves.
Finally, a couple that have already been reviewed on theartsdesk but which are well worth having on plastic. Click through for full reviews:
Mammoth Weed Wizard Bastard Yn Ol I Annwyn (New Heavy Sounds): Stunning cross-over doom metal from Wales. You really need to hear this.
Cinematic Orchestra To Believe (Ninja Tune): 12 years after their last album, their fourth is an immersive journey into sound (mine came with a really sturdy high quality tote bag).
Que Vola Que Vola (No Format): Energized debut of percussive, driven French-Cuban tribalist Afro-jazz.
We welcome any and all vinyl for review. Please hit thomash.green@theartsdesk.com for a postal address.
One to be taken with a glass of good French red and the lights low while imagining you've just lost the girl in a black'n'white film
Share this article