theartsdesk on Vinyl 75: The Beach Boys, The Residents, Danny Goffey, Jean-Michel Jarre, black metal and Sixties psych |

reviews, news & interviews
theartsdesk on Vinyl 75: The Beach Boys, The Residents, Danny Goffey, Jean-Michel Jarre, black metal and Sixties psych
theartsdesk on Vinyl 75: The Beach Boys, The Residents, Danny Goffey, Jean-Michel Jarre, black metal and Sixties psych
The most eclectic regular record reviews in the known universe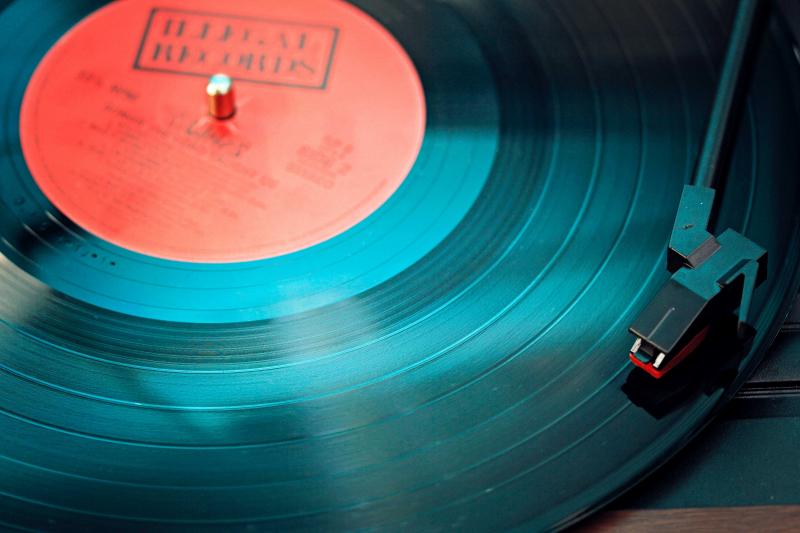 Always in a spin
Welcome to the first theartsdesk on Vinyl of 2023 and it's another whopper, over 8000 words and a range of musical styles that defies genre or categorization, from the most cutting edge sounds to boxsets of golden vintage pop. Dive in!
VINYL OF THE MONTH
Jimmy Edgar Liquids Heaven (Innovative Leisure)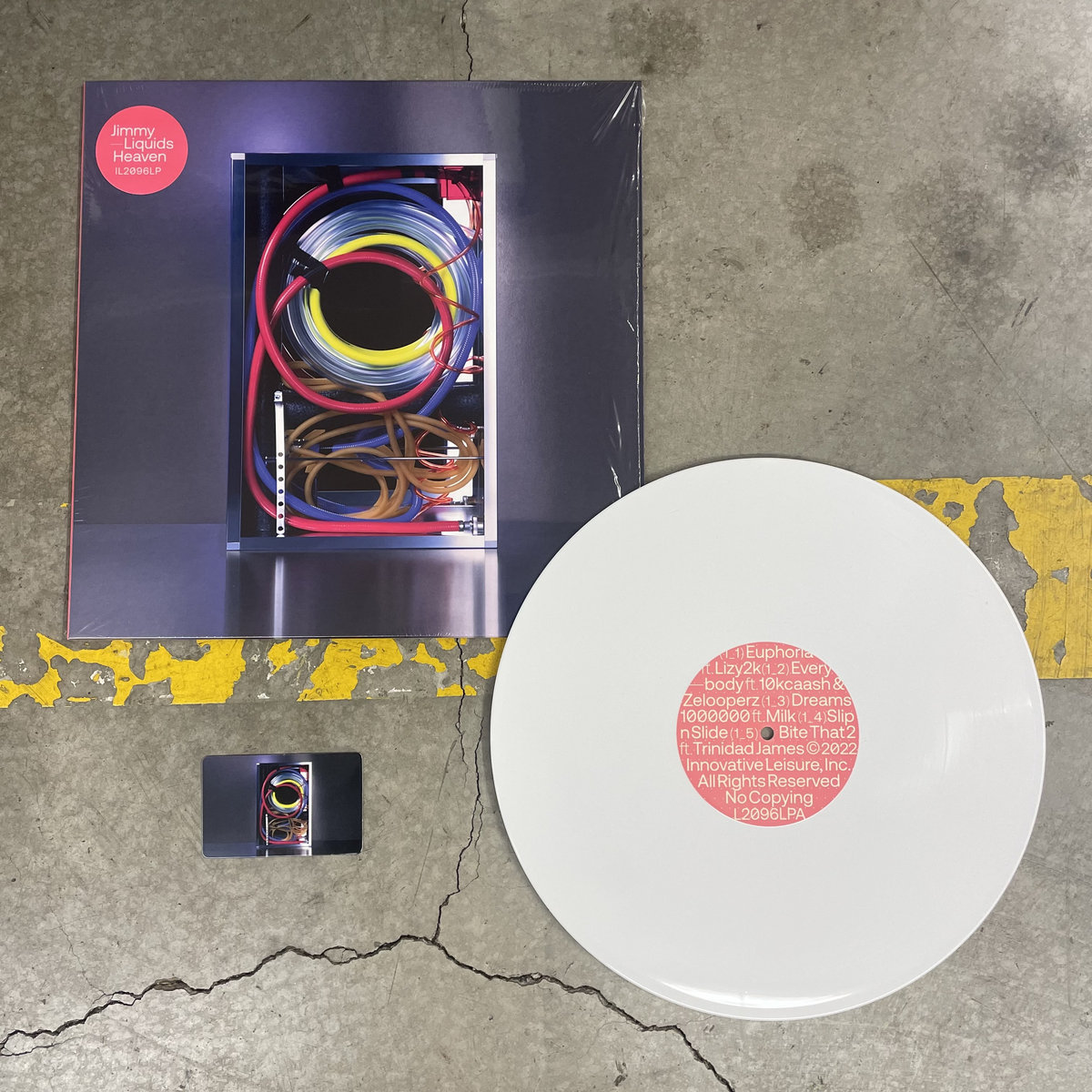 Detroit technoid art maverick Jimmy Edgar's latest indulges in pure, welcome electronic ear-fritzing, a place where R&B has it out with Aphex Twin or Sam Gellaitry's most twisted constructions, and, most entertainingly, more than half an ear on pop. Edgar's latest album is mostly a series of collaborations which adhere vaguely to a song structure on cuts such as "Euphoria", featuring Lizy 2K, and the death metal vocal-chorused "Static", featuring Banshee. On the other hand there are pieces such as "Slip'n'Slide" which revel in the sheer unnatural and disorientating deviance of electronics and what that does to the brain. Grounded in a booty bass low end, Edgar takes the listener on a thrilling journey into the extraordinary capabilities of his machines.
VINYL REVIEWS
Mauskovic Dance Band Buckaroo Bank (Bongo Joe)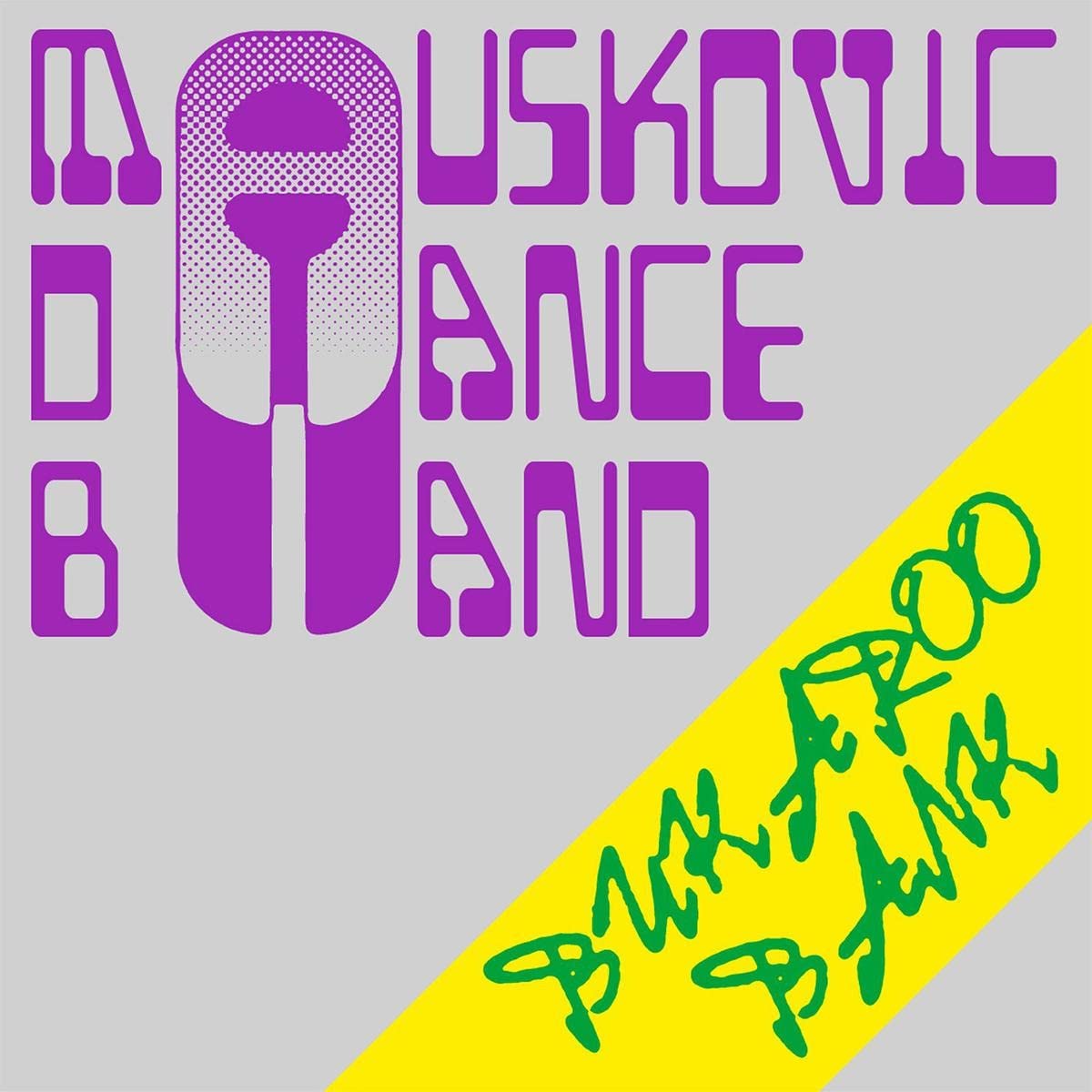 Amsterdam's Mauskovic Dance Band release a second album that satisfyingly draw lines between post-punk funk, dub and a multiplicity of tropical music styles. It's festival music, late night music, made for dancing but owing little debt to the decades of electronic dance. This isn't to say it doesn't have synth elements – it does, adding psychedelic wobble and woosh – but the rolling, ZE Records-ish style, replete with jagged, smeared, half-spoken vocals, is a 2023 update of what the discerning might have heard if they'd accompanied Tina Weymouth to the best underground New York clubs in 1980. Which is no bad thing.
Madness The Liberty of Norton Folgate (BMG)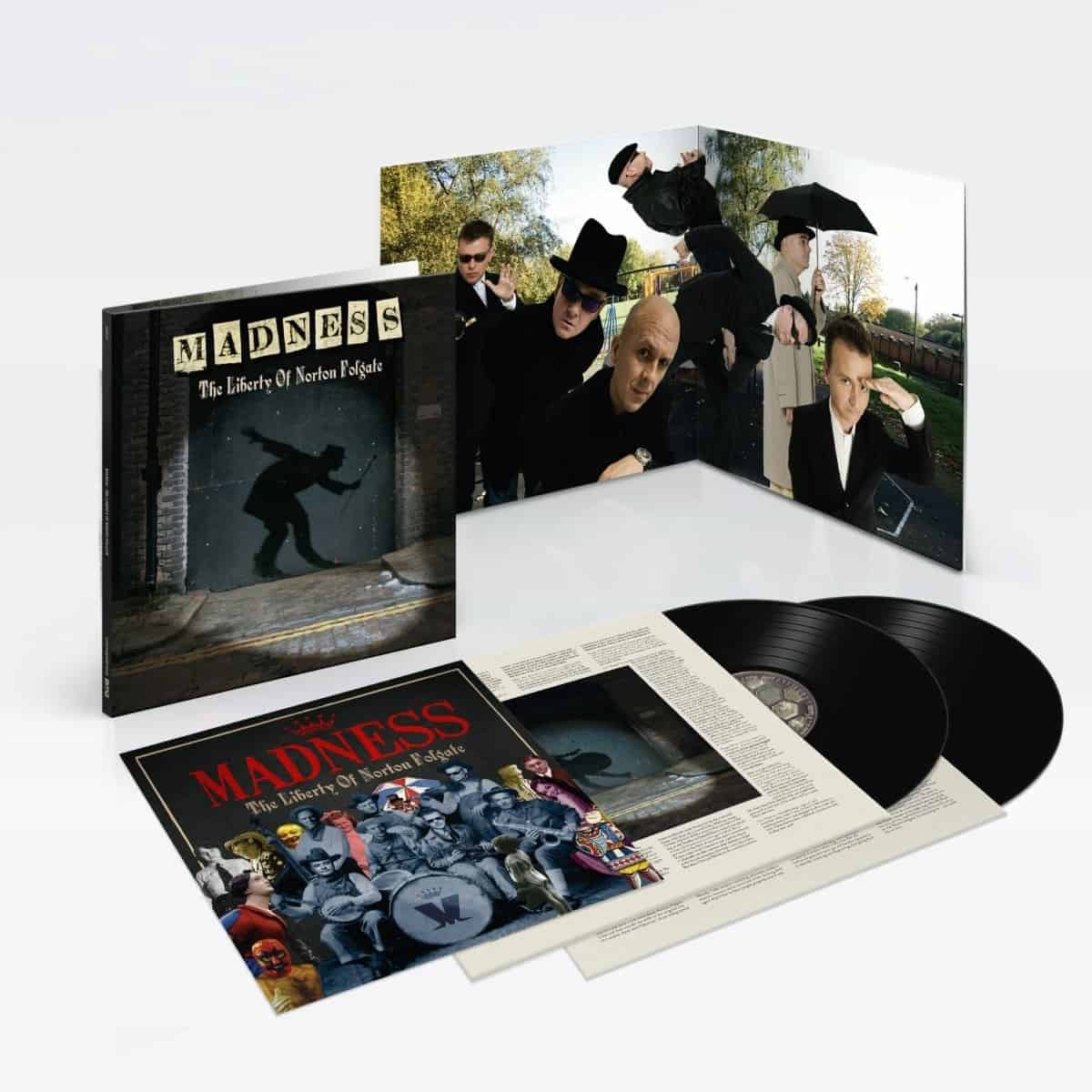 The Madness reissues reach an apex with this one from 2009. As far as the band are concerned, this is their magnum opus. The inner sleeves of this double on photo gatefold are jammed with its back story, as told by the group. It's clear they hugely enjoyed making it, recording in a deserted office block, then Liam Watson's famously old school and basic Toe Rag Studios. Working on an unlimited time frame, without the usual constraints as to what songs might go on the final album, they aimed and succeeded in a concept piece about London. The title track stretches them. It's the closer and the centrepiece, and Madness doing prog (sort of), an offbeat gem. It's a counterpoint to the toxic spirit of Brexit before that idiocy had even begun. Also, on board and especially tasty are "Forever Young", "Africa" "Dust Devil", "NW5" and more. It's a rewarding listen but I'd argue it sometimes replaces the punch of their sound with something more living room-friendly, and that, far from rocketing way above their other output in quality, it's another solidly good Madness album from amongst many. Their fans, after all, always knew they wrote great, meaningful songs. Nonetheless, it's one that grows on the listener - I like it more now than when it came out - albeit I now skip certain songs. The first three sides are the original album and the final side has seven bonus tracks (they recorded 50 songs as contenders). These add further welcome detail to their London panoramic, and hold their own. They include the raucous Ian Dury-esque "Let's Go", the driving, dark "Hunchback of Toriano" and the light, brass band-fuelled satire of "Fish & Chips". Comes with a 12" x 12" triple foldout lyric/art/info sheet.
Various El Sonido De Fingier Records (Fingier/Acid Jazz)
Kevin Fingier is an Argentinian soul boy and a fixture of the Buenos Aires music scene. In 2020, with backing from Acid Jazz, he set up Fingier Records where he combined local sounds with a strong hard-soul feel. The 7" series that resulted all sold out but are now gathered here, exuding a relentless and glorious dancefloor energy, produced and mastered fat and loud, from a Northern Soul-ish stomper by Gerri Granger to the Latinate jazz rattle of Fingier's own Collective, who dominate the proceedings. I would suggest it's a timeless collection, in that it feels like it could have been made in the Nineties or the Seventies but, actually, there's an urgency and pace that's much more contemporary. Comes in art/info inner sleeve.
Someone Owls (Tiny Tiger)
I have to admit that, while the music on this album is cuddly, honeyed and ear-friendly, it's the extras that swing it. Someone is the Google-madness name of Holland-based musician and artist Tessa Rose Jackson. Her Bandcamp says "she releases music and art, searching for fresh ways to fuse the two together whenever possible." She's managed well here! The album comes in art/info gatefold double in lyric inner sleeve and consists of woozy, downtempo electronic dream-pop, twinkly, with drawl-whispered vocals, music to lie down to and close eyes, giving off a slight opiatedness. It's apparently an initial move towards making a film, set in an isolated woodland hotel wherein a tale of "sisterhood, grief, and self-forgiveness" occurs. The song "In Your Arms" is especially lovely. However, in the other half of the gatefold are a set of circular 12" card "phenakistoscopes". These push the release into new realms. They are double-sided and full of colourful graphics, with each side representing a song on the album. Put them on the turntable, turn the lights out to create a darkened room, flash a strobe on them, and they animate. You don't have a strobe? She's on it. Go to the devoted section of her site (here) and you can download one to your phone. This site also has imagery of the phenakistoscopes in action. Not your average.
Various Dark Side of the Sacred Scar (Peaceville)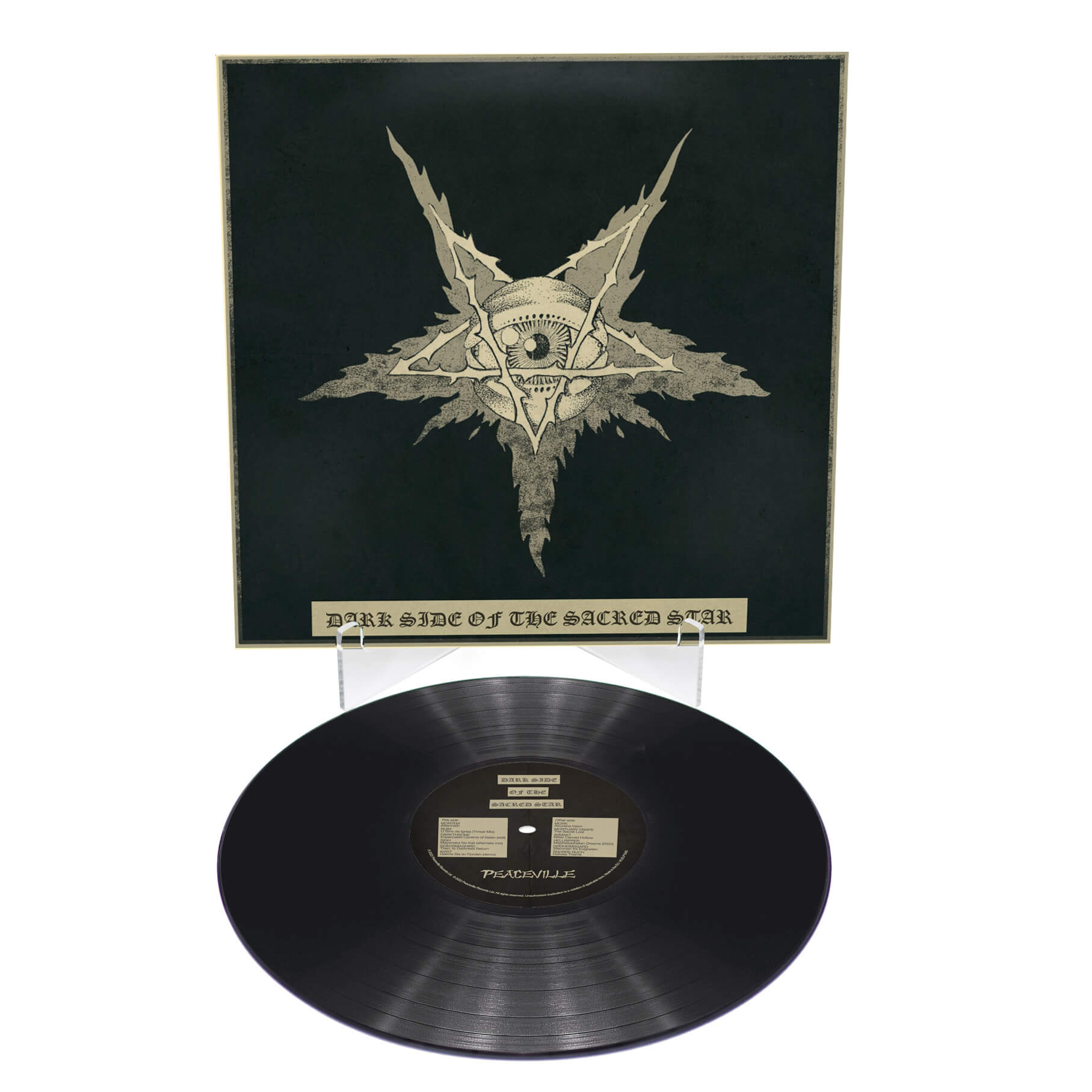 I receive a fair bit of musical material, for theartsdesk on Vinyl and elsewhere, whose makers aim at the avant-garde, consciously pondering Artaud's Theatre of Cruelty or ideas drawn from Paul Hegarty's Noise/Music. However, these releases are often beaten at their own game by the extreme end of metal, which generally has a different agenda yet achieves the same ends. Celebrating 25 years of the label Peaceville, this 12 track, limited-to-1000-edition compilation gathers together exclusive tracks from their "more black metal-oriented acts". Taken in any context, this music is unhinged. Even the more cartoonish material, growling about Satan, is on the very furthest shores of popular music. On the one hand, Dark Side of the Scar boasts songs such as Sigh's "Mayonaka No Kali", which combines prog synths and symphonic elements with riffage and actual melodies, but, on the other, there are episodes of pure, visceral aural assault such as Avmakt's ballistically raging "Bitter Carved Hollow" and the smeared cacophonic discord of Doedsmaghird's appropriately named "Then, To Darkness Return". This music is nuts and those who fancy they like extreme music should explore it.
Silvan Strauss Facing Kabul Fire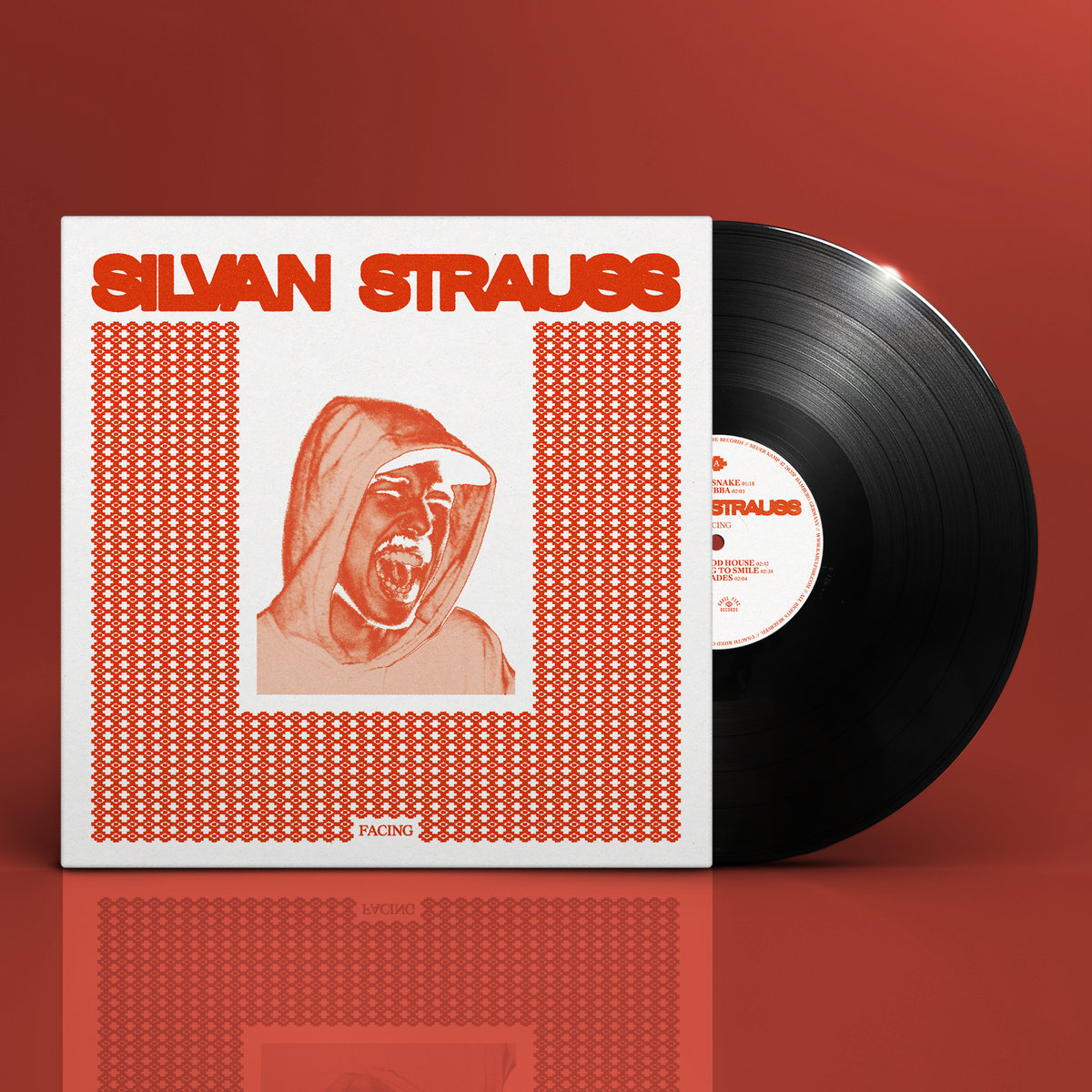 Hamburg drummer-producer Silvan Strauss does not make electronic music, he makes jazz, but Facing is underpinned by chopped-about sequences of his own sampled drums, executed in a post-J Dilla fashion. Certainly, when I first heard some of these tracks I immediately thought of abstract West Coast hip hop rather than vanguard jazz but, of course, it's imbued with both. When the ears settle into the album, the flutters of flute, brass and mellow keys make clear where its heart lies. Mellow but rhythmically exciting, this one could be of further use to rappers.
Danny Goffey Bryan Moone's Discopunk (Let's Be Frank)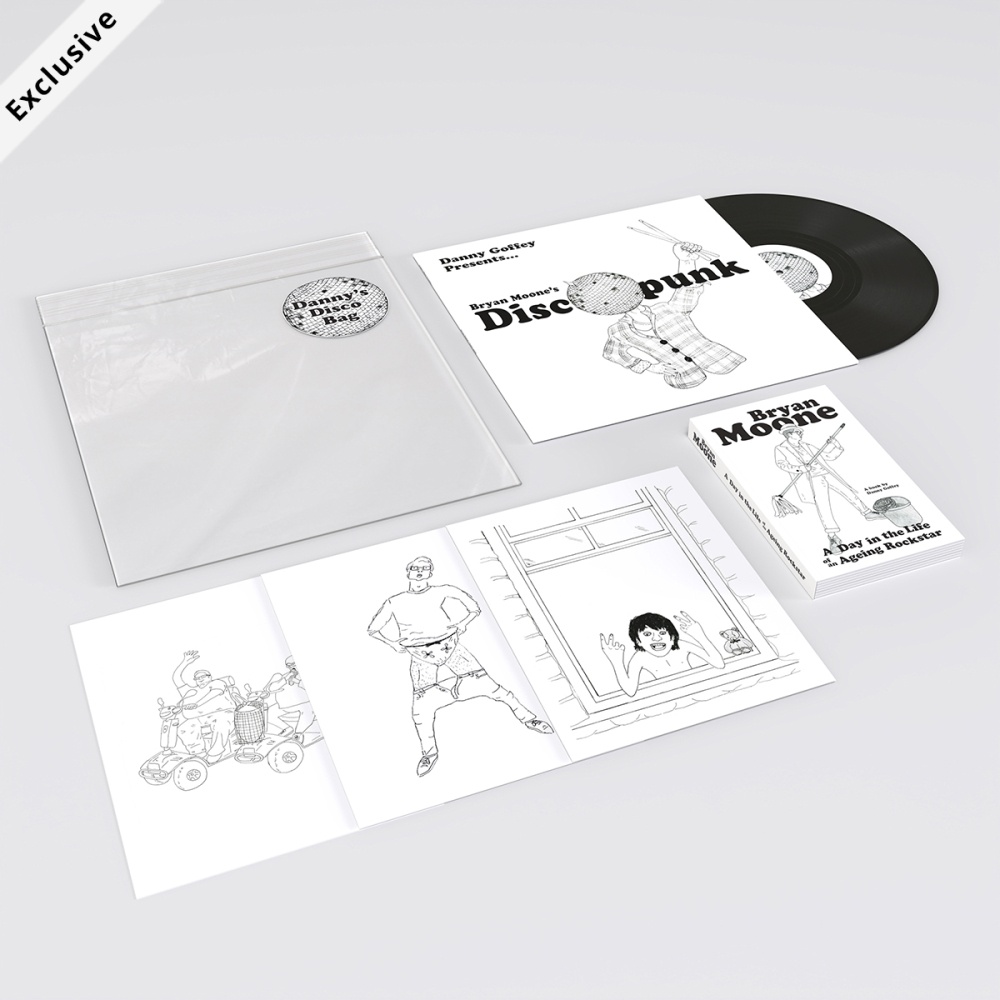 Cards on the table, I can take or leave Supergrass, but their drummer Danny Goffey's third solo album is hard to resist. It's a "lockdown album" but don't let that put you off. Indeed, being stuck at home, rather than sending Goffey off on the usual predictable, solipsistic investigation of personal anxieties, seems to have kicked his restless imagination off in all directions. Via the adopted persona of Bryan Moone, Goffey starts well with the excellent minimalist indie-punk-pop of "Everybody's On Drugs", then doesn't let up, giving us songs that channel Ian Dury, disco, Sixties sounds and much more. It's great fun and there's not a duff song on it. My edition comes in a "disco bag" which contains a set of prints of drawings by Goffey's son Frank, and a paperback book diarising the (possibly not-so-fictional) everyday domestic life of Moone. I came to this as a cynic but have been won over!
Various Eddie Piller presents British Mod Sounds Volume 2: The Freakbeat & Psych Years Boxset (Demon)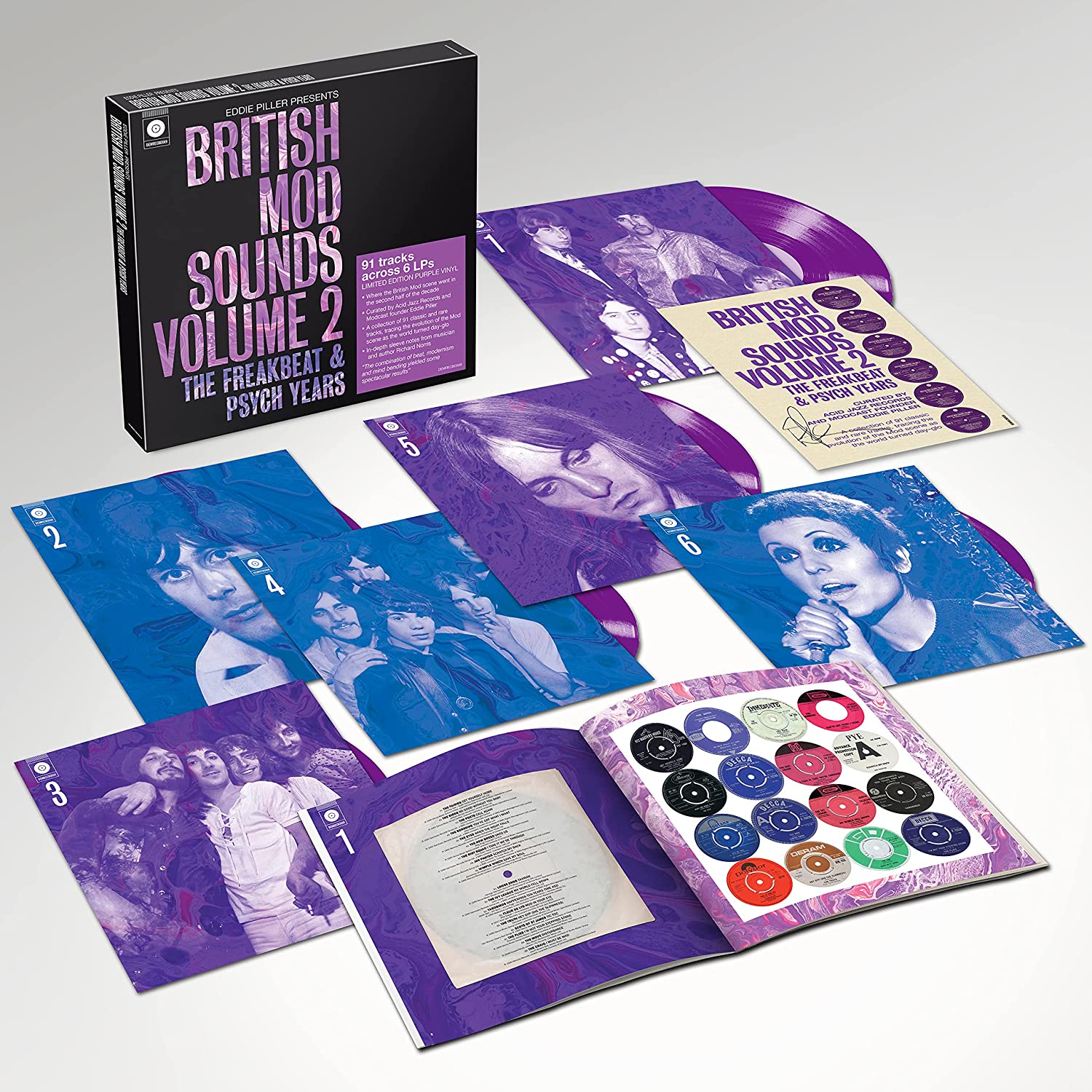 Eddie Piller's initial collection, British Mod Sounds of the 1960s, encapsulated the title's early-to-mid-Sixties scene. But for this volume he's stepped forward from the strict, bespoke-suited, pill-popping rhythm & blues represented there. As he says in the introduction to Richard Norris's copious history in the accompanying 20-page 12" x 12" booklet, "Why not create a collection to explore what mods did next." What most of them did next was take acid, lots of it, thus the collection, over six chronologically evolving LPs, starts out pretty much where the last one left off, with The Fairies' punky "Get Yourself Home", but by the time we flip to the next side The Ivy League are telling us they "heard a bluebird sing" while drowning in Mamas and The Papas-style orchestrated pupil-popped Californian sunshine. The band names alone say it all – Dantalian's Chariot, The Fairytale, Aquarian Age – and amongst it we find some mods mutating into what they'd become in the next decade, such as Marc Bolan, flower child-ing it up on John's Children's "Midsummer Night's Scene", Lemmy Kilmister, very recognisable of bass and voice, doing a prototype version of his thing on Sam Gopal's "Escalator", David Bowie giving us "The Gospel According to Tony Day", and, of course, Status Quo's Spinal Tap-referenced "Pictures of Matchstick Men". The big names are here too - The Who, Small Faces, Fleetwood Mac, Yardbirds, Traffic – but the real fun is digging through the lesser known material amongst these 91 songs, discovering the likes of the wannabe-Floyd "Buffalo Billycan" by Apple, then closing the Sixties out with the final two sides, where everyone has floated off into the universe, notably on Jason Crest's gloopy, freak-voiced, Mandraxed, organ-fuelled, brain-frazzle, "Black Mass". I'm not an obsessive collector of this kind of music so I can't speak to those that are, but for the reasonably well-versed, this set holds familiar pleasures alongside truly welcome fresh treats.
In A Skull Write Now or Forever Hold Your Peace (In A Skull) + MF Tomlinson We Are Still Wild Horses (PRAH) + The Golden Dregs On Grace & Dignity (4AD)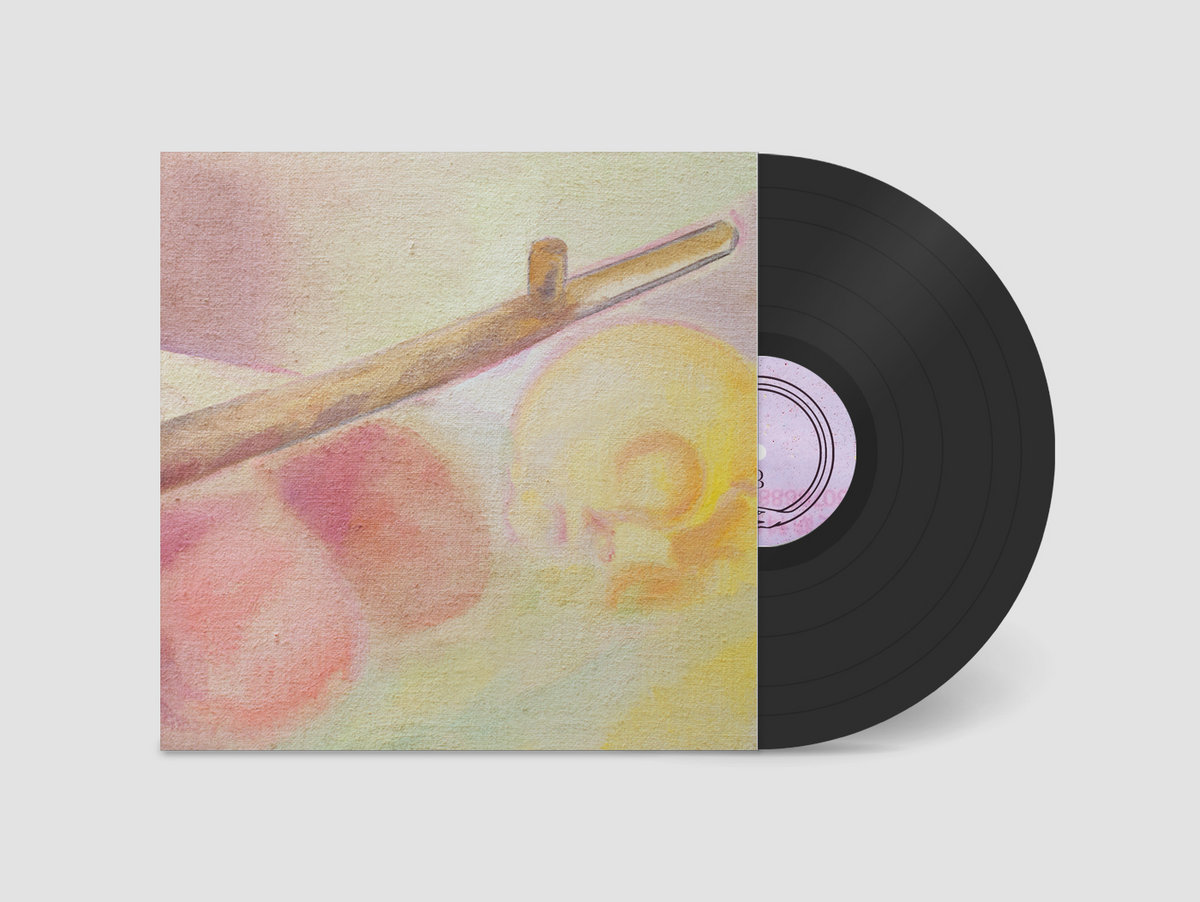 These three worthwhile albums each seeks to find an original way of presenting solid songwriting. There are many ways of approaching the art of songwriting. Most go through "the front door" of composition but some artists take a more wayward approach, in terms of construction and presentation. London's In A Skull take this latter route. Claiming kinship with Brion Gysin's cut-up method of approaching art, they use a combination of synths, drones and electronic tweaking to create music they suggest in their PR sheet is in a "lineage that includes Cabaret Voltaire, Throbbing Gristle" and similar. These influences are audible but In A Skull's shimmering, electro-clunking music, tinged with an unlikely pastoral psychedelic overlay, is also much more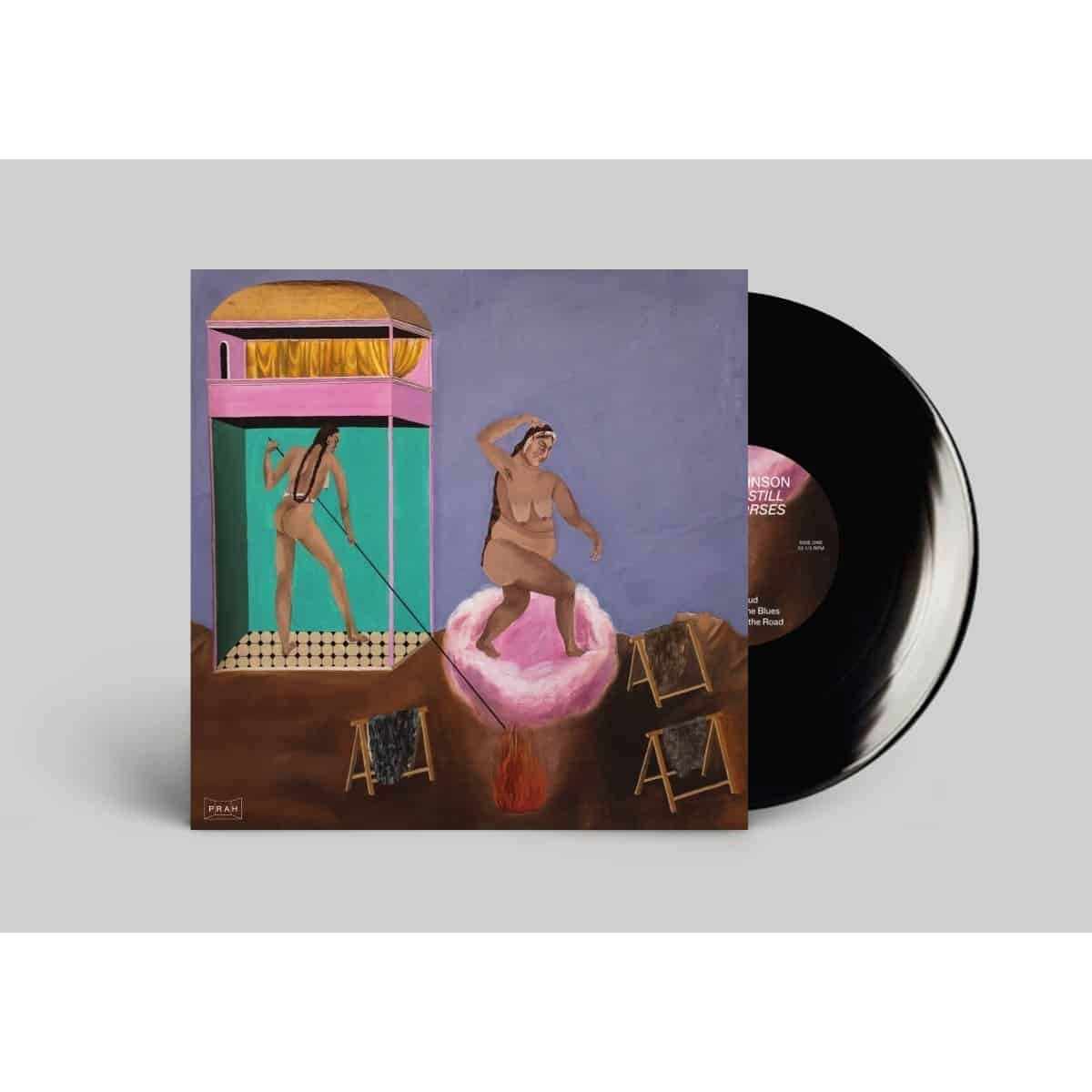 pop that it thinks it is. With some musicians, however hard they try, the innate songcraft will show through. Such is the case here and, of course, it makes their music much more approachable. Comes in art inner sleeve. London-based Australian singer-songwriter MF Tomlinson's second album, on the other hand, takes classic songwriting and expands it outwards into a much wider space, so that it becomes enormous, warehouse-sized baroque, earthed by his lyrics, which counterpoint possible portentousness ("I got the blues again, doing my fuckin' head in, after all, for Christ's sakes, I'm an Australian"). The first person who springs to mind is Leonard Cohen but Tomlinson's sound-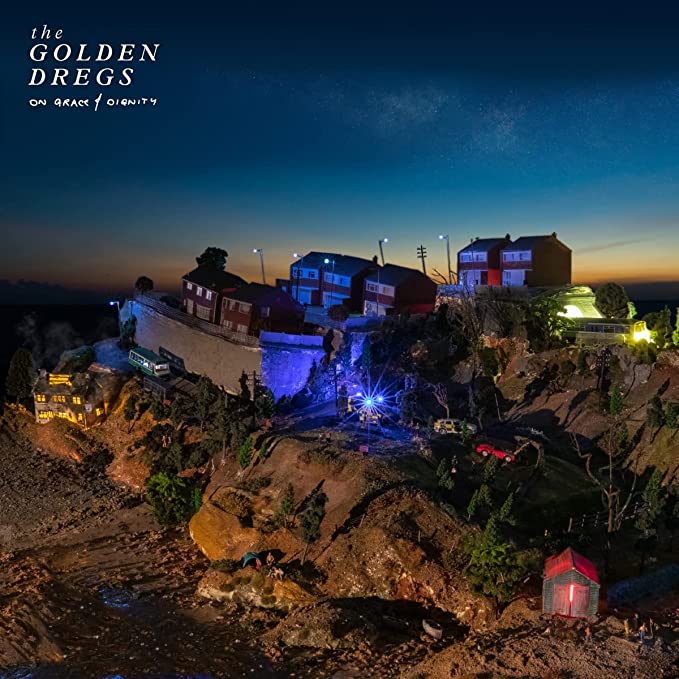 palette is huger. This album is a whopper, and the pressing is suitably sumptuous in its sonics. There's something of Cohen about The Golden Dregs too, although singer Benjamin Woods' voice also recalls Iggy Popp in quietly drawling mode. The palette this time is an often glitched and muffled backdrop that sounds like treated piano and instrumentation heard through a thick carpet. This allows Cohen's delicate, whispery tones and philosophically fatalistic lyrics to be crisp at the top. His third album is late night music for lonesome poets and wannabe poets. Comes on transparent vinyl with a 12" x 12" four page art/lyric booklet.
Mother Earth Stoned Woman (Acid Jazz)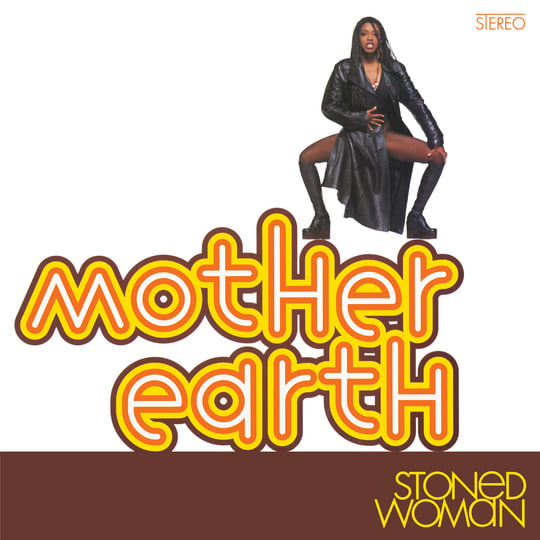 This is so early-Nineties, in the best way... well, if you enjoy the addled, druggy, Sixties-ripple grooviness of that period. While we ravers we 'avin' it to Beltram et al, another Nineties was taking place in parallel. This could be best summed up by a photograph of Gilles Peterson smoking a big fat bifter while wearing a great big floppy cap, of the type Robert Redford wore in The Sting. I have no idea if such an image exists but, listening to Mother Earth, it should. They were a Galliano-ish outfit that were around for the first half of the decade, and this is their 1991 debut, smokily fronted by Shauna Green. It opens with the wondefully bonged-out percussive dance groove of "Riot on 103rd Street", contains Hammond-fulled funk along the way and, naturally, a song called "Bad Ass Weed". Channelling the clothes, music and narco-haziness of the early Seventies via the party vibe of their own era, Mother Earth nail a compulsively loose and groovy album, maybe even a bit of a lost classic, in its way. Comes on bright yellow vinyl.
Gabriel da Rosa É O A Casa Oferece (Stones Throw)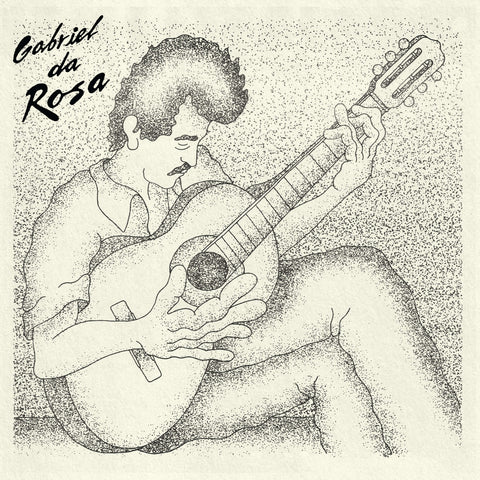 Succulent sunny day music for the dulls and drizzles of February. With more than hint of Antônio Carlos Jobim about it, this debut set of nine songs emits easy light, beautiful guitar work combined with an unforced, affable singing voice and laidback additional instrumentation. It's also richly produced and cut to plastic. Gabriel da Rosa comes from rural Brazil and seems to have absorbed bossa nova and cumbia as part of his innate make-up. At least, that's the way it sounds. Some music just makes the listener feel carefree. This is that. Comes in lyric inner sleeve which features a translation of the Portuguese.
Jean-Michel Jarre Oxymore (Columbia)
Jean-Michel Jarre was, of course, there at the beginning of the electronic music revolution into pop, back in the Seventies. He can claim, with justification, to have invented prototypes for various dancefloor styles, notably trance. For decades, though his career became synonymous with overblown people-pleasing extravaganzas that hoovered up money, alongside albums that flitted between new agey fluffing and commuter-land background music. The son of hugely successful film composer Maurice Jarre, Jean-Michel's youth was spent at the cutting edge possibilities of music, and included a stint with the Groupe de Recherches Musicales in the late Sixties, the organization set up by Pierre Schaeffer to promote Musique Concrète. Among the engineer-composers there was Pierre Henry, a seminal figure in early electronic music, and Oxymore is a tribute to him, built around initial work Henry was putting together for a project with Jarre, when he died in 2017. Jarre's recent career has seen his music become more interesting again, perhaps looking towards art rather than popularity. His 2021 Amazônia album was an intriguing exercise in ecologically themed modern ambience, and Oxymore is equally worthwhile, created as high-end as possible ("an immersive work, in a multi-channel and 3D binaural"), it takes Musique Concrète's tape'n'found sound principles and integrates it with decades of techno know-how, dancefloor and otherwise. It's a feast for the ears. Comes in a triple fold-out package with a 32-page 12" x 12" black'n'white art booklet.
X Ray Cat Trio Haunted (Property of the Lost) + Creeping Jean When's the Blowout? (Mature Charlton)
Two albums by tiny independent local rock'n'roll Brit operations that deserve wider reach and distribution. Hasting's Property of the Lost Records is a label worth paying attention to for fans of the Venn diagram crossover between bluesy rock'n'roll, scuzzy garage-punk, and gothic country. X Ray Cat Trio, as their name hints, deal in the first two of those categories. They're a three-piece and their third album, with unexpected support from sax and violins, emanates energetic post-Cramps sass. It's not all bang'n'twang, though, slowies such as "Now That You're Gone" and the instrumental
"Ouija Board Waltz" hold the attention too. Brighton outfit Creeping Jean's debut album has been available a while but I only just came across it when one of their members handed it to me in a small vintage clothes shop. Turns out it's classic rock with a ballsy 1990s edge. They're a six-piece with a fabulously fiery guitar driving everything. There's nothing innovative, it's a bunch of guys having a good time imitating a bunch of guys having a good time a few decades ago, but the songs are there and it's easy to imagine this set holding 1000-capacity venues rapt rather than whatever bars they're currently playing. Comes on washed-out bubblegum pink vinyl.
The Beach Boys Sail on Sailor - 1972 Boxset (Universal) + A-Ha Hunting High and Low Super Deluxe Boxset (Rhino)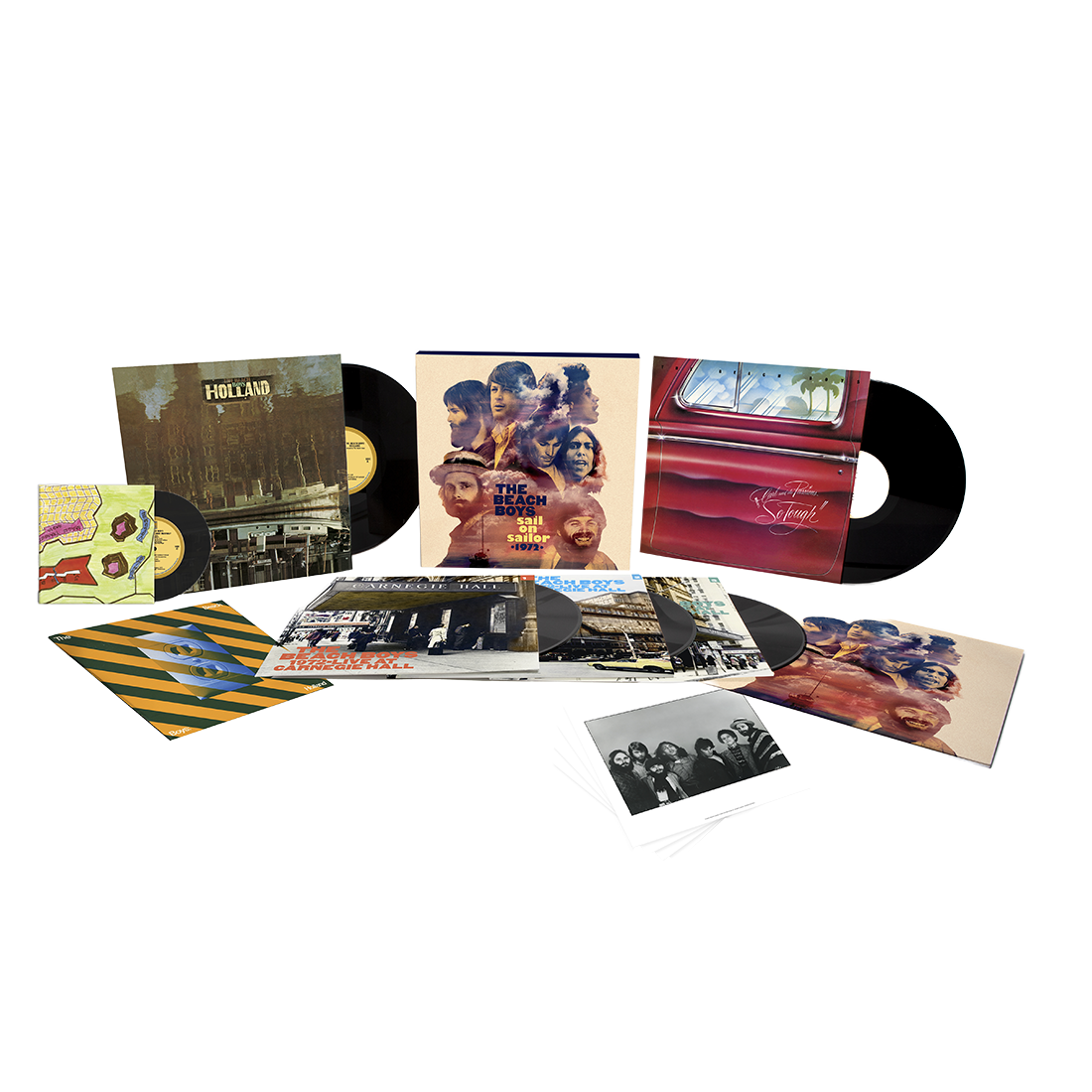 Two boxsets expanding on albums from, respectively, the Seventies and the Eighties. The Beach Boys were in disarray by 1972 but this boxset demonstrates that even when not on top form, these guys had petrol in the tank. It contains their two albums from that year, the curiously titled Carl and the Passions – "So Tough" and the succinctly titled Holland (the latter, in truth, was released in January 1973). The first one is a mess with too much mediocre fare, but still a window into those addled times, when songwriter Brain Wilson had mostly gone missing and members were coming and going in a dizzying fashion. "You Need a Mess of Help to Stand Alone" is a minor gem and the gospel pastiche "He Come Down" is fun for those who wish to be transported to a time of hazy post-Sixties mind-fog and the gurus who came to everyone's aid. However, Holland is a cracking album (named for its initial recording in a barn in Baambrugge.). "Steamboat"s stoned-out drone-chug is unique, while the three song "California" suite is preposterous, ambitious and hippified, and there's more where those came from, including the unhinged "Mount Vernon and Fairway (A Fairytale)", a proggy set of short spoken-word pieces conjoined by primitive synth weirdness. Oh, man, just listening to it makes me pine for how richly out-there the drug-taking was back then. The rest of the boxset, three records, consists of a lively 1972 concert from Carnegie Hall, wherein the album material is intermingled with classics. While those albums saw a band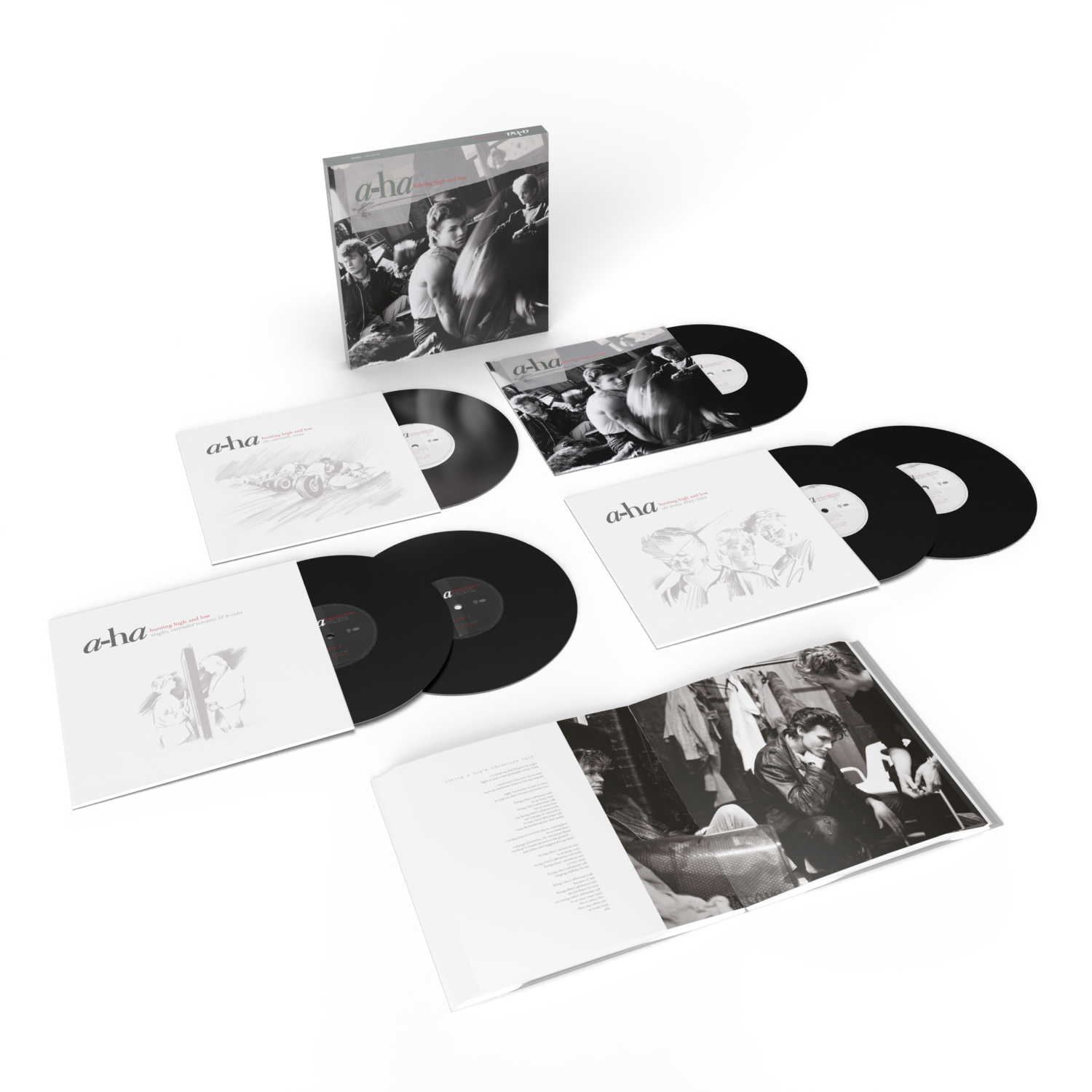 slogging away eleven years into their career, a decade later A-Ha were just starting, with their globe-trottingly huge 1985 album Hunting Hugh and Low, famed for it's even more gigantic hits "Take On Me" and "The Sun Always Shines on TV". Listening to the album in 2023, the pan-pipey, digital-fiddly mid-Eighties electropop backing has not dated as well as synth-pop from the 1979-82 boom, but the songs still have legs. A-Ha were never straightforward teen cheesecake. Their Norwegian melancholy bleeds through into songs which balance dance-pop bounce with an underpinning of longing. The Super Deluxe Boxset contains six records. A-Ha had been going some years before they made it and "Take on Me " was released a few times, so there was plenty for the curators to pick through. LP1 is the original record; LPs 2 and 3 are demos made between 1982 and 1986, which range between the amusing and the crudely fascinating (weird hearing those hits played on bedroom synth set-ups); LPs 4 and 5 are "singles, extended versions & B-sides", which run the gamut from the Vince Clarke-ish B-side "Dream Myself Alive" to more demos and multiple mixes of the biggies, and finally LP6 is another bunch of alternate mixes. There's also a 64-page booklet with background and pics. This boxset offers a limited amount of extra material the average Joe or Jo might be interested in, but a plethora of bits'n'bobs for the more obsessive.
Alhaji Waziri Oshomah Word Spirituality Classics 3: The Muslim Highlife of Alhaji Waziri Oshomah (Luaka Bop)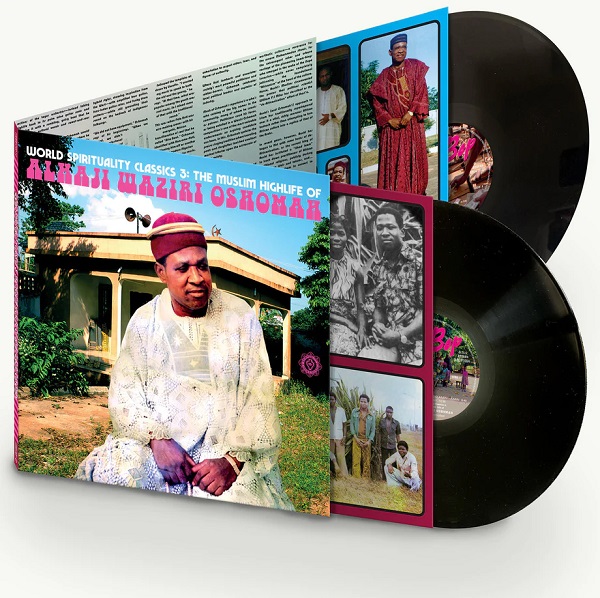 Following on from the acclaimed compilations of gospel and of Alice Coltrane's Hindu devotionals, David Byrne's Luaka Bop label now gives us a double LP of religiously oriented highlife from Nigerian musician Alhaji Waziri Oshomah, which arrives on info gatefold with photo-packed inner sleeves. The first aspect that pleases, before the music even hits the deck, is the promo sticker on the outer the film wrap. These usually say things like "Contains rare exclusive material" or "First time on vinyl since 1971" or whatever. This one says, "Do not forget – it becomes obvious and abnormal for people to see any goat that climbs on top of a building, because goats are supposed to walk on the land," a quotation and apophthegm from Oshomah. Think on it. The music dates from the Seventies into the first half of the Eighties and represents the south Nigerian scene that Oshomah is/was at the heart of, wherein local Etsako and Aftenmai musical styles have been adapted to make spiritual music for dancing, a million miles away from the grim, prohibitive anti-music stances in other parts of Muslim Africa. It's exquisite and sounds very "in-the-room", the classic guitar sound of the region blending with unexpected synthesizer tweaks and embellishments. Oshomah's voice is authoritative but friendly, often joyous, the whole having a welcoming hypnotic quality which sweeps the listener into itself like a comforting tide. It's rather addictive.
The Higsons Run Me Down: The Complete 2-Tone Recordings (Sartorial)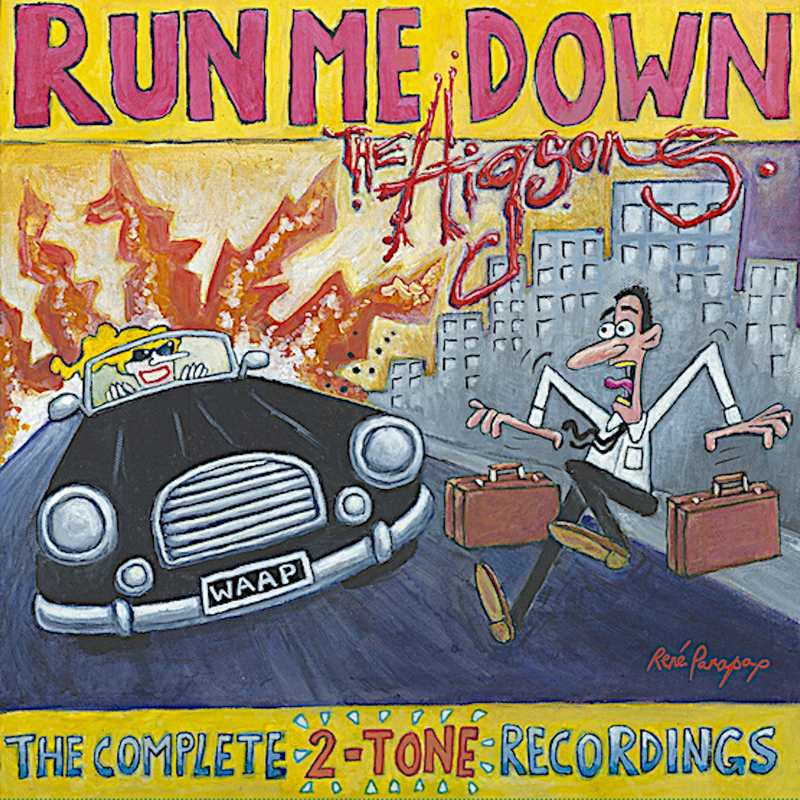 Jerry Dammers' attempt to revitalise his 2-Tone label in 1982-83, after the first wave of Ska had finished and the original Specials split, was not, eventually, commercially successful. However, some of the bands he signed certainly should have been. These included The Higsons, featuring in their ranks Charlie Higson and Terry Edwards, who both went onto other things in succeeding decades. They were already an established force when signed. This six-tracker gathers their two 2-Tone singles "Tear the Whole Thing Down" and "Run Me Down", alongside all accompanying material (B-sides, 12" versions, etc). It's a gloriously danceable and lively package which emanates cheeky fun but also staunch socio-political attitude, with the title "Put the Punk Back Into Funk (Pts 1 + 2)" summing up the spirit.
The Residents Meet The Residents (Cherry Red)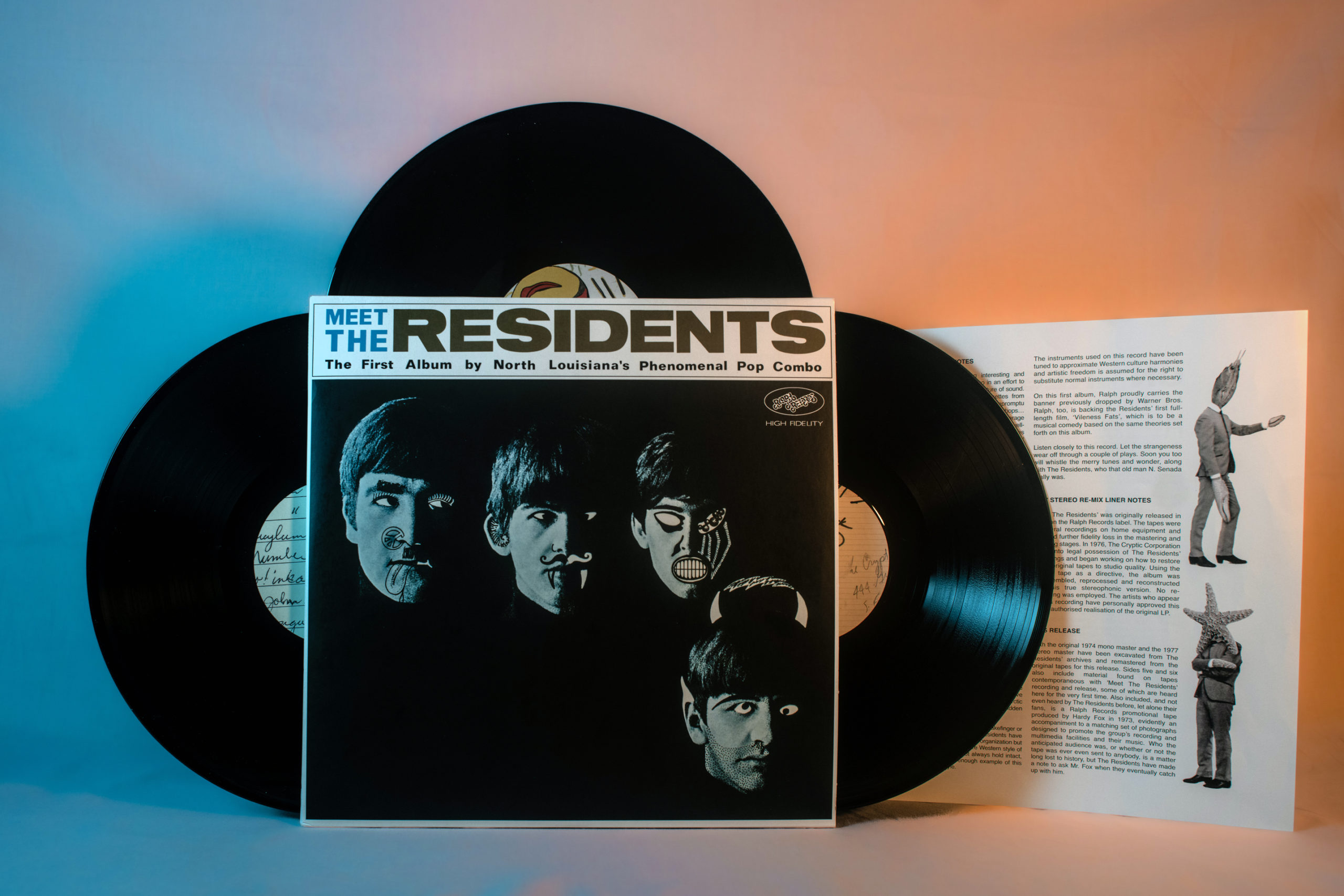 Nigh-on-50 years since it first appeared, the debut by one of California's most famed underground art provocateurs, The Residents, ia reissued on triple vinyl, well remastered from the original tapes, along with a 12" x 12" four page booklet of art and info and the original sleeve notes. Counter to the post-Sixties zeitgeist that their state was undergoing at the time, from heavy rock to Topanga Canyon songwriters, The Residents tapped into high art Dada, their work an oblique challenge, strange yet compelling compositions as much post-classical outsider contrarianism as alternative pop, a space where proto-industrial pieces such as "Skratz" sit alongside cartoon theme-ish efforts built around misused orchestral instruments. The distorted percussive attack of "N-Er-Gee" remains an influential one-off. The three LPs are the original mono album, the 1977 stereo version, and two sides of outtakes and alternate versions, which includes wheezing organ interludes and bizarre acapellas, finishing with the dryly enunciated and recently discovered documentary snapshot "The Ralph Records Guided Tour". Time has not weathered the weirdness of this one.
ALSO WORTHY OF MENTION
Various Do It All Night: The Sound of Tardam Records (Acid Jazz)
Acid Jazz gathers together a compilation of releases from Italo-Dutch label Tardam and it's a blast. Obsessively imitative retro is not my thing but Tardam's bands so joyously dive right under the hood of sassy, shiny, finger-clickin' early Sixties rhythm'n'blues pop it's churlish to say "No". Think Louis Jordan, Eartha Kit and all those artists Caro Emerald loves. The bands are The Mighty Typhoons, Rosie Stevens with Dry Riverbed Trio , 44 Shakedown and Skepticals, and every one of them pay such attention to every detail that, with many of these cuts, it's easy to imagine them appearing as kitsch-but-dynamic "turns" in jolly Technicolor teen films of the period. Good work. Comes in info inner sleeve.
John Lee Hooker Burnin' (Craft) + The Curse of KK Hammond Death Roll Blues (Thecurseofkkhammond): John Lee Hookedr was already 50 when he recorded Burnin' which, aside from containing his signature song "Boom Boom", is simply a swift run-through of material with a proficient backing band, wise to jazz and the pop music of the time. He's cruising - another day, another album - but John Lee Hooker cruising, a Delta bluesman to the hilt, is an easy joy and this album coincided with Hooker's place in the pantheon being recognised by artists who'd invent what would eventually become rock music. The blues have become something different now, a reference, a meta touchstone, a semiotic signifier many decades and miles distant from their origins. Hold the cynicism, though, its acolytes, at their best, come up with all sorts worth an ear. Think how good Deap Vally have sometimes been. Mysterious Brit singer-guitarist KK Hammond is not in their league but she doesn't aim to be; she's not interested in the rock aspect, going straight to the source with a debut album of swampy twang. Cover art by Connecticut artist-musician Sabrina Cintron adds emphasis, while the self-written songs borrow from early 20th century Delta greats but add Hammond's own dark sweetness to the doomed brooding (just check the light bubblegum melodics of "What's the Weatherman Done?"). Comes with a 16-page lyric booklet, again illustrated by Clinton, in art gatefold on notable vinyl that looks like an X-ray of beans swirling in green slime.
Mull Historical Society Loss + Us + This is Hope (Demon): 20 years ago Colin MacIntryre, under the stage name Mull Historical Society, was one of indie music's most-likely-to. From a storied Scottish family - and a renaissance man himself (footballer, stockbroker, novelist…) - he peaked commercially with his second album, 2003's Us, a Top 20 hit in the UK. It's a lush affair of tuneful, post-Blur indie, as in large-scale and orchestrated but with acoustic guitar-composed pop at the centre. Before that came Loss, in 2001, which is lower key in both production and subject matter, very Scottish bedroom pop, heartfelt but not solipsistic, wordy and ruminative. The final one of these reissues is This is Hope from 2004, a proggier continuation of Us. It's often musically gorgeous, apart from the occasional trite chorus, and the lyrics remain substantial. "Death of a Scientist" deserves mention as one of popular music's responses to the controversial death of UN weapons expert David Kelly. Overall, there's also something of Aztec Camera somewhere in the DNA. Us and Loss come on gatefold.
Ludwig Göransson Music from Star Wars The Mandalorian + Music From Star Wars The Mandalorian: Season 2 (Walt Disney): Let's face it, most people will be buying these two records because they are awesome picture discs, their A-side's utilising imagery that well captures the stern nature of the central protagonist, although, of course, the B-side of Season 1 does feature Grogu (the character colloquially known as "Baby Yoda" for obvious reasons). But those that dive into the music will find there is meat on the bone. The combination of machine-like electronics and orchestration has a surly power (again, like the Mandalorian himself). There's something quite Trent Reznor about it and it's more than a bit proto-techno. Most Original Film Score records turn out to be nothing much without the accompanying films. These albums are substantially more enjoyable than that.
Robert French & Anthony Johnson Robert French Meets Anthony Johnson (Roots): A welcome reissue – for the first time – of the coming together of two 1980s reggae dons as their careers started to fly. Robert French (or Ffrench) is probably best known for "Bun & Cheese", while Anthony Johnson's signature tune became "Gunshot". Together, recorded at Kingston's Channel One by Jah Thomas, accompanied by the Roots Radics Band, they laid down a set that combines steady dancehall with dubbing (the songs themselves are often dubbed but each one also has a dub mix). Highlights include "No War", ""Stop Spread Rumour" and "Sitting in the Park". NB. The cover photo is superb so reproduced here for your pleasure.
Spoon Lucifer on the Moon (Spoon Vs On-U Sound) (Matador): And so to an all-time doyen of UK dub, Adrian Sherwood, who Texan indie mavericks Spoon now let loose on their tenth album of last year, Lucifer on the Sofa. Spoon seem an excellent band, bridging the worlds of what used to be called US College Radio Rock and something more imaginative and interesting. I admit I've never invested the time that I should because I only discovered them over 20 years into their prodigious career, and because some of their material isn't for me, but their best songs are great, sussed sharp pop-rock with sonic wit. On this set of remixes Sherwood combines their catchiness with production which digs down into echo and bass. It's not exactly dub but it is a whole heap interesting for the ears.
Reef Glow (Hassle Hindsight): While 1995's Replenish warmed their pubic up to them, it was 1997's Glow that made Reef, and its opening song, "Place Your Hands" is, of course, their signature tune. I loathed them at the time, of course, as did any self-respecting music journo. To be fair to myself, I loathed all guitar music at the time. I was an electronic music zealot. But I have come round to Reef. I don't love them, but I do like them. My oft-repeated argument is that their energized retake on 1970s rock is a damn sight more exciting than the Ovaltine version of new-wave-meets-The Kinks which "Britpop" served up. In retrospect it just seems bizarre that one lot of completely backwards-looking retrogressive music ("Britpop") was regarded by a bunch of Camden media sorts as "cool" whereas Reef, who simply looked back to a different period, were absolutely not. Thing is, this album rocks unreconstructedly and, if you ever have the chance to see them live, do it!
Various Intrigue: Steven Wilson Presents Progressive Sounds in UK Alternative Music 1979-89 (Demon) + Ben Foskett Heart Pump (Crushed to Dust)
Steven Wilson (of Porcupine Tree and many more bands) has, for many years, been on a one man mission to rehabilitate prog from its long wilderness in the wake of punk, when it was regarded as popular music's over-serious, pretentious, virtuosic and boring estranged older relation. He's gone the whole hog with Intrigue, the cheeky, clever blighter, taking experimental tracks from post-punk albums and, by placing them in sequence, repositioning them as prog. He has a point, hearing the cuts he's chosen by the likes of Magazine ("Back to Nature"), The Stranglers ("The Raven"), This Heat ("Health and Efficiency"), The Durutti Column ("Sketch For Summer"), etc, compiled in this way is persuasive. However, this is revisionism. These tracks are not, en masse, representative of their makers' overall vision and aesthetic, and, I'd estimate, most would have baulked at his very idea. "To me," writes Wilson in the introduction to the 12" x 12" 12 page booklet, "punk wasn't that interesting, It was too reductive to fire my imagination. There was no "weirdness" about it." Enough said. Wilson, operates on a cerebral rather than gut or hedonic level. I should add that his dense notes about each track are interesting and well-researched, smart geek-fodder. In any case, things level out on the second record, particularly its second side, wherein band such as Dif Juz, Dead Can Dance and The Cardiacs prove that, as the Eighties moved along, there really IS a case to made for the influence of prog. In art inner sleeves with the aforementioned notes, whatever my quibbles, this is an intelligently put-together and worthwhile package. Reviewing the second album from composer-arranger Ben Foskett alongside Intrigue as his musical vision aligns. It has grit and difficulty but is also consciously avant-garde, embracing post-punk causticness, but applying a skronk-jazz feel alongside atonal string sequences and Foskett's deliberately jarring voice. Wilfully tricksy and unlovable, it, nevertheless, has something.
Bryan Ferry Taxi (BMG) + Echo and the Bunnymen Evergreen (London): Two solid Nineties albums by artists already well into their career. Taxi dates from 1993 and is Bryan Ferry's first return to a full-on covers album since 1976's Let's Stick Together. It's a success. He seems to step back from histrionic aspects of his stage persona. This well matches the sparse electro-pop funk backing, transforming everything from the raw rhythm'n'blues of "I Put a Spell on You" to the pre-rock'n'roll pop of "Answer Me" into something that might be found in the dark corner of a Berlin nightclub. He closes with one of his own, "Because You're Mine", a Bladerunner-ish two-minute sliver of doomed sci-fi. Evergreen was Echo and the Bunnymen's 1997 comeback, following their late-Eighties split and the death of drummer Peter de Freitas (there was an intermediary album without frontman Ian McCulloch but it flopped and is generally disregarded by all parties). Evergreen does not have the jangling urgency of their Eighties albums, the edge, but it does sound like a band comfortable doing what they do, a fan-pleaser with a few songs, such as the title track, that rise above.
Gilroy Mere Gilden Gate (Clay Pipe Music): Clay Pipe Music offer an aesthetic. Their output generally revels quietly in rustic chill-out of some variety, accompanied by striking graphic design/art work by the label's Frances Castle, of a kind that would look very fine on the wall at home. Gilden Mere is one the performative pseudonyms of Oliver Cherer and Gilden Gate is themed around the lost Suffolk medieval port city of Dunwich, which was engulfed long ago by the North Sea, but of which remains are still visible for visitors to the beachside nature reserve in the area. It's ambient folk music, overlaid with found sound and occasional words and strings, creating a warm feeling rather than tunes. Comes on art/info inner sleeve.
Angeline Morrison The Sorrow Songs: Folk Songs of the Black British Experience (Topic): Black British folkie Angeline Morrison explains in the extensive inner sleeve notes that as a child she wished she'd known of history of free black people in the UK, a hidden history which she was able to explore as an adult. Since her interest is folk music, her medium, and these people she read about were not featured in the British folk archive, her new album attempts to address this. Entitled after a chapter about the power of music to minority communities in W.E.B. Dub Bois' seminal 1903 classic The Souls of Black Folk, The Sorrow Songs gives us poetic-historic study-songs of forgotten characters such as Cinnamon Water, a folk medicine woman who aided soldiers in the Crimean War, 18th century gardener "Black John", and King George III's wife Queen Charlotte, who was rumoured to have African ancestry. Led by Morrison singing and playing autoharp, and produced by Eliza Carthy, it's an understated but potent collection, trad folk with a welcome flinty twist. Comes with two postcards in an inner sleeve jam-packed with little-known information.
Various Mainstream Disco Funk (We Want Sounds): Serial label owner Bob Shad was a US West Coast music player from the Forties until the Seventies, always hustling the new styles. Mainstream Records was one of his best known ventures, a longstanding jazz perennial, but one which, in the mid-Seventies, played host to a selection of disco releases These wares are here gathered. Mainstream's disco, from artists such as The Grand Jury (whose "Music is Fun to Me" is a stand-out), Chocolate Syrup, Lenny Welch and Three Ounces of Love, is very much pre-Saturday Night Fever and pre- Moroder in style. It has a raw funk aspect. There's often a Sly Stone vibe, but unlike his work the song-craft is not usually outstanding. It's mainly about the groove. These songs feel like they were recorded fast and banged out. There's a lo-fi edge. Includes a 12" x 12" insert of art and background notes by journo Chares Waring.
The Tubs Dead Meat (Trouble in Mind): The Tubs were formed from remains of well-liked Welsh noisies Joanna Gruesome. Now London-based, for their debut album the fourpiece have also moved along musically. Dead Meat is redolent of niche US-flavoured jangly indie guitar pop of the early Eighties, hints of everyone from Robyn Hitchcock to America's "paisley underground" bands such The Long Ryders. There's also a sniff of The Rockingbirds in there too, so a bit of country-rock in the mix. But, fear not, tonally there's still punk in there (check the opening of the title track!). Comes on vinyl that looks like a smelting pot in which some tasty villain is diluting silver.
JW Francis Dream House (Sunday Best) + The Arcs Electrophonic Chronic (Easy Eyes Sound)
Two albums that take a similarly whimsical and eclectic approach. JW Francis is a very Sunday Best Records act. The New Yorker makes music that sounds thrown together, usually cheerful, uncaring of whether it's perceived as "serious" or not, but which is often rooted in a heady, if loosely conceived, musicality. His third album of the 2020s, on white vinyl, is jolly and Afro-tinted in its guitars, and defiantly indie in its sensibilities. The Arcs are a side project of The Black Keys' Dan Auerbach and step away from the day job's strong roots in blues-rock. Instead, where their 2015 debut tipped its hat to Sixties garage rock, the new one is a set of quirky, bubbly guitar pop songs where someone's having fun with a cheap synthesizer. It's light-hearted, airy, and melodic, a bit easy listening, and arrives on transparent vinyl with an art print poster.
Ogassa Ogassa Original (Vol. 1) (Acid Jazz): A lot of respect for Acid Jazz Records this month. So much, in fact, that it looks like they're sponsoring me. I can promise you that they are not. When not solely modding it up, Acid Jazz explore various hinterlands of global music and such is the case with this reissue of an album on the utterly obscure Benin label Albarika Store. No info on the band other than that they come from that country's capital, Porto-Novo, and that this 1978 project was supported by EMI, hence well-recorded. It's not frantic stuff but easy-paced with some lovely guitar picking and cheerful organ sounds. The four long numbers have a sunny feel; a very likable slice of unearthed Afro charm.
A SMALL ADDITIONAL SELECTION OF SINGER-SONGWRITERY FARE
Elanor Moss, a London-based singer originally from Lincolnshire, has a way with words. Her Cosmic EP on 10" on Blue Raincoat Music contains four tracks and all are solidly constructed with witty, specific lyrics ("My mind glitches out like a rented VHS that someone forgot to rewind"). Her voice has that light ethereal Joni Mitchell touch but this is belied by occasional indie guitar crunch. A little bit Emmy The Great but very much her own creature, she's one to watch. L.A. singer Sunny War, an Afro-American woman with a punk-blues background, has released prolifically on tiny indies in the past but, now signed to New West, her latest album Anarchist Gospel is a step forward and sideways from what came before. On photo/lyric gatefold and bright scarlet vinyl, it's put together in a more conventional manner, placing her folk leanings and Tracy Thorn-ish voice amid a high-end surround. The songs could be more forcefully memorable, but the whole has the feel of a project moving towards the mainstream without compromising its socio-political edge. The second album from Norwegian Siv Jakobsen, Gardening on The Nordic Mellow Records, is a woozily ear-pleasing downtempo drift, her delicate accented voice wafting about amid shuffling, sleepy small ensemble instrumentation. It's a grower. For me it arrived with two promotional valve-sealed bags of custom Gardening coffee roast from Honduras via Oslo's Fuglen. I am not a coffee person but I appreciate the gesture. Floating World Records offer a welcome reissue (on transparent vinyl) for the 1979 debut album, Rambin', from alt-country/Americana queen Lucinda Williams. In truth, it's one of the two she did a good while before she truly found her own voice with 1988's eponymous third album, and is a collection of trad covers and oldies. But her acoustic swings at material including Robert Johnson and Hank Williams have an simple authenticity and are pleasing. The debut solo album from Lyndon Morgans of Welsh folkies Songdog, Of Gods and Men on Junkyard Songs, is a 15-track double full of rich song-portraits, with full-band backing where needed. It effectively rides an evocative middle-ground between Lambchop and Tom Waits and is a chewy, chunky body of work. Comes with 12 x 12" lyric sheet showcasing its literate nature.
ANOTHER SMALL ADDITIONAL SELECTION OF MODERNIST JAZZIN'
Despite boasting an original sound, an original band name, and having a charismatic lead singer in Nai Palm, I just cannot get into Aussie outfit Hiatus Kaiyote. However, it's easy to see what some love about them on the Brainfeeder Records reissues of their debut and second albums Tawk Tomahawk and Choose Your Weapon, from 2012 and 2015 respectively. They take that whole Flying Lotus/Low End Theory abstract hip hop thing and apply tricksy jazz timings and stop-start rhythms to it, whilst maintaining a wandering, alternative song feel. Tawk Tomahawk comes on red vinyl with a bonus 7" featuring "Nakamarra" with Q-Tip and the Clever Austin mix of "Boom Child", while Choose Your Weapon is on lyric gatefold double on glowing vinyl (photoluminescent!) with a bonus 7" featuring world class cellist Roman Soto's rework of "Breathing Underwater" and a club mix of "Making Friends With Studio Owl". More soundtrack-ish is the latest EP from GoGo Penguin, Between Two Waves, which arrives on XXIM Records on semi-transparent vinyl with five neatly packaged little square art cards. A bit tasteful for me, the tracks are afternoon background affairs, skittering drums and warm bass providing a platform for the piano lead. So my favourite of these releases is Ismael Ensemble and Rider Shafique's New Era EP on Severn Songs. These have the added advantage of the gentle voice and lyricism of Gloucester MC Rider Shafique adding an extra dimension, but also thoughtful saxophone and lugubrious electronic song structure which rounds things out further.
AND WHILE WE'RE HERE
Flevans is a well-liked Brighton perennial, once on that city's Tru Thoughts label. His latest album, A Short Distance to Fall on Jalapeno, is very 21st century Brighton, a polished, luxuriously produced slice of instrumental hip hop that has groove and style, without ever really breaking a sweat, nodding its head to soul-funk classics of long ago. A couple of spirited live albums will appeal to fans of their makers. One is not really a proper concert album but still is in spirit. Replay the Adverts by TV Smith on Easy Action Records sees the Adverts frontman, revved up after a successful show at Blackpool's Rebellion punk festival, going to a local studio and firing the same energy into a set of his Seventies output. Richard Hawley's Live at Halifax Piece Hall (BMG), meanwhile, sees the well-loved Sheffield singer laying down six sides of meatily recorded crowd-pleasers. Run Logan Run are a Bristol trio who, on their latest album, combine jazzy saxophone with reverberating almost-stoner rock riffing, with appearances also by singer Annie Gardiner. It's called Nature Will Take Care of you on Worm Discs and the cumulative effect is hash-cake headbangin'. Comes with 12" x 12" photo/info insert. Augenwasser is Swiss musician Elias Rascle. His work combines small ensemble pop with tinges of synth pop and a poet-romantic lyrical sensibility and delivery. Third album, The Big Swim on Bongo Joe continues his understated mission with elegance. Much the same can be said for RD Thomas's What Circus is This?, on lyric/info gatefold Victory March. It mingles a Bon Iver feel and vocals and stylings with music that's often much punchier and indie-electro in tone. Fans of classic US rock will enjoy the re-release of Jesse Malins' 2002 debut solo album The Fine Art of Self Destruction on One Little Independent, a double on gatefold with the second disc being a host of alternate versions and extras. It's kind of Bruce Springsteen if he'd absorbed more New York punk and Bryonic wastedness. Those who like their rock punkier should try the debut album from Glasgow outfit Shredd, which comes flying out of the traps, fat, full-bodies and in-yer-face, riding wodges of searing guitar and garage-pysche trimmings. It's called The Place Unknown and appears to be self-released (Shredd Records?). It's on pale green vinyl and indicates they'd surely be a great live experience. Sometimes I'm sent links to music with a view to future vinyl reviews and, after a very brief dip, suggest, yes, "Why not sent - it sounds interesting." Such was the case with the debut album from gamer favourite Stefanie Joosten, a Dutch actress-model, Singing to the Sky on 110 Industries, which appears on transparent pink vinyl. "Executive produced" by Giorgio Moroder, on a more prolonged listen, I am not hearing what I heard before. Way too cheesy. One for die-hard devotees of the Eighties' tendency towards disco-pop sub-Madonna sorts. The debut album from Dave Rowntree of Blur, on the other hand, is a likeable thing, 10 songs that take their time to bed down, his voice mournfully convincing on a set where his sadboy ponderings air-balloon atop glitch-ticked, squirling, downtempo, contemporary-sounding electro-pop. Entitled Radio Songs on Cooking Vinyl, it comes on lyric/art/info gatefold in art/photo inner sleeve. More dancefloor oriented, in the main, is the latest selection from the currently prolific Chris Bangs of Acid Jazz Records, Firebird. The theme is jazz-Latin with a firm eye on keeping the dancefloor bouncin', and featuring an array of sterling session musicians. Margo Price is a Nashville country singer particularly beloved of her Brit fanbase. On her fourth album, Strays on Loma Vista, which appears on precipitate pink vinyl, it's easy to hear why. This is nowhere near honkytonk or deep Americana, much closer to straightforward singer-songwriter territory with touches of Memphis blues about it and hints of classic high-end Sixties production too. Comes in photo inner sleeve with four-page photo/lyric insert. Norwegian music-maker Arne Kjelsrud Mathisen records as Rural Tapes and his latest album, Inner Space Music on Smuggler Music, continues his deep dive into exploratory, psychedelic multi-instrument burblings. Some of it, such is tunefully delightful, such as "Candystore", while much of it is mood music for heads. Californian label Independent Project don't like to make things easy either; experimental is their game, and their packaging is always something. Such is the case with the gothy, strum-drone soundscaping of Bruce Licher's Exploratorium album, originally released in 2006. It comes on milkily transparent vinyl in their uniquely styled fold-out card packaging with a neatly sealed wax paper package of art. Looks very collectable, with music aimed at just a few. Similarly Susana Santos Silva's All the Birds and a Telephone Ringing on Thanatosis says on the back that it was made "with support from the Swedish Arts Council". This sounds about right as the album by the trumpet-player/composer of that nation submerges her instrument, when it's there at all, beneath a range of found sounds, watery burbles, and creaky swings, ending up with music that is close in spirit to the original late 1940s Musique Concrète work which Jean-Michel Jarre also pays tribute to on his latest album, reviewed above. Finally, Këkht Aräkh is the project of Ukrainian sonic explorer Dmitry Marchenko whose albums Night & Love (2018) and Pale Swordsman (2021) receive a reissue on vinyl via Sacred Bones. This really isn't music for everyone either, as Marchenko explores the area between ambience and black metal, so it's not all hammering but it is all very, gothic and bleak, yet, in places, with a surprising if occasional melodic underpinning. Still, you probably wouldn't have read this far if you were after music that was easy or obvious, so maybe you'll enjoy it!
FINALLY, THREE THAT HAVE ALREADY BEEN REVIEWED ON THEARTSDESK BUT WHICH ARE WELL WORTH OWNING ON PLASTIC
Lucas Santtana O Paraíso (No Format): This understated but delightful Brazilian jazz-tronic celebration of nature's beauty is timely and given due respect by Mark Kidel here.
Måneskin Rush! (Sony): The power-pop stomp of Italian Eurovison-winners Måneskin has won fans everywhere for its unbridled, guileless embrace of rock'n'roll fun and their third album gives Tim Cumming a buzz here.
dEUS How to Replace It (PIAS): According to Joe Muggs here the first album in over a decade from Belgium's biggest rock band re-embraces their 1990s spirit of adventure, but on a larger sonic scale. Comes on gatefold double on transparent vinyl;
We welcome any and all vinyl for review. Please hit thomash.green@theartsdesk.com for a postal address.
What most of them did next was take acid, lots of it
Explore topics
Share this article