Interview: Alex Hogg of Minima on scoring The Cabinet of Dr Caligari |

reviews, news & interviews
Interview: Alex Hogg of Minima on scoring The Cabinet of Dr Caligari
Interview: Alex Hogg of Minima on scoring The Cabinet of Dr Caligari
The sound of silents: finding the music for a creepy classic
Before Shutter Island - long, long before - there was The Cabinet of Dr Caligari. First released in 1920, Robert Wiene's hallucinogenic film descends, like that of Martin Scorsese who cites it as a major influence, into the creepy shadowlands between sanity and madness. This spring Caligari goes on national tour (details below) spruced up with a musical accompaniment by Minima, a four-strong rock group which specialises in supplying the sound for silents. The group consists of drums (Mick Frangou), bass (Andy Taylor), cello (Greg Hall) and guitar (Alex Hogg). Here, Hogg talks about Minima's work in a Q&A followed by a mini-masterclass on scoring a key scene from the movie.

SHEILA JOHNSTON: Why
Caligari?
ALEX HOGG: It has incredible, unreal stage sets, a fabulous selection of obsessive, murderous characters and a disorientating plot full of twists and paranoia. It was made in Germany in 1920, in the aftermath of the First World War, and has at its heart that terribly destructive combination of suspicion of the outsider and the need to find a scapegoat. Personally I find something quite electric about that period. Maybe it's something to do with the post-war excitement at being alive or maybe it's a magical combination of the times and the technology, but it was an incredible creative era.
The meaning of madness is constantly turned on its head in the film. People like to draw a definite line between "us" - we who are in control of our actions and have responsible thoughts - and "them" - those others who have lost their minds and whom we must keep behind locked doors. We find some of the characters in
Caligari
hopping from one side of this line to the other, and
Caligari
keeps challenging which side you're on. I think we've seen it about 50 times now.
What was the process of writing the score?
We got to know the characters, got to know the story, talked to each other a lot about it. Then I moved out of London to Bristol, so we had to do everything online. We set up threads, a forum, and took the film to bits. At first we didn't write any music. We thought, "Let it be spontaneous." Then little by little, as we improvised to it, we added bits of written material - we went back through all those sketches that you record, squirrel away on a CD and never listen to again. Bits that you're very fond of but you don't know what to do with. I had loads and loads of them over the years.
A lot of that music was a little bit too eccentric to play on its own merits, but using it here made a lot of sense because suddenly it took on a new character. Today's technology makes it possible to lay out a film, put music on it, move the music around and see where it fits, Sometimes it would work miraculously, as though it had been written for the film. Other times it was so wrong that it almost came full circle and had an irony that also worked in its own way.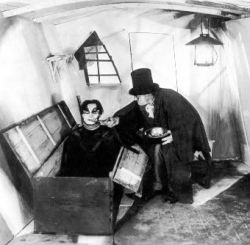 It produced an effect that I would have never come up with if I'd watched
Caligari
and thought, "Hmmm, what sort of music shall I write for this bit? It's exciting, so let's have some dark, exciting music." I love how music and moving images always find a way of relating to each other, even though they were created in isolation. You do run the risk of not respecting the film, though.
Caligari
was written 90 years ago - the director is dead and has no opportunity of objecting. You do feel a certain responsibility.
But re-scoring a film is no different, surely, from staging a new production of
Hamlet
. No-one much worries then that it might offend Shakespeare.
..
I agree. But we do always have the director in mind and hope he or she likes what we play.
There are a lot of alternative scores for
Caligari
, by Sparklehorse, In the Nursery, Madagascar...
I've never heard any of them. If I'm writing music for a silent film and I buy a DVD, I always watch it with the sound off. Otherwise once you've heard the other guy's music you can't get it out of your head.
You perform in a wide range of venues - how do you adapt to each one?
The first three times we played with
Caligari
, we were in Shunt Vaults, which is 70,000 square feet of railway arches under London Bridge station. A sort of Narnia world. Logistically it made sense for us there to be behind the screen, and we quite liked that idea because it meant the show was about the film and the music was secondary. But we haven't done it since, mainly for logistical reasons. Also a lot of people said they preferred to see the interaction between the musicians, otherwise it could just seem like a recorded soundtrack.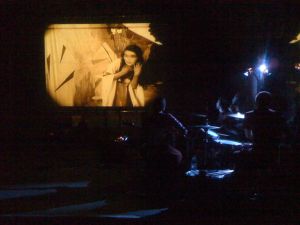 On our current tour most of the cinemas have a pretty similar layout with a little space between the front row and the screen and that's where we'll put ourselves. Most cinemas will play films pretty much back-to-back with only a small turnaround time to clean up the cinema. They've given us about 30 minutes to get in, set up, do the sound check and be ready for the audience, which is really not a lot of time. Most bands with a similar set-up to us would expect an hour or an hour-and-a-half.
So you're squeezed in between
Alice in Wonderland in 3D
and
Nanny McPhee
?
I wouldn't say we're artistically in between! Anyway, as well as all that, we've got to make sure we're not obscuring people's view or leaving wires trailing everywhere. I had to ask each venue for photographs of the space so I could see in advance if there were going to be any logistical issues. Cinemas aren't designed now to be music venues. Sometimes the screen is quite high and in those cases it's easy. Other times the cinema has to block off the left of the front row because anyone there would find a drummer sitting in their lap.
How do you match your music to the movie while you're playing?
We regard the film as the lead instrument and we're just the backing band. It's fifth band member, the member that doesn't listen to anyone else, so we've got to be watching it constantly. We don't have a conductor or use anything synchronised to keep us in time with the film - we're in the adrenaline of the moment, and sometimes we might play things a bit faster and get ahead of the action. We bear that in mind while we're structuring the score and write in little "buffer" passages where we can get back in sync with the film again.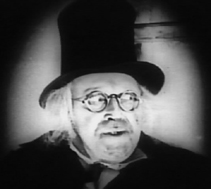 Do you conceive your music tracks to work as stand-alone pieces?
I always had it in mind that this would stand alone as an album. If you have a CD of
The Nutcracker
, it's always the suite, never the whole thing - it leaves out all the interlude-y little bits that really don't mean anything without the images. But I was trying to make this work on its own.
Does Minima ever play together as a pure rock band?
No. We've been going four years now and we always play to film. We've also done
The Seashell and the Clergyman
,
Nosferatu
and a Russian science fiction film called
Aelita, The Queen of Mars
, and we're improvising to Hitchcock's
The Lodger
at the
East End Film Festival
on 24 April.
Can you make a living from this?
(Laughs) No. My music earns me just enough money to buy strings for my guitar.
Hogg on 'Caligari'

In this clip, Cesare, who is under the hypnotic influence of the sinister Dr Caligari, goes sleep-walking into the bedroom of Jane, a doctor's daughter:



We start with a cello theme. It's one of those pieces I wrote years ago, and it turned out to have just the right mix of eeriness and sorrow: it bookends the film. The melody swaps around from the cello to the guitar and back again. On guitar I'm using an E-Bow, an electronic bow invented in the 1960s. It's a little battery-powered device that you place over your string and it makes it sound like a bowed instrument. The string is normally plucked, of course - the weight of the sound is very much at the beginning and then it fades out. But the E-Bow creates a magnetic field that vibrates the string and can make it sound like a flute or a cello or a trumpet. It offers an extra palette of possibilities

When the clip begins, the music is dreamy, sorrowful and ambiguous, romantic but uneasy. Cesare is slinking like a cat or a ballet dancer. What's he up to? Then he walks through the window and towards the woman and you see he's got a knife in his hand. You suddenly realise he's up to no good. It was fairly obvious to change the music at that point. This is the theme of Caligari, the guy who's controlling Cesare. It's in the same tempo and the same key but it's got a different feel to it, a little nastier. It starts off slowly and the closer he gets to the woman, the more we intensify the music.

The first section was a set-piece with a set number of bars. But while Cesare's walking across the floor, we play a short piece over and over. It's a "buffer" that gets us back in sync with the movie. When he raises his knife, we stop dead all at the same time - it's one of the hardest things to do without a conductor. There's a moment when we seem to see a smidgen of humanity in Cesare, as if he'd broken out of the hypnosis that Caligari has put him under. He hesitates and we respond to that with the original cello motif. There's a little bit of pathos. We feel for him, but it doesn't last long. By now I'm playing the guitar as normal - it doesn't have the ethereal, otherworldly sound that the E-Bow creates.

The guitar introduces an alarming beat that intensifies as Cesare and Jane struggle. It's a tricky section to do live: Mick, the drummer, has to time his first beat with the moment Jane suddenly awakes but his beat must be in time with one of my guitar stabs. Andy on bass has to be watching Mick and hit that first note with him. The whole passage has a sort of mad, relentless feel to it. No rocket science there!

The clip ends with Jane's father and another man leaping out of bed and running to the rescue. This is another piece of music I had composed a while ago, a kind of pastiche of 1950s or 1960s TV thriller theme tunes which, in a moment of mischievousness, I couldn't resist putting into the film. Because it's fun. There's nothing comical about a woman being attacked by a mass murderer but when we do a show, we want to provide entertainment and if that means creating comedy out of horror, then so be it.


Tour Dates and Venues
March 2010

21 March, 4:45pm The Little Theatre Cinema, St Michael's Place, Bath, BA1 1SF
28 March, 4:45pm Exeter Picturehouse, 51 Bartholomew Street West, EX4 3AJ
31 March, 9.15pm The Ritzy, Brixton, London, Coldharbour Lane, SW2 1JG

April 2010

7 April, 9:15pm The Gate, Notting Hill, London, 87 Notting Hill Gate, W11 3JZ
11 April, 4:15pm Phoenix Picturehouse, Oxford, 57 Walton Street, OX2 6AE
12 April, 8.30pm Regal Picturehouse, Henley, 2 Boroma Way, RG9 2BZ
14 April, 9.15pm Clapham Picturehouse, London, 76 Venn Street, SW4 0AT
21 April, 9:00pm Duke of York's Picturehouse, Brighton, Preston Circus, BN1 4NA
25 April, 4.00pm Harbour Lights Picturehouse, Southampton, SO14 3TL
28 April, 9.15pm Greenwich Picturehouse, 180 Greenwich High Road, SE10 8NN

May 2010

9 May, 8:45pm Stratford-upon-Avon Picturehouse, Windsor Street, CV37 6NL
Explore topics
Share this article