Shappi Khorsandi, touring |

reviews, news & interviews
Shappi Khorsandi, touring
Shappi Khorsandi, touring
Iranian-born gagster throws political nuggets into observational mix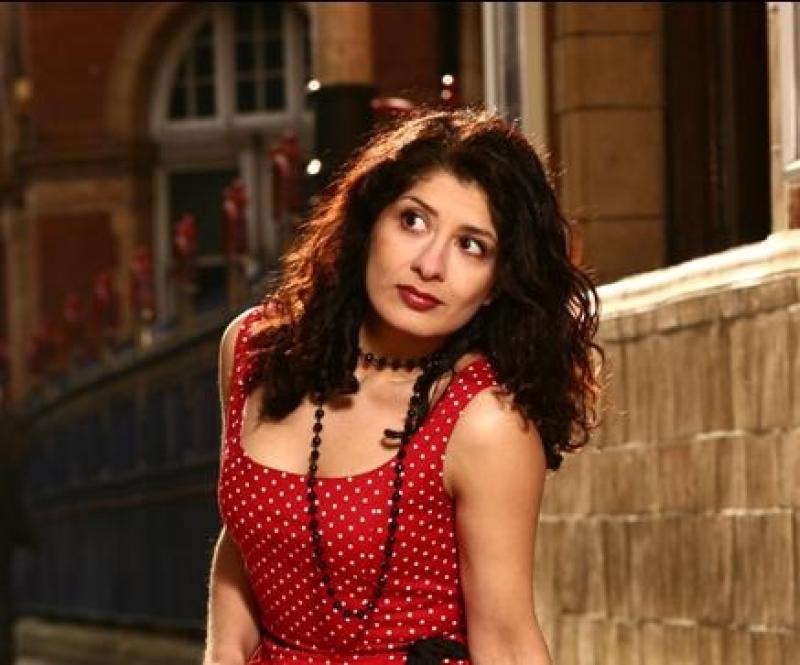 Shappi Khorsandi: the ever-smiling comic has some dark punchlines
It's not a good thing to be at a comedy gig fit to punch the wall, but I must confess I entered the auditorium for Shappi Khorsandi's show last night in a less than Zen state. Not that I had arrived up for it, mind; I may be a sarf London girl but prefer to conduct myself as if I am a true-born daughter of the Home Counties.
I had arrived in good time, full of the joys of spring, looking forward to a well-earned first-of-the-day libation before I took my seat for a show I was looking forward to. Unfortunately the staggering incompetence of the Blackheath Halls' staff (who denied any knowledge of a reviewer's presence there), coupled by their rudeness and unhelpfulness - "It's completely full. There's nothing we can do. Could you move away from the desk" - meant that I only just managed to get in to see the show as the lights went down, empty-handed as the bar had closed, and ungraciously shoved to a lone seat at the back by the fire exit.
What a pleasure, then, to report that Khorsandi quickly restored my good humour. As she bounded on stage with her usual vim and vigour, it was difficult to imagine the comic ever getting into a stew herself, even though the wonderfully efficient south-London venue had contrived to cock up her simple request for an onstage table with a bottle of water on it, and the show started late as a consequence. In these straitened times, she told us, she was the warm-up act (elsewhere she is touring with Jon Richardson); the real Shappi Khorsandi would come on in the second half and she would just interact inexpertly with the audience for now. That nicely ironic and self-deprecating line is typical of Khorsandi's humour; she is the butt of much of it.

The Iranian-born comic has a back story to die for; her father was a non-religious satirist who upset the ayatollahs after the 1979 Islamic Revolution; the family had to seek asylum in Britain, where for a while they needed Special Branch protection from agents sent by Khomeini to wipe out exiled dissidents. "The Iranian government allowed freedom of speech," says Khorsandi. "But there was no freedom after you spoke."

And then, not for the first time in the show, Khorsandi treads into daringly unPC territory when she says her family were "real asylum-seekers", as opposed to many of those who followed. I love the way she plays with white liberal minds on this subject - who else could get away with a clever and well-worked gag suggesting that television newsreaders are disproportionately non-white?

If that prompts the idea that Khorsandi is a political comic, then I hasten to say she is not. She may make frequent TV appearances on current-affairs programmes, but her political gags are nuggets thrown into a softer mix of observational comedy that would be borderline twee if she didn't have quite so many unexpectedly dark punchlines.

Her childhood, brief marriage and recent motherhood actually form the greater part of her act. Khorsandi is the master of the long build-up followed by an unexpected pay-off. After a long, heart-warming preamble about her beloved toddler son, she says: "Babies look really easy to look after, but they're not... you have to feed them, for example." The world, she tells us, suddenly changes when you become a parent - buttons become dangerous overnight, and Pearly Kings and Queens having an accident near your child is the equivalent of a dirty bomb.

At times Khorsandi wanders off script, she doesn't have the two hours of solid material required for touring shows these days, and her throwaway lines are often mumbled, but yet she manages to pull off a thoroughly entertaining evening of comedy. And as a smile was restored to my face, I was reminded that Khorsandi is that often underrated thing - a feelgood comic.
Share this article