Thomas Adès, Barbican Hall |

reviews, news & interviews
Thomas Adès, Barbican Hall
Thomas Adès, Barbican Hall
The composer as a keyboard colourist of the first order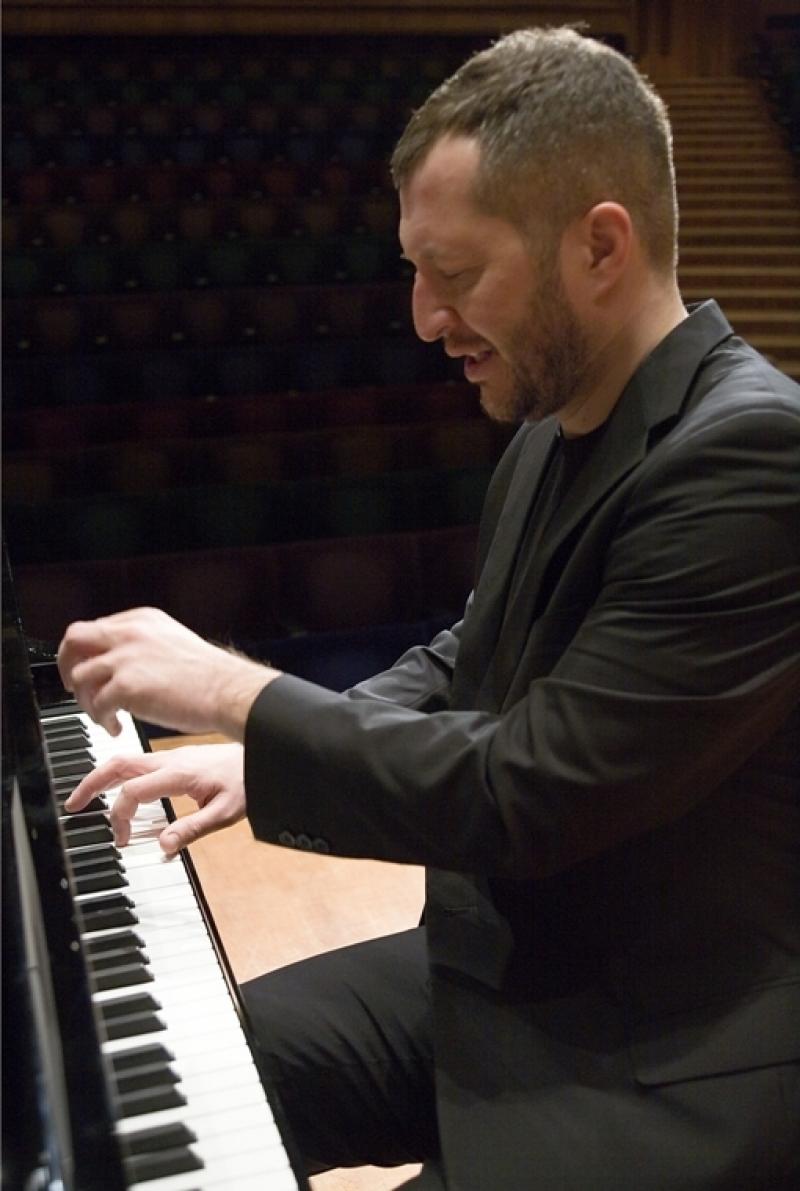 Adès as pianist: total command of keyboard colour
It's still not clear whether his clever, brilliantly orchestrated compositions are here to stay (though they're certainly having a good run at the moment). As a conductor, he's not yet nimble on his feet. Yet after yesterday evening's colossal recital, I doubt if anyone would deny that Thomas Adès is a pianist of the first order, a dramatic master of keyboard colour who pulls you into his edgy but often very beautiful sound world and sometimes casts you adrift from your critical moorings.
It was a crazy programme for a night of the full moon. The tonal beauty was what I'd expected of Krystian Zimerman's Chopin birthday concert and rarely heard there; the repertoire was as well thought through as Bengt Forsberg's oddball selection last week. The highest hopes, I guess, were pinned on the centrepiece of the second half, Adès's latest virtuoso commentary on his fourteen-year-old first opera, Powder Her Face, currently in revival at Covent Garden's Linbury Theatre (curious that on the same night in London, you could have heard Adès, Adès or Aida. My hunch is that the Barbican audience chose best). Well, Liszt "reminisced" on the piano about Donizetti's poor mad Lucia, so Adès has every right to set himself similar obstacles in soaring, swooping and diving quest of his last Duchess, Margaret of Argyll.

Never mind what comes from where; even with a score - to which the composer by the time of this UK premiere was clearly not adhering wholesale - the impression was one of the outlines of a real face, a dancing body, only fitfully emerging through yards of gauze. Indeed, "outlines of a real face" is how Prokofiev liked to describe the look-closer qualities of his more complex pieces. The Sarcasms of 1912-14 are among the most audacious gambits of a young composer who by that stage knew his Schoenberg as well as the Stravinsky of Petrushka. They have all the juxtaposition of anger, irony and tenderness which the Adès of Powder Her Face seemed to be reaching out for, but in far more concentrated, aphoristic form. And if they rather cast the transcription in the shade, it would be hard to think of a more theatrically presented set of character-sketches than this pulse-quickening, tear-jerking performance, veering from the sudden limpid tenderness at the heart of the opening tempest to the jack-in-the-box flailings of the ensuing Allegro precipitato and, best of all, the irrational final turbulence. This was a tour de force of Adès's keyboard range, from the flicked left hand to the irresolute right-hand single notes he ended up playing col pugno (with the fist) - not an injunction unknown to Prokofiev, but not in this score.

Adès's interpretation of the Sarcasms has acquired new, human dimensions since I last heard him play them at Aldeburgh - as if he sees in Prokofiev's semi-portrait of his outwardly rude, inwardly tender-hearted persona something of himself. The context was more striking last night, too. At Aldeburgh, I could have done without all bar one of Ian Bostridge's wayward contributions. Here, very much a one-man band, Adès poised to launch Prokofiev's bitter strike-back immediately after the swooning and trembling of Wagner's Tristan "Liebestod" according to Liszt (an intuitive connection, perhaps; Prokofiev played the Liszt transcription of Wagner's Tannhäuser Overture for a graduation prize around the time of the Sarcasms). If it were conducted like this, you'd find the sudden retreats to secret rapture disrupting the line, but as Adès the composer knows, a transcription makes different demands; the "aria" proper began with a veiled voicing of Isolde's line above the well-earthed orchestral part. As some of the injunctions in the score of his Powder Her Face paraphrase reinforce, Adès is masterful in giving each hand, each line a different colour when he needs to.

The rest of the programme served the pianist-composer's fondness for distant voices and half-remembered phrases. I found myself cut adrift from the above-mentioned critical moorings for the duration of the first work on the programme, as the melodic ripples in the second book of Janáček's On an Overgrown Path spread out in ever-increasing circles. If I could hear how ineffably quirky Beethoven's Op 126 Bagatelles were in Adès's supple hands, they left me cold as Schubert's human, painful fluctuation between forthright darkness and inner light in his C minor Allegretto - his world in an exquisite nutshell - did not. That's my problem with some late Beethoven works, though, no fault of Adès. The encores were ineffable, too: a Liszt Valse Oubliée in hypnotic, scything rather than waltzing motion that I confess had me changing my guess and thinking it was early Scriabin towards the abrupt end, and one of Adès's three mazurkas composed in recent, far-flung homage to the one who hovered in the background of the evening's programme, birthday boy Chopin.