Christian & Tanja Tetzlaff, Leif Ove Andsnes, Wigmore Hall |

reviews, news & interviews
Christian & Tanja Tetzlaff, Leif Ove Andsnes, Wigmore Hall
Christian & Tanja Tetzlaff, Leif Ove Andsnes, Wigmore Hall
Rapt chamber music from three people united in Schumann's great trio
Chamber music is a highly motivational experience - here is a group of instruments of quite different qualities parading, fighting, ganging up, inviting each other's new ideas, dialoguing, and all this variety heightening the build-up to the moment when all instruments proclaim unanimity in a grand finish, or (even better) huddle up in mutual creative conspiracy and conjure a mysterious little spell that makes the outsider long to be part of it. All of which was present last night in both the performance and the music of Robert Schumann's third Piano Trio, played by the Tetzlaff siblings, Christian on violin and Tanja on cello, with Leif Ove Andsnes at the Wigmore Hall.
The trio is a tighter form than a quartet, with no subservient member (as the second violin and viola often are in a foursome). The two Schumann piano trios on the programme reflected a considerable shift in nine years, from his 1842 Fantasiestücke Op 88 to his Piano Trio No 3 of 1851, dating from his last years when sickness and trouble at work (he was an unsuccessful conductor) were conspiring.
The earlier piece is less a trio than a one-plus-two, more for piano in quasi-improvisational fantasising mood with the two stringed instruments in support. The force of both sonorities and balance of material is assertively in favour of the keyboard, which Andsnes's robust playing and the Wigmore's piano-friendly resonance magnified. At times the violin and cello seemed almost to be in another room, so out of kilter did the Tetzlaffs' tender reticence seem.
The siblings have a remarkable synchronicity of instincts, and yet rather different ways of playing. Christian did not sound here like a celebrated soloist, but with his light clean tone (on a modern German violin) like a melder, a listener and a joiner-in, whereas his sister Tanja came over as notably more romantic, bringing from her 1776 Guadagnini cello a soft, haunting and tremulous tone of much expressiveness. But neither strained to compete in the first two movements either with Andsnes' big Brahmsian piano sound or with the fact that Schumann doesn't give the strings much of a chance. But then came the Langsam third movement and suddenly a soft mist descended, Andsnes turned from thunder to a mizzle of arpeggios, and one at last could hear Tanja Tetzlaff's beguiling, waif-like tone, and how refined and finely tuned she and her brother are by instinct.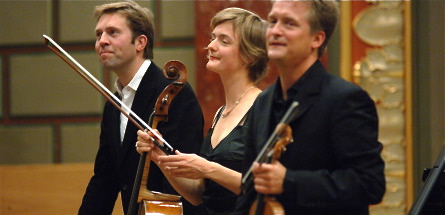 I wondered if that piece might have sounded more egalitarian and interesting with an earlier piano of lighter timbre, and also if this was criticism to level at Andsnes being overbearing. Yet in the 1851 Piano Trio that thought didn't recur, because the writing is so different. From the start ("On the move, but not too fast") the threesome has a much more woven, integrated quality, and yet there is also a palpable space and difference allowed to each instrument, as concurrent partners. They debate gravely, then suddenly join in whipping up a fierce, edgy mood in a Beethovenian engagement with each other as equal in rights.
This was a magnificent, wholly involving performance by the three, full of suspense so that at the end of the first movement one was eager for them to push on and not to do this habitual tuning up between movements that so breaks the tension. (Is it strictly needed every time? If a string's out of tune certainly fix it, but if it isn't, don't break the spell just from habit, and especially if you have an audience with a noticeable proportion of youngsters at, possibly, their first chamber music concert.)
The second movement Ziemlich langsam ("quite slow") - contrastingly rich, grave, with a velvety mesh of chords together in a gently lilting waltz pulse - was extraordinary to hear, the heart perhaps of the entire concert, where three minds and souls met in a rapt tranquillity that is possible only in chamber music, and in no other form of human existence. There are some small disagreements written into the Scherzo, characterised here with strong romantic urges - the violin vibrant, the cello vanishing away with the mists and forests, the piano hurrying on with an insistent phrase that finally the others agree to sign off with him.
The final movement has that engaging Schumann thing of starting with a strong major statement, and then immediately find a "but" in a minor modulation and setting off a chain of creative protests against the major. It's the kind of music in which disharmony can be thrilling and creative, and in a way it's a pity that it is obliged to end with a resounding affirmation.
For the filling in the Schumann sandwich, Andsnes continued the theme of childhood he's used in other concerts this season by programming Janáček's Pohádka (Fairytale) for cello and piano and Dvořák's violin and piano sonatina, written for his children to play. Both composers are renowned melodists, but the Dvořák is a formulaic little sonatina for an advanced child, whatever Christian Tetzlaff's attempts to brush it with gold. This dates from 1893, his New York life, and the From a New World ninth symphony, and it cleverly makes a big impression of not very difficult notes, which is what all children need to inspire them.
However it seriously pales next to the Janáček. In this three-movement piece from 1910 - very remotely derived from a Russian folk tale about Tsar Berendey, and which Janáček kept revising for 14 years - the two instruments make wary, eloquently dramatic engagement, unsettled, tensely speaking to one another, with a sort of stumbling cuckoo call, like a halting heartbeat in there, and pizzicato and other playful effects, perhaps as if a child is playing and stopping to listen and ask something. Could Janáček ever write a melody without it carrying imaginative narrative?

Pohádka weaves a proper little spell, with a captivating tic of a falling five-note scale with a sharpened fourth, that snags your ear with its strange interest no matter how much repeated. Whereas Dvořák leaves out the fourth from his five-note descending scale, ending up with a candy-sugar modal repetition that rapidly palls. But then I'm afraid a little Dvořák goes an exceedingly long way, for me.
Share this article