Katya Kabanova, Welsh National Opera |

reviews, news & interviews
Katya Kabanova, Welsh National Opera
Katya Kabanova, Welsh National Opera
Janáček's tragic opera about adultery's havoc is superbly cast and conducted in this resonant production
Saturday, 08 October 2011
On best behaviour: Stephen Rooke (Tikhon), Amanda Roocroft (Katya) and Leah-Marian Jones (Kabanicha) hide their troubles in public
Katie Mitchell's production of what many regard as Janáček's greatest opera began life 10 years ago on the stage of Cardiff's New Theatre; and there are times in this revival when you feel its director Robin Tebbutt's yearning to be back in that constricted environment, so much better suited to the stifling world which destroys the work's repressed, self-loathing heroine.
"Marvellous sight, the Volga," sings the schoolteacher Kudryash, pointing and spreading his arms. But Mitchell walls them all up in what looks like a railway café without any train service (the programme synopsis calls it a boat station); and when they finally make it out through the garden gate, she crops the open space into a narrow aperture between sliding panels. Physical freedom, she tells us, is illusory when you're trapped by your heart.
It's a modish, sometimes irritating way of stating the obvious. But it fits Janáček's score, so monosyllabic and retentive. What are all those thumps and thuds and tight little ostinatos but an image of passion going nowhere? No wonder Katya's imagination tends to fly off into dreamland; and no wonder the orchestral equivalent is the spiralling arpeggio and the lyrical phrase cut short. Opera is often about a man's idea of a woman's feelings (think of Puccini and Strauss); but I can't call to mind a single work where the music catches the ebb and flow of one woman's emotions as convincingly or as movingly (I daren't say as accurately) as Janáček does in Katya Kabanova.
Mitchell's stage picture, cleverly designed by Vicki Mortimer, is consistent in its own way: all institutional interiors and waiting rooms. The Kabanovs have gone middle class and live in what looks like a converted Victorian school circa 1960. The conventions don't work, of course: the shame of infidelity, the disbelief in lightning conductors, even perhaps the sadistic ferocity of mothers-in-law – these remote aspects of Ostrovsky's rural Russia of the 1860s feel strained 100 years on.
But individual portraits respond brilliantly. Amanda Roocroft's Katya, well turned out and well-to-do, seems doubly imprisoned by her smart horror of a mother-in-law (Leah-Marian Jones), who looks young enough to be her husband's sister, and is almost certainly her lover's uncle's mistress. This Katya can meet abuse with dignity; and she sings with a radiant intensity that is almost in the end self-defeating. Why not, after all, simply decamp to Siberia with this eligible, attractive young bachelor of a Boris Grigorievich? The answer, of course, is part of her fantasy life; "It's like standing on the edge of a cliff," she explains, "with someone pushing you off." Nothing in elopement is ever quite so exciting. And for him, of course, there's the tricky question of the bequest he might lose if he upsets Uncle Dikoy…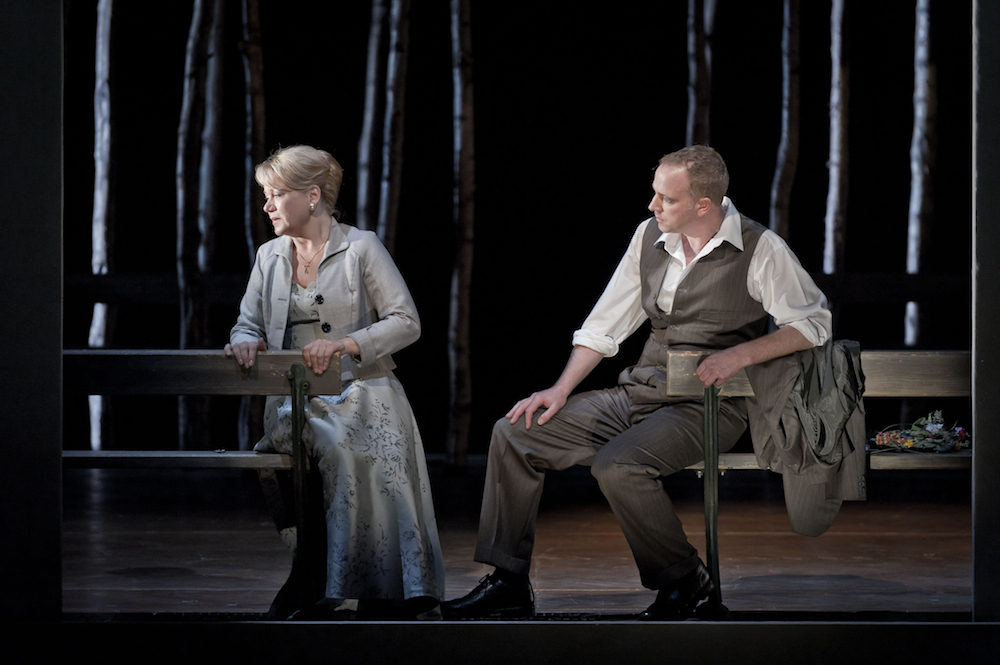 Lothar Koenigs conducts a superb, uninhibited performance of a score that has many hidden perils of balance and pacing (though breaking a timpani skin, as happened at the end of the first act, is surely a new hazard). And the cast is uniformly excellent. Roocroft, still in fine vocal fettle, seems to have acquired a still greater stage presence than even she had before, while opposite her Peter Wedd offers a just sufficiently attractive portrait of love from a distance held back by the material here and now. (Roocroft and Wedd pictured right.)
There's more passion, perhaps, in Varvara's lover Kudryash, beautifully sung by Andrew Rees; but in his case it's a passion for enquiry that one feels might bode no good for affairs of the heart in the long term. Janáček cleverly suggests that, either way, romantic love is a dangerous game. But perhaps Patricia Orr's Varvara won't mind too much. She's happy with her midnight swims and her lightheaded contempt for her foster mother (what is it about Janáček and these oblique relationships?).
Jones's svelt, if charmless, Kabanicha is a highly original portrait of a role usually played as an old harridan; it perhaps makes more sense of Clive Bayley's also somewhat less than doddery Dikoy, who likes his women jackbooted; but it creates a slight problem for Stephen Rooke's prematurely white-haired Tikhon, who certainly doesn't need a youthful Gauleiterin for a mother. Somehow in Janáček's ever-complicated world of twisted ancestry this all works. But it's a great tribute to the performers that it does.
WNO's new artistic director, David Pountney, spoke briefly before curtain-up about Sir Charles Mackerras, dedicating the performance to his memory. It was a touching and apt gesture. Mackerras was responsible for Janáček's discovery in this country, and he presided as music director over a golden era in this company's history. Pountney, himself a Janáček specialist of distinction, is a good bet for another one.
WNO's Katya Kabanova is performed at the Wales Millennium Centre, Cardiff tonight; Liverpool Empire Theatre, 14 October; Venue Cymru, Llandudno, 2 November; Bristol Hippodrome, 9 November; Birmingham Hippodrome, 16 November; New Theatre, Oxford, 23 November; Mayflower, Southampton 30 November
I can't recall a single work where the music catches the ebb and flow of one woman's emotions as convincingly as Janáček does in Katya Kabanova
Share this article