Armitage Gone! Dance, Queen Elizabeth Hall |

reviews, news & interviews
Armitage Gone! Dance, Queen Elizabeth Hall
Armitage Gone! Dance, Queen Elizabeth Hall
A youthful reputation as a punk ballet-maker is hard to match up to 30 years on
Wednesday, 12 October 2011
'Two Theories': gym bunnies trained to do little more than smack their legs into spatchcock splits
I wasn't around to see when Karole Armitage won her spurs in her twenties as a punk ballet choreographer in America in the 1970s and early Eighties, so we must rely on her programme-sheet biography to explain to us that she is "seen by some critics as the true choreographic heir" to George Balanchine and Merce Cunningham. After last night's dismal showing by her group, Armitage Gone!
Dance, at the Southbank Centre, the only possible response is, "Pull the other one" and a firm slap across the hubris.
It had started badly with Armitage stepping up in a sparse Queen Elizabeth Hall to lecture us on quantum mechanics, Einstein's relativity theory and string theory, in a garrulous, blurry way that ended with her saying kindly, "This is all a way to, you know, think about reality." She added that there would be a Q&A at the end "when you'll be able to talk to me". For a nano-second you could hear the audience's breath being held and released, as eyes rolled in polite British disbelief.
To business, then, with the two offerings: a new creation called Two Theories, allegedly illustrating the bittiness of quantum mechanics followed by the glueyness of string theory, and Drastic-Classicism, the 1981 work that made Armitage's reputation, which with its Goth ripped clothing and aggressive attitude is at least a vital souvenir of its time.
These are leftovers of Eighties William Forsythe and Michael Clark reheated in the intellectual microwave of today's science buzzwords
Both have crashing, slashing scores by the renowned punk guitarist of the Seventies, Rhys Chatham; both turned to ear-splitting decibels. But even aural disorientation could not fully muddle me into thinking Two Theories was anything other than a job lot of six-packed gym bunnies trained to do little more than smack their legs into spatchcock splits and flare their hands, leftover mannerisms of Eighties William Forsythe and Michael Clark reheated in the intellectual microwave of today's science buzzwords.
Frankly it was a waste of time watching such inexpert dancers in work that seems to want to continue to make some sort of social stand about ballet tradition. Would it not be more subversive if they had stretched feet, controlled legs, alert torsos, poised backs, receptive shoulders, quick eyes, refined lines, all the weaponry of ballet that they could then switch, with more devastating effect, to protest mode?
But the women's feet wore pointe shoes with as little interest as if they were stilts, the men were a flabby set of movers, and I have a prejudice against choreographers who give dancers a lot of balancing on one leg to do and then don't train the dancers not to wobble about like ropes in a typhoon. Edouard Lock's La La La Human Steps were miracles of articulation and bravura next to this lot.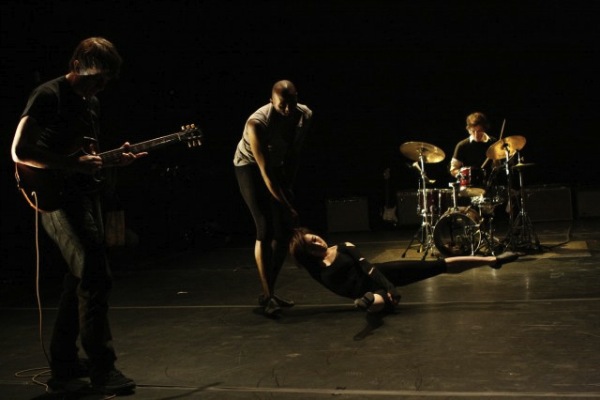 Drastic-Classicism saw the thin audience dwindle further, possibly causing a late-night rush to neuro-otology departments because four guitarists and a drum kit made an even more torturously loud din than you imagined possible from the previous piece. Extraordinary how orchestras are banned from playing Tchaikovsky's Sleeping Beauty without sound protection when dance theatres from Rosebery Avenue to Belvedere Road are busy dismantling the audience's hearing with their wicked boy's-own sound systems and crepuscular lighting, as if all a dance fan needed was big eyes and no eardrums.
The piece has Eighties smarts - it slams violent punky females in pointe shoes into a slamdunk jam session with hard rock's sullen male guitarists and drummers. The girls interfere persistently with the boys' instruments, like groupies demanding a fix, refusing to behave and mockingly spreading their legs. They form secret phalanxes at the back in the dark and charge on the audience. Barriers are toppled between dancers and musicians, between performers and audience. The fact that the work used balletic tropes this way, in an age of old men's ballet (Balanchine, Cunningham and Ashton were all venerable by then), seems a good, brutal ladette joke, and Armitage's hard-nosed reputation got her commissions for pop video choreography from Madonna and Michael Jackson.
Time marches on, disapprovingly. A quarter-century later, X Factor routines and Beyoncé videos look much like Armitage's signature piece, and today's ladettes make her stroppy gals look like attention-deficient Brownies. All in all, a drastically uninspiring evening.
The fact that she used balletic tropes this way, in an age of old men's ballet, seems a good, brutal ladette joke
Share this article