DVD Release: Earth |

reviews, news & interviews
DVD Release: Earth
DVD Release: Earth
The 1920s Ukrainian classic is finally released uncut
Alexander Dovzhenko's 1920s classic 'Earth' - once voted the 82nd best movie ever
Note to lovers of those periodic lists of all-time international cultural landmarks: I seem to remember that Alexander Dovzhenko's Earth once came in at number 82 in one such "best films ever" critical appraisal. Though that may place it somewhere in the lower third division, its release on the Mr Bongo label is a very welcome event if, like me, you probably last saw it decades ago on a bad 16-mm copy.
It comes trumpeted as fully restored, in the full (that is, uncensored) version, complete with a stunning score that has an effect almost comparable to that of the images themselves. It's an open question how much such re-releases
need
to be accompanied by supporting material - but in this case, there are plenty of things you might like to know about to get the most out of a viewing.
Dovzhenko finished Earth in 1930 and, with Sergei Eisenstein's The Battleship Potemkin, the two are often seen as the greatest and most innovative works to come out of Soviet cinema in the 1920s. The two couldn't be more different: Eisenstein's montage technique would become legendary, while Dovzhenko is feted for his poetic style. Earth is a hymn to nature, in which the "official" story – the creation of the collective farms, and in particular the consequences of the arrival of a tractor in a Ukrainian village – certainly isn't more important than Dovzhenko's profound love for the land.
The censors started clipping it almost from the date of its Soviet release, which must have made the recreation of a posthumous director's cut a particularly tricky process: at one point Earth seemed to exist in as many as six versions, each differing in small ways for Russian, Ukrainian and international release (hard to believe though it may seem now, Dovzhenko was free to tour his film around the world in the early 1930s in what may have been closest to his original).
We're never now going to get a fuller version than the 1971 Mosfilm one that is the basis of this release - so even if you find scenes where intertitles don't seem to reflect the full length of what's spoken on scene, this can't now be the results of censorial scissors (how simple the censor's job must have been when only the intertitles had to be cut!). It has in fact been available internationally since the 1990s, albeit in a US edition; for those interested to see what restoration can do for a film, and compare image qualities, full details are here.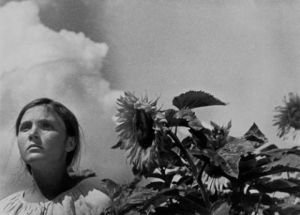 Without wanting to detract from the importance of its appearance in restored form in the UK, the basis for the Mr Bongo disk is almost certainly an existing German version, which seems to have been remastered in Kiev in 1997, with the addition of a score by - if this detective work hasn't gone astray - Alexander Popov. The composer really provides a glorious match for Dovzhenko's images, even if we do wonder if his version, coming almost 70 years later and after the ideology that inspired the film had been consigned to the dustbin of history, brings in an element of irony that wouldn't have been there in any soundtrack of Dovzhenko's time. Suffice it to say that, were I Mr Popov (who we can probably safely assume is not also the Russian swimming champion of the 1990s), I would be put out not to find my name credited anywhere here.
For the wider context in which Earth came to be made, any interested viewer would do well to glance over an essay by the American academic Ray Uzwyshyn. It won't take you much longer than to watch the film itself, and provides some fascinating insights; the essay (on screen at least) is also in full colour, allowing reproductions of many contemporary works of art that, to some extent, place the film as much in a continuing tradition of Ukrainian culture as in any assumed dramatic Soviet-inspired break with the past. Uzwyshyn also gives as full a history on the fate of the film after its release as most viewers will ever need to know.
A final bone of contention. Am I the only viewer to find that presenting the characters' names in an English variant rather than in their original form (a habit in subtitling that I thought had disappeared many years ago) creates an effect that is certainly bathetic, if not downright absurd? The glorious youthful hero of Earth, full of modernising Soviet energy and inspiration, is surely Vasyl' (if we insist on the Ukrainian original), or at least Vasily, to follow the more standard Russian practice. He's simply not Basil. It isn't only the name's association with the stentorian tones of Mrs Fawlty that's wrong. It just somehow doesn't seem right. Then there's the glorious bearded village patriarch whose death opens the film as he expires on a bed of apples, presented as Simon, when his name would be phonetically Semyon, or better still (following orthography) Semen - so appropriate in a work that is all about the seed impregnating the earth, and the richness of the flowering that follows.
Watch the opening scene of Earth
Explore topics
Share this article