The Help |

reviews, news & interviews
The Help
The Help
Racism-lite in a watchable but overlong adaptation of bestseller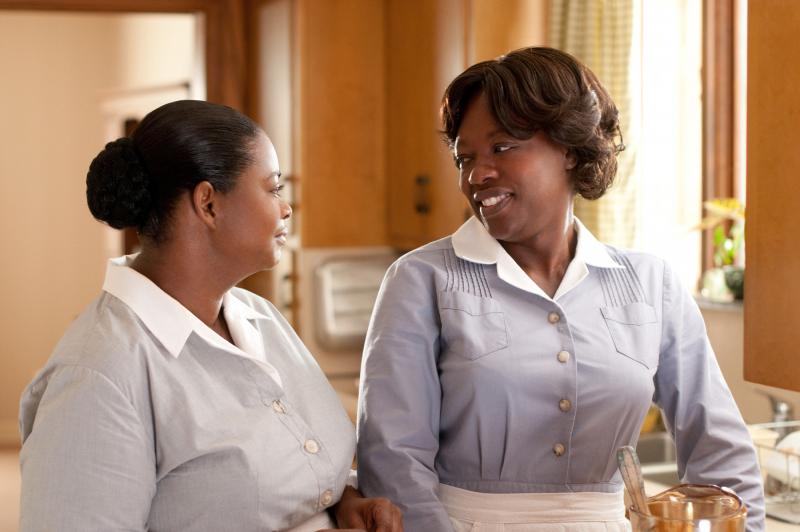 Octavia Spencer and Viola Davis as downtrodden maids who find their voice
The source material for a film like The Help - a story about the black maids who worked for white families in the American South and raised their children as their employers busied themselves with making money and playing bridge - would normally be a memoir or a news archive. But The Help is adapted from the novel of the same name by Kathryn Stockett, published in 2009.
The book, which has sold more than two million copies, is set in 1963 in Jackson, Mississippi, when segregation was at its height and the civil rights movement just a few years old. Stockett and director Tate Taylor (who also adapted it for the screen) grew up in the city in the 1970s in households with black maids, but even in diehard Dixie, times were a-changing, and the reason their mothers had help was that they were, as the programme notes tell us, "single moms who had to work".
So theirs was a rather different experience from those born into the unattractive social and economic hierarchy of the decade before, and so the doubt surfaces in this odd hybrid – part Hollywood schmaltz, part feel-good "not all white people are racist" historical drama, part sassy comedy – as to whether we are seeing a meticulously researched documentary snapshot of a moment in time, or merely a simulacrum.
Skeeter (Emma Stone, pictured below with Allison Janney), an idealistic young writer who has just graduated, returns to work on the local newspaper in Jackson and finds her childhood friends all married and mothers. They regard Skeeter's keenness to have a career as weird and, despite having no jobs of their own, leave all the cleaning, cooking and child-rearing to their black maids, who work for low pay six days a week, 8am to 6pm daily, to free up their time for looking pretty at bridge parties.
When local social queen bee Holly Holbrook (Bryce Dallas Howard, who is superb) talks of trying to introduce a law to enforce people to install separate lavatories (outhouses, actually) in houses where there are black maids, Skeeter's liberal conscience is pricked. But not outraged, as she continues to socialise happily with these so and sos, but it does provide the idea to write a book about the maids' experiences.
The first maid she asks, Aibileen (Viola Davis), fearful of losing her job, refuses, but nevertheless they start the task in secret. When Aibileen's best friend, Minny (Octavia Spencer), is sacked by the egregious Holly for using her indoor bathroom she, too, talks to Skeeter, and soon a dozen other maids are telling their story. Skeeter publishes the book anonymously and it causes a local scandal, as well as much hilarity, as the town's white residents determine who it was who ate a pie made of shit, baked by a disgruntled maid for her employer.
This being a Hollywood movie, unlikely friendships are made and at the end – and I am giving nothing away, so predictable this is – everybody is a better person. Along the way, there are some amusing side stories – Sissy Spacek delivers a great cameo as Holly's mother, while Jessica Chastain plays the innocent and loveable white-trash Celia, who is the only local woman prepared to give the now otherwise unemployable Minny a job.
On the big issue, it's racism-lite - the "N" word, for example, is never used, although it surely would have been by some of these ghastly people - and the white housewives are uniformly presented as daft airheads and objects of comedy, rather than more complex characters whose racism would be more difficult to understand. And when one woman, Skeeter's mother (Allison Janney, turning in a pitch-perfect performance) does an unspeakably cruel act to her black maid to save face in front of her Daughters of America cronies (the film's most shocking scene), she shortly after feels bad about it. So that's all right then.
At 146 minutes, The Help is far too long. It takes forever to get into its stride and wouldn't know a bit of economic exposition if it tripped over it. But the performances are terrific and its heart is clearly in the right place - what a shame its makers weren't more daring in telling a story about a deep scar in America's history.
The Help is on nationwide UK release from today
Watch the trailer for The Help
On the big issue, it's racism-lite - the 'N' word, for example, is never used
rating
Explore topics
Share this article