Don Giovanni live from Aix, Ciné Lumière |

reviews, news & interviews
Don Giovanni live from Aix, Ciné Lumière
Don Giovanni live from Aix, Ciné Lumière
Mozart's morality tale as imploding family drama in an oddly compelling production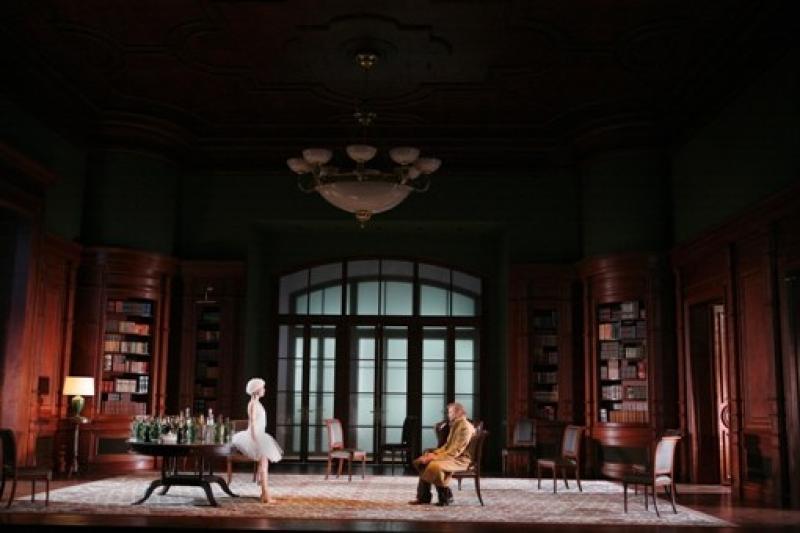 Kerstin Avemo's petite Zerlina transfixed by Bo Skovhus's burnt-out Don Giovanni in Dmitri Tcherniakov's imploding family drama
With several replicas of Mozart's libertine stalking the country this summer, there had to be a good reason for seeking him out in the cinema. I had two. One was a curiosity to see how the TV channel Arte and the French Institute in South Kensington would handle a medium so successfully exploited around the world by New York's Metropolitan Opera.
The other was to find out whether flavour-of-the-year Russian director Dmitri Tcherniakov could follow up his oddball but compellingly detailed takes on Tchaikovsky's
Eugene Onegin
and Prokofiev's
The Gambler
as disintegrating
haut bourgeois
or
nouveau riche
family dramas. Yes, this was another, equally well cast for the most part, but so skewed as to need a completely rewritten libretto.
We can accept the occasional disjunction between text and action if a director's update makes for sufficiently compulsive viewing. There were far too many here, not least Don Giovanni's "I smell a woman" when Donna Elvira is standing right there facing him and his asking Zerlina her name when they've already been presented as members of the same family. And therein lay the special problem: in the mincing spoken introduction, we were to take on board that Giovanni and Elvira were a married couple, Donna Anna the mother of Zerlina with Don Ottavio lined up for husband number two, Leporello a slightly deranged relative. So out went the class distinctions and most of the wit, and in their place only a vague family ambience was established in the action itself.
Curtain up far too late (8.40pm English time) on a sticky night in Aix's Archbishop's Palace as Louis Langrée drew cut and thrust from the Freiburg Barockorchester in the overture's statue-comes-to-dinner thunderbolt: there's the Commendatore (Anatoli Kotscherga) as Big Daddy in a sharp suit and designer specs welcoming his brood to table in a reception room lined with bought-in, presumably unread books. The stylish facades soon disintegrate into melancholy and madness, of which Bo Skovhus's Giovanni is only the most charismatic manifestation. Donna Anna (a coloratura soprano, blonde bombshell Marlis Petersen, rather than the usual heavier dramatic voice) wants, as is I think mistakenly underlined in all recent productions, what Giovanni has to offer before dad breaks in on the scene and in a scuffle - which I missed as I had to rush out and tell the projectionist to turn the distorted sound down - bashes his head on the bookcase and drops dead.
From that point on, it's a psychological slippery slope for everyone, above all Skovhus's disintegrating waster in a camel coat who veers between deep, fixed-staring depression and gibbering about like a demented ape. He's been singing the role for a quarter of a century, and the never too weighty voice now bears witness to that. It's none too helpfully contrasted with Kyle Ketelsen's deliberately repulsive but vocally resplendent Leporello. Tcherniakov wants his bourgeois implosion to happen over time, not Mozart and Da Ponte's taut 24 hours. So we have interminable dropped black curtains while days and weeks are supposed to pass. The Commendatore dies. Blackout (the cameras, accidentally it seems, show us the set-dressing behind the dropcloth. They won't do that again). Donna Anna and Don Ottavio sing at dad's funeral. Long blackout. Elvira - the utterly compelling Kristine Opolais - turns up. Blackout. And so on - all in the same room, so strictly there's little scenery to be changed. It's maddening, because Langrée's quicksilver conducting and the intensity with which Tcherniakov gets his singing actors to fill their set-pieces with meaning both set the ball rolling when there's a chance.
Some ideas don't work; others reveal scenes as we've never seen them before. Kerstin Avemo's bewitchingly strange baby-doll Zerlina is transfixed by an immobile Skovhus's extended hand before she moves, hypnotised, across the floor towards him. Petersen delivers Anna's "Or sai che l'onore" while undressing the impassive Ottavio and imagining it's Giovanni - half-hearted boos, presumably for the concept; Colin Balzer, flawless of technique in both his arias, responds with a strangely moving "Dalla sua pace", trying to have sex with his now frigid fiancée before lying across her chest like a child. The sublime trio of the "masks" brings an onstage Giovanni his only moment of peace apart from a delirious Act Two serenade; then the masks really are applied and unlikely couples come together, kiss violently and separate.
The second half, for those of us able to stay way beyond midnight, saw rather too much repetition of estrangement and insanity from the discombobulated family members, but each delivered the increasingly difficult arias with focused expression and commitment. The banquet from hell is a farce - the family's paid an actor to don Commendatore beard and specs to give Skovhus's Giovanni his long-anticipated heart attack. He lies dying as the rest of the family finish him off and walk away. A successful concept? By no means entirely, and it didn't help that the cameras weren't always were they were supposed to be - too many leg and arm shots. But it's so easy to make a dog's dinner of Don Giovanni these days, as did Zambello at Covent Garden, the unspeakable Bieito at the Coli and, if the recent TAD review is to be trusted, and experience suggests it is, the mediocre Jonathan Kent at Glyndebourne. Tcherniakov's vision, roundly booed at Aix as he came on for his bow, is consistent and, with superbly realistic acting from his singers, brands many images on the memory. He'll be making even bigger splashes in the near future.