Davies, London Symphony Orchestra, Zhang, Barbican Hall |

reviews, news & interviews
Davies, London Symphony Orchestra, Zhang, Barbican Hall
Davies, London Symphony Orchestra, Zhang, Barbican Hall
Dapper Chinese-American conductor masters strange shapes and colours in a high-risk programme
Thursday, 10 November 2011
Xian Zhang: dapper in a high-risk programme
Highly finished literary tales of doomed nixies, like Hans Christian Andersen's The Little Mermaid, seem to have prompted reams of bad art but plenty of mellifluous music. Not even all of that is on the same level.
Viennese late-Romantic Zemlinsky's loose-limbed three-part Andersen homage has long floated in a limbo somewhere below the more curvaceous forms of Dvořák's
Rusalka
and Sibelius's
The Oceanides
, and not just because of unfavourable historical circumstances (the composer withdrew the work after its 1905 premiere, and it did not resurface until 1984). Still, it was good to hear it in a high-risk LSO programme masterminded by energising Chinese-American conductor Xian Zhang.
The figure with the most plausible humanity of the evening, though, was the protagonist of Nielsen's Flute Concerto as subtly and companionably realised by LSO Principal Gareth Davies. There's a deliberate misalliance here between the child of nature the flute is always supposed to be and a lolloping, sometimes monstrous orchestra; it's certainly the only concerto of its kind - not that there are many - where you'll hear the woodwind's most gentle member cavorting with a first trombone. The ageing and more than a little maverick Dane in the mid-1920s seems to have found one of the most personable solutions to the 20th-century crisis in music (I'll be hearing another, similar but equally individual approach tonight in Czech composer Martinů's Rhapsody-Concerto written nearly three decades later): assert a bright major tonality but frolic about it as dangerously and capriciously as you like.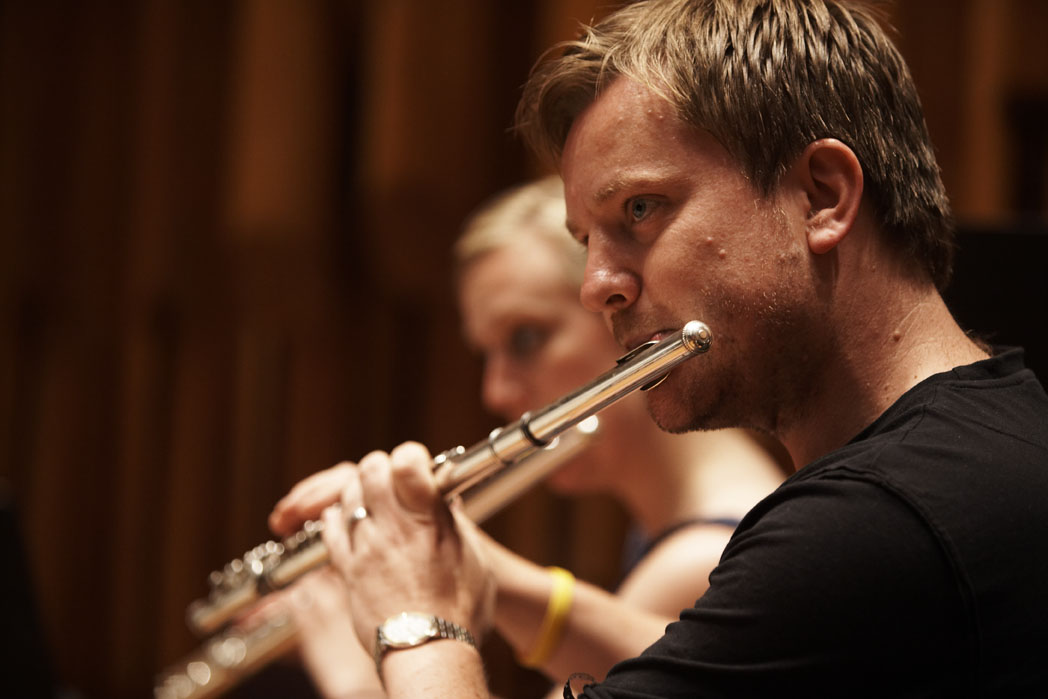 Nielsen's fantasy ought not to make sense, but Davies (pictured right) and his orchestral playmates took the audience with them, rendering us happy as children to indulge the whim of the moment and alert to the exciting sense of barely contained anarchy in the piece. The soloist retreated into magic-cave cadenzas with dewy remoteness before dancing with a bear (the trombone), fellow birds (clarinet) and wood nymphs (solo strings). Ineffable, unforgettable - and, like the Zemlinsky, one of those pieces which came across as something of a premiere, so rarely does it surface in concert programmes.
Her mishaps in the world of the mortal she loves spin us into a central waltz-glitter suggestive either of Habsburg decadence or the Parisian cakeshop of Lehar's Merry Widow
Which one could hardly say these days for Bartók's lurid urban ballet The Miraculous Mandarin. Perhaps we've had too much in the concert hall of the extended pantomime by which an erotically supercharged oriental refuses to lie down and die at the hands of an appalled prostitute's murderous pimps. So it was good, for once, to get the shorter suite. Even in that, Zhang didn't deliver quite as much as she promised in the opening, all buzzsaw violas and klaxoning woodwind; the central dance did not develop as voluptuously as it can, and the final stomp just went on as it bludgeoningly began. Still, there seems to be no end of the colours a conductor and orchestra can command in the piece, and with percussion, piano and celesta clearer than usual, some unusual, spooky balances ensued.
Ravishing music of water and air frame the adventures of Zemlinsky's mermaid, while her mishaps in the world of the mortal she loves spin us into a central waltz-glitter suggestive either of Habsburg decadence or the Parisian cakeshop of Lehar's Merry Widow. Gavin Plumley's note proposed that the composer might have seen himself as jilted mermaid in thrall to the worldly glamour of Alma Schindler before she ditched him for Mahler. Yet that pathos is more successfully realised in the dwarf-protagonist of what is probably Zemlinsky's masterpiece, the opera Der Zwerg.
His mermaid is very fetchingly decked out in Klimtian aquamarine, but alongside the vivid near-contemporary thematic ideas of Schoenberg - whose tone poem Pelleas und Melisande on the same 1905 programme prompted Zemlinsky's low self-esteem - and Dvořák, Zemlinsky's can feel a bit nebulous, or rather watery; after all, even mermaids should have backbones. Still, Zhang got real magic from divided muted-string reveries as well as love-chemistry between maiden and prince. Symphonic poems like this, cast out into the cold ever since the severe anti-programmatic decrees of the 1950s, are not so frequently heard in the concert hall that we can afford to turn up our noses at a bit of fin-de-siècle moonshine; so thanks to the LSO and Zhang, a conductor who clearly does the orchestra good, for taking the plunge.
Zemlinsky's themes can feel a bit nebulous, or rather watery; after all, even mermaids should have backbones
Share this article