Charlie's Angels, E4 |

reviews, news & interviews
Charlie's Angels, E4
Charlie's Angels, E4
They don't peroxide the way they used to
Thursday, 01 December 2011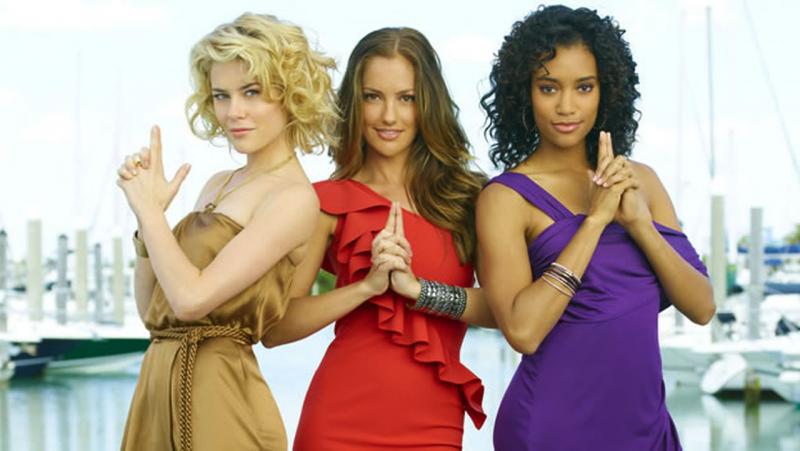 'Charlie's Angels': this show will self-destruct in four episodes
Those of a certain age have certain memories (very certain) of Farrah Fawcett-Majors, wife of the Bionic Man and not exactly unbionic herself, especially in that poster of her in the red one-piece with Seventies enormohair and fluorescent American Dream gnashers. There were a couple of others in Charlie's Angels. One forgets their names, and indeed faces. (Feel free, scholars of the era, to write in on this.) It was revolutionary at the time: girls had been high-heeling men in the schnoz since The Avengers, but only one lady at a time. Now three bra-burners, Aaron Spelling's fantasy answer to M(is)ses Greer, Dworkin and Steinem, were all at it at once.
Anyway, once more unto the skimpy casuals rack. Charlie's Angels is back. Again. The last time it was revived was at the turn of the millennium when people had started to deem it safe to peak at the Seventies in the rearview without heaving. It had Cameron Diaz and that other one from Ally McBeal who's sunk without trace and the little-now-big girl from ET. It ran to a sequel and generally proved that you can't stick something pre-ironised in a fresh pair of inverted commas. Skinny girls in hot flares kicking the cojones out of dastards? Charlie's Angels knew damn well it was daffy in 1976.
Nowadays – sob - no one thinks much about the Seventies, so it's difficult to know which version of the brand is being revived in this package. Drew Barrymore is an exec, for the record. Its target audience – teenage boys operating the remote left-handed – will have heard of neither. The format is more or less as you were. Three identically svelte ladies in their twenties thwack chaps a lot at the bidding of a soft-voiced controller who is always available at the end of a phone but never ever visible. (Did anyone else ever think Charlie seemed a creep who probably deserved investigation himself?)
Charlie's Angels 2011: the trailer
The difference is that this time round they are not undercover cops but wrong'uns given the chance to do probation by putting their nefarious skills to sociable use. And they communicate through headsets concealed in their luxuriantly conditioned hair (one "blonde", for the record, and two brunette). They also seem to have a male assistant in tow whose role is to seduce opposition females.
In this opening episode their quarry was a ring of Miami child traffickers. Let's spare ourselves the plot details. The show is barely interested in them itself, fizzing through the bullet points like an auctioneer with ADHD. There were costume changes, lots of them, from one outfit leaving just enough to the imagination to another. And yet there's somehow no need to loosen collars as these slick Barbiefied nullities glide through the set pieces. The stunts are bigger, the noises louder, the expenditure heftier but there is zip-all to sink your teeth into. One of the angels – the slightly ethnic brunette - was blown up before the credits had finished trafficking across the screen. You wonder whether she saw the script and asked to be released from her contract. She was instantly replaced by another slightly ethnic brunette. Don't get used to these ladies: the show was canned by ABC after a handful of episodes. Girls bitchslapping the unfairer sex doesn't mean as much as it did in the Seventies. You could call it progress.
The way they were
Subscribe to theartsdesk.com
Thank you for continuing to read our work on theartsdesk.com. For unlimited access to every article in its entirety, including our archive of more than 10,000 pieces, we're asking for £3.95 per month or £30 per year. We feel it's a very good deal, and hope you do too.
To take an annual subscription now simply click here.
And if you're looking for that extra gift for a friend or family member, why not treat them to a theartsdesk.com gift subscription?