Earthquakes in London, National Theatre |

reviews, news & interviews
Earthquakes in London, National Theatre
Earthquakes in London, National Theatre
Mike Bartlett's new play is a thrillingly epic account of climate change
Wednesday, 04 August 2010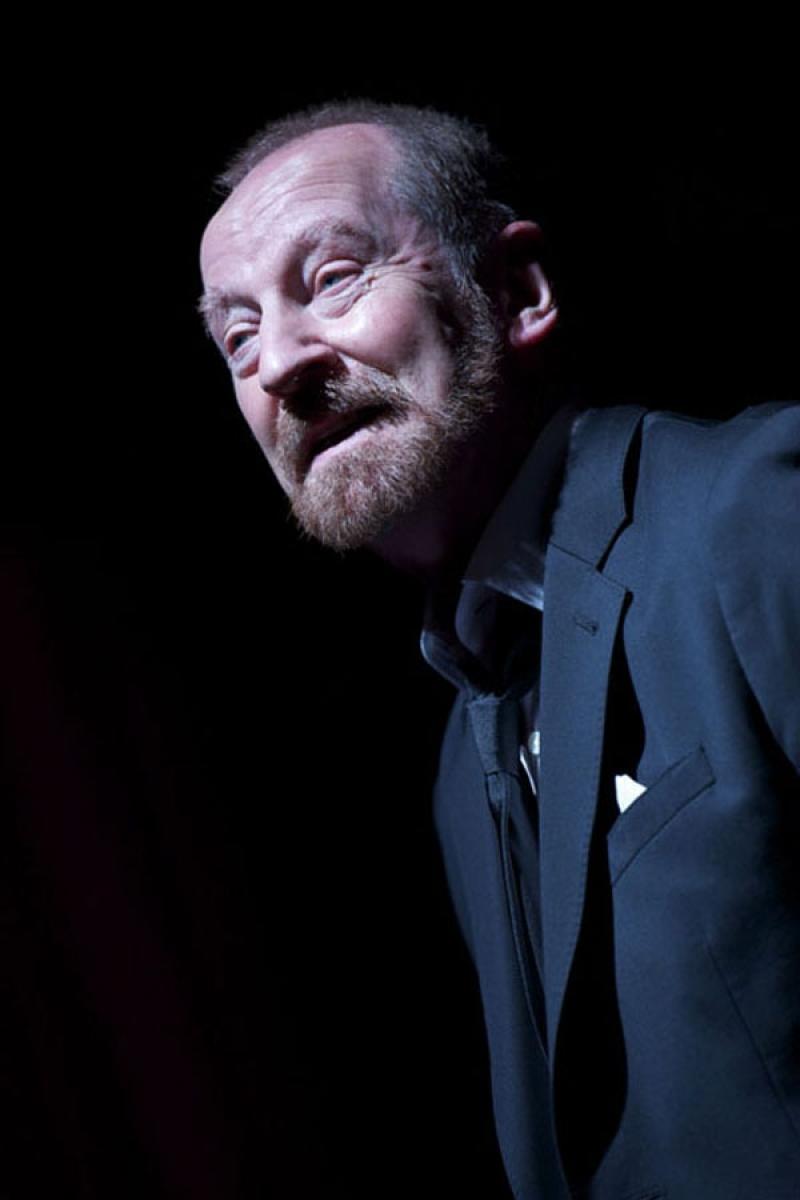 Epic proportions: Bill Paterson in 'Earthquakes in London'
What sound does a screaming foetus make? It's not the kind of question that most theatre plays provoke you to ask, but Mike Bartlett's new piece about climate change is not a normal play. At the end of the first half of this rollercoasting epic, dazzlingly directed by Enron maestro Rupert Goold and which opened last night, the image of a foetus crying out in the womb seems perfectly reasonable.
It's that kind of show; fuelled by a wildly imaginative vision, when it ignites it burns like phosphorous. And, believe me, that changes your perceptions.
The main theme is climate change, and Bartlett asks, with varying degrees of urgency, those familiar nagging questions: is climate change irreversible? Is it already too late to save the planet? Are we all doomed? But this apocalyptic scenario is artfully packaged in a family story. Enter Robert, a boffin who in the 1970s started to research the Earth's atmosphere. Sidetracked for some years by corporate sponsors, he finally shrugs off Mammon and retires to continue his research in the wilds of Scotland.
Meanwhile, his three daughters live in London and occupy different rungs in society. Sarah is the Environment Minister in the current coalition Government. Her marriage to the jobless Colin is on the rocks, and she is being fiercely lobbied by airline execs to expand the country's airports. By contrast, Freya is a teacher who is heavily pregnant and her husband Steve wants to know why she has recently sought out her father, and what he told her about the future: the question is, is it right to have a child in a world that is about to end? Finally, Jasmine is a teenage student who resembles a human earthquake: she likes drink, drugs and sex. A lot.
The complex family conflicts between father and three daughters, and between the siblings themselves, and then between the sisters and their spouses, are confidently and convincingly sketched out, and Bartlett weaves all of these strands together in an epic tapestry of metropolitan life. It's hard to convey the thrilling fragmentation and ambitious sweep of this amazing play, so you just have to close your eyes and imagine that the whole of the action takes place in a crowded bar.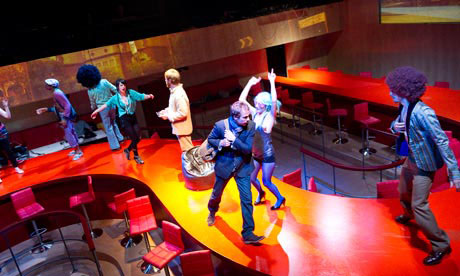 That's right, a bar. The Cottesloe space has been transformed into a trendy watering hole (shown right, minus the audience) and a huge, bright orange bar top snakes across the space, surrounded by bar stools and room for audience members to stand. It's hot, it's crowded and it can get very loud. Simultaneously, the action also takes place in two proscenium spaces high up at either end of the theatre. Part of the joy of watching Earthquakes in London comes from not knowing what will happen next, or where. Spanning the years between 1968 and 2525 - yes, it's true, 2525! - the play fields a fast-moving array of characters who talk, sing, dance, jump and, on one memorable occasion, ride a bike across the bar top, while pounding music lifts the spirits and fuels the action. It feels very exciting and a tiny bit dangerous too.
There are many vivid visual moments: the minister hides with her red box in a white loo; an environmental protester does a burlesque strip; an old woman evokes the old certainties of Britain in the 1940s; student girls party in one character's fantasy; black-clad mums with shades and prams croon and dance; a paper plane flies across the theatre; there's a confrontation played out by torch light. Yes, director Rupert Goold has pulled off another Enron.
Similarly, Bartlett's writing is finely tuned and observant, witty and playful, articulate and imaginative. At more than three hours, it's the kind of play that really shouldn't work, but somehow does. A beguiling mix of social comedy, political discussion, family drama, sci-fi fantasy and energetic entertainment, it storms along at a cracking pace that constantly sets up contrasts and clashes so your interest never flags. One of the play's chief delights is its kooky encounters, such as that between 14-year-old Peter and Freya, or Jasmine getting stoned with the minister's husband, or a father and estranged daughter sharing a drink.
In one mind-bending moment, the play jumps forward in time by a decade and a half, at another it leaps into the 26th century! At one moment you are in the real world, at another inside the head of one of the characters. In one thrilling scene, a young man accuses the older generation of squandering the planet. It reminded me of a similar generational tension in James Graham's The Whisky Taster, a sure sign that this is a hot contemporary topic. So yes, one of the many earthquakes in the story is generational.
With assured performances by an excellent cast which includes Bill Paterson as Robert, Lia Williams as the minister, Anna Madeley as Freya and Jessica Raine as Jasmine, this is an immensely absorbing and entertaining night out. And the perfect ending of the play demonstrates not only the power of idealism, but also the ability of fiction to resolve the insoluble contradictions of human life. Surely, this is the best new play of 2010.
Part of the joy of watching Earthquakes in London comes from not knowing what will happen next, or where
Share this article