Company, Crucible Theatre, Sheffield |

reviews, news & interviews
Company, Crucible Theatre, Sheffield
Company, Crucible Theatre, Sheffield
Sondheim classic soars anew in energetic, if eccentric, revival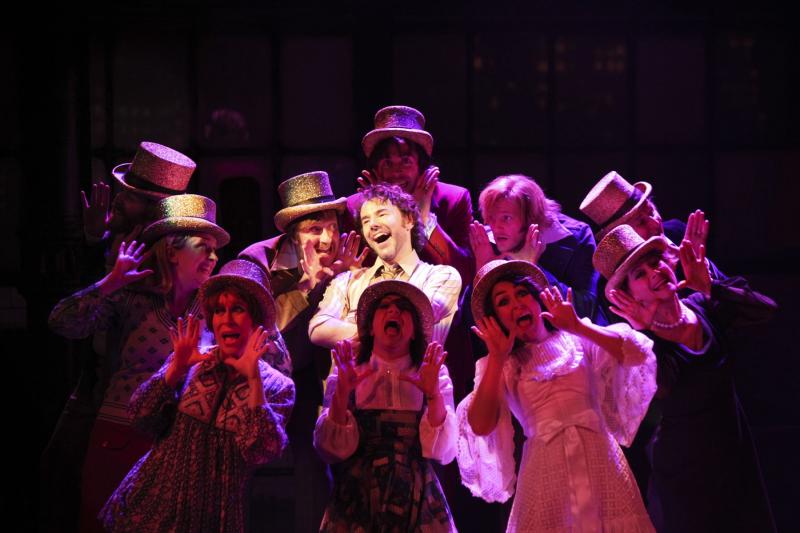 Who's ready now? Daniel Evans on the lookout for love - or maybe not - in Stephen Sondheim's 'Company'
A generally grim year for musicals (Matilda and Crazy For You very much excepted) nears a belatedly emotional and rewarding close with the Crucible Theatre's revival of Company, which brings the Sheffield playhouse's artistic director, Daniel Evans, back into the orbit of the man whose work is responsible for his two Olivier Awards.
That the person in question is Stephen Sondheim means that interest is keen in an onward life for a staging that results in the knockout punch one always hopes for from this piece while offering up not a few eccentricities along the way.
Indeed, just as this year's other regional theatre Sondheim reclamation of note - Chichester Festival Theatre's Sweeney Todd, which transfers to the West End in March - prompted a revisionist view of its raging, vengeful barber as an indrawn, eerily recessive psychopath, so in its own way does the director Jonathan Munby's take on Company force a re-evaluation of Bobby, the commitment-phobe at this quintessentially New York musical's here decidedly neurotic centre.
That in itself marks quite a change from the often bland, blank presence that Bobby frequently turns out to be: a bachelor more acted-upon than active who tends to be upstaged by the couples (the women, especially) in his midst. Indeed, one of the reasons for the lingering affect of the Sam Mendes staging of this show from the 1990s, revived in October 2010 in a galvanic concert performance on Shaftesbury Avenue, lay in leading man Adrian Lester's ability to re-orient the show so that Bobby wasn't merely an absent guest at his own 35th birthday. Lester was and remains the best of the many Bobbys I've seen, an apparent smoothie whose Manhattan sangfroid masked a bruising awareness of the turbulent psyche just beneath the cool. (The illuminated flooring of this production's high-walled set casts a visual nod to the earlier design.)
By contrast, Evans (pictured right) wears those same anxieties very much on the surface, along with a rather bizarre wig that marks this Bobby out as a follicular kin to Charley Kringas, the comparably fretful New Yorker whom Evans played, superlatively, in the Donmar's Merrily We Roll Along. Cast against type as a babe magnet who finds his married friends fussing over or wanting to bed him or both, Evans unexpectedly gives off the air of what it might once have been like had Sondheim himself ever played this role, not least because Evans's vibe in the part is decidedly Jewish (his New York honk of an accent, for one), even if Bobby himself is not. This urban singleton seems to have stepped on to the musical stage by way of Woody Allen, until, that is, Evans rides the gathering crest of Bobby's three great songs ("Someone is Waiting", "Marry Me A Little", "Being Alive"), revealing a triptych on the topic of the opening up of the self that stops not just the show but also the heart.
Company famously has no plot, substituting instead a prismatic view of relationships that both repels and draws Bobby onward to his 11th-hour reckoning. And more than I've ever encountered before, Munby and his designer, Christopher Oram, ram home the period of a show actually written at the tail-end of the 1960s, to the extent that the costumes often push the look of the piece towards satire, as if Company had devolved into some sort of musical version of Laugh-In, to cite the American comedy TV show of the era toward which George Furth's sketch-like book occasionally tilts.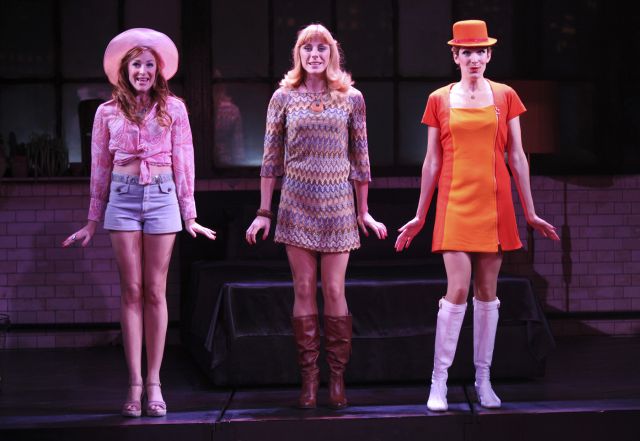 All the short skirts, big hair, and tight and/or flared pants can, to be honest, become a bit wearing, not least given a musical set, after all, in a sophisticated capital city that has always had its own sense of style. I was growing up in New York during this time and can't imagine that a cool cat like Bobby would have hung around with Damian Humbley's Grizzly Adams lookalike of a Harry, however beautifully Humbley sings that most rendingly ambivalent of Sondheim songs, "Sorry-Grateful".
On the other hand, Lucy Montgomery (pictured above to the right of Rosalie Craig and Kelly Price) brilliantly reinvents the supposedly clueless stewardess, April, as a feisty Ohioan who is in fact no fool, and her second-act duet with Evans on "Barcelona" is a production high point. Evans's original Dot in Sunday in the Park with George (the source of his second Olivier trophy), Anna-Jane Casey brings her clarion pipes to "Getting Married Today", the same number that finds Samantha Spiro's wild-eyed Amy scuttling every which way but to the altar, so panicked is she by the idea of tying the knot to her beloved Paul (Jeremy Finch).
In a class of her own, largely because her character's defining solo number is, as well, is Francesca Annis (pictured right) in a rare musical theatre turn as the vodka-swilling Joanne, delivered not as a parody of its originator, Elaine Stritch, but with real theatrical flair, the wail in her "I'll drink to that" suggesting the unexpressed agonies of a woman who knows a thing or two about keeping up appearances. Not to mention ladies who lunch.
The production carries over various aspects from the Mendes staging that weren't true of the show when it was first seen in 1970: Bobby gets hit upon not just by women but by a guy, Peter (Steven Cree is terrific in a small but telling part), and Lynne Page's choreography allows recreational drugs to fuel the second-act opener, "Side By Side By Side" (the song whose title gave its name to the celebrated Sondheim musical revue that first starred Julia McKenzie and Millicent Martin). But what one takes away most from the show is the synchronicity between Evans's soaring tenor and the deeply questing Bobby. What's next on this major talent's Sondheim calendar? Well, give him a decade or two and he'd be great as one of the two male leads in Follies. "Someone is waiting," sings Bobby, and his name is Buddy.
Company is at the Crucible Theatre, Sheffield, until 7 January