The Good Wife, More4 |

reviews, news & interviews
The Good Wife, More4
The Good Wife, More4
Superior US legal drama returns for a third series
Alicia and Will get up close and personal in 'The Good Wife'
Much has been made of the quality of drama currently or recently on British television - Downton Abbey, Sherlock, Cranford, any number of Dickens adaptations we are about to see during 2012 - and rightly so. But as The Good Wife starts its third season on More4, it's worth noting that when it comes to modern-day serials, the Americans are more than a match for British bonnets and book adaptations.
And so it proved in last night's opener; a show that can start a new season by letting two of its stars finally get to tango after two series of meaningful looks across the open-plan office, misunderstandings, missed telephone calls and misplaced loyalty to a cheating husband clearly knows it has so much more to offer over the coming weeks to top that. The Good Wife's writers may have strung out the Alicia-Will thwarted romance, Lady Mary and Matthew style, to the point of its audience shouting "For the love of God, will you just kiss?" but the lawyers finally getting together will prove, I suspect, merely a starting point for any number of riveting subplots at their workplace, the swanky Chicago legal firm Lockhart & Gardner - with repercussions in several people's personal lives to boot.
The third series picked up where the second had left off. Alicia's cheating husband, Peter Florrick (played with lizard-like charm by Chris Noth), allowed back into the marital home last time round, had been given his marching orders, and Alicia (the excellent Julianna Margulies) was now free to date her old college friend and boss Will (Josh Charles). Actually they didn't date, but had some hot sex presaged by Will's conversation with another colleague (Christine Baranski). "She thinks I'm going too hard on you. Am I going too hard on you?"asked Will as he and Alicia were locked in a passionate clinch. Her orgasmic "Don't move" answered that one.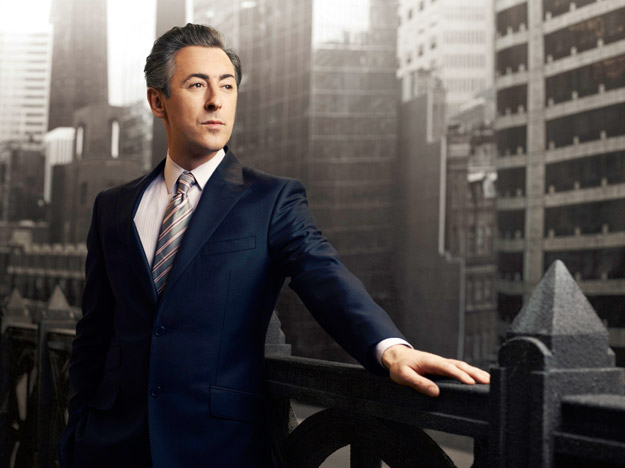 Much of the first two series had covered Peter Florrick surviving being framed in a prostitution scandal - in a city, Chicago, that has had more than its fair share of real political scandals over the years - and being elected to State's Attorney with the help of adviser Eli Gold (Alan Cumming at his Machiavellian best, pictured right). Gold, for long a thorn in Alicia's side, has now joined the same firm and, as she defended a Palestinian wrongly accused of the murder of a Jewish fellow college student, Gold agreed to advise a rich Arab in setting up a Muslim anti-defamation league.
As ever, nothing was straightforward, but was neatly resolved in the space of one episode, even if the legal aspects happened in a timeframe unrecognisable in real courtrooms. This double-quick pace is a hallmark of American drama, where writers like to include multiple story strands in each episode - and last night's was no exception, with neat little markers of subjects that will surely be developed over the coming weeks. Will Alicia's teenage daughter fall for her tomboyish maths tutor? Will L&G's investigator, the supremely foxy Kalinda (Archie Panjabi, pictured below), usually dressed in leather and high-heeled thigh-high boots, hook up with past beau Cary (Matt Czuchry) or with former squeeze, his colleague Sophia Russo (Kelli Giddish)? And who will win the ongoing courtroom battles between the Florricks? Suddenly, office sex doesn't seem quite so breathless...
But while the dramatic set-ups may appear box-ticking – Muslim jihadis, gay characters, shady politicians, conniving lawyers - the characters are never simply good or simply bad. Kalinda uses her sexuality to get information, but her vulnerabilities are there to be seen, while the saintly Alicia is not above playing the race card in trying to get a postponement of a case heard by a Jewish judge the day before Rosh Hashanah because her client must always come first. And the drama – romantic, political, legal – all comes leavened with some razor-sharp wit; when we learned that the Palestinian who really killed the Jewish student was involved in a gay relationship with him, Eli was trying to explain to his Muslim client how he could spin the news. He deadpanned, "I could find out if he was a top..."
The multiple story strands and headily fast pace demand that The Good Wife's writing has to be of the highest quality, with mightily efficient exposition, and both are. Like the Danish political thriller Borgen, it has quality written all over it, as befits a series produced by Ridley and Tony Scott. Unlike Borgen, it doesn't require as much intellectual or time commitment to follow, but despite its Hollywood glossiness, The Good Wife is still very fine entertainment.
The Good Wife continues on More4 on Thursdays at 9pm