Travelling Light, National Theatre |

reviews, news & interviews
Travelling Light, National Theatre
Travelling Light, National Theatre
Nicholas Wright's charming but lightweight new play charts a course from the shtetl to the stars
Thursday, 19 January 2012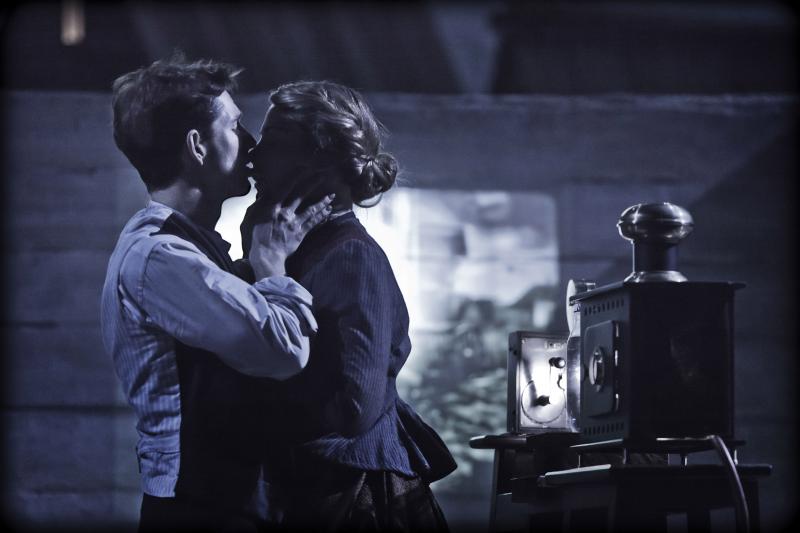 Dreams in the dark: Damien Molony and Lauren O'Neil
An interfering producer, an accountant who keeps trying to cut corners and costs, even a casting couch – making movies was never easy, according to this amiable new play by Nicholas Wright. Set in 1930s Hollywood and, in flashback, in turn-of-the-century Eastern Europe, it is a kind of celluloid fantasia that charts a path from the shtetl to the stars.
Films, for young Motl and the people of his village, are flickering, silvery dreams; a way of capturing a moment in time forever, of preserving memory, of drawing a connective thread between the present and the future. And they are emblematic of a new, shiny way of life, in America, where Jewish filmmakers, though they might exchange their names for more Gentile monikers, retain a sense of continuity of culture and tradition.
Motl Mendl (Damien Molony), a would-be journalist, is thrust into what becomes his vocation almost in spite of himself. On a visit home for a family funeral, he stumbles upon the rudimentary cinematograph that belonged to his late father. A visit from Jacob Bindel (Antony Sher, pictured below), a vigorous local timber merchant hoping for a family portrait, leads to Motl being pressed into service behind the camera – and when he begins to experiment with moving images instead of static snaps, Jacob becomes entranced.
Film is, he says, "a door to paradise" – partly because a difficult and itinerant younger life has left him with limited linguistic scope, while the language of imagery is universal. Soon Jacob is stumping up the cash for Motl to make his first features – while Motl's ambition is growing, along with his passion for Anna (Lauren O'Neil), the Bindels' pretty housemaid, who becomes his muse as well as an object of desire for both men.
Nicholas Hytner's production has considerable charm. Bob Crowley's design, with its wooden dwellings under expansive skies, conjures a strong sense of community that is neatly subverted in the later US scenes, when Maurice Montgomery (Paul Jesson), Motl's older, successful self, reveals it to be a Hollywood movie set; Jon Driscoll's black-and-white film sequences play across a backcloth, while Bruno Poet lights the whole with his customary elegant eloquence. But the play itself feels insubstantial, and lacking in pace. We watch as Motl – aided, sometimes to his chagrin, by the irrepressible Jacob and the thoughtful Anna – develops his technique: the skills of editing, the value of test screenings, how to create the kind of crowd-pleasing formulaic plots that remain Tinseltown studio staples to this day. But the progression of that process is predictable, and Wright's approach so leisurely that it incites impatience. The characterisation is broad, and the performances colourful – almost too much so, in the case of Sher's rambunctious, bear-like Jacob, though his grandstanding does enliven the action.
A surprise eleventh-hour reunion that brings Jesson's ageing Maurice into direct contact with his former life is touching; but on the whole the play is too gentle, too blandly reflective, to wield much impact. It has a sweet, ruminative appeal; but its muted pleasures feel decidedly ephemeral.
Films are flickering, silvery dreams; a way of capturing a moment in time forever, of preserving memory
rating
Share this article