Agatha Christie's Poirot: Hallowe'en Party, ITV1 |

reviews, news & interviews
Agatha Christie's Poirot: Hallowe'en Party, ITV1
Agatha Christie's Poirot: Hallowe'en Party, ITV1
David Suchet's Belgian detective is a mini-marvel of tics and eccentricities
Thursday, 28 October 2010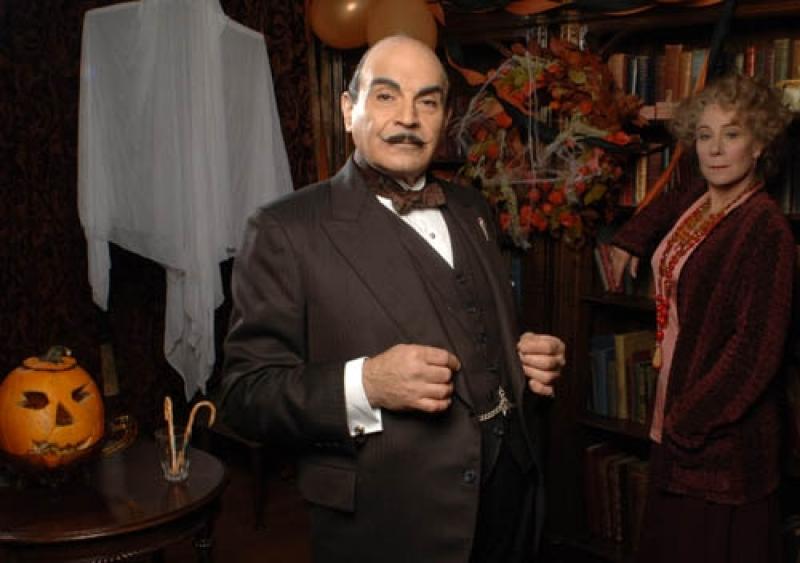 David Suchet returns as Poirot, with Zoë Wanamaker as crime writer Ariadne Oliver
David Suchet has been perfecting his impersonation of Hercule Poirot for more than 20 years, perhaps sympathising with Tina Turner's maxim, "The longer I do it, the better it gets." The way Suchet keeps finding new little tics and eccentricities to keep the character fresh is a substantial feat, since around him, the fixtures and fittings of Agatha Christie-land have proved impregnable to change.
Hallowe'en Party was published in 1969, but this comfortably upholstered TV treatment (with a screenplay by Mark Gatiss, currently working 25/8) had cloaked itself in the leafy security of the Home Counties in the 1930s. At Rowena Drake's spacious home in Woodleigh Common, amid acres of lovingly tended gardens, children had gathered for the eponymous party, dressing up like demons or pirates to play Arthur Ransome-ish games like apple-bobbing and Snapdragon. We overheard a radio announcer talking about a speech by President Roosevelt.
But as ever, Death was the uninvited guest. Within 10 minutes, the unfortunate young Joyce Reynolds had been murdered, cruelly drowned in the apple-bobbing bowl. Was it only coincidence that this occurred after she had regaled the household with her claim that she had witnessed a murder a few years earlier?
Assisting Poirot in his investigations of ways to keep staleness and repetition at bay was the crime novelist Ariadne Oliver, a guest in the Drake house at the time of the murder and soon on the blower to her dapper Belgian chum to invite him to bring over his sleuthing skills. "Hercule Poirot speaks," was the detective's rather prissy salutation on picking up the receiver. Ms Oliver was played with relish by Zoë Wanamaker, particularly so in the scenes where Christie was spoofing her detective-novelist self with jokes about Oliver's new book, I'll Huff and I'll Puff, starring her fictional Finnish 'tec Sven Hersson. "'Sven Hersson solves a murder in a hot air balloon over Abyssinia,'" recited Wanamaker drily. She even had the temerity to criticise Poirot's impractical patent leather shoes, prompting petulance in the obsessively groomed Belgian.
The diagrammatic structures of Christie's fiction mean that the characters can never develop, since all they're called upon to do is to present a façade like contestants on Call My Bluff. Eventually, Poirot gathers them in the library and turns all the cards face up. Nonetheless, the rules insist that each thesp must battle to be the most memorable. Timothy West brewed up a kind of weighty unctuousness as the Rev Cottrell, who had unwittingly set a train of slaughter careering through Woodleigh Common by bringing over the Russian au pair Olga Semenoff on an exchange scheme. Much of this carnage had been perpetrated by the landscape gardener Michael Garfield, played with louche cockiness (and a resemblance to the young Richard Branson) by Julian Rhind-Tutt (pictured below). Sophie Thompson played Mrs Reynolds, mother of the dead girl, then later of her murdered brother too, with bug-eyed Bible-bashing zeal. Fenella Woolgar was quite touching as the organist Miss Whittaker who pined for her dead lesbian lover, and Eric Sykes popped up as the appropriately Dickensian solicitor, Mr Fullerton.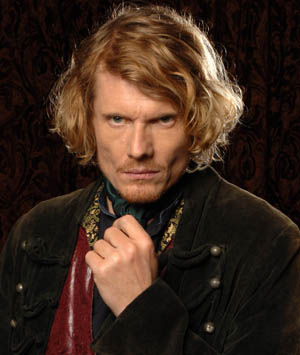 But of course Poirot had the best lines, all enunciated in that preposterous post-Clouseau diction that has come to define the role as much as the waxed moustache, the spats, the key chain and the Magritte-evoking physical profile. "Calmez-vous, madame," he soothed a fretful (yet murderous) Mrs Drake. "Tell all to Poirot." That's as in Poirrrre-eau! "In the ointment there is a fly," he purred to his captive audience as he unravelled the denouement.
In Poirot's purview, excessive self-regard is to be celebrated, and he describes himself like a tourist catching his first glimpse of the pyramids: "Hercule Poirot, he is the greatest detective in the world!" Nor is he at a loss for the sententious bon mot: "Old sins cast long shadows, madame," he cautioned, with an infinitesimal twitch of the moustache. It is, in its way, quite mad, but Suchet has created a little nugget of telly history.
Share this article