Jane McAdam Freud: Lucian Freud My Father, Freud Museum |

reviews, news & interviews
Jane McAdam Freud: Lucian Freud My Father, Freud Museum
Jane McAdam Freud: Lucian Freud My Father, Freud Museum
Daughter's portrayal of her father during his last few months produces powerful and tender work
Thursday, 26 January 2012
'EarthStone Triptych': life and death are portrayed as a process
In one small room of the Freud Museum, which was once the home of Sigmund in the last year of his life, are the works Jane McAdam Freud made in the final months of her father's life. Below an imposing photograph of Freud the elder, the progenitor of the clan, are two detailed, tender sketches of Lucian in profile. In the right sketch the dying artist stares resolutely ahead, his gaze, coupled with the firm set of his jaw, capturing a sense of absolute stillness.
The left sketch shows the artist now more gaunt, eyes closed, in death, we imagine, or possibly just asleep.
Perhaps much more than Freud, McAdam Freud is faithful to a meticulously observed likeness
The left image has been modelled in clay, and the 3ft tall sculpture, what McAdam Freud calls a relief in-the-round, sits on the floor, fixed on a low plinth. We encounter this profile as a reflection only, since it faces a wall against which a tall mirror leans. On the obverse side we encounter Freud's profile as he was alive. Here we find the same fiercely alert stare that we see in McAdam's drawing, as well as in innumerable photographs we know of the artist, and with it a strong sense of his keen intelligence. The artist's hawk-like nose, along with his gaunt features and skull, now suggest a bird-like fragility. The terracotta clay has crumbled a little. Clay particles and dust have gathered around the base, and so an awareness of mortal frailty finds material form.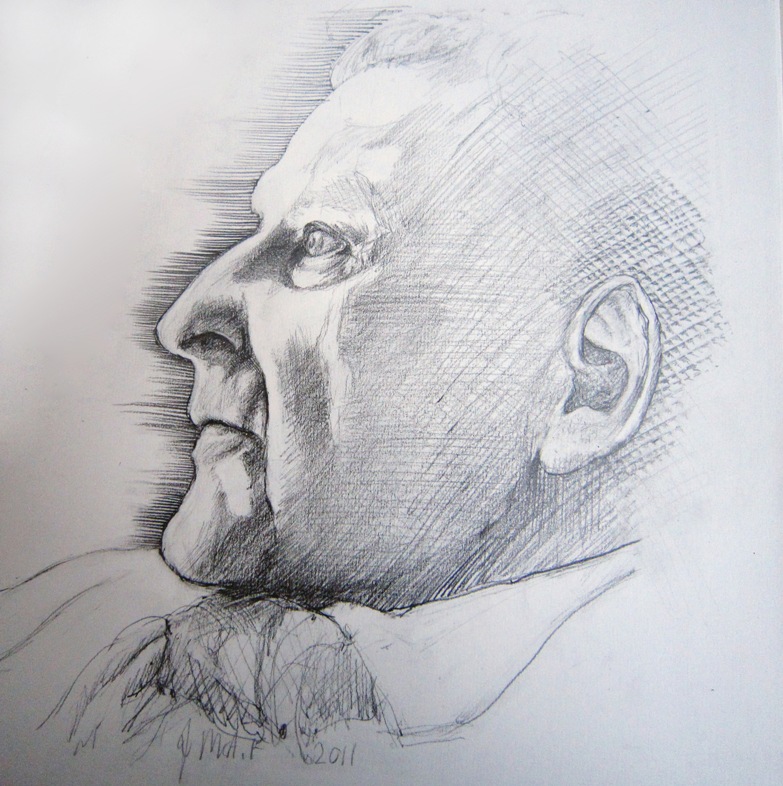 The work is called EarthStone Triptych, and, as the title suggests, the sculpture comes in three parts. If you look at the work head-on, centrally, you'll encounter a rather ferocious, attenuated full-face portrait. There is something rather shockingly reptilian in its aspect. And the work encapsulates more than an image of Freud in life and in death. Face-on we encounter a coiled, pent-up force, an energy, that might at any moment be unleashed. McAdam Freud describes it as cobra-like. It's an astonishingly tender and powerful work. Like Freud, or perhaps much more than Freud, McAdam Freud is faithful to a meticulously observed likeness.
On an opposite wall, a series of further drawings and photographs portray Freud clearly approaching the end. In two drawings his flesh is drawn taut, almost translucent, and his gaze, once so formidably piercing, is milkily glazed over, turning onto itself. One is reminded that Freud had also painted his mother on her death bed, paintings in which her hands were often limply raised about her head. We see this gesture, denoting its state of infantile helplessness, repeated here.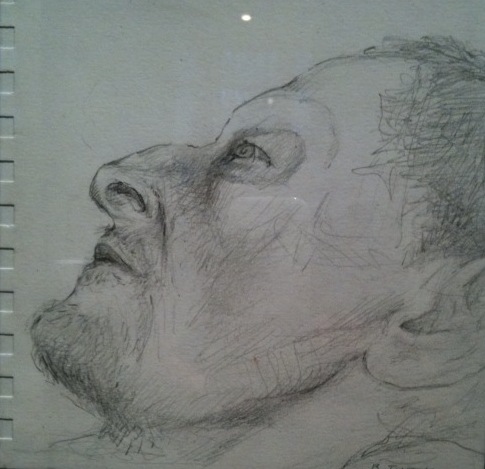 Freud's portraits of his dying mother have always appeared rather pitiless, whereas his daughter's portraits possess nothing of that cool-eyed, sometimes rather cruel detachment. These are empathetic works, lovingly rendered. At times, they seem even a touch too sentimental: in one, Freud's face appears in repose – in death or asleep – under a crescent moon on which a tiny figure sits. It looks like a scene of enchantment – a dream image, fitting in a museum dedicated to Freud's grandfather. McAdam Freud spent most of her childhood, and many years of adulthood, estranged from her father. These images have something of the powerful romance of a love largely absent but newly rekindled.
As if to preserve death's modesty, the photographs are obscured under translucent paper. The paper has been cut into patterns, or words – "See You" and "You See" on two separate works juxtaposing photo and sketch. Paper netting is drawn over an image of an emaciated, bearded Freud: the further we step back the clearer we see this unfamiliar face.
One striking work stands on its own. MeshHead also features a death portrait, of an anonymous figure, etched on a battered metal plate covered in a mesh, which gives the features 3D form. All muscle tension lost, the head appears simply as a heavy, crumpled mass of boneless, fleshy matter. Like EarthStone Triptych, life and death are portrayed as a process: life's coiled energy spent and gone, matter changing.
His daughter's portraits possess nothing of that cool-eyed, sometimes rather cruel detachment
Share this article