Laura Veirs, Queen Elizabeth Hall |

reviews, news & interviews
Laura Veirs, Queen Elizabeth Hall
Laura Veirs, Queen Elizabeth Hall
Folk rock's "other Laura" provides an evening of wholesome entertainment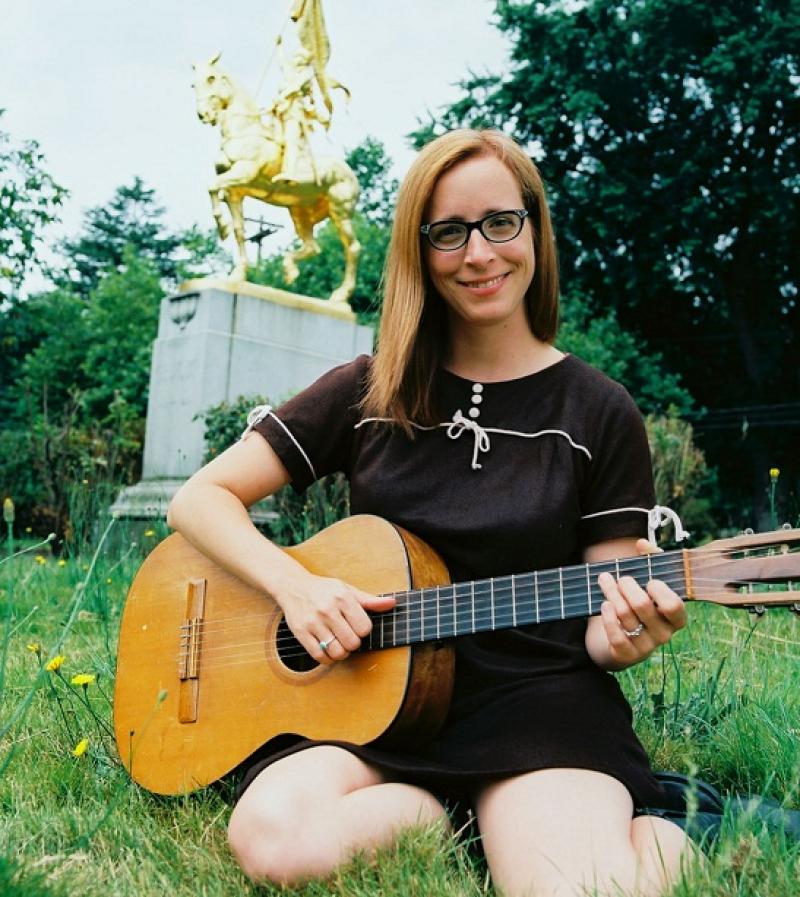 Laura Veirs: just a little hippy dippy
Laura Veirs may be increasingly seen by some as an "undiscovered gem", but to others she still comes over a bit too corn-fed to warm to. Of course, the much applauded Year of Meteors and July Flame contain some mighty pretty moments, but there's also a sense that they belong to a slightly smug American West-Coast eco-culture. But now, recent mother Veirs has released an album of "children's folk songs," gaining rave reviews. Would last night's show find her fuzzy and huggable, intimate, or just a little too worthy?
When Veirs walked on stage in a "vegan chic" vintage pea-green dress and horn-rimmed glasses one thing was immediately clear: her healthy Portland, Oregon sensibilities hadn't changed much. But then again, no-one was really expecting anything less than a thoroughly wholesome evening. What many were looking for, however, was a glimpse of that intense purity that Sufjan Stevens, apparently, finds in her music - praise indeed from a man who can sometimes make you feel that the world has stopped for a moment.
In contrast to the recent records her voice was no longer dreamy and nostalgic, but had a harsh, child-like quality
But as it turned out the evening was more rootsy than a night of sensitive folk-rock, and despite the setlist being drawn mainly from July Flame, it seemed as though the show wouldn't have been out of place at the Cambridge Folk Festival. Further confounding my expectations Veirs herself was more dippy-hippy than smug, and quite unaffected.
There were three on stage. To the left was the lanky figure of Tim Young on guitar and on the other side Alexandra Guy who moved between violin, viola and keyboard. Standing static, in the middle with her legs just a little too far apart was Veirs herself. In contrast to the recent records her voice was no longer dreamy and nostalgic, but had a harsh, child-like quality like Joanna Newsom around a camp fire. Some of that jagged edge might have come courtesy of the mixing desk, where the sound was pushed treble heavy for the first ten minutes, but mainly it was down to the stripped back arrangement, and Veirs naïve, live delivery.
"Wide-eyed Legless" benefited from being raw and punchy, but "Sun is King" and "When You Give Your Heart" felt a little like unfinished products.In fact it came as something of a relief when the charming "Carol Kaye" arrived with a more refined sound. However, the best sound of the first half came from the loopy clap-along reading of "Little Lap Dog Lullaby" where several hundred folk fans of a certain age put their hands together whilst the diminutive girl on stage sang "Come up horsey, hey hey." Although this and "The Fox" were the only representatives from the "children's album", Veirs says that later in this mini-tour she intends to perform kiddies' concerts complete with a bubble-machine "junior mosh-pit".
How much of Tumble Bee is really children's songs is moot. Mainly the tunes are like folk songs, doing what roots music often does, recalling times past that never really happened; in this case childhoods. At her best that is also what Veirs own material is also capable of and, encouragingly, that quality was present in new song, "Ten Bridges", which, when fully produced, will surely be lovely. The biggest treat of the evening, however, was where we saw another side of Veirs, on the stomping bluegrass "Jailhouse Fire" which contained stunning solo spots from Tim Young's guitar and Alex Guy's viola. It was a welcome change from a sound that, otherwise, was becoming over-familiar. And considering the success of prayer-like "Make Something Good", with Veirs on keyboards, it was something of a mystery why she didn't try to vary things more.
From her between songs banter it seems that Veirs is genuinely trying to work out her musical career, considering the "children's folk songs" to be a separate and ongoing side project, rather than simply a detour into a byway of traditional music. As such one imagines, she is using her touring time, not just as respite from domestic duties, but also to see what songs work with which audiences. Well, last night, the kook from Oregon may not have been as transporting as she can be on record, but she still frequently brought a slice of childhood summer to the QEH.
Watch a short film about the making of Tumble Bee

What many were looking for was a glimpse of that intense purity that Sufjan Stevens finds in her music
rating
Explore topics
Share this article