Migrations: Journeys into British Art, Tate Britain |

reviews, news & interviews
Migrations: Journeys into British Art, Tate Britain
Migrations: Journeys into British Art, Tate Britain
If it weren't for the immigrants, British art would be in a parlous state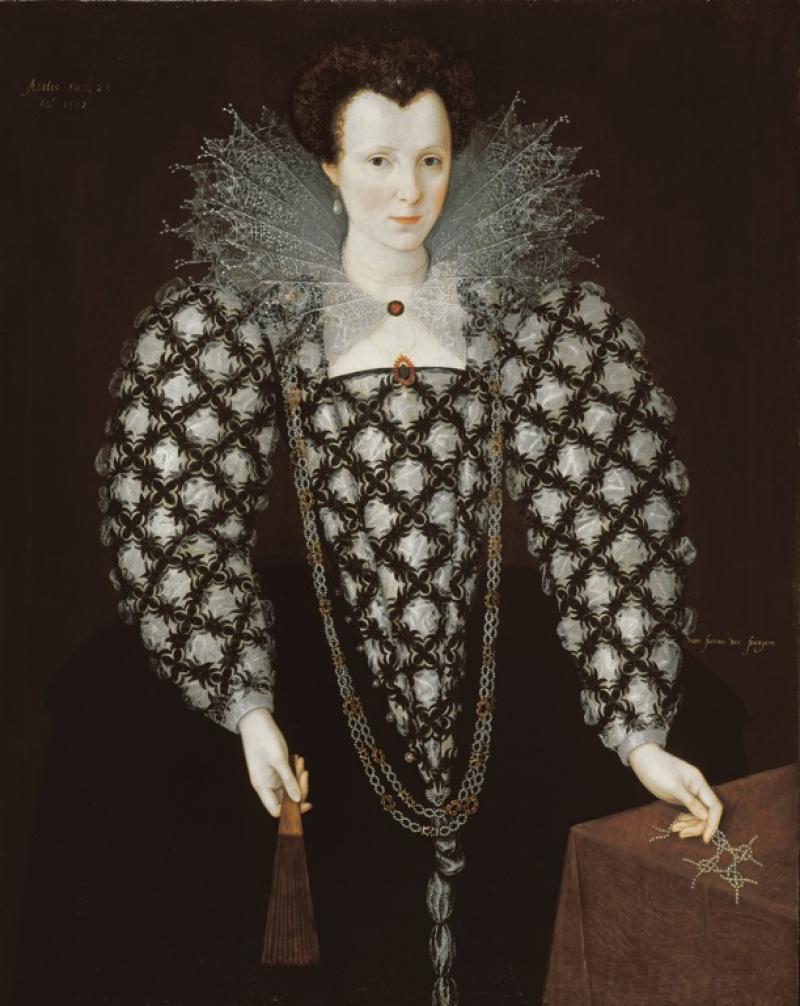 'Mary Rogers, Lady Harington' (1592) by Netherlandish artist Marcus Gheeraerts
Billed as an exploration of the contribution made by immigrants to British art, Migrations is ridiculously ambitious. Starting with the sixteenth century, it hops and skips through to the present day, inevitably leaving out a lot of people on the way. Hans Holbein who settled here in 1532 and, as the King's Painter, produced that splendidly iconic portrait of Henry VIII, which establishes the monarch's authority by making him look as square and solid as a rock, is not included.
Instead, the exhibition starts with a delightful portrait of Lady Harington (1592) by Marcus Gheeraerts, court painter to Elizabeth I. Dressed in a gorgeous gown with a long, triangular bodice and padded sleeves decorated with an elaborate pattern in black and white, she looks extremely diffident. Her heart-shaped face is framed by a lace collar as fine as gossamer but as explosive as fireworks.
Born in Bruges, Gheeraerts was brought to London as a boy and trained by his father, one of the many Protestants artists who came here from the Netherlands to escape persecution. Successive waves of immigrants from the Low Countries followed, by far the most flamboyant and successful being Anthony Van Dyck who arrived in 1632. He was soon given the title of Principle Painter to their Majesties – Charles I and Henrietta Maria – and received a knighthood and a pension of £200. Their Majesties were quite a challenge to paint, since Charles was less than five feet tall and his French wife somewhat plain. But Van Dyck soon earned the nickname of the great flatterer, because with his fluent brushwork, he was able to make the royal couple appear both elegant and sophisticated. In twin portraits of 1636, he makes Maria look quite saucy with her curls, pearls and décolleté satin gown, while Charles's upturned moustache and goatee beard give him an air of suave refinement (pictured above, in 1636, image courtesy of the Chequers Trust).
Jump to the eighteenth century and the era of the Grand Tour, when a sojourn in Rome was considered an essential part of an artist's education. Neo-classicism swept the western world; Angelica Kauffmann, who was born in Switzerland but spent time in Italy, came to London and, in 1775, painted a wealthy patron dressed like a Roman matron and seated beside a statue of Minerva, Goddess of wisdom. Kauffmann was a founding member of the Royal Academy, set up in 1768 to foster local talent. Of the 34 original members, 10 were immigrants, though!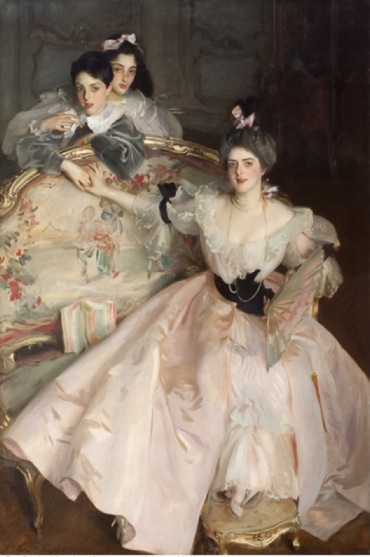 Fast forward to the latter part of the nineteenth century when Americans such as John Singer Sargent and James McNeill Whistler studied in Paris before nipping across the channel in search of wealthy patrons. Sargent brought the same kind of flair as Van Dyck to portraits of nouveau riche sitters including bankers and industrialists (pictured left, Mrs Carl Meyer and her Children, 1896, Tate Collection). There's no mention of French Impressionists, such as Monet and Pissarro, who came over to escape the Franco-Prussian war. Instead we have three paintings by James Tissot whose pictures of fashionably dressed and flirtatious young women met with considerable disapproval in English circles.
Another leap takes us into the twentieth century and a discussion of what it meant to be a Jewish artist. William Rothenstein concentrated on realist depictions of members of the faith such as Jews Mourning in a Synagogue (1906). Mark Gertler is similarly represented by portraits of his mother and a Jewish family; there's no mention of his foray into modernism with the influential Merry-Go-Round of 1916, which belongs to the Tate so could easily have been included. The modernist impulse is represented by a primivitist female figure by Jacob Epstein and David Bomberg's The Mud Bath (1914) (pictured below), which, with its abstracted, angular figures, is one of the most important British paintings of the century.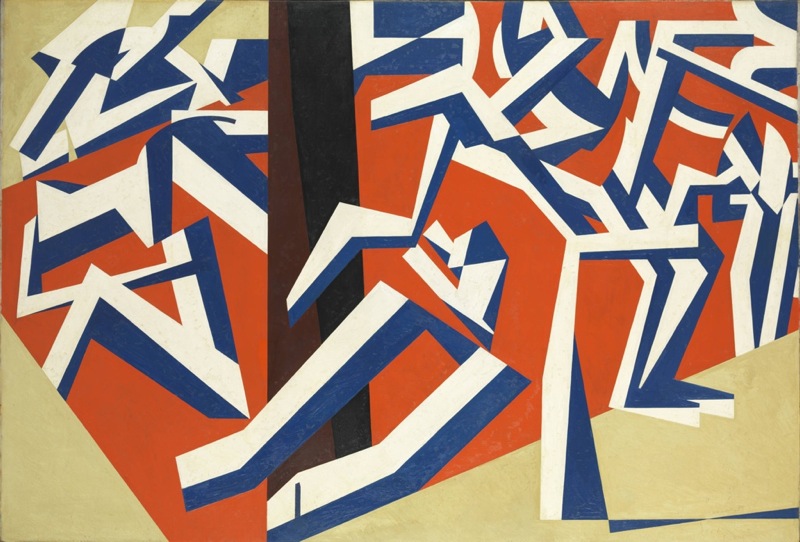 Lucian Freud and Frank Auerbach are nowhere to be seen. They came over from Berlin in the 1930s and stayed. Instead, artists fleeing Nazi oppression are represented largely by members of the Bauhaus, such as László Moholy-Nagy, who taught on the foundation course of the influential art school. This is one of the weakest sections of the show, because having met with either indifference or suspicion – many were sent to internment camps – most soon left for greener pastures. Moholy-Nagy, for instance, failed to find a backer to set up an art school and was turned down by the Royal College when he applied for a teaching post there. After a couple of frustrating years, he left for the States and opened the New Bauhaus in Chicago. Our loss!
Artists who came here from Commonwealth countries during the 1950s in the hope of joining the mainstream met with a similarly chilly welcome. European modernism was already felt by many to be enough of what they perceived to be its exotic offshoots.
When he arrived in the 1960s, David Medalla found enough kindred spirits to establish a group called the Exploding Galaxy. I remember visiting his commune in Whitfield Street, London where the floor was awash with bubbles pouring from one of his Bubble Machines. Born in the Philippines, Medalla was one of the first artists to travel the world making ephemeral pieces wherever he found himself.
In the 1980s, British-born black artists such as Keith Piper, Donald Rodney and Sonia Boyce began to find their voices and expose the racism inherent in mainstream culture (pictured left, Between the Two My Heart is Balanced, 1991, by Lubaina Himid). In Handsworth Songs (1986), the Black Audio Film Collective juxtaposed original footage with media coverage of the riots in London, Liverpool and Birmingham to explore the causes of the unrest and the bias of the news gatherers.
Bizarrely, Mona Hatoum is included in this section. Having come to study at the Slade, she was prevented from returning home by the civil war in Lebanon. Her video Measures of Distance (1988) is a poetic reverie on the pain of separation. We hear letters from her mother read over images of her in the shower veiled by lines of Arabic handwriting whose spiky forms resemble barbed wire.
So what of artists like Chris Ofili, Paula Rego, Michael Raedecker, Yinka Shonibare, Grace Ndiritu, Anish Kapoor, Runa Islam, Raqib Shaw or Wolfgang Tillmans? It seems there's no place for them in this somewhat ramshackle narrative that feels as if it's been put together by rummaging through the store cupboard – not the best way to write history.
The last section is of films and videos, including work by Francis Alÿs who has passed through but, as far as I know, never lived in Britain and Steve McQueen who was born here but moved away – so neither fits the bill. But there's an evocative meditation on migration in the form of a 14-screen video installation by Zineb Sedira, who was born in Paris of Algerian parents and came here as a child (pictured above, Floating Coffins (2009)). Filmed in Mauritania, it shows a coastline dotted with ruined buildings and an expanse of sea littered with the remains of ships left to rot in a vast graveyard. This dismal spot is the jumping off point for West Africans trying to reach the Canary Islands in the hope of a better life in Europe, just as Sedira's parents fled to France to escape the war in Algeria.
I wish the selection had been more consistent but, for all its idiosyncracies, this thought-provoking exhibition really does convince you that, without the contribution of countless immigrants, British art would likely be in a sorry state – a timely message in these troubled times.
Her heart-shaped face is framed by a lace collar as fine as gossamer but as explosive as fireworks
Explore topics
Share this article