Hansel & Gretel, Kneehigh Theatre, Queen Elizabeth Hall |

reviews, news & interviews
Hansel & Gretel, Kneehigh Theatre, Queen Elizabeth Hall
Hansel & Gretel, Kneehigh Theatre, Queen Elizabeth Hall
Cornish children's theatre with an ingenious, folksy take on Brothers Grimm
Thursday, 16 December 2010
Feed the kids, fatten them up: Carl Grose's Witch, Joey Holden's Gretel and Chris Price's Hansel
London is a magical place at this time of year - so many streets with their individual lighting schemes and colours, and nowhere I think is lovelier than the new-look Southbank Centre, where from the side of the Festival Hall swings a spacious canopy of silver-blue trickles reflected in the glass of the new cafés alongside, a captivating, super-chic Thames-side installation.
Into this urban grotto last night Kneehigh Theatre's bouncy, folksy
Hansel and Gretel
came as welcome as a homemade mince pie.
This is another ration of the ever-popular Brothers Grimm this Christmas, and very superior handmade children's theatre, cunningly crafted from bits of things you imagine you might find lying around in the countryside: twigs, ladders, logs, rusty axes and digging forks, holey buckets and lots of knotted lengths of rope. Fashioned as an eyecatchingly skeletal tree house, with an egg-shaped decking floor, the stage is wonderfully suited to the stripped-out, black-box Queen Elizabeth Hall, lending itself to all sorts of imagination.
Imagination comes into the space between elements in theatre, like the space between notes in music, and Kneehigh has been a stir-up of many skills and crafts since it began in the wilds of Cornwall 30 years ago. Hansel and Gretel, a genially entertaining pastiche of storybook Bavarian folk clothes and music (jolly accordionists and banjos), feels almost like something knocked up at an outdoors folk festival, which I mean entirely as a compliment in the centre of rowdy, packed London. Woodsmoke floats, the moon shines, an owl flies in the night sky, and the entire rickety apparatus looks ready to fall. The family all wear short trousers with braces, long socks and big boots, and share a dorky stupidity that ensures plenty of pratfalls of a comfortable Olde English type.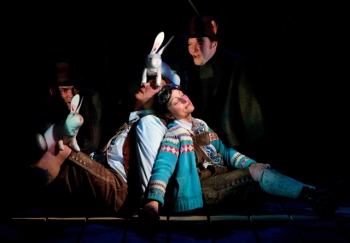 Actually this is an ingenious committee job (with the Bristol Old Vic, the source of many a clever children's show). The six performers do some doubling up: Hansel and Gretel's parents become, not surprisingly, the Witch and the Witch's assistant, the "Canadian Peekoboo Owl-Hawk", which caws, wears black and, to be honest, is probably only a crow pretending to more sophisticated origins. But behind this sharp little cast is a large creative and production team deftly whipping sound-surround forest noises with funny, subtle music-making by onstage musicians. There is also some delightful puppetry which adds to the characters two talkative rabbits, two hens, a ferret, a mouse and a worm, who range from the wittily suggestive (a flick of fluff for the ferret) to the fully furnished hens (Maureen and Diane, comically voiced and animated by the cast in Tyrol hats and capes, emitting dramatic cries of labour as they try to lay an egg) and the almost gratuitous rabbits (pictured above right), discussing the definition of Proliferation, before demonstrating it.
This eclectic crew, and the way the set is filled with incident by lighting and sound, bring the outdoors inside, while the paraphernalia of woodsmanship is a treasure trove for the nutty mind of Gretel, who can't be parted from her welder's goggles and is a dab hand at extraordinarily space-consuming contraptions to achieve simple aims. Her mousetrap is the kind of thing you immediately want to try to recreate at home with your kids from the contents of your kitchen drawers. It only needs the mouse to be as dumb as the human beings.
The original story has, like most fairy tales before the 20th century eviscerated them, a black grip on children's fears, principally that of Mother abandoning them. Mike Shepherd and Emma Rice (Kneehigh's co-directors) downplay the Mother's nastiness in tricking her children to get lost, and makes it more a case of apologetic social necessity - if there's only one egg regularly being laid in the house, four mouths are just too many to feed, Mr Cameron; much better the children learn to work for themselves. Regrettably this blunts the gruesome, un-PC and far truer edge possible when Mother is a Stepmother ruthlessly emptying her nest for her own progeny, and therefore also the cannibalistic Witch of children's imaginations. Here it's the Benny Hill-ish Father who plays the Witch, a chance for the splendid Carl Grose to show his comic versatility and a truly frightful ladies' slip with big waggling breasts that had a predominantly teenage audience cackling with laughter.
No one's going to call the acting subtle - it's close to pantomime - but the stage tricks are delightful and the overall effect merry and bright. I might prefer my gingerbread spicier with less sugar (we get an annoying kick up the righteousness for all those children eaten by the Witch before), but I was surrounded by mid- and late-teens standing to cheer as hard at the end as the parents with smaller children.
This feels almost like something knocked up at an outdoors folk festival. Woodsmoke floats, the moon shines, an owl flies
Explore topics
Share this article