True Grit
True Grit
The Coens weave their fraternal magic around this Old West fable
Tuesday, 08 February 2011
Jeff Bridges saddles up as Rooster Cogburn, with Hailee Steinfeld as the redoubtable Mattie Ross
Henry Hathaway's 1969 version of True Grit famously won John Wayne his solitary Oscar for Best Actor.
Jeff Bridges, remaking the role of battered, boozing, one-eyed lawman Rooster Cogburn in the
Coen brothers
' new incarnation, is nominated for the second year running after last year's triumph with
Crazy Heart
. Look out
Colin Firth
, because Bridges is in such barnstorming form that we could conceivably see him roaring off into the Hollywood night clutching another statuette, swigging moonshine and firing his six-gun in the air.
But despite its services to the Duke, Hathaway's film also raised hackles for the way it tampered with the Charles Portis novel from which it derived. It downgraded Portis's 14-year-old heroine, Mattie Ross, to a less remarkable twentysomething, and filleted the resounding cadences of Portis's dialogue.
The Coens have swept aside such egregiousness. They've pulled off a major coup by casting 13-year-old Hailee Steinfeld as Ms Ross, whose wise-beyond-her-years tenacity and shrewdness give the narrative its originality and bite. They've also kept faith with Portis's written style, redolent of quill pens and tallow candles. "He is not my friend," Mattie declares of Cogburn. "He has abandoned me to a congress of louts." For his part, Cogburn wails, "I am a foolish old man who has been dragged into a wild goose chase by a harpy in trousers and a nincompoop."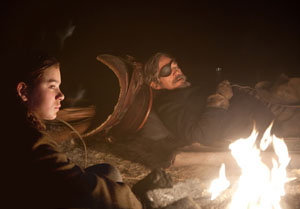 The "wild goose chase" is set in motion when Mattie rides into the unsalubrious town of Fort Smith, Arkansas. She's looking for a lawman who will help her to track down Tom Chaney, the man who murdered her father and who is now hiding out in the wild Choctaw country. Assured by the sheriff that Cogburn is "pitiless" and "double tough", albeit frequently drunk, she hires him for 100 dollars. In order to afford him, Mattie has to engage in a robust bout of horse-trading with a local merchant (Dakin Matthews), demanding repayment for ponies he sold to her father which, perforce, he can no longer use. By sheer persistence and wildly implausible threats of legal action, she prevails.
Cogburn's "nincompoop" is the Texas Ranger LaBoeuf (Matt Damon, pictured below), who wants to bring Chaney in for the murder of a Texan politician, and proposes to join the hunt. Mattie protests indignantly that she has paid for justice and won't tolerate LaBoeuf spiriting her quarry back to Texas, but Cogburn and the Ranger sneak off without her. Mattie won't be denied, and reels in the lawmen with some resolute horsewomanship (in a curious continuity aberration, she catches them by swimming her horse across a river, from which she emerges bone dry).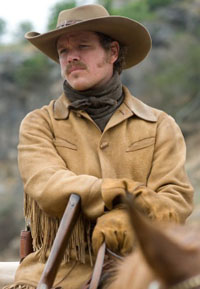 The quest is of course both physical and metaphorical. They traverse bleak prairie and snow-blind forests, experiencing surreal encounters en route. Mattie climbs a vertiginously high tree to cut down a hanged man, who turns out not to be Chaney, but the corpse is snapped up as a saleable commodity by a passing traveller, bizarrely encased in a complete grizzly bear skin. An encounter with a couple of desperadoes in a weather-beaten shack ends in a gruesome flurry of violence, involving severed fingers and brains splattered across the wall. Chief bandit "Lucky" Ned Pepper (Barry Pepper) is a grotesque frontier gargoyle, spitting his words through black and broken teeth. It's a barbarous land where humanity is barely clinging on in the teeth of the elements. The Baroque, Biblical language represents a slender bulwark against the Void, and Carter Burwell's soundtrack supplies a rickety piano playing hymns and old-time music.
All the while, the relationships are subtly evolving. At first LaBoeuf patronises Mattie and tries to spank her for her impudence, but gradually comes to respect her unquenchable spirit. It's a subtle performance by Damon, as LaBoeuf's pompous officiousness is steadily deflated by the rigours of the journey - not least Cogburn's sarcastic barbs.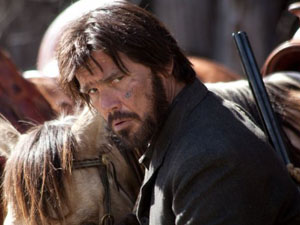 Cogburn, perceiving that Mattie can see through his trigger-happy armour of bluff and bluster, in the end becomes almost grandfatherly towards the girl. He's not too far gone in drink to realise that she has, belatedly, given him a cause worth fighting for. As for the villain Chaney (Josh Brolin, pictured right), his contemptible worthlessness is drolly signalled by the almost McGuffin-like brevity of the role.
The Coens leave us with Mattie, 25 years later, looking back on it all like a hazy myth of the Old West. Despite the fact that the remarkable Hailee Steinfeld outrageously gets only fifth billing, it's her story, and she gets to tell it.
Watch the trailer for True Grit