Never Let Me Go |

reviews, news & interviews
Never Let Me Go
Never Let Me Go
Nostalgia and sci-fi collide in this faithful adaptation of Ishiguro's novel
Thursday, 10 February 2011
Lambs to the slaughter: There's no escaping fate in Ishiguro's golden dystopia
"The problem is that you've been told and not told." While Ishiguro and his discerning fans would never indulge in anything so crass as hype, there have been whisperings in North London wine bars, over the coffee-morning brews of Home Counties ladies, on terraces of rented villas on the Amalfi Coast. Yes, Never Let Me Go is the one about human cloning, whose characters are living organ farms, existing solely for harvest.
It is neither a twist nor a secret (and to treat it as such is to misunderstand Ishiguro's withholding narrative), so when director Mark Romanek lays it out on the (operating) table in the first five minutes it bodes well.
The dystopian world of Never Let Me Go gets under the skin in a way that few sci-fi scenarios can achieve, largely due to its familiarity. This is a tale told in retrospect, a nostalgic landscape – outwardly England of the 1970s, but whose tweedy, thick-jumpered fashions could place it anywhere from the 1930s onwards. Visual cues prompt the hazy summers and boarding-school upbringings of Merchant Ivory films, Evelyn Waugh and Enid Blyton. This is a sharp-toothed wolf-fantasy dressed in the vistas and attitudes of period drama.
Narrated by the 31-year-old Kathy H (Carey Mulligan, pictured below with Andrew Garfield), Never Let Me Go looks back over her childhood at the eerily idyllic Hailsham school. We follow her friendships with Ruth (Keira Knighley) and Tommy (Andrew Garfield), and begin the three-way love story of these "all but human" creatures that will take them from innocent beginnings to a willing and early death.
Adam Kimmel's cinematography gilds the children's life at Hailsham (filmed at Ham House in Richmond) with a glow that gives us hope, convinces us that these children are special, can claim the rumoured reprise from their fate. Landscapes are tinted with the same euphemistic shades as the language, visually speaking of "donations" and "completions" rather than butchery and death. As we move through the film's three episodes however, colours darken or drain away altogether, outlines solidify and the sterile clarity of the truth emerges.
Stripping Ishiguro's emaciated prose down still further, Alex Garland's screenplay is artfully spare, relying on Romanek's eloquent visuals. Lacking the guiding hand of narrative however, this inscrutable approach does occasionally expose Ishiguro's weaker moments. The trip taken by Tommy, Ruth and Kathy to see the boat washed up on a rural beach is a central episode of both book and film: a striking visual and emotional tableau. The trouble is that given so little, guessing so much, we never really get inside the image. The metaphor, like the boat itself, becomes an empty shell washed up on the shores of the story, waiting artistically to be invested with meaning.
Playing ugly brings out the best in Knightley, whose Ruth is pitifully transparent in her manipulations, grasping intimacy with feral urgency. Her dulled gaze and bruised face find steely contrast in Carey Mulligan's Kathy. Interior as ever, passive to a fault, her countenance is the fixed point of the film, rejecting pity or identification from the viewer. Such hermetically sealed emotion finds welcome release in Garfield. There is something Rabelaisian about Tommy, the boy with the "big heart and terrible rages", who is too porous, too penetrable, too frayed at the edges for this clinical world of acceptance.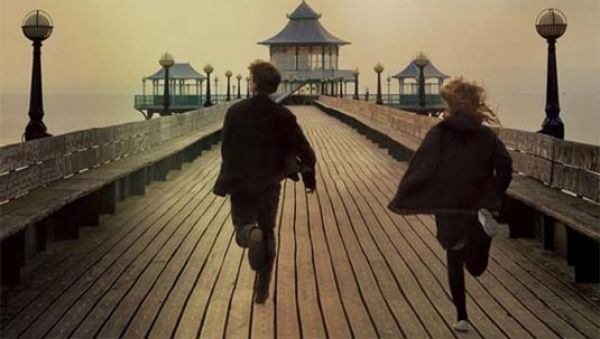 It is this acceptance, this passivity that jars no less on film than on paper. Surely the point of the slow reveal, the steady drip of hints, is to convince us along with the children of the unalterable, inevitable rightness of things. The trouble is that it just doesn't. Ishiguro claims that we all live lives of similarly pre-ordained obedience, but what his detached gaze doesn't allow for is denial, great surges of which course against the narrative current of the film. While The Remains of the Day allied wilful inaction to tragic impulse, Never Let Me Go refuses to elevate its characters, leaving them stranded in a dramatic no-place.
Rachel Portman's score – all wistful, unresolved string meanderings and tinkly atmospherics – says it all. Rather than striving toward epic, Never Let Me Go plays it safe, content to philosophise and report rather than engage. Romanek's film is easy to admire but hard to love; for every sophisticated emotional tug that pulls you in comes an equal and opposite pushing away. Where in this universe of balance and contraries, of order and predestination, where is the messy urgency of human rage? Ishiguro's characters are truly "all but human", and that is a dramatic problem, not a social one.
Watch the trailer for Never Let Me Go
What Ishiguro's detached gaze doesn't allow for is denial, great surges of which course against the current of the film
Share this article