Fidelio, Royal Opera House |

reviews, news & interviews
Fidelio, Royal Opera House
Fidelio, Royal Opera House
Mostly dependable singing, but where's the truth in this tepid hymn to freedom?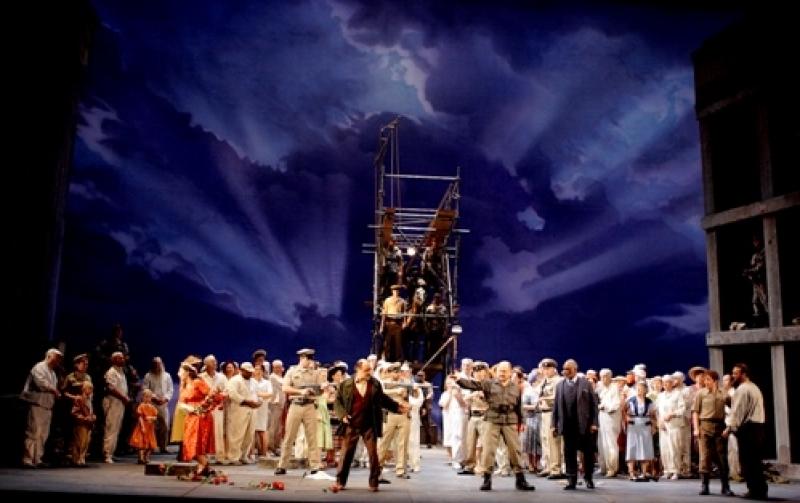 The ensemble goes through the motions but there's no sense of truth in this 'Fidelio''s final hymn to liberation
I have no problem at all with updating Beethoven's early-19th-century paean to love and liberty: there are any number of tyrants and prisoners of conscience to whom its universal message could apply.
But in this revival staged by Daniel Dooner, Flimm's prison - where and when, I'm not quite sure, though the ladies' print dresses and hairdos suggest the 1950s - has no meaningful relationships, moves and gestures to fill it which couldn't be set in any period, the odd pointed revolver excepted.
It also means that Nina Stemme as Leonore, in male disguise to discover the whereabouts of her political-prisoner spouse, has to start out wearing an unbecoming peaked cap, and as I've belatedly discovered from catching up with The West Wing and the ineffable character of White House Press Secretary CJ Cregg, no handsome woman - no man, for that matter - looks good in a peaked cap. Well, things were just as bad for Charlotte Margiono in Deborah Warner's Glyndebourne production, looking for all the world like EastEnders' Phil Mitchell in a woolly hat. But Warner made you care about the characters from the start, even if you still couldn't quite believe that gaoler's daughter Marzelline would really fall for a plump eunuch.
Here, though, I found all the usual frustrations with Beethoven's lighter numbers - no Mozart he - compounded by sheer agonising impatience with characters who do or express little. Elizabeth Watts's Marzelline soars, though she's less clear in mid-range, and Stemme eventually pulls her sizeable vibrato into focus; but all the rifle-polishing, rose-shredding and chair-kicking are done as if in a blocking textbook, without motivation or conviction. There's further inequality when Kurt Rydl's Rocco (pictured above with Stemme and Watts) - rather more veteran spread tones here, a solid performance as always - seems as if he could crush his tyrannical master Don Pizarro (a characterisation of little fire or conviction from an ambling, pinstripe-suited John Wegner) with a single blast of his resonant bass. Co-ordination with Mark Elder's rhythmically tight orchestra isn't strong, either - maybe something to do with the last-minute replacing of ailing Kirill Petrenko, but Elder knows the score - and further frays the edges of an otherwise strong-form Royal Opera Chorus (not a great start, dramatically, for them, either - they're already out in the light when the music suggests them moving from the shadows).
Near-pitch-blackness, on the other hand, is the one moment of grace for Robert Israel's dwarfing designs: when Florestan sings "God, what darkness here" at the beginning of Act II, you believe him. And especially so when Elder sets up the sombre hues with such concentration and Wottrich (pictured below right with Stemme and Wegner) opens out so thrillingly on his first note. His phrasing is more distinctive and even than Stemme's in her big set piece "Abscheulicher", where you feel the dark-hued soprano is getting rather heavy for manouevre around the cantilena; but she does pull out several full, if not totally centred, top notes both here and in the final ensemble. I felt no frisson, all the same, when she pulls her gun on Pizarro with the immortal cry, "First kill his wife". Much more striking was the security of soprano and tenor in their insane duet.
The final scene starts well with another vintage bass, Willard White, in strikingly good voice and dignified of presence as ever; vocally, the shared moment of happiness makes a decent noise. But who can believe in the stagey antics of the crowd, and least of all their stilted jigging around at the end while "guards" perform a statue-desecration and Pizarro-garrotting of shocking ineptitude? I was reminded of the guillotine shenanigans in the Guildhall students' production of Poulenc's Dialogues des Carmélites the other week. But this is the Royal Opera House, and its usual standards don't prepare one for such gaucheries. Clearly there have been worse Fidelios recently. But still, an opera which really needs all the force of the singers' conviction, not to mention much tighter work with the conductor, comes across as static and routine.
Near-pitch-blackness is the one moment of grace for Robert Israel's dwarfing designs; when Florestan sings "God, what darkness here", you believe him
Explore topics
Share this article