Cinderella, Birmingham Royal Ballet, London Coliseum |

reviews, news & interviews
Cinderella, Birmingham Royal Ballet, London Coliseum
Cinderella, Birmingham Royal Ballet, London Coliseum
Celestial designs and tight storytelling make a fairytale night
Birmingham is the fount of beauty and magic when it comes to ballet design. Covent Garden - forget it, too much money, too little taste. What illustrates that truism is the comparison that can be made between the Royal Ballet's cartoony Cinderella production returning to WC2 next week and the magical visual experience that is John Macfarlane's vision for Birmingham Royal Ballet's new Cinderella, having its London premiere at the Coliseum this week.
Bintley, BRB's director, is a canny man - he wanted to replace Macfarlane's stunning Nutcracker for the Birmingham Christmas entertainment. Shock, horror, demos in the streets. But in substituting it with a new Cinderella, he got Macfarlane to design again - shock, horror replaced duly with grateful awe and pleasure.
My pleasure and awe in these starry, ethereal designs for the magical world, the streaked and scarred scullery of Cinderella's real world, are unconfined. They were on TV the other week (and you can buy the DVD already), but it's only live in the theatre that you can feel the cool air, smell the fear, taste the joy that he has painted into this lovely fairytale. For the poignant overture, so full of Cinderella's tears, Macfarlane designs an unexpected little tableau - a memory of a funeral in a louring sky, a young girl and her father grieving at a tomb, a woman coming over to console the man, while two other girls lurk in the shadows. It makes the switch to the bleak present more vital and touching.
The now fatherless, impoverished family live in a startlingly scuffed and empty scullery with mops, buckets and a huge fireplace that handily disgorges magical fires, mists, fairies and other useful things you keep up chimneys. Elisha Willis does this downtrodden, barefoot Cinderella with a piercing innocence in her face and sweet acting, though in the classical dancing her stylistic naivety falls well below par for a leading ballerina.
The major problem in Cinderella is how to do the ugly sisters - should they be men or women? How cruel should they be to the little scullery maid? How funny can cruelty be? Bintley has solved it smartly, making them the half-feral, parentally uncontrolled kind of girls that BBC Three gleefully documents. One is thin and mean, the other is fat and greedyguts, a contrast milked for all it's worth by Gaylene Cummerfield with her stabbing fingers, and grinning, eternally hungry Carol-Ann Millar looking like Catherine Tate's "I'm not bovvered" in a fat-suit. They worry and tear at Cinderella in this bleak house, watched over with an extraordinarily toxic expression by Marion Tait as their mother.
If this sounds alarming, it's lightly handled, like pepper on strawberries to intensify the sweetness. I don't find the choreography much more than accomplished in dealing out the narrative, but Bintley hands over smoothly to magicman Macfarlane to make the visions appear.
And these are celestial. Meteors and comets flare in the indigo dark; the way the bleak walls and the monumental marble of the ballroom fold away as if under pressure from the night sky to let the stars in triggers a sense of supernatural forces being in play. Cinderella arrives at the ball like a new evening star, a glow around her, the walls imperceptibly melting into the night air, the ballroom into a nocturnal dream. The costumes of all the characters have slightly blurry edges, wild big hair as if windswept, streaks and shadows, sequins glistening like raindrops. Nothing is quite definite, all is slightly otherworldly. (Click on a photo to enter the slide view)
[bg|/DANCE/ismene_brown/BRB/Cinderella_cBillCooper]
While the clock striking midnight is marvellously achieved (see main picture), the apex of design is surely the miraculous scene for the Fairy Godmother and the corps of Stars - her sumptuously panniered dress appears to be made of clouds, while the Stars in their glittering tutus must have stepped straight out of the Milky Way glimmering behind them. At the climax of that lush, sexy waltz of Prokofiev's, played so richly by the Royal Ballet Sinfonia under the fervent Koen Kessels, they magick up for Cinderella a spun-glass coach that seems to assemble itself from air and raindrops.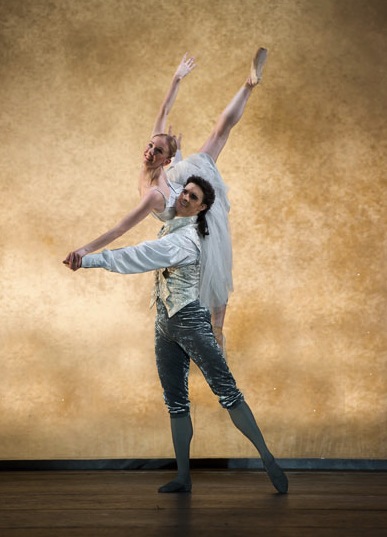 I doubt any choreographer alive could find a matching filigree vision to his steps. Bintley has produced nothing less than decent work - whether its lack of finessing and eloquence is down to him not providing signals and details or to his workaday dancers is something I've often puzzled about with Bintley's classical creations in BRB. The four Seasons solos need different flavours for those spicy bits of music, but they were also underdanced by all except sprightly Momoko Hirata (Spring).
Yet he has nurtured Cinderella's ballroom duet with the Prince (a handsome, serious Ian Mackay) with a true and musical sense of heightening excitement - speed, complicated holds, exultant lifts - and then a gradual, nice deceleration into serene certainty between the two, with little touches of Ashton homage here and there.
And he has the instinctive rightness to finish the story with not a Prince and Princess in regal majesty, but two young people in love, alone and happy, with all the paraphernalia and nocturnal fairies who got them there disappearing in the morning as the sun rises.