The Kennedys, History |

reviews, news & interviews
The Kennedys, History
The Kennedys, History
Dallasty comes to Camelot in 'controversial' political supersoap
It's unlikely that this soap-esque miniseries about America's most notorious political clan will stir up the kind of furore in Britain that has engulfed it in the States. Over there, merely to mention the Kennedys seems to conjure up visions of a lost Eden (well, Camelot) in which America stood square-jawed against the Russians, won the race to the moon and policed the planet with its colossal Arsenal of Democracy. Add in the horrific assassinations of JFK and his brother Bobby and the obliteration of all that glamour and promise, and it's a great shining myth that even Hollywood has never adequately captured.
It hasn't captured it here either, but the early signs are that The Kennedys is a hugely watchable political Dallasty, even if you could spend a lively evening at the absinthe, quibbling over casting or what's been left out. Certainly it doesn't look like the right-wing hatchet job it's been accused of being, and it's hard to understand how it has managed to polarise American reviewers like a boxing match between Obama and Sarah Palin ("a ham-fisted mess" according to The Hollywood Reporter, but "one of the most riveting, accurate historical dramas ever on TV" in the opinion of the New York Post).
Plenty of brickbats have been aimed at Katie Holmes for her portrayal of Jackie Kennedy, whom she manages to resemble fairly closely. But I thought she made a decent stab at portraying the former Jacqueline Bouvier's naive infatuation with the young Senator John Kennedy (usually known as Jack), angrily dismissing her mother's warnings that he'd merely treat her as a plaything and then throw her aside. As it turned out, mother knew best. We saw Jackie first dutifully playing the decorative political wife for the cameras, then watched it all turn sour as she threatened to divorce her philandering husband. True to form, Jack's bullying father Joe tried to bribe her out of doing anything so rash, or, more to the point, so politically damaging (the Kennedys celebrate JFK's election, pictured below).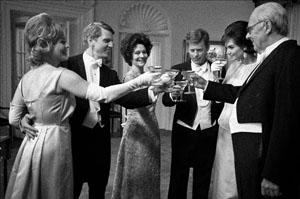 It was Tom Wilkinson's performance as the overbearing patriarch Joe that glued the piece together. The fact that he hasn't been publicly dissected as exhaustively as his offspring gave the writers more of a clean slate, and Wilkinson was unpleasantly convincing in depicting Joe's brutal determination to realise his political ambitions through his sons. His casual adultery in front of his devoutly Catholic wife Rose spoke eloquently of the void between outward appearances and the character within.
While Joe's hardball vote-buying tactics and ruthless grasping for power may feel shockingly crude in our current era of smooth political triangulation, I reckon the programme doesn't tell half of what he really got up to. For instance, it doesn't claim that he made his fortune by bootlegging liquor during Prohibition, like a real-life version of Boardwalk Empire's Nucky Thompson, but you'll find plenty of people who believe he did (Greg Kinnear acts presidential, pictured below).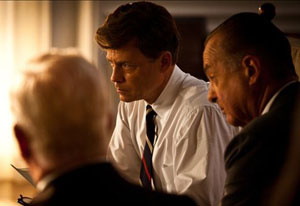 But it does accurately depict old Joe's behaviour when he was President Roosevelt's Ambassador to Britain in the late 1930s, when he endorsed Neville Chamberlain's appeasement of Hitler and urged America not to join in the war to save Europe. Roosevelt sacked him and recalled him to the States.
We saw the thwarted Kennedy père focus on his next project, which was to install his son Joe Junior in the White House. Depicted here as confident, ambitious and a chip off the paternal block, Joe Jr was killed while piloting a bomber over France in 1944. JFK was the next cab on the rank, and though admitting that all he really wanted to do was "teach history and chase girls", he rose successfully up the political ladder with plenty of help from dad's money and shady connections (Jackie, Jack and daughter Caroline, pictured below).
Greg Kinnear's Jack conveyed charm, intelligence and a kind of louche indifference to anyone else's feelings - a self-absorbed playboy surfing a giant wave of Kennedy money and influence. More sympathetic was Barry Pepper's Bobby Kennedy, bravely overcoming a weird set of prosthetic teeth which weren't much of an improvement on the busted, blackened fangs he wore in the recent True Grit movie. Seemingly a devoted family man who worked hard on the family's political project while harbouring no ambitions beyond getting back to practising law, maybe Bobby was the Kennedy who should have gone all the way to the big chair in the Oval Office.
Overleaf: watch the trailer for The Kennedys