La Bohème, Royal Opera |

reviews, news & interviews
La Bohème, Royal Opera
La Bohème, Royal Opera
A balance of bravura and high emotion from a starry cast in Puccini's classic
Left to right: Nuccia Focile (Musetta), Joseph Calleja (Rodolfo) and Carmen Giannattasio (Mimi) in the "supremely affecting" final scene
There's a glamorous grubbiness to John Copley's returning La Bohème that makes Puccini's bawdy and romantic romp through the under-lit alleys of Paris's Latin Quarter especially enjoyable. Beyond the beautifully mournful portrayal of the tortured artist and his suffocating love, there's something devilishly attractive about it all.
If anything, Copley's direction (he is tonight celebrating 50 years since first directing at the ROH) could do with more grime under its fingernails, or a harsher and less pretty winter to really make his characters suffer in the opening acts. The attic space is a perfect, dejected brown all over, but oh, doesn't it all look so quixotic and chic? Wouldn't it be better to be repelled by it?
It does feel as if that bawdiness, the cheek and mirth that Rodolfo, Marcello and their rag-tag bunch of hipster friends manage to make in spite of their poverty is in constant threat from the emotional meat of the work. When Mimi, the consumptive wreck and flower embroiderer, turns Rodolfo's life into one of love and, yes, bohemian merriment, it's as if the fire goes out – Joseph Calleja is initially rather overpowering of Carmen Giannattasio. Calleja's admirably tempered aria "Che gelida manina" is far stronger than Giannattasio's answering "Si, mi chiamano Mimi", and the audience lets them know with their applause. Still, we're engaged enough and invested thanks to Calleja and his cohorts (particularly the affably boyish charm of Fabio Capitanucci's Marcello).
When the end comes it is supremely affecting
The second act is an exquisite set-piece of the highest technical and artistic order. Neatly, and with perfect comic timing, we're rushed through the worst first date ever, a handbag dog, broken pool cues, smashed plates and a marching band in a little under 20 minutes, which is more than enough to send the assembly chortling into the interval. It's the the act that most allays the narrative and stays closest to the vignette-ish nature of Henri Murger's source novel, perhaps something that gets forgotten with each re-staging. While it serves narrative purpose (mostly to introduce Musetta, who's obviously a scream), this is bravura stuff at its heart. When Musetta (Nuccia Focile, pictured overleaf) finally convinces poor, furious Marcello that he should take her back, the audience are gleefully wishing their quarrels to begin again at the earliest opportunity.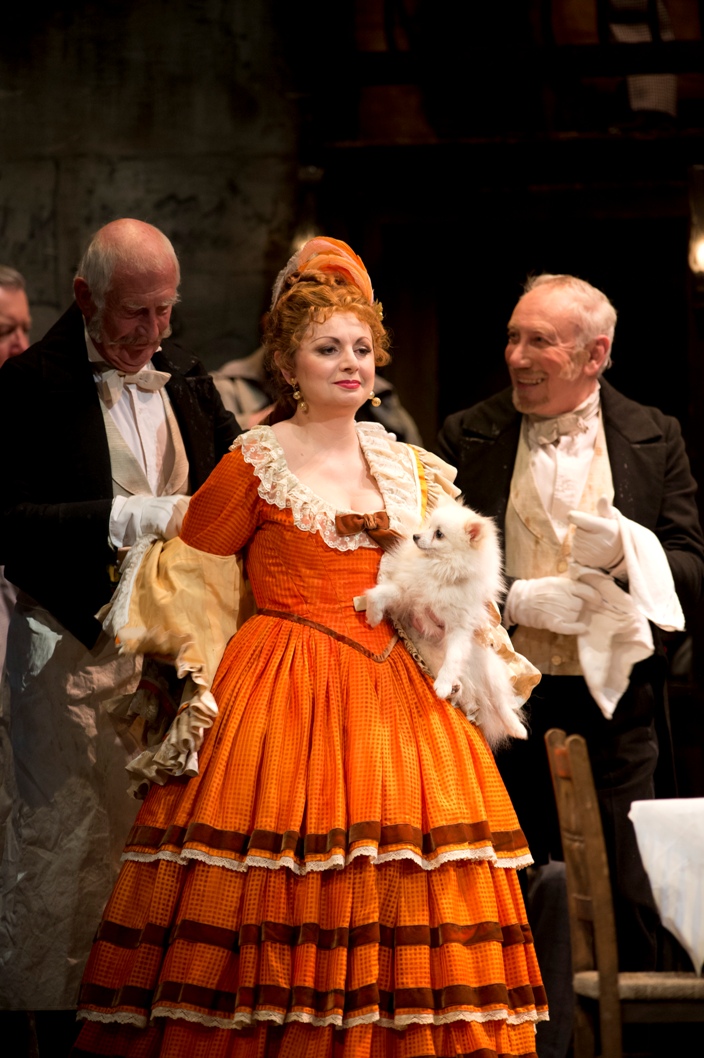 But return to the narrative we must. It is to conductor Semyon Bychkov's eternal credit that he doesn't give the singers too much room to milk the emotional content of the final two acts, no matter how mawkish it gets. There is plenty of opportunity to let things melt into an unattractive mush, but we rattle through Rodolfo and Mimi (hacking mightily by this point, presumably unable to secure a quick Lemsip) separating against a picturesque, murky backdrop with pleasing results. In no time, we're back with the boys in the attic – all of whom are titting about in exquisite fashion. Frankly, one could watch them do so all day and not get bored, batting slices of bread at each other and jumping on the bed like schoolboys.
Poor Mimi returns, though, more ill than ever and ready to give up, just as soon as she's been re-united with her Rodolfo. So the silliness has to stop, which makes for a thoroughly disarming change of mood and a brutal emotional punch. By making the scenes of merriment so convincing and plainly enjoyable, the horror of the ending is so much more satisfying and real. Gianattasio has several chances in the libretto to make Mimi stronger, less pathetic, but she doesn't take them: we've lived through the frivolity and now we must equally endure the heartache. When the end comes it is supremely affecting, and indicative of how thoughtful the main players have been this evening. There were weaker elements, and it is slow to accelerate, but embracing the strongest performances this evening was a thorough delight.
The boys tit about in exquisite fashion
Explore topics
Share this article