The Voice: The Final, BBC One |

reviews, news & interviews
The Voice: The Final, BBC One
The Voice: The Final, BBC One
Showcasing BBC awkwardness at its very best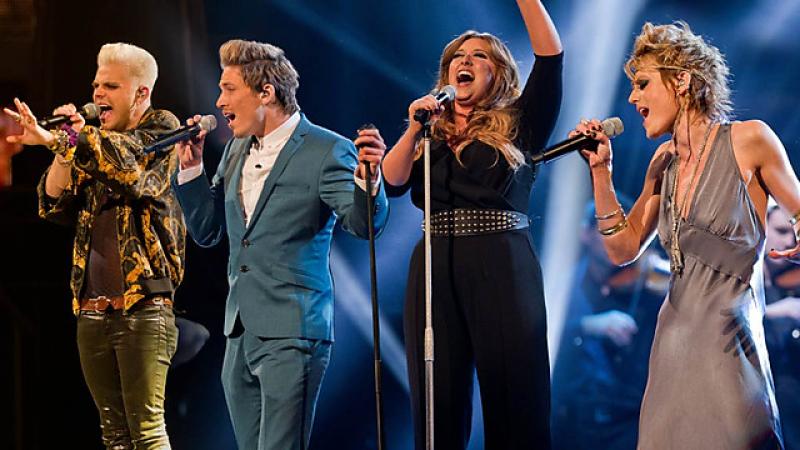 Vince Kidd, Tyler James, Leanne Mitchell, Bo Bruce: 'The Voice' finalists
I love the BBC. "Auntie Beeb" really is the appropriate nickname for the Corporation, at least when it comes to television, because you just know when they try and get involved with any kind of pop culture it's going to be with all the gaucheness of a very enthusiastic auntie trying to adopt kids' tastes. This goes double with Danny Cohen – a man who gives the impression that he starts every sentence with "hey guys" and thinks "mega" is the latest street slang – at the helm of BBC One. And it's precisely this which has made The Voice such compelling viewing.
The series finished last night with holiday-camp shouter Leanne Mitchell victorious over a jazz weasel, an Essex monkey-goblin and the obligatory kookie girl in the final, but really the competition long since ceased to be the point. An attempt to give the talent show bandwagon a public service broadcasting paint job, the bought-in format has pulled out all the stops to convince us that it's about Real Music and Real Talents and Escaping The Hype, and absolutely isn't the circus that ITV's Simon Cowell shows have become. Of course, though, the harder it tries, the more of a circus it becomes.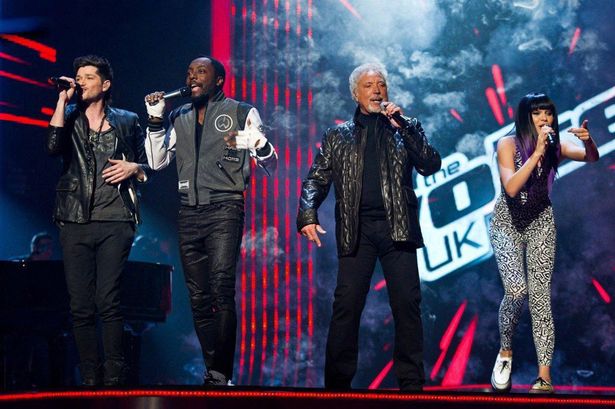 For all the relentlessly hammered-home talk about it being About The Music, it is of course all about sob stories, the funny-looking contestants, the gossip, and most of all the celebrity judges. Sir Tom Jones, a man who exudes what must pass for dignity and down-to-earthness if you've spent half your life in Las Vegas. Some Irish guy from The Script, whose constant attempts at raw, rock'n'roll sincerity are as bland as his band's songs. Jessie J, the rather barmy Essex girl whose clear love of music rather has the dampeners put on it by the fact her own records are almost all the epitome of designed-by-committee blah. And will.i.am – a small, mischievous cat inhabiting the body of a batshit mental pop star.
On the final, a palpable relief that the nonsense would all soon be over created a generally genial atmosphere, so there was much less of the barely controlled bickering and gritted teeth as they tried to hold on to the relentless positivity which the show's ethos demands. But again and again, as they explained what great friends they were with all the contestants, as they clunkily performed one another's songs onstage (pictured above), and as they tried to stay on-brand and explain why The Voice was different from and more real than "other shows", their egos knocked together like cannonballs in a cement-mixer.
continued...
As for the music, it was a sideshow. Only one finalist – in fact, one contestant in the whole series – really stood out: the monkey-goblin Vince Kidd (pictured left), who came fourth. A kaleidoscopically striking, racially and sexually ambiguous pop fanatic with a voice somewhere between Boy George and Justin Timberlake, he represented everything that is ridiculous and brilliant about pop. Like Misha B from last year's X Factor, he suggests the possibility of the auteur pop star, informed by culture clash rather than lowest-common-denominator fusion, is still very real. I sincerely hope he does well for himself – partly because the music may be great, but also because he may burst if he doesn't become really famous soon.
Leanne will be fine: she seems like a nice girl and she'll probably be starring in Chicago within two years. Tyler James, the jazz weasel with Jedward hair who seemed unable to do anything but moany versions of mid-Eighties yuppie soul (Terence Trent D'Arby, Steve Winwood), may well sell some albums. As for Bo Bruce, well, if the world needs another slightly flat singer somewhere between Coldplay and The Cranberries to get its emotional stimulation, we're in a bad way indeed. Some other singers in the series will get jobs out of The Voice, I'm sure. But that wasn't what it was about: the whole thing was about great British awkwardness, embarrassment and passive-aggression, and as such deflated the whole format in the most agreeable way. We're guaranteed another series as Cohen chucked £11m of our license money per year on this with a two-year contract; let's hope it stays as stupidly, faux-sincerely entertaining next year.