La Bohème, Glyndebourne Festival Opera |

reviews, news & interviews
La Bohème, Glyndebourne Festival Opera
La Bohème, Glyndebourne Festival Opera
An efficient but less than involving production of David McVicar's vision of love among the artists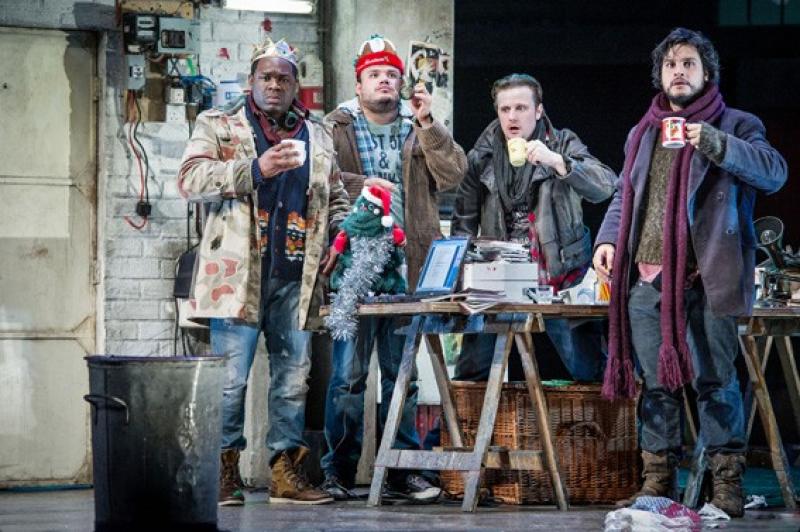 Schaunard (Michael Sumuel), Rodolfo (David Lomeli), Marcello (Andrei Bondarenko) and Colline (Nahuel Di Pierro) in 'La Bohème'
It has romantic sweep but is held firm by zealous attention to detail and while it's hugely expansive of gesture, it's never generalised. I'm talking about Kirill Karabits' conducting of La bohème at Glyndebourne. I wish I could say the same for the production.
If David McVicar's vision of love among the artists had punch on its first outing in 2000, something has been lost in the translation. Lest we forget that Rodolfo and his chums are unsuccessful, the contemporary setting is self-consciously drab – presumably to support Puccini's exploration of verismo and off-set the passion of his music. The visual exception to the wearyingly earnest tone is the suitably gaudy, neon-style scene of bohemian life at Cafe Momus which closes with fire-eaters and flames rippling down the edges of an anodyne metal walkway. But in this incarnation the opera itself fails to catch fire or, indeed, to elicit tears.
Is strength really the quality you dream of in Puccini's consumptive heroine?
The biggest surprise of the opening night came at the curtain call where David Lomeli (Rodolfo) picked up Ekaterina Scherbachenko (his Mimi) and, to their evident delight, swung her around before taking their bows. Nothing wrong with that display of joy – they're both making their Glyndebourne debuts – but that was the most relaxed, connected and spontaneous that the two of them had been all night.
Technically, both of them put in clean vocal performances. Lomeli's voice is not big – he cannot ride the orchestra at the climaxes – but there's a shiny ring on his well-supported, bright tenor sound that nicely suggests the ardour of youth. And Scherbachenko (pictured below right) has an evenly produced and much stronger voice than her ideally gaunt figure would suggest. But is strength really the quality you dream of in Puccini's consumptive heroine? More problematically still, for all the quality of their voices, for most of the evening it feels as if these two are singing at rather than with each other.
It's clear that they have paid close attention to revival director Lee Blakeley but the results are on the dutiful side. Their angst-filled looks and singing display the required emotions but you never feel involved because the dramatic impulse that should drive them is missing. Mimi admits to Marcello in the third act that Rodolfo, torn apart by jealousy, wants to throw her out. But it's impossible to square that with Lomeli who is much given to standing around with his hands jammed into his jeans pockets.
It's unfortunate that his awkwardness is thrown into stark relief by the relaxed, powerful presence of Andrei Bondarenko as Marcello. It was clear at the 2011 Cardiff Singer of the World (he deservedly ran away with the Song Prize) that he is a wonderfully expressive singer with a thrillingly unforced sound. What you could only guess at in competition was that he can really act.
Unlike Lomeli, Bondarenko never looks like he's trying and that lack of strain makes him completely engaging. He never indulges in scene-stealing but it's hard not to prefer watching him and listening to the sheer richness of his lush baritone sound, especially since he's singing opposite the highly effective Musetta of Irina Iordachescu.
Musettas tend to be overly bright and brittle, a notion unnecessarily underlined by her sparkly, figure-hugging, consciously tacky costume. But Iordachescu is much better than that. She has all the requisite coloratura and spirited flouncing for Puccini's flirt, but with an intriguingly hooded sound. Up against Scherbachenko's more unyielding tone, hers is more textured and considerably warmer.
Opera snobs like little better than to write Puccini off as too vulgar
The lack of heat overall, however, is equally attributable to the design. Michael Vale's set is indicative of a milieu – it's centred around a severely run-down workshop/living space – but not only is the logic of the space confusing, the scale feels awkward. The small central set piece looks so marooned in its surrounding space that the atmosphere created by the singers is drained of energy. As a result, most of the night's excitement comes from the pit.
Karabits' tempi are defiantly on the expansive side, but that's partly because he is investigating the textures in order to make Puccini's detailing audible. Opera snobs like little better than to write Puccini off as too vulgar, not least for his predilection for upholstering vocal melodies with plush string support. But Karabits recognises him as an enviable musical dramatist – contemporary composers/librettists listen and learn – whose orchestral writing seethes with purposeful use of colour.
In the wintry third act, famously ushered in with minor-key flute and harp, Karabits spotlights the London Philharmonic Orchestra's lead flautists and harpist. That highly evocative chill is typical of the exquisite, precise playing he coaxes from the players. It is, of course, right that you emerge from the opera singing Puccini's praises. If only that were because of rather than in spite of the efficient but less than involving production.
Most of the night's excitement comes from the pit
Explore topics
Share this article