King of Devil's Island |

reviews, news & interviews
King of Devil's Island
King of Devil's Island
Bleak Norwegian prison drama based on real events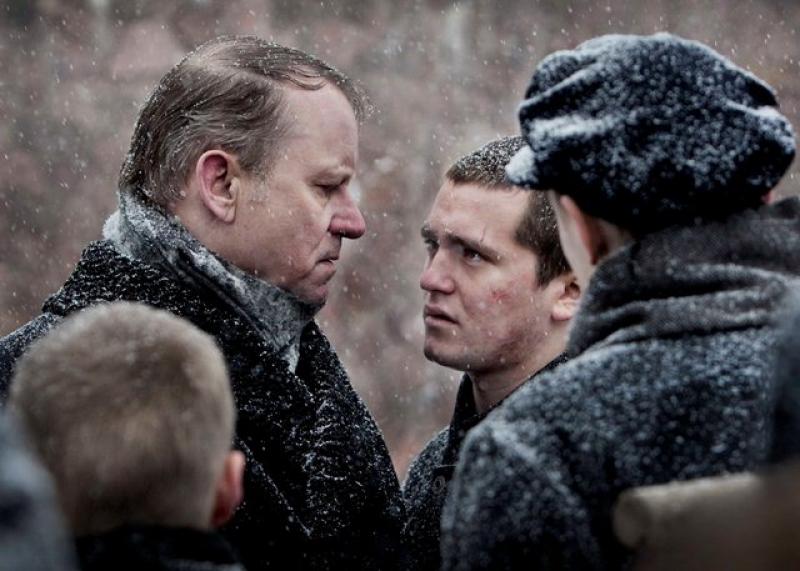 'King of Devil's Island': Prison boss Bestyreren (Stellan Skarsgård, left) meets his nemesis Erling (Benjamin Helstad, right)
Although tinged throughout with blue, the Norwegian drama King of Devil's Island is so grim it might as well be grey. Basing it on real events pitches the film as a cautionary tale, but the message is hard to determine. Everything shies away from explanation. Norwegians might have the context, but the rest of us need to fill in the gaps.
Although filmed in Estonia, King of Devil's Island (Kongen av Bastøy) is set on the island of Bastøy, at the seaward end of the Oslo fjord. Currently, the mile-square island is in use as a prison held as a model of humane rehabilitation. In 1915 it was a facility to which delinquent boys were despatched. The board running it drew its members from schools and the church. Back then, the inmates rose against those holding them there. The uprising was perceived as so serious that a battle-ready army squadron was sent by warship to deal with it (depicted stunningly in the film, with the horizon filled by soldiers, pictured below). According to the film, the spark that ignited the uprising was the abuse of inmates by the prison's staff.
It's hard to watch without thinking about Anders Breivik's attack on the island of Utøya
This isn't a prison-break drama like Escape from Alcatraz, but it does have echoes of Lord of the Flies. Erling (Benjamin Helstad) arrives by boat. He has worked on whaling ships and has been charged with murder. The new inmate is shorn of his hair and stripped naked, after which he has to march through the island's massed boys in sub-zero temperatures to get his uniform. He's also stripped of his identity and renamed C-19, the letter coming from the block where he's billeted.
Bastøy is run by Bestyreren, played with ice-block rigour by Stellan Skarsgård. He says "discipline without compassion is cruel". One boy has been on the island for six years. He stole from a church collection box at age 11. The governor is all about rules and order, but is revealed to have a tortured relationship with his younger wife, who lives on the island with him – she roams free with her dogs. Day-to-day affairs are handled by the fearsome Bråthen (Kristoffer Joner). He also has a secret. He's sexually abusing vulnerable children, the discovery of which leads Erling to give the other boys the courage to fight back.
Recognisable devices are adopted. Erling bonds with a fellow inmate, there's a washroom fight, one of the boys is deeply sensitive so a target. Erling tells metaphorical stories (about his life in whaling), a contrivance that is overused. The heart of the film is the battle of wills between Bestyreren and Erling, with Bråthen's transgressions usefully there to feed this struggle. Both Skarsgård and Helstad play with an intensity that looks migraine-inducing. There's no light and shade, making King of Devil's Island a bruising experience.
You're left wondering about the film's purpose. Why was it made almost a century on from these events? The uprising took place shortly after the outbreak of World War I. It's tempting to view the film as an allegory about Norway using the Bastøy rebellion as displacement for their position on the war – the country was not going to fight other nations, so it turned on itself, fought its own. Why does Skarsgård, a Swedish actor whose ambivalent views on religion are well known, play the governor of Norwegian prison overseen by the church? Although first screened in 2010, it's also hard to watch King of Devil's Island without thinking about Anders Breivik's 2011 attack on the island of Utøya. However you see this film, it's more than a simple thriller.
Watch the trailer for King of Devil's Island