Dr Dee, English National Opera |

reviews, news & interviews
Dr Dee, English National Opera
Dr Dee, English National Opera
An operatic celebration of England that's as intelligent as it is entertaining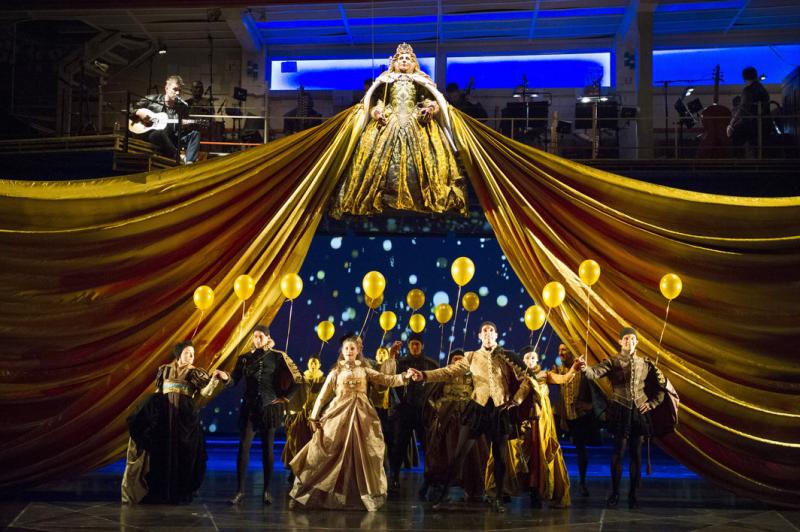 Gloriana: Elizabeth I (Melanie Pappenheim) watches over her people
Riding the same wave of affectionate, riotously melancholic Englishness which carried Jez Butterworth's Jerusalem to success, Damon Albarn's Dr Dee is dark enough to delight even the most cynical of Jubilee naysayers, gorgeous enough in its national pageantry to crown the cultural celebrations of this landmark year.
Originally seen at last year's Manchester International Festival (a reliable promise of good things). the show has been reworked for its Coliseum staging, and if the result is little clearer in its hallucinatory narrative, its confusion remains as compelling, as black-magical as ever.
Multimedia tableaux reinvent books as coiling, cascading spirals of pages that encircle and oppress Dee
The Elizabethan polymath Dr John Dee – alchemist, physicist, courtier and philosopher – is a figure as beloved of artists as conspiracy theorists, and in his latest incarnation here (in the rangy, restless form of Paul Hilton) we find another dream-vision of his troubled psyche.
While the synopsis might divide the opera into discrete sections – "Knowledge", "Power", "Empire" – charting the rise and devastating fall of its hero, the action strays through the material with associative whimsy, chronological rationality drowned in a clamour of images and musical fragments. The loose-fitting dramatic form is held together almost entirely by Rufus Norris's ingenious staging.
There's more than a touch of the physical creativity of Complicite here, as Norris marshals an ensemble of dancing, singing actors through multimedia tableaux that reinvent books as coiling, cascading spirals of pages that encircle and oppress Dee, produce a tender shadow-dance for the lovemaking of Dee and his wife, and offer a fantastical image of Elizabeth I suspended in mid-air, trailing golden skirts hanging like curtains to the floor. The doubts and darknesses that haunt Dee become ravens, rendered with jerky vividness by dancers and latterly (in the evening's final coup de théâtre ) by three live birds, whose cackling arrival on the Coliseum stage from the balcony offers a bathetic eulogy to the great man.
Paul Arditti's sound design gives us a truly immersive, surround-sound experience, working evocatively with Lysander Ashton's video projection. Bells peal from somewhere at the back of the dress circle, planets suddenly swarm and circle the gesturing Dee. Yet there are cracks in the vision, moments where we are still jolted awkwardly into consciousness. A parade of figures from British History fall backwards into air – a sequence that would be miraculous but for the audible thump of their landing. Transitions between sections feel cursory, musical joins not always coherent.
Suspended above the action for much of the show is an eclectic band whose forces shape the sound-world of the piece – part Early Music, part World Music, all Albarn. Perching like some disaffected troubadour on the edge of the stage is Albarn himself, crooning out his delicate folk-inflected ballads. His lived-in, loved-in voice curls itself evocatively around text that is sadly all but inaudible – an ongoing problem through the evening.
While the music itself is far from complex, borrowing much from the minimalism of Glass, it offers a surprisingly convincing bridge between Albarn's songs and more conventional opera. Nothing here feels too contrived, too try-hard, and if the singers seem caught between the precise vowels and tidy phrase endings of opera and the casual ensembles of popular music, at least the confusion feels honest.
Led by the rasping Hilton, the cast dispatch their unsettling material with conviction, not least countertenor Christopher Robson (pictured above left), whose gleeful madness as scryer Edward Kelley and covetous urgency as the Bishop find memorable musical expression.
Great contemporary English operas are a rarity. Since the game-changer that was Peter Grimes we've had The Minotaur, The Tempest, possibly some of Maxwell-Davies' works. Dr Dee won't find a place among this number, it's too slight, to uncertain musically. But what it will do hopefully is revivify the earnest and often painfully abstruse workings of the genre, offering an authentically English piece of pageantry that is as enjoyable as it is intelligent.
Dr Dee at the London Coliseum on 4, 6 and 7 July
Perching like some disaffected troubadour on the edge of the stage is Albarn himself, crooning out his delicate folk-inflected ballads
Explore topics
Share this article