Cowboys & Aliens |

reviews, news & interviews
Cowboys & Aliens
Cowboys & Aliens
Spielberg's latest production is a new low point for high concepts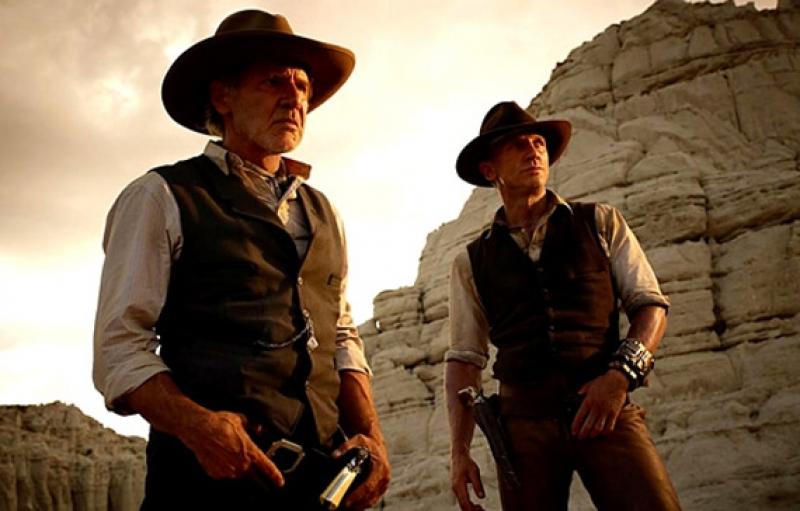 Harrison Ford and Daniel Craig: having less fun than they should be
The title is the film. In a new low point for high concepts, producers Ron Howard and Steven Spielberg only needed to see the cover of the titular, unfinished comic book to give Cowboys & Aliens the green light.
Iron Man
's director Jon Favreau, JJ Abrams' writers, Harrison Ford and Daniel Craig similarly found the prospect of the sort of six-shooter/laser dust-up last seen when 1980s schoolkids tipped up their toy boxes irresistible. It's nothing like as much fun as it should be, the strain of turning the concept into an actual film overwhelming everyone.
It's 1873 and we're in Absolution, New Mexico when Daniel Craig's man with no name walks into town, with no memory either of who he is or how he got there. Absolution's under the corrupt rule of Civil War veteran Colonel Dolarhyde (Ford), who we first see dismissing an errant cowhand he lets fatally trail from a speeding horse. Craig has soon walloped Dolarhyde's sadistic whelp of a son (There Will Be Blood's boy preacher Paul Dano) and been jailed by Keith Carradine's Sheriff. Exotically beautiful Ella is on hand to encourage his flashbacks of unpleasant probes aboard the sort of UFO he doesn't have the National Enquirer to explain, which is soon bombing Absolution and ensnaring its townsfolk. Soon even the Apache are onside for the promised 19th-century intergalactic smackdown.
Craig can't find the heart of a man with a blank past
The problems start with the first reel's nearly straight western. Spielberg optimistically screened John Ford's 1956 The Searchers (also an inspiration for Star Wars' disguised horse-opera elements) to get his young crew in the mood, but neither the tag team of five writers or Favreau have any feel for the genre. The frontier townsfolk veer between taciturn and 21st-century Californian touchy-feely, a saloon-bar confrontation is a mess, and punch-ups digitally speed and jerk. There's still a comfort in seeing tough men on horses thundering through the American West, but incredulity arrives long before the first alien.
Craig, a fine film actor who's stalled since he became Bond, can't find the heart of a man with a blank past. Meaning to channel Clint Eastwood, he's more like one of Westworld's cowboy robots. Ford is well cast, but an insultingly under-written afterthought to Craig. When he barks "Good riddance!" as an old Apache enemy bemoans his race's extermination, and gruffly bonds with a surrogate son, real emotion briefly grips. He'd have been better than Jeff Bridges in True Grit, but his grizzled charisma fades here.
"Why has no one done this before?" was Spielberg's epiphany approaching this film. Leaving aside the similarly hair-brained cowboys v dinosaurs romp The Valley of Gwangi (1968), there's one simple reason cowboys and Indians v aliens isn't a marquee match-up. It's like another toy-box favourite, the Romans v the Nazis: it's all fun and games till the first Tiger tank turns up. Only Craig, who the aliens have inexplicably strapped with their own weaponry, is a credible threat to them. Favreau marshals the final, multi-front battle in the New Mexico canyons with flare, but can't make you forget its absurdity.
The revelation that Ella is an alien, or maybe angel, is one of many barely explored backstories, as if the original comic has been rifled for half-digested chunks of plot. And when Craig frees himself from a scalpel-wielding alien scientist, it has the logic-bending convenience of a 1930s cliff-hanger hero, not The Searchers. Genre mash-ups can sometimes work - Jonathan Ross's debut graphic novel Turf has just thrown vampires, gangsters and aliens together in Prohibition New York to atmospheric effect. But this mob-handed team of blockbuster veterans have been too lazy to work out how.
Watch the trailer for Cowboys & Aliens